It's already pretty daunting to face a massive crowd and panel of judges, including the world's most popular reality-show judge, Simon Cowell. But what happens when he stops you halfway through your audition and asks you to sing again, without the aid of a backing track? For most singers, a backing track is crucial as it acts as a safety net for their vocals.
If things aren't going right, just blame the backing track, right?
But this twelve-year-old singer had no problem re-doing her audition without it, and you wouldn't believe the outcome.
This is twelve-year-old Ansley Burns from South Carolina.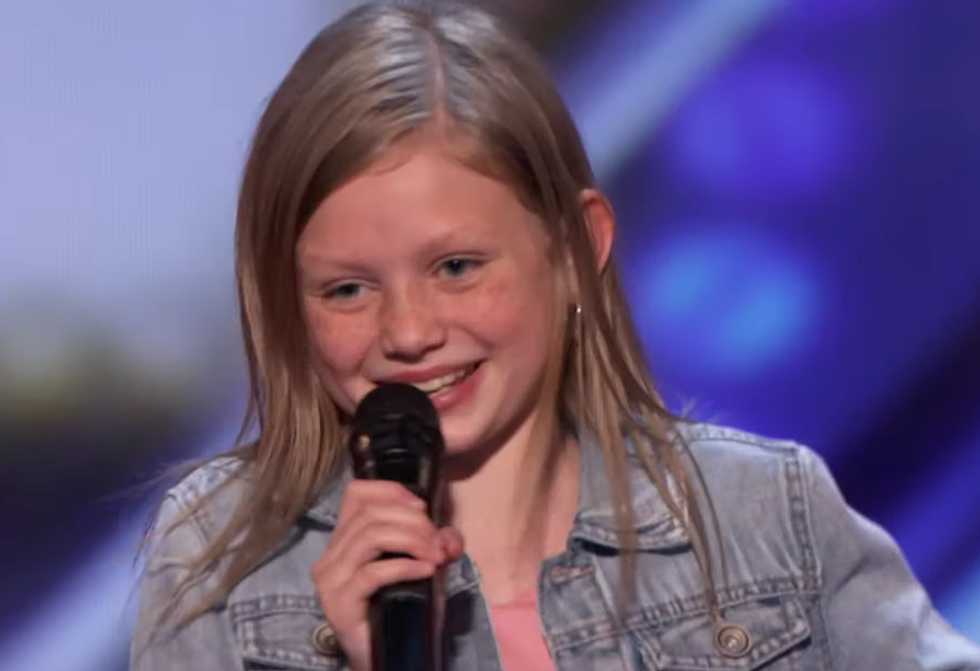 via: YouTube
She appeared on
America's Got Talent
, a show for the weird, the wacky, and, 
sometimes
, the talented.
Right from the start, we couldn't help but fall in love with her.
From her cute, Southern accent, to her bubbly little personality, we were all completely sold on Ansley, even before she started singing.
Simon commented on how "great" her accent was, too, occasionally trying to mimic her.
His wasn't as cute as hers was, but we'll let it slide. He tried. She seemed pretty confident, too, introducing herself and telling the judges what she was there to do. She told everyone that she would pretend she was on America's Got Talent while practicing singing and that being on stage felt like she'd "stepped into the TV."
She expressed that auditioning for the talent show was her life dream.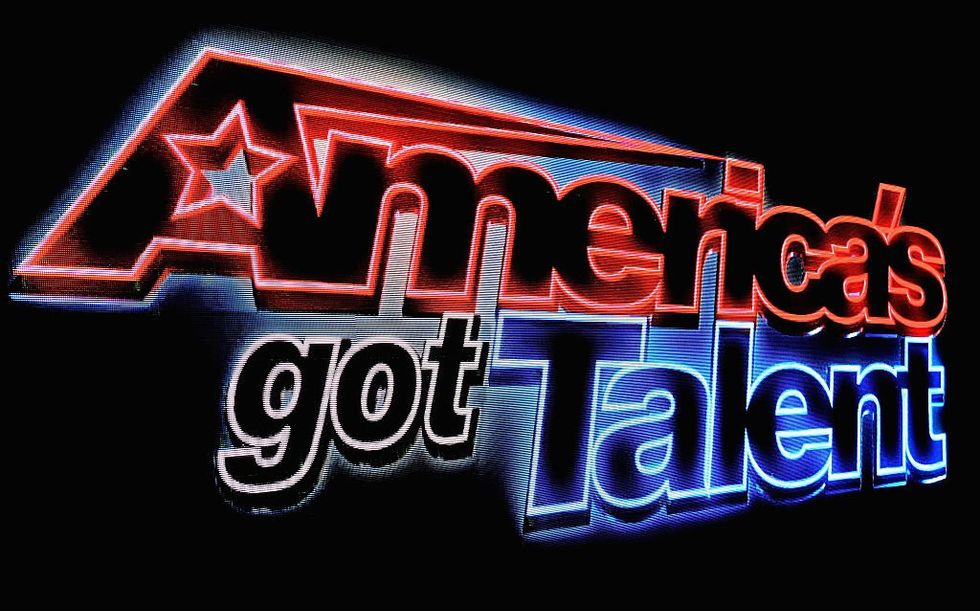 via: Getty Images
That's a pretty early age to achieve such a big dream, but we're rooting for you and your nice accent, Ansley.
We just hoped that she was as talented as she was adorable.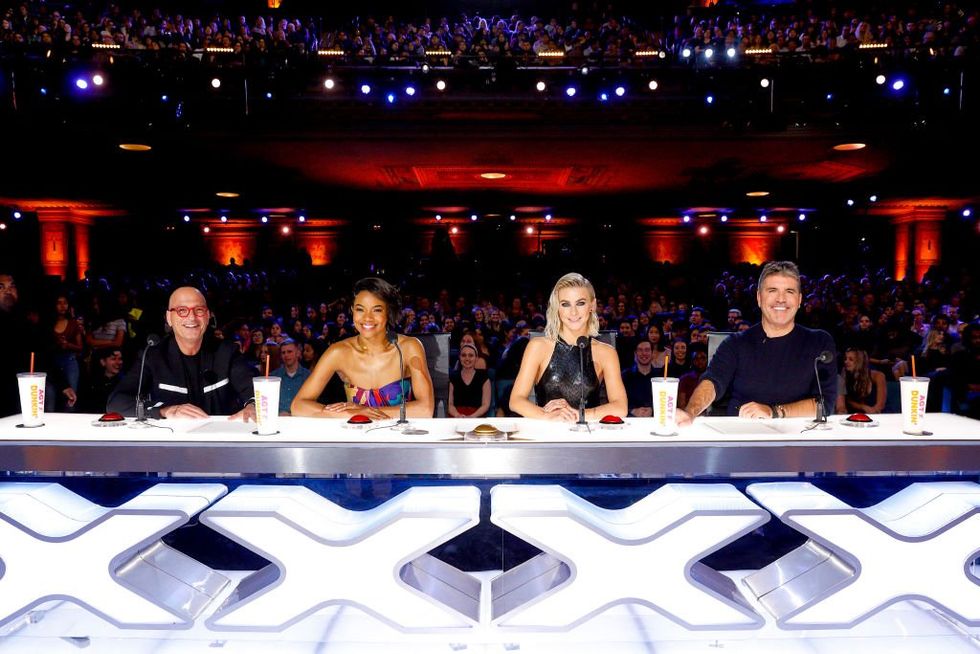 via: Getty Images
Even though she was nervous about meeting the judges, especially Simon Cowell, when she got on stage, her nerves seemed to disappear. Some
adults
haven't developed the level of confidence that
this
little girl's got.
"The stage is yours."
As soon as the audition started, Ansley was off. Though the theatre was massive, she filled it with her powerful rendition of Aretha Franklin's "Think."
But something just wasn't quite right...
Despite her sassy performance, her voice seemed to be drowned out by the horrendous backing track. And from the awkward look on Simon's Cowell's face, he could hear it too. He turned to Julianne Hough and muttered: "Where did they get this track from?" Shortly after, he stopped the entire performance.
"I don't think this backing track was working for you," he said, stopping the twelve-year-old.
You could sense the awkwardness from everyone, including the rest of the judges. It got worse when Simon said: "We really like you but that was terrible." Alright, that's unfair. It was clearly the backing track's fault. Ansley's face said it all. You could see her gasp and my heart actually broke a little bit (watch the full audition below!).
But, thankfully, she was given a second chance.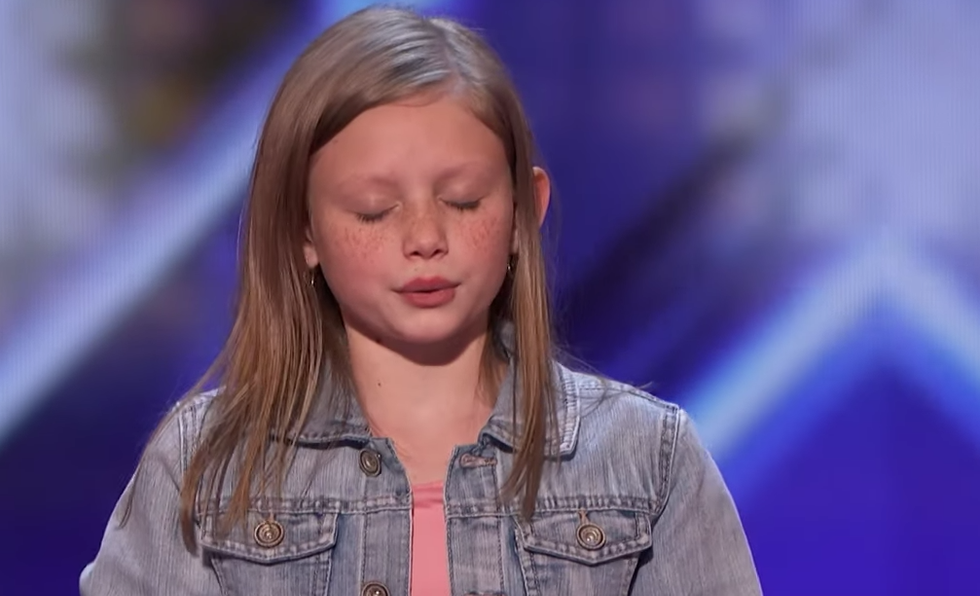 via: Youtube
"I'm just wondering if we should do a verse and a chorus, maybe acapella?" This request would have been enough to rattle most professionals, let alone a twelve-year-old! But after an initial nervous moment, Ansley seemed to be ready for the challenge. She took a deep breath and started again.
Her family watched on nervously from the sidelines as Simon offered the singer some water before she began.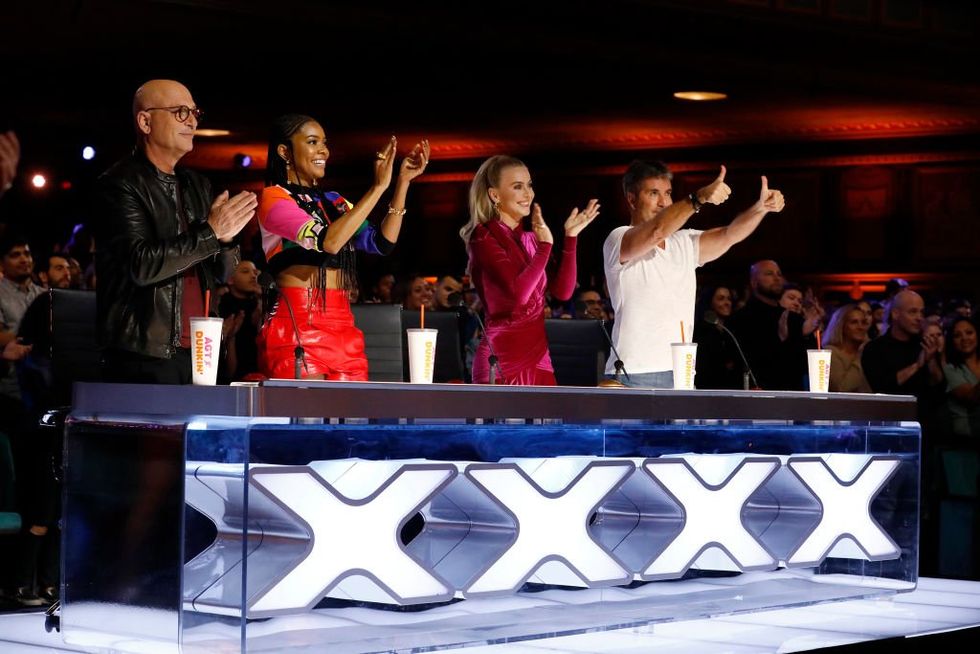 via: Getty Images
I guess that kind of compensates for such a big demand. Here's a little spoiler, she
may
have received a standing ovation and the video has gained over
five
million
views since! So it was all worth it.
And, of course, Twitter went completely mental over the talented little singer.
I just saw Ansley Burns on @AGT on @YouTube and she is from South Carolina. I am her biggest fan. She nailed it! Let's go Ansley!

— Roman (@Roman)1560703299.0
This user said that she "nailed it," which we totally agree with.
Another person was left with "chills" after he saw Simon lift his hand.
I can't deny it, that happens to me, too. It either makes or breaks the entire audition, and it definitely worked in Ansley's favor.
Check out Ansley Burn's full audition.
Even after Simon stopped her, she managed to keep her cool. That's more than we can say for some...
This isn't the first time that Cowell's put contestants in pressured situations...
He seems to have a habit of taking nervous contestants and making them even more nervous.
Did anyone watch the awkward moment that Simon stopped Brendan Murray's audition halfway through?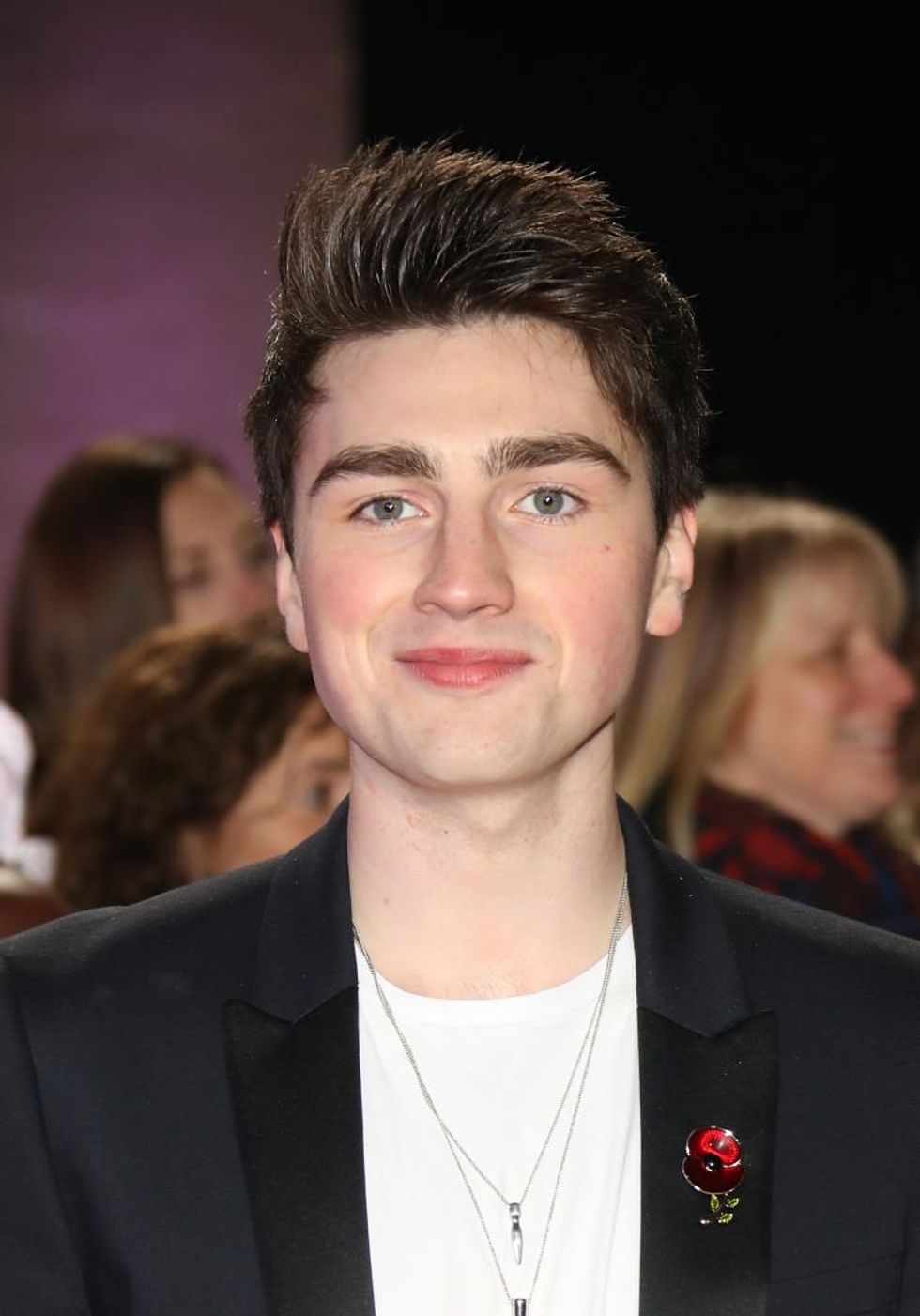 via: Getty Images
The X Factor
(UK) has had its fair share of nervous contestants. Brendan Murray was a twenty-one-year-old Irish boy who had previously had a bit of luck in the music industry, but entered the singing contest to catch his big break. But nothing could prepare him for what was to come. The audience was loving his audition, but the judges seemed a bit reserved in their excitement. It almost seemed as if Brendan was going to get through it until Simon raised that dreaded hand of his and cut the music.
This one went further than just getting rid of the backing track though.
This was the issue for Simon: "Lyrically, that song didn't suit your voice," he says, "so I'm struggling as to who this guy's market is." And the other judges all nodded as though they agreed. The wrong song choice is a killer. We've seen some good talent go to waste because of it.
However, the judges liked Brendan too much to let him go.
Simon suggested that he sing a song that he thought would be perfect for a unique voice like Brendan's.
Even though Brenden came back after a couple of hours of rehearsing, he couldn't seem to remember the words to the song.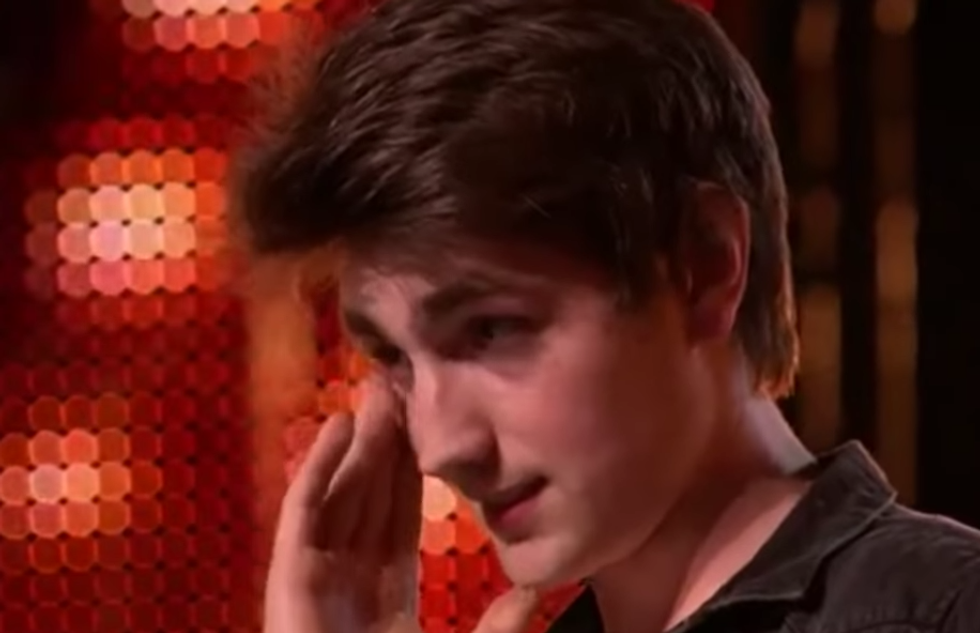 via: YouTube
He was struggling at the same part of the song over and over and even after refreshing his memory with a quick glance at the lyrics, he messed up. The other judges didn't seem too impressed and it seemed to be going downhill quickly for Brendan. But Simon wasn't giving up on him. Taking the responsibility on his own shoulders, he allowed the red-faced auditionee to have the lyrics in front of him, which was a game-changer. His nerves disappeared and the outcome was stunning, to say the least.
Here's the full-length video of Brendan's audition.
It feels like a whole whirlwind of events, right?
One thing's for sure, Simon really knows what he's talking about.
You may think that Simon Cowell is a jerk, but there's one thing that you can't deny, he's good at what he does. And these two contestants are only two examples of his keen eye for talent. Prepare yourselves for another. This one's a bit more heartwarming than the other two, so get your tissues ready!