Since Hurricane Maria devastated the U.S. territory of Puerto Rico on September 20, a number of celebrities have been stepping up to help provide the aid and relief our fellow American citizens so desperately need. One of the most entertaining ways celebrities have started helping is with the #PuberMe campaign started by Stephen Colbert and Nick Kroll.
Last night, Lin-Manuel Miranda — who is in the midst of his own project to raise funds for Puerto Rico — contributed one of the best #PuberMe submissions the world has ever seen.
The #PuberMe campaign is a gift to the world — in more ways than one.
Hey, @StephenAtHome, for your #PuberMe #PuertoRicoRelief effort, I give you...the nuclear option... https://t.co/0QhZYD4REU

— John Oliver (@John Oliver)1506710653.0
On the one hand, a bunch of money is being given to people in need. In light of our president's own
complete fumbling of the dire situation
, it's great to see 
someone
doing something the help. And on the other hand, we all get to see geeky pictures of celebrities in their awkward years. Everybody wins!
After a bunch of celebrities submitted their own embarrassing photos, they managed to raise a total of $999,000 for Puerto Rico.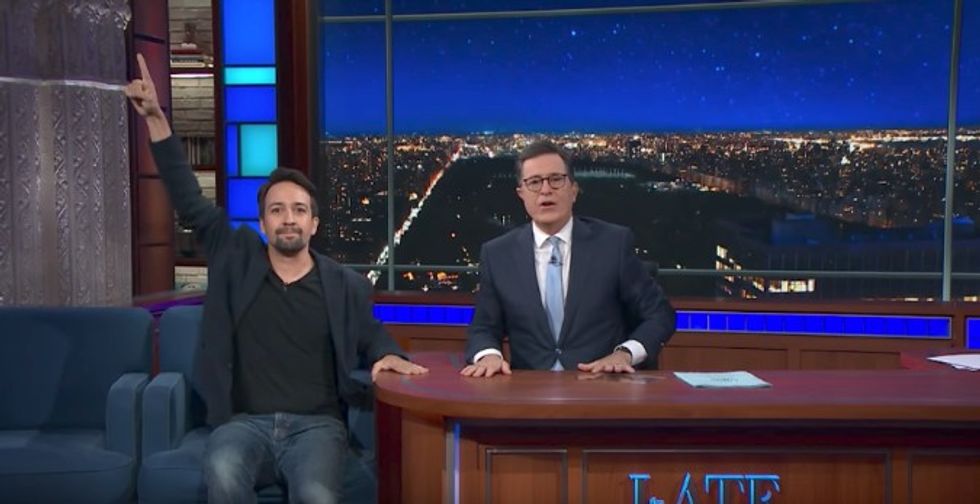 via: YouTube
To celebrate,
Hamilton
 creator Lin-Manuel Miranda came onto Colbert's show. Obviously, everyone was thrilled by his surprise visit. Of course they were. It was Lin-Manuel Miranda!
Miranda was there for a couple reasons. One was to promote his own fundraising project for Puerto Rico.
The lyrics--every one of the 78 towns in Puerto Rico. We lift you up always. #AlmostLikePraying🇵🇷 https://t.co/ek1dO7YSGa

— Lin-Manuel Miranda (@Lin-Manuel Miranda)1507260588.0
Along with basically every Latino musician you've ever heard of, Miranda has recorded a song called "Almost Like Praying." Proceeds from sales of the song will go directly to relief efforts in Puerto Rico. Now, $999,000 is a lot of money, but Colbert was looking to round it out to a cool million. Miranda stated that unfortunately, he didn't have an embarrassing picture of himself to donate to the #PuberMe cause. But he 
did 
have something much, much better.
As it turns out, "Almost Like Praying" isn't the first song Miranda wrote about Puerto Rico. The first one was written when he was 13 years old. Watch it here:
So good. SO. GOOD. This video is a zillion times better than a still image Miranda's awkward years.
Lin-Manuel Miranda, you're a national treasure.
HERE
and donating to hispanicfederation.org.