Hollywood loves to celebrate young, hot actresses, but let's not forget that there are tons of older actresses killing it in Hollywood. Some of them have been around for a long time and some of them are finally getting their big break after years of hard work, but all of these leading ladies are stick kicking ass in the acting world even after the age where some people would prefer women get sent off to a pasture somewhere to slowly wrinkle away and die. Ok, maybe that's a little harsh, but we love seeing these talented women over 40 on screen.
Nicole Kidman has never slowed down.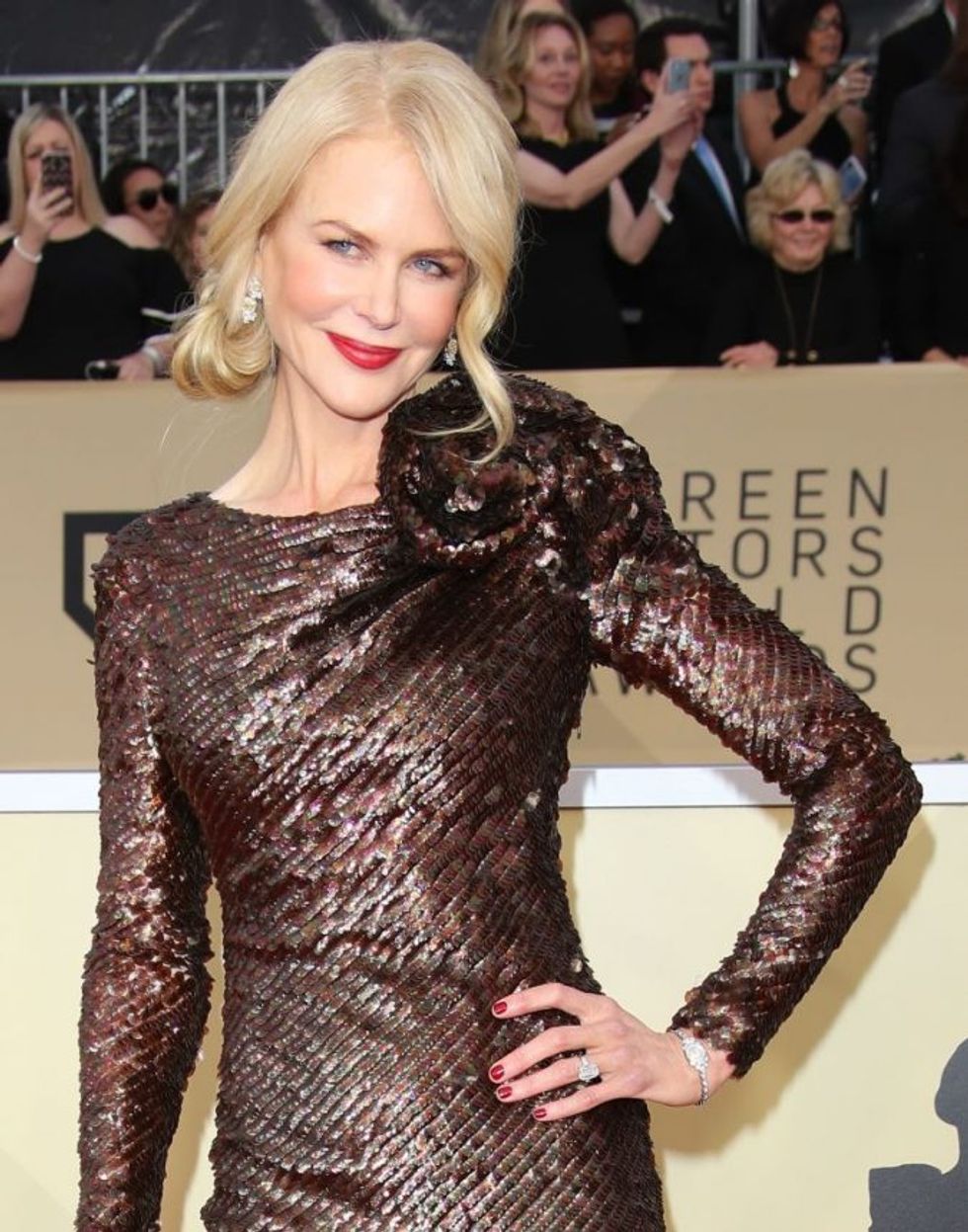 via: Getty Images
The 50 year old Australian actress was huge in the 90s and early 2000s with movies like Moulin Rouge, Eyes Wide Shut, and The Hours and is just as famous now as she was 20 years ago, recently winning a Golden Globe for her performance in the HBO miniseries Big Little Lies. She also owns her own production company, Blossom Films, and has been an Goodwill ambassador for UNICEF since 1994.
Halle Berry, 51, is another actress who seems to have been around forever, and isn't going anywhere.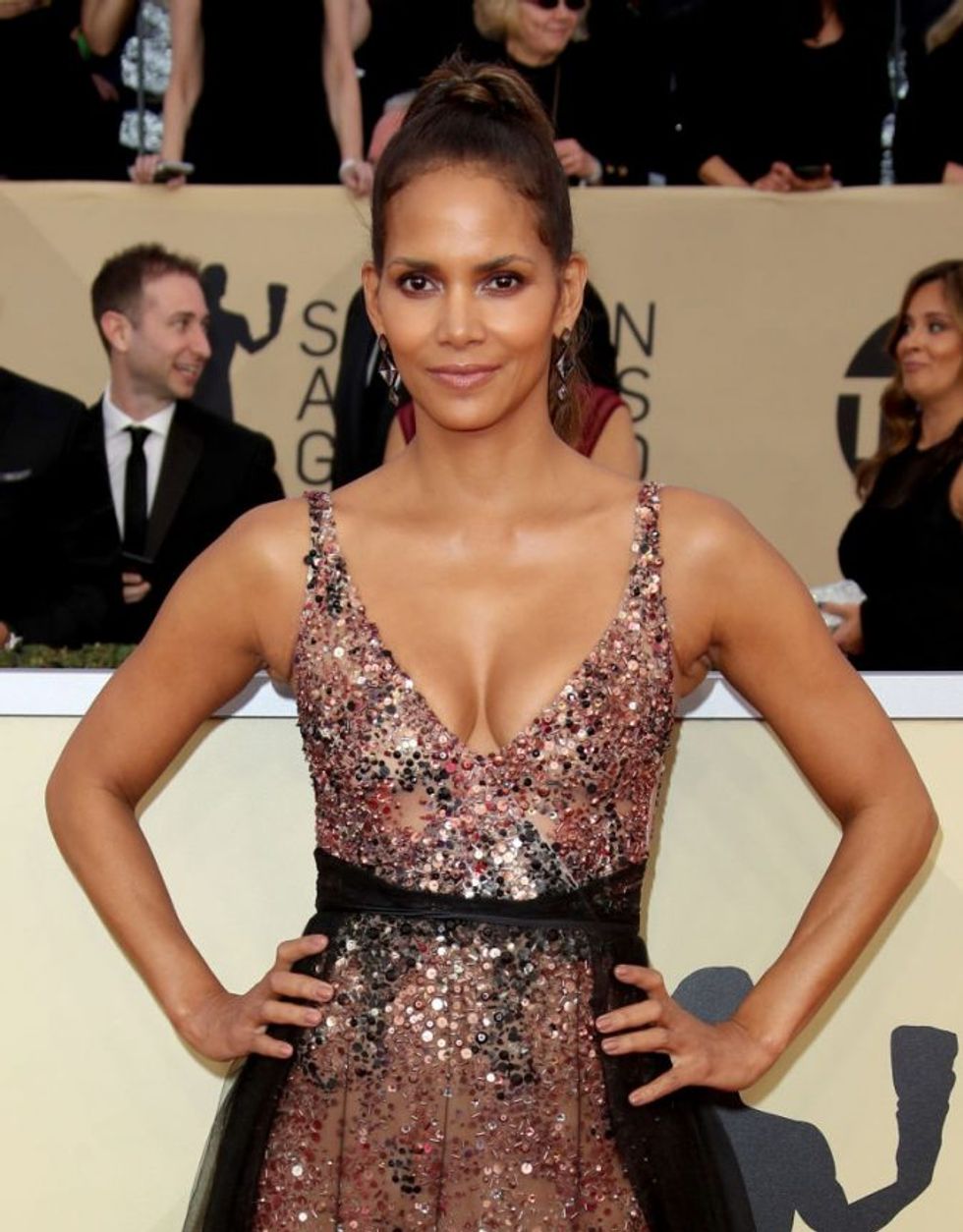 via: Getty Images
She's been everything from a Bond girl in Die Another Day, to a superhero in X-men, to the wife of a murderer in Monster's Ball. She is the only black woman to have ever won an Oscar for Best Actress for her role in Monster's Ball.  In 2017 she starred in the movie Kidnap.
But she definitely has a sense of humor about her work.
Although she's had lots of success, like everyone, Halle's had her bad times, too. In 2005 she won a Razzie for Worst Actress for her work in Catwoman. She was only the second actor ever to actually show up and accept the award in person.
Nobody writes jokes like Tina Fey, who is 47.
She was the first female head writer for SNL and has since gone on to create 30 Rock and The Unbreakable Kimmy Schmidt. She is the youngest person ever to win the Mark Twain Prize for American Humor. Her super-relatable character in 30 Rock, Liz Lemon, allowed women everywhere to admit they'd rather let a guy buy them mozzarella sticks than a drink at a bar.
Leslie Jones, another SNL star, is 50 years old.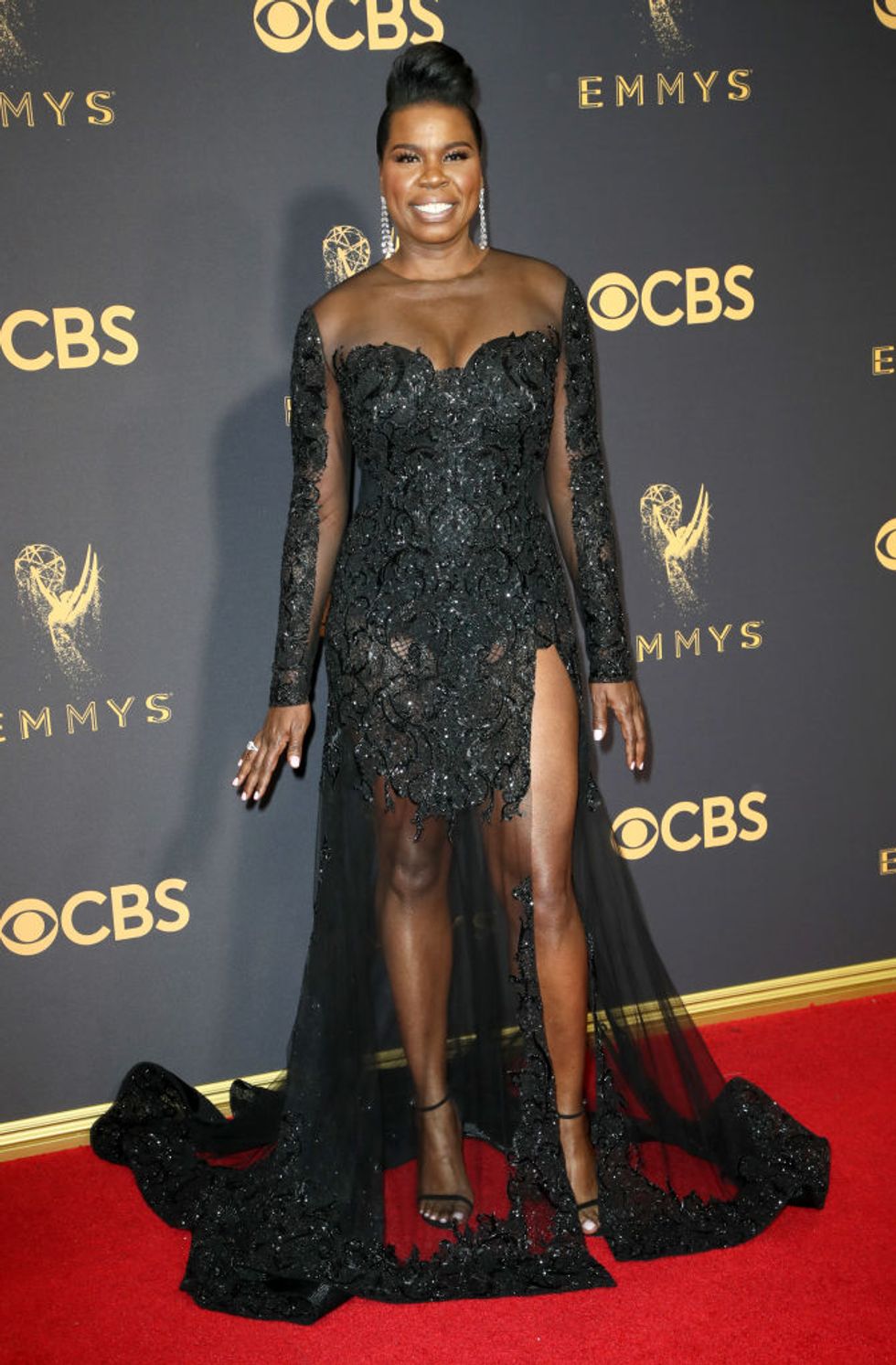 via: Getty Images
Success did not not easily to Jones, who started her comedy career in 1987, but didn't get her big break until 2014 when she joined the cast of SNL. Before SNL, Jones performed stand up comedy and was met with so many bad reviews that she almost gave up on comedy completely, taking a three year break before landing her job at SNL. Since then she's appeared in big movies such as Ghostbusters and Trainwreck.
You can't not be charmed by the hilarious Lily Tomlin.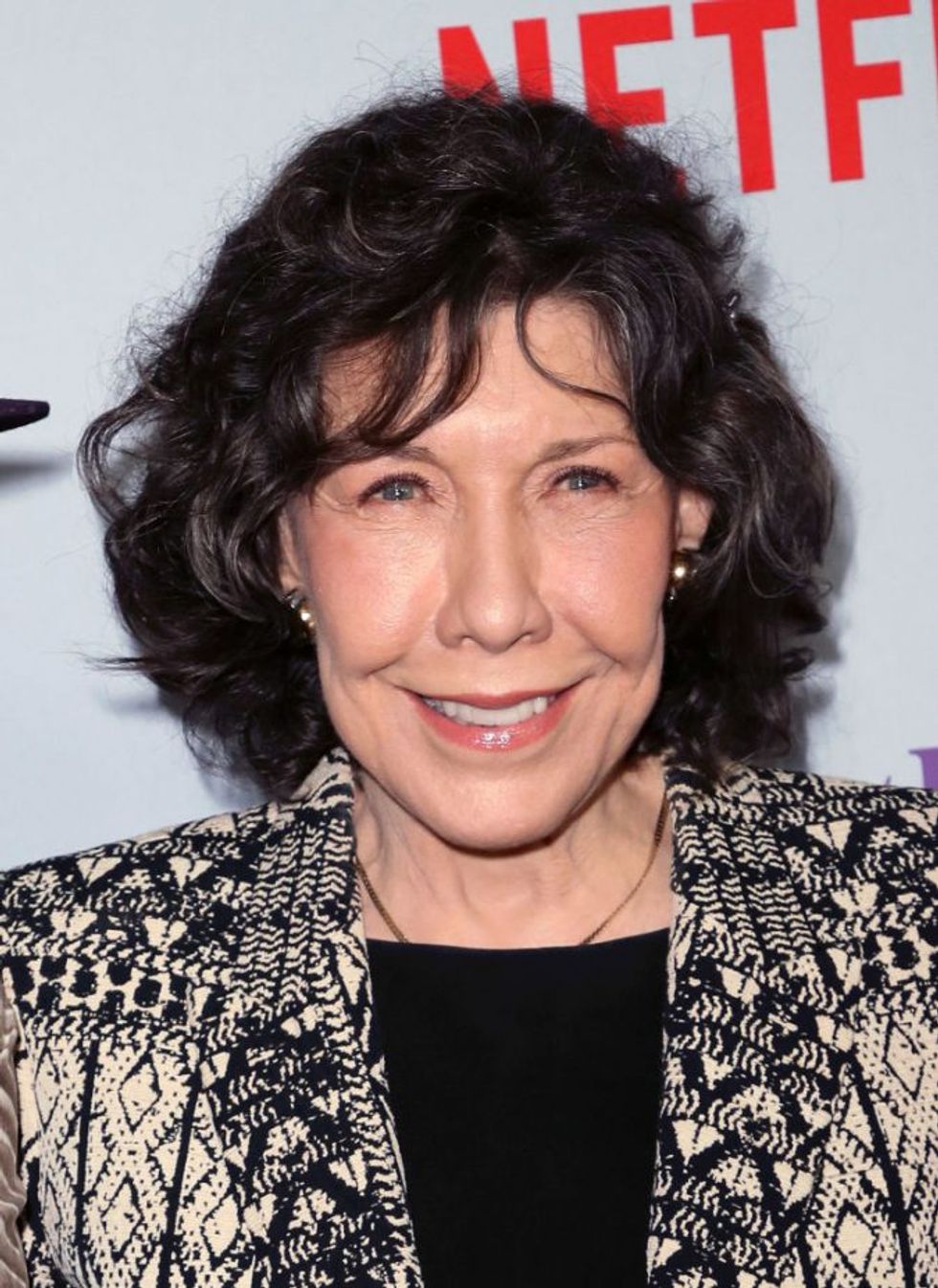 via: Getty images
At 78, Lily Tomlin has had a very long, successful career. She started in comedy performing stand up in the 1960s, when female comedians were rare. Since then she's written, created, and starred in multiple television shows, has had shows on Broadway, and has been a guest on almost every comedy show you can imagine. Most recently, she's co-starred with Jane Fonda in the Netflix comedy Grace and Frankie.
Does Lily's voice always sound familiar to you, but you just can't place it?
If you are a 90s kid, you're probably remembering her upbeat voice from her role as the crazy-dress wearing, always maybe a little too enthusiastic to take her students on potentially life-threatening field trips Ms. Frizzle on the Magic School Bus.
Another voice you probably know: Alex Borstein.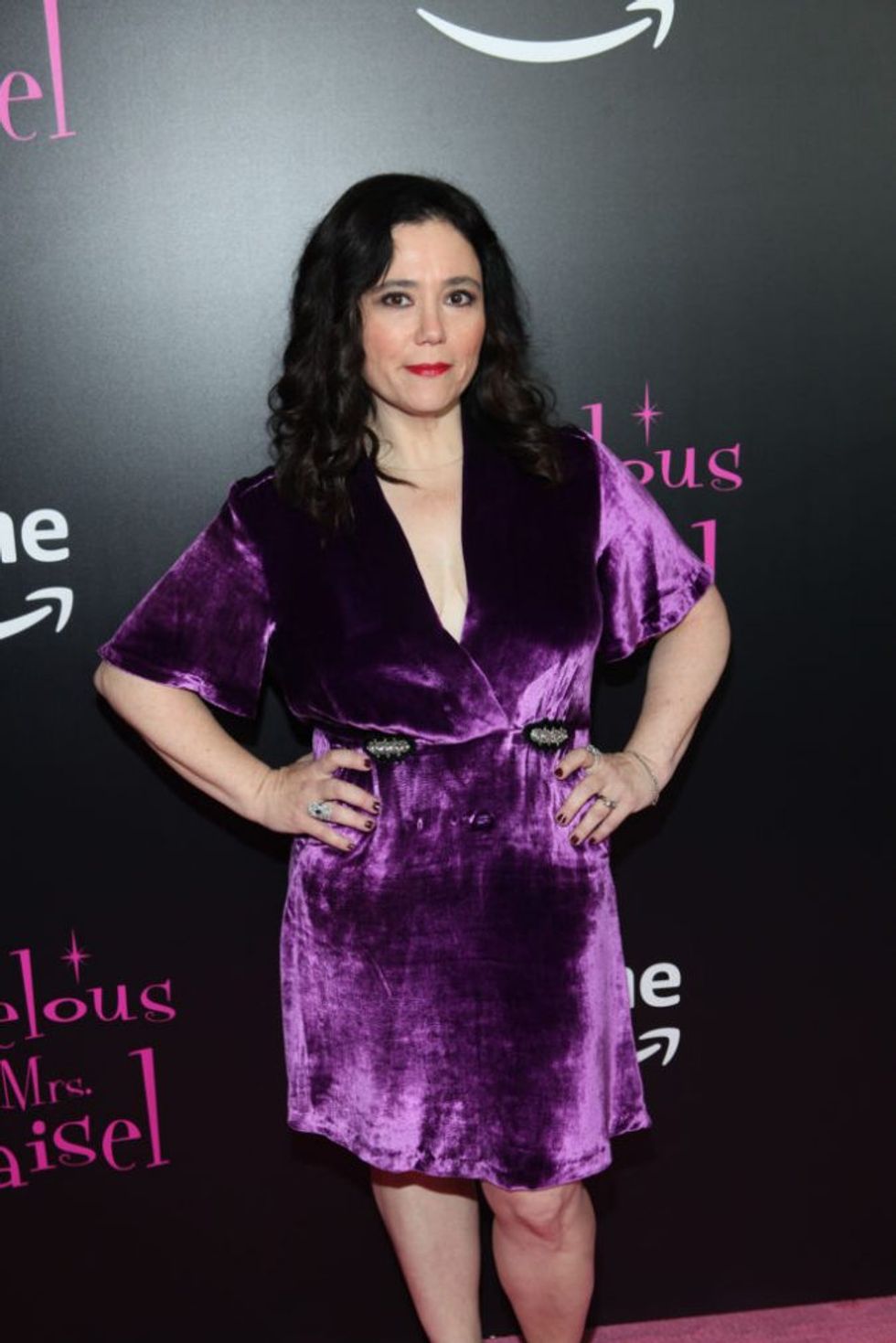 via: Getty Images
Alex Borstein, 46, has been the voice of Lois Griffin on Family Guy since 1999. She is also a writer who worked on the show Pinky and the Brain. The very funny and talented actress more recently can be found as the gruff, foul-mouthed, bartender/manager with a heart of gold in the Amazon original show The Marvelous Mrs. Maisel.
Fun fact: she also played two different roles on the show Gilmore Girls: Drella, the harp player at the Independence Inn and Ms. Celine, Emily Gilmore's stylist.
Another fun fact: She was originally cast in the role of Sookie, but couldn't get out of her contract at MadTV, so ultimately the role ended up going to Melissa McCarthy. And and additional fun fact: Alex Borstein's real life (now ex) husband is Jackson Douglas, who played Sookie's husband Jackson on Gilmore Girls. 
Melissa McCarthy, 47, is a force of nature.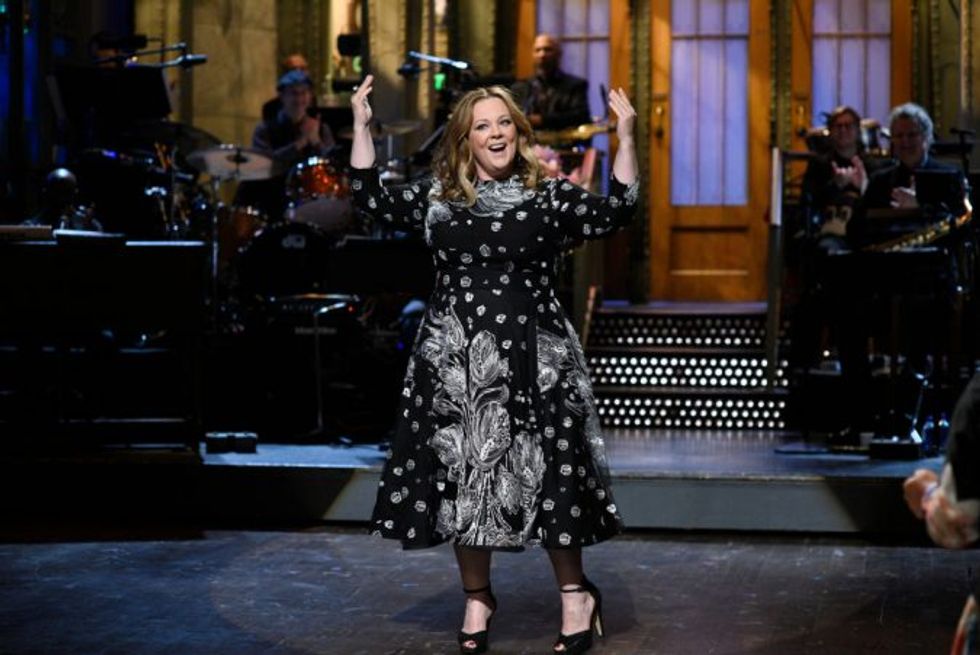 via: Getty Images
Melissa McCarthy ended up getting the job playing Sookie on Gilmore Girls, but her popularity really exploded when she played Megan, the not-so-ladylike sister in law in the 2011 movie Bridesmaids with Kristen Wiig and Maya Rudolph. She has starred in movies such as The Heat, Spy, and Ghostbusters and was the female lead in sitcom Mike and Molly.
Here's something to might not know: she doesn't just happen to share a last name with actress Jenny McCarthy.
They are cousins!
In an embarrassing mistake at the Golden Globes, the New York Times accidentally referred to Rita Moreno as "guest" but we know exactly who she is.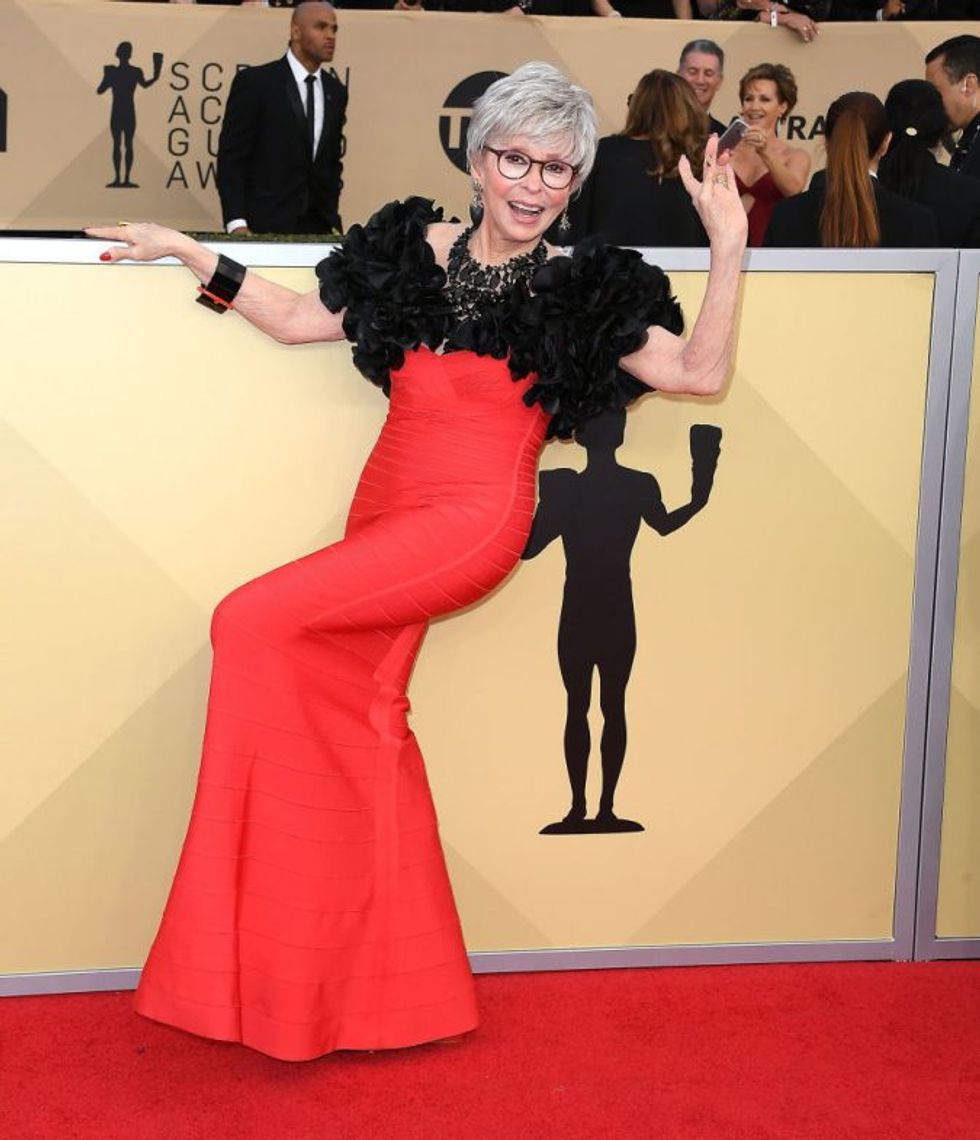 via: Getty Images
Hilarious and talented Rita Moreno, 86, has been performing since she was 13, when she got her first role on Broadway. She got her biggest break when she was cast as Anita in the film adaptation of West Side Story. In the 1970s she was a cast member on the children's TV show The Electric Company and has guest starred in shows such as Golden Girls, The Cosby Show, The Muppet Show, Ugly Betty, Grey's Anatomy, and Jane the Virgin. Currently you can see her on the Netflix sitcom One Day at a Time, playing an enthusiastic Cuban grandmother.
Julia Louis-Dreyfus has been the star of three successful sitcoms.
You probably know her from her roles as vaginal-sponge obsessed Elaine on Seinfeld, and then the 57 year old actress went on to do two more sitcoms after that: The New Adventures of Old Christine about a divorced mother, and currently Veep where she plays the inept Vice President of the United States. She was also a cast member on Saturday Night Live, where at 21 she was the youngest female ever to land the job. She also has eleven Emmys.
Jane Lynch always makes us laugh.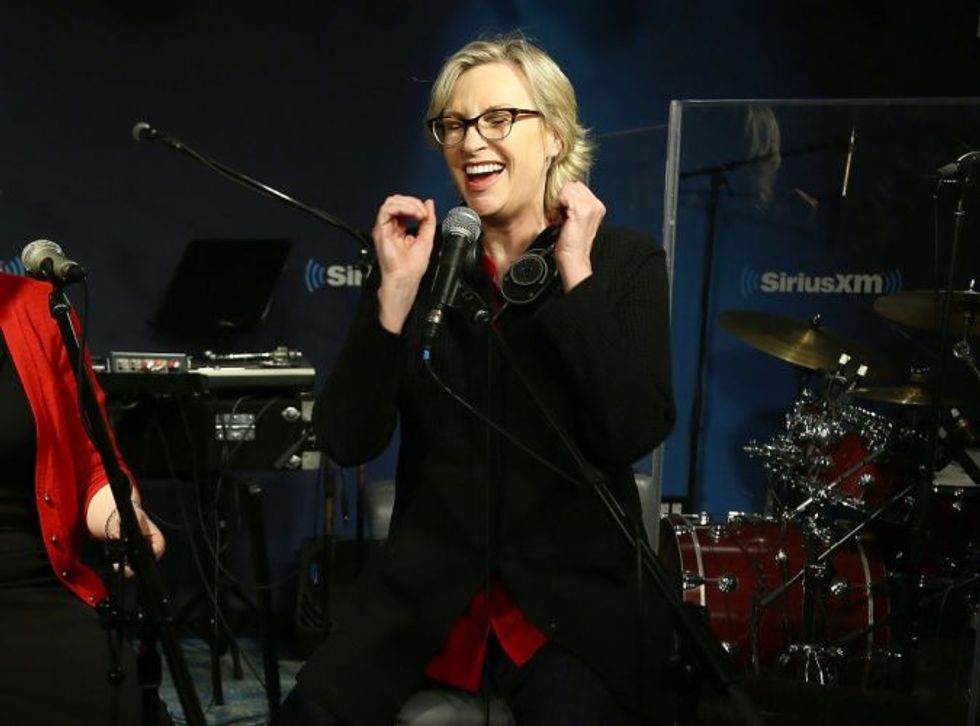 via: Getty Images
Jane Lynch, 57, first gained recognition with her role as an intense dog handler in the movie Best in Show, but her biggest role didn't come until she was 50 as Sue Sylvester in the TV show Glee. She also wrote a memoir Happy Accidents, where she talks about her battle with alcoholism and how she wished she hadn't been so hard on herself when she was young.
Tracee Ellis Ross is very in right now.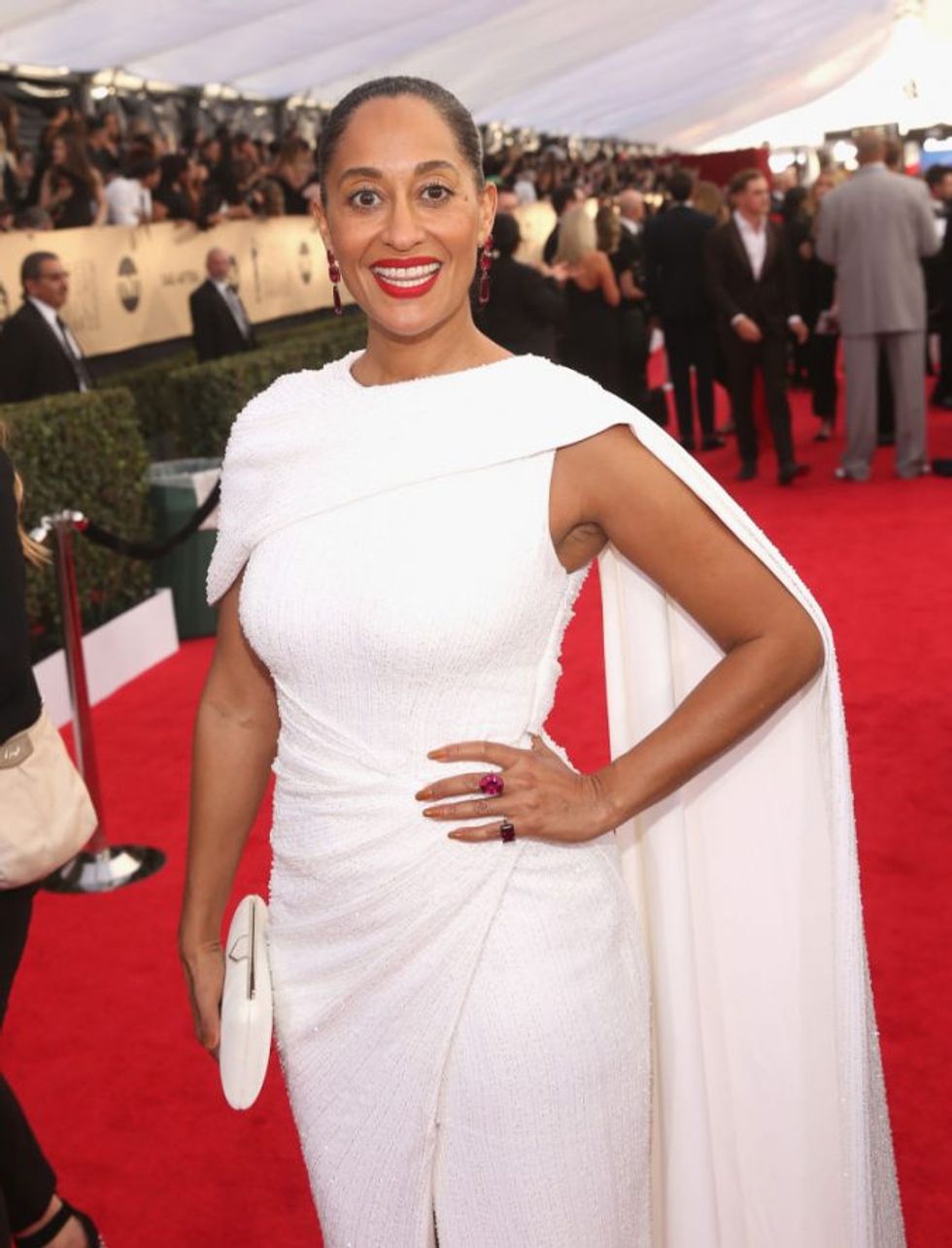 via: Getty Images
The 45 year old star once had the lead role on the sitcom Girlfriends and now stars as Dr. Rainbow Johnson in the hit TV show Black-ish for which she's won NAACP Image awards and an Emmy. She also just happens to be the daughter of Motown artist Diana Ross.
Gillian Anderson was a hero to many girls who grew up in the 90s and were super obsessed with paranormal stuff.
Gillian Anderson, 49, played no-nonsense FBI agent Dana Scully on the X-Files in the 90s and is reprising that role right now in the X-Files reboot. She is an outspoken feminist who said she took the role of Scully because she was a strong female character with agency. She has since starred in the British detective show The Fall.
Anderson is an avid supporter of charity.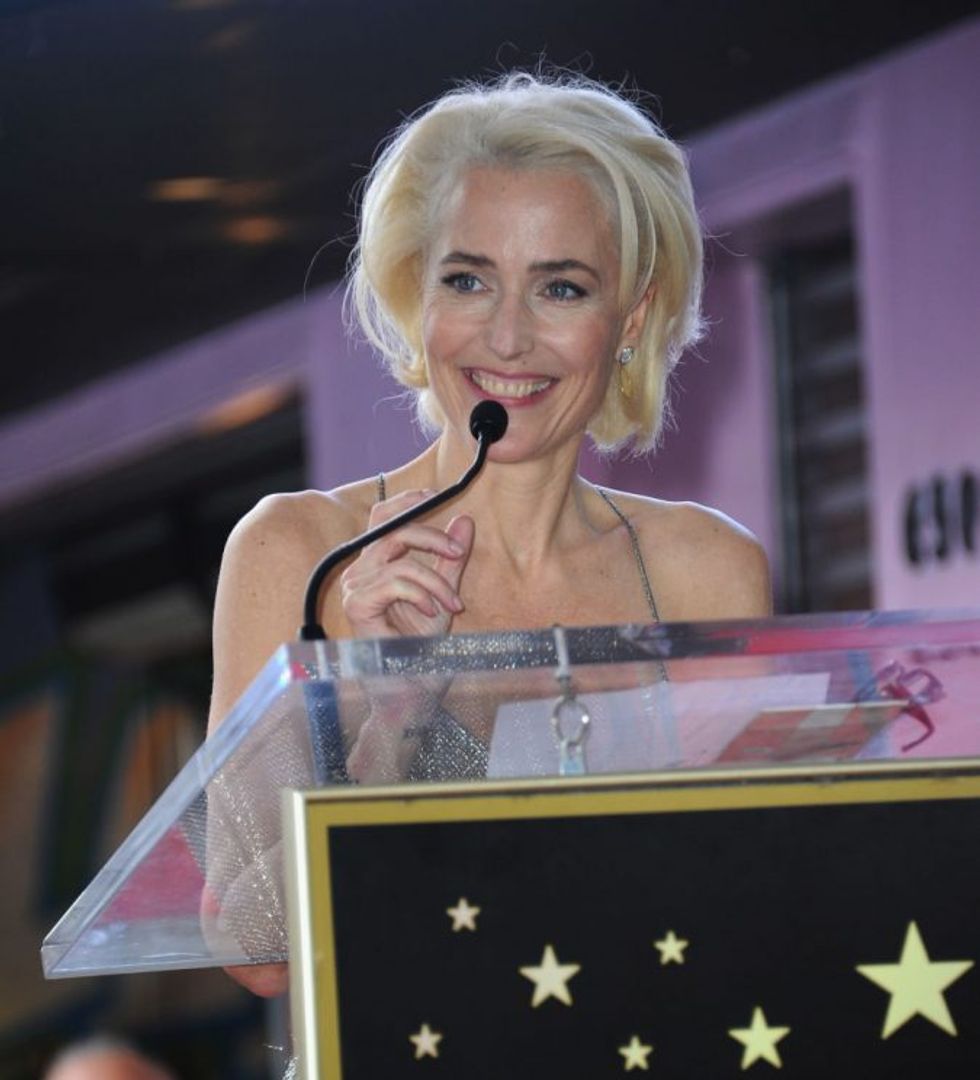 via: Getty Images
She co-founded South African Youth Education for Sustainability, a foundation that helps mentor youth in South Africa.
She is a spokesperson for Neurofibromatosis Network, she is supporter and fundraiser for
Feminist Majority Foundation
, and an active member of
People for the Ethical Treatment of Animals
(PETA), just to name a few of her projects. 
Your mom's favorite celebrity made this list: Ellen DeGeneres.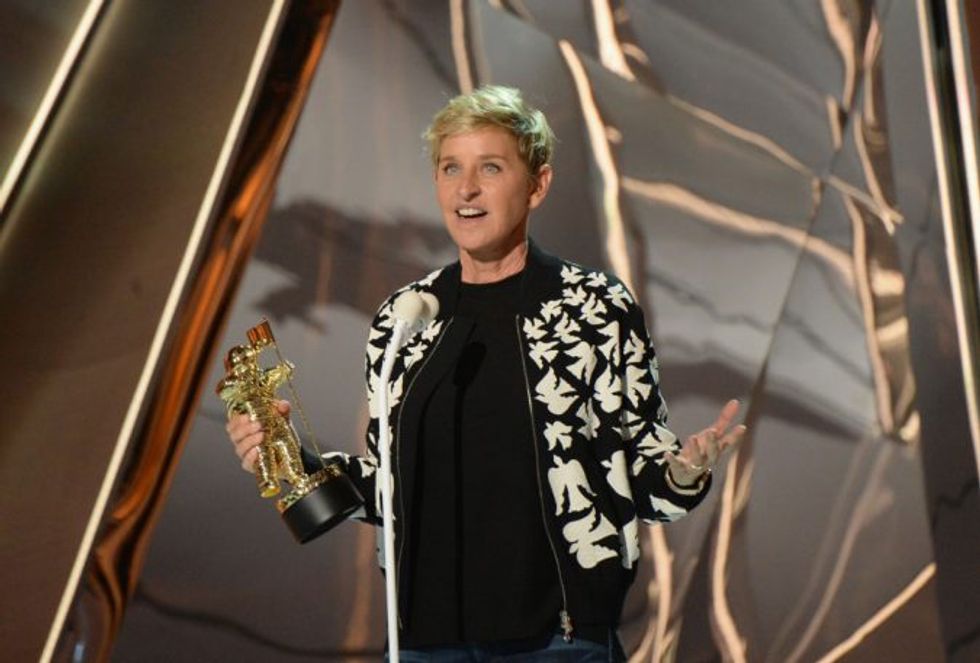 via: Getty Images
What is there not to love about kind-hearted Ellen? The 59 year old actress hosts her own talk show and starred in her own sitcom, Ellen, where she became the first openly gay woman to portray and openly gay character on television. She's also a great dancer, the voice of Dory in Finding Nemo, and a hilarious stand up comedian. You can watch her these day on Ellen's Game of Games, her game show.
Of course we have to mention the only surviving Golden Girl: Betty White.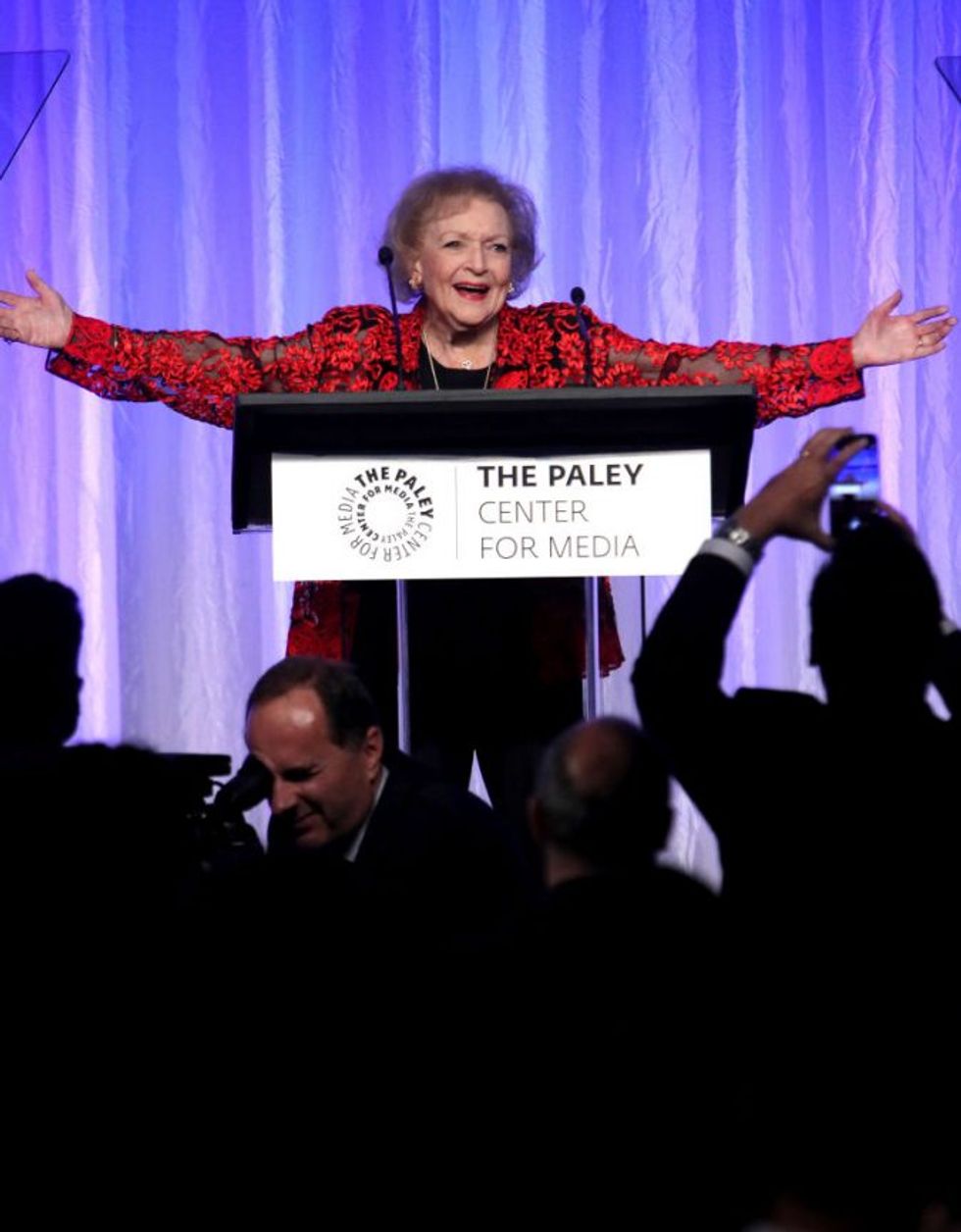 via: Getty Images
At 96 (!) Betty White is still working! She is probably best known for her performance as the adorably naive Rose on Golden Girls, but more recently starred in Hot in Cleveland. Her career is honestly too long and prolific to list everything she's done, but just know that she is the only woman in history to hold an Emmy is every comedic category.
She also produced and hosted a show in the 70s called The Pet Set which featured celebrities and their pets.
Why do we keep rebooting superhero franchises and not this show?