High school is a time of constant ups and downs. You make friends, you lose them. You study but fall short of a good grade. You think that you've figured out what you want to do with your life only to have your plans dismantled by the people around you. What I'm trying to say is that it's hard, but we all have to go through it. And the people that have advanced are living proof that you can actually survive it.
Prom is a time wherein none of that matters, though.
There are no cliques, no awkward encounters, just loud music and punch. Lots of it.
However, for one girl named Emiliee Perry, the night that every teen dreams about was ruined by a bully, who decided to pour juice over her. Emiliee's mother has taken to Facebook to share her outrage and disgust. Keep reading to hear the full story.
Prom is supposed to be one of the best nights of your life.
It's a rite of passage that every teen must go through in order to safely say that they managed to survive the trauma that is high school.
It's an occasion that requires careful planning.
You have to go out with a bang, so it's a time to pull out the big guns. Prom is the time to prove to everyone that, behind the glasses and the study notes, there is a wild child that loves to party and she can look damn good doing it.
It's a time wherein you finally pluck up the courage to ask your crush out.
Of course, if that tactic doesn't work out, you can always with go with your friends, but it's prom! You have to find the balls to ask your long-time crush to be your date or you might never be able to do it.
And people have even shared their "promposals" online with the rest of us.
And it's pretty darn cute, if I do say so myself. These are some of our favorites!
The purr-fect date.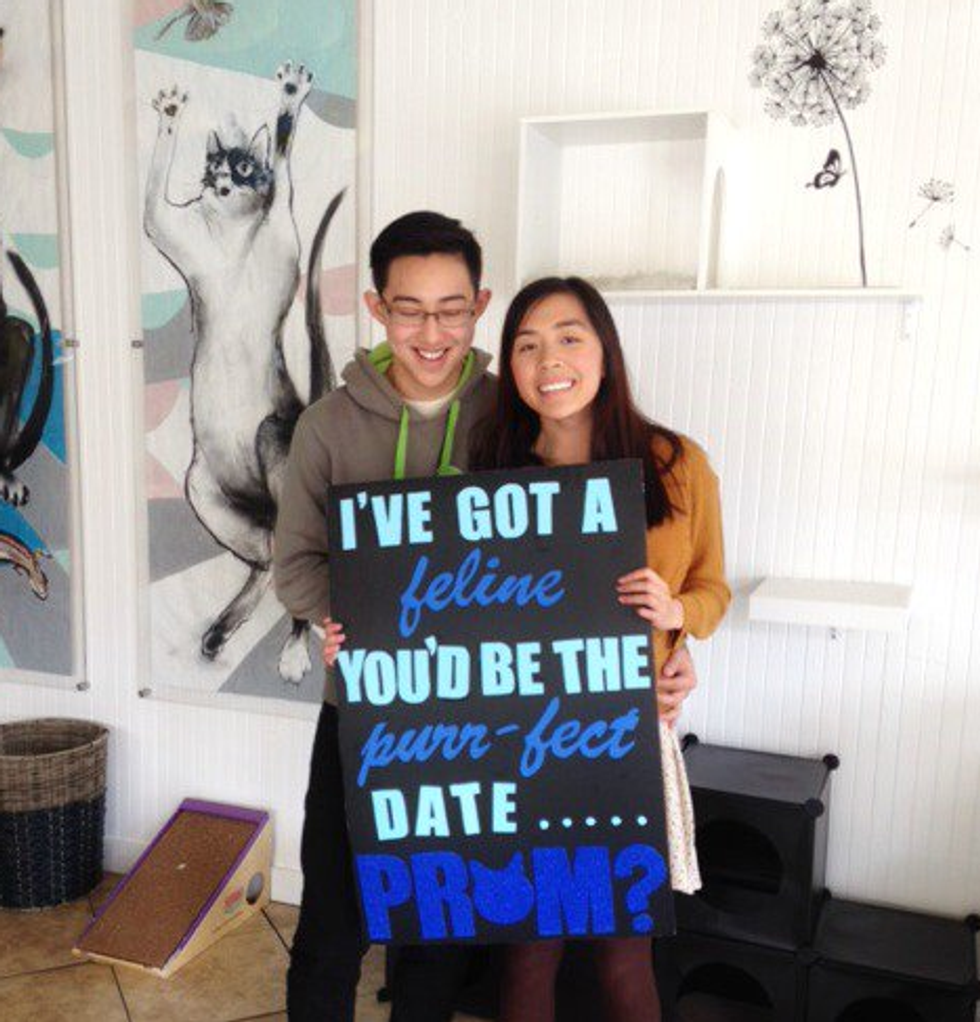 via: Twitter
This little lady played on her crush's love for cats and it looks like it worked!
"Make-up" your mind.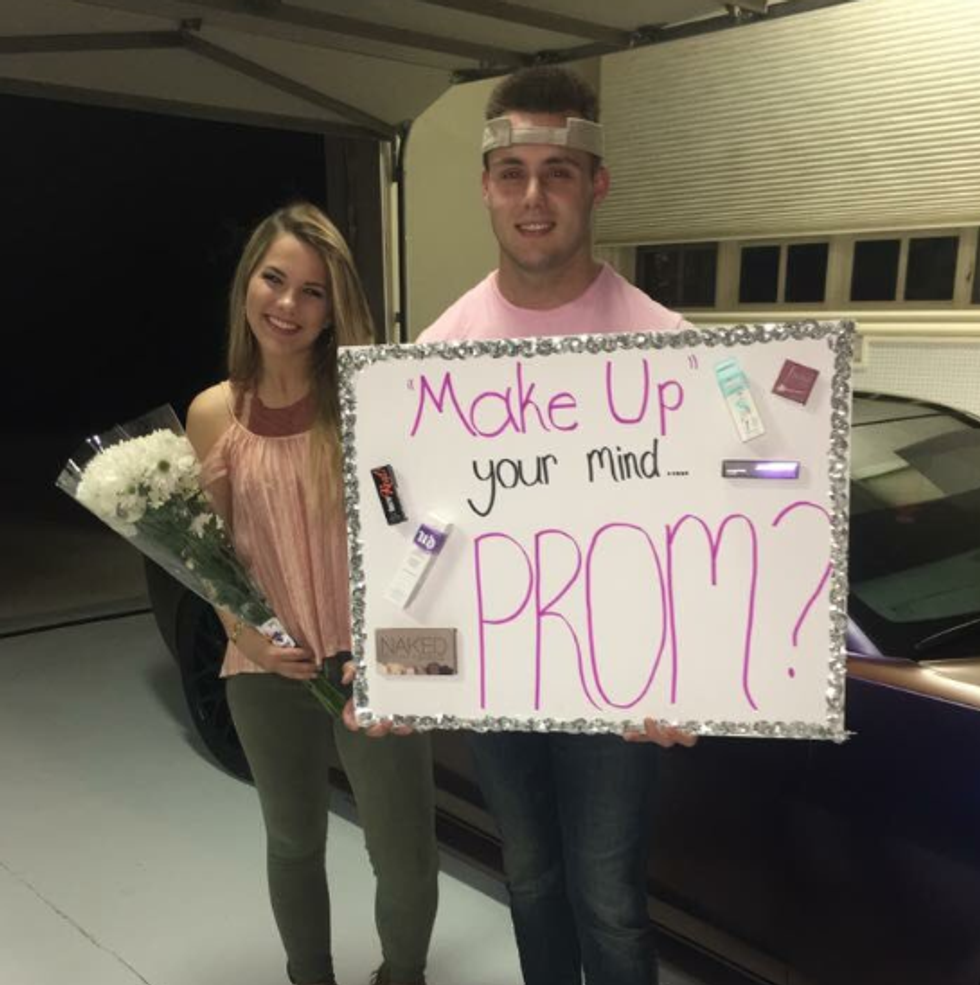 via: Twitter
What girl
wouldn't
love to be pampered like this? I'm guessing she said yes!
"You don't need a mister when you've got a sister".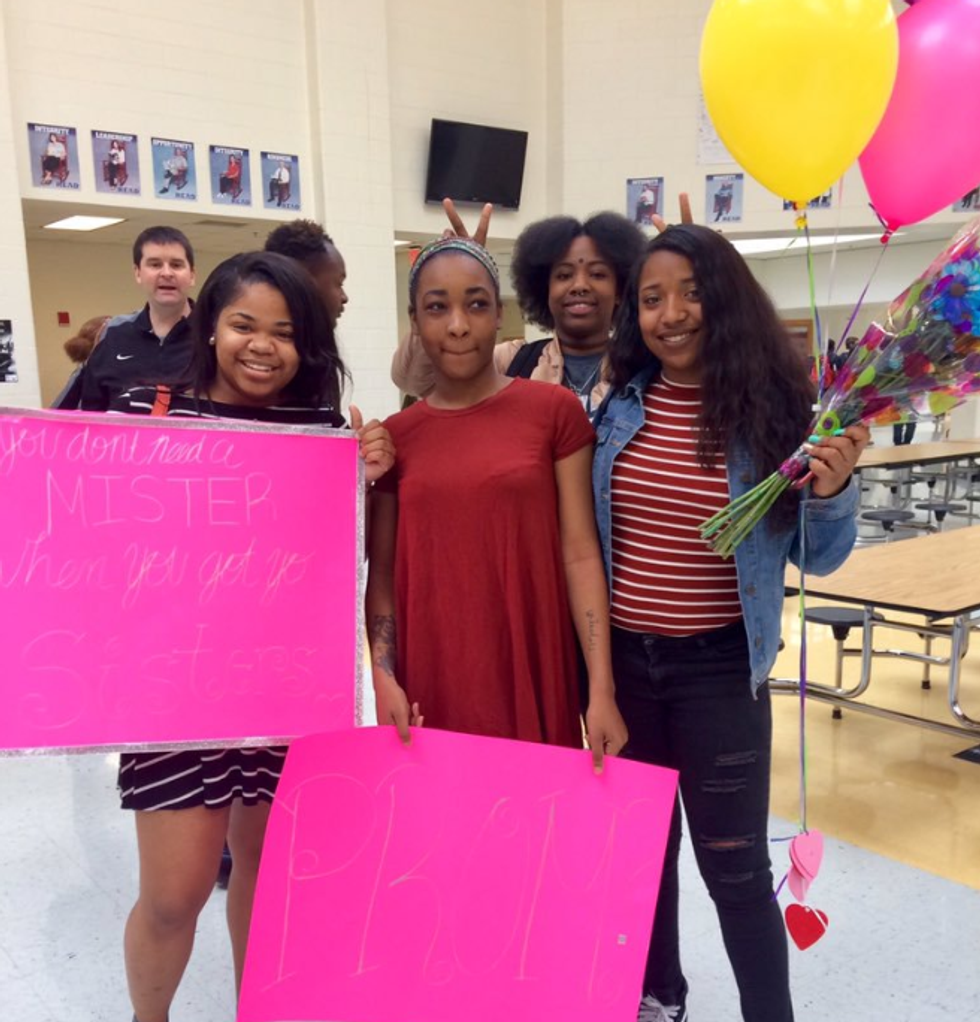 via: Twitter
If you've not got a date, your friends will always have your back.
But with all the pressure of prom, the nerves are bound to get to you.
The perfect dress, the perfect make-up look, shoes, nails, along with everything else - it can be a pretty stressful situation to get your head around, as it was for this one particular sixteen-year-old.
Emiliee Perry's mother said that she had to "beg" her daughter to go to prom.
The student from Doncaster, United Kingdom, suffers from anxiety, so this kind of situation was enough to overwhelm her. Her mother said that she had to "beg" her daughter to attend prom because she thought that it would be nice for her to have a good time with the rest of her classmates.
So Emiliee listened and went to prom.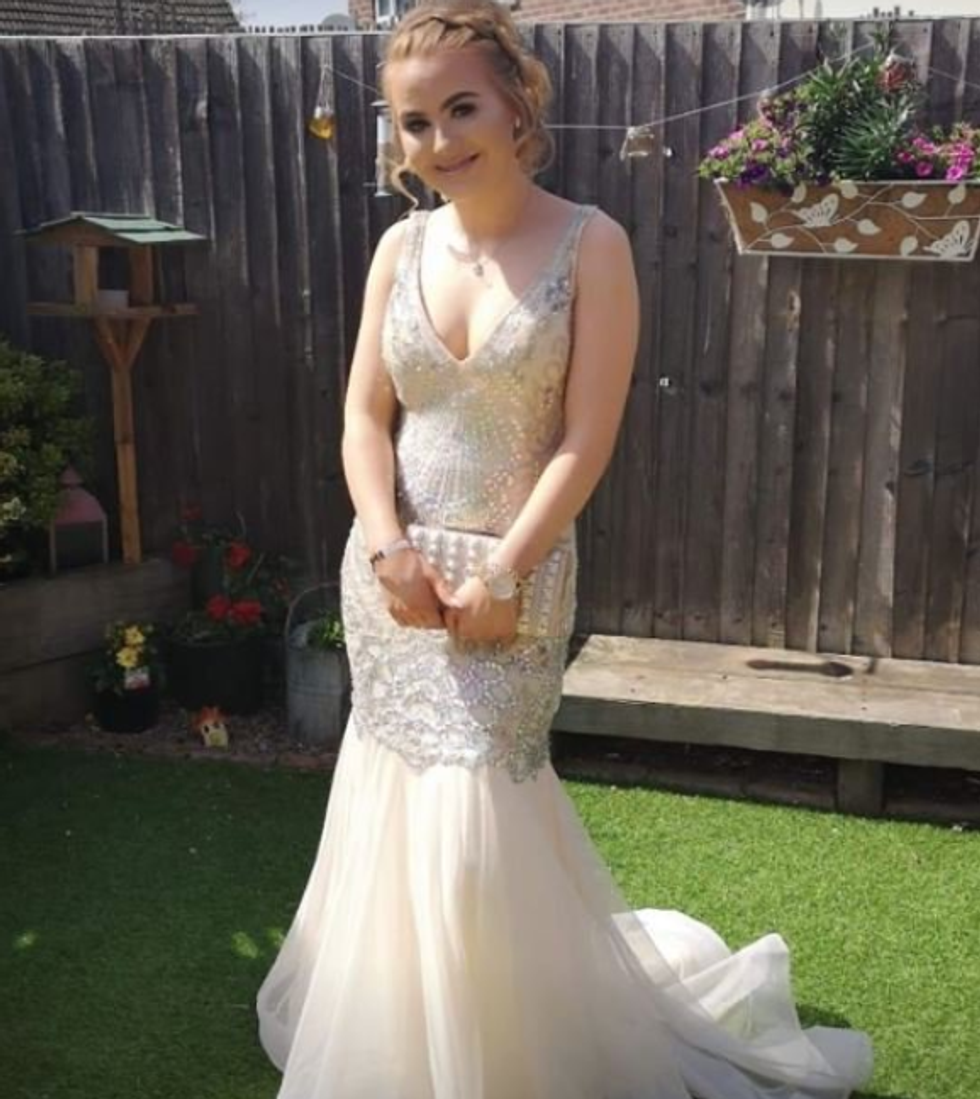 She found the perfect dress: a nude colored number with sequins and a puffy skirt. There's no better feeling than finding that outfit that makes you feel like you can take on the world. With a sophisticated up-do and a natural make-up look to match, Perry was ready to end her high school journey the right way.
That was until her mother got a call.
Two hours into the event, Emiliee's mother, Tracey, got a call from her daughter asking her to pick her up from the school prom.
Apparently, a bully had poured a jug of punch over the sixteen-year-old.
Tracey shared a post, which has now been deleted, on her Facebook expressing her outright disgust at the events that had taken place. A bully, who has not yet been named, had decided to grab a jug filled with punch and tip it over Emiliee, ruining everything for her on the big night. Bullying continues to be a massive issue in high schools all around the world, often making victims feel isolated and alone. Things are being done to try and prevent it, but, sometimes, events like this still occur and it makes you wonder whether only raising awareness about the issue is enough.
The photos show the devastation on Emiliee's face.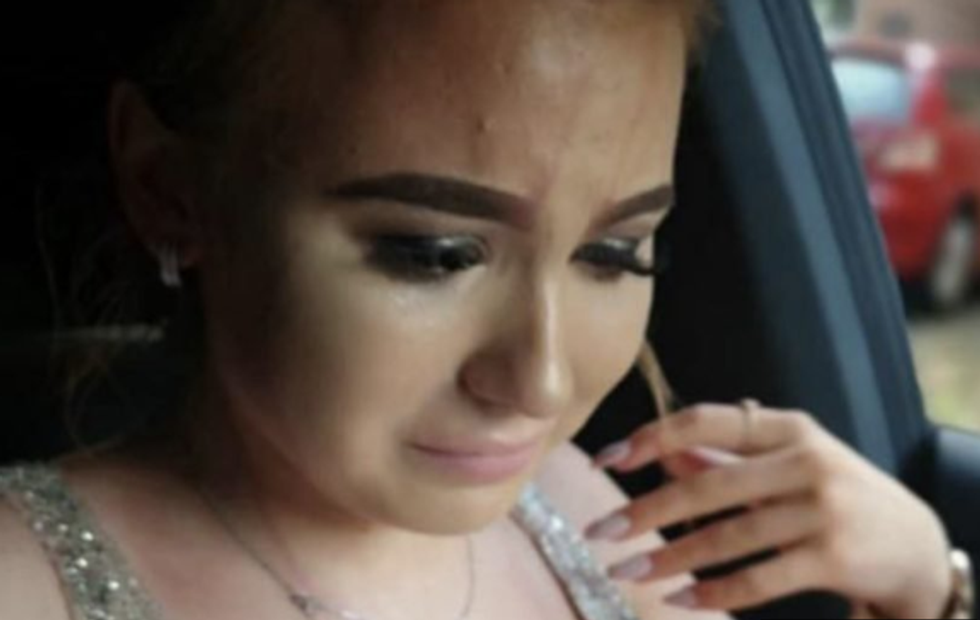 Her hair was soggy, her dress was ruined, and the already anxious teen was left with tears streaming down her face. This was supposed to be one of the best days of her life, but, instead, it had become one of the worst.
And her mom was angry, to say the least.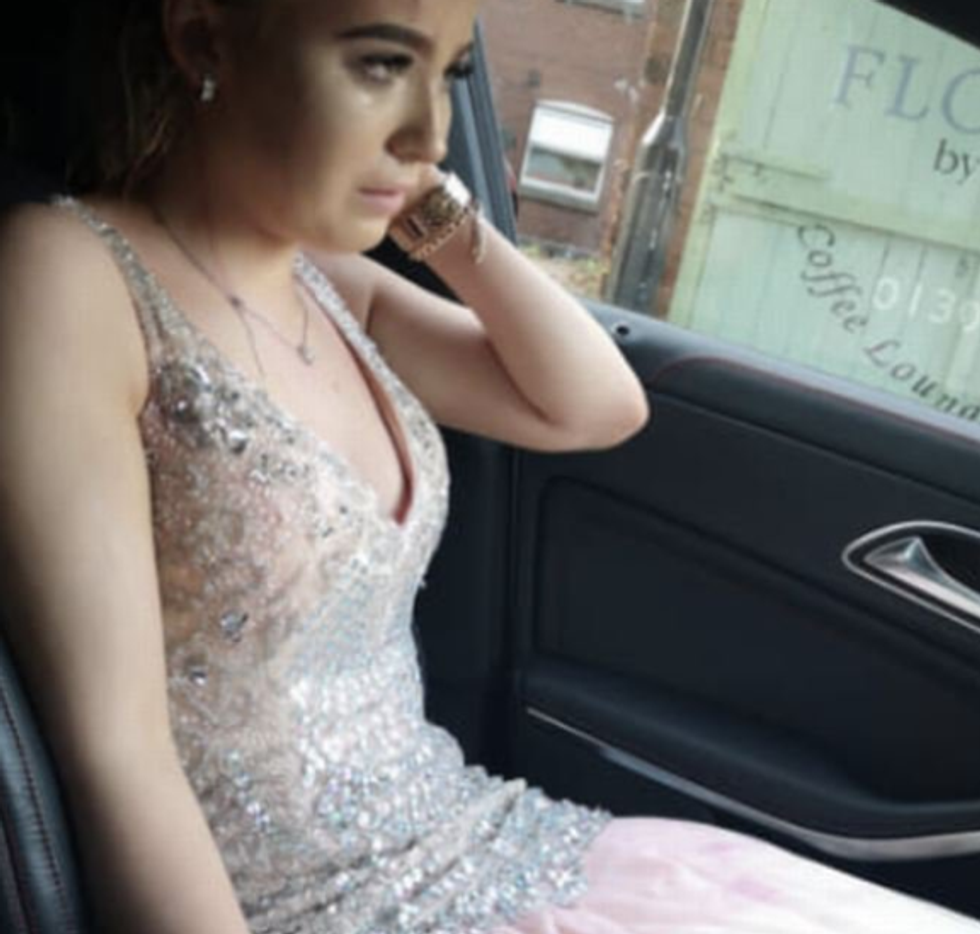 After all of her efforts, convincing her daughter to attend the prom,
this
is what happened. She just couldn't believe that someone would be so cruel as to do this. She took to Facebook to express her thoughts. She said: "This is my beautiful daughter, who suffers with anxiety whom we had to beg to go to the prom this evening. Two hours later I collect her from the prom like this, heartbroken and in a state. This [person] thought it a good idea to pour a full jug of juice over her and soak her from head to toe."
She also added this:
"I hope one day someone humiliates and devastates her like she has done to my daughter!"
Her anger was shared by thousands of others online who rallied in support of Emiliee.
This Twitter-user was so outraged that he "hoped" the bully gets "covered in 1000 wasps."
And Jessica just couldn't believe that someone could do this.
This just made me tear up, what the fuck is wrong with people https://t.co/cfXDLXc0Pn

— jessica 🌹 (@jessica 🌹)1561972251.0
Neither could we. Imagine being such a horrible person that you would ruin an important night for someone else.
Some people have even shared their own experiences about prom.
@___kirana___ I hate how people do that, I had my jarana and prom ruined because these two guys decided to bully me… https://t.co/pCc2upzXIF

— Yvette (@Yvette)1561913113.0
Yvette (@_sallynight_) told Twitter that she was also bullied on prom night until she just left to spend the night alone.
People have also said that they think that the bully deserves to be punished.
And we agree. You can't just get away with something like this. One person on Twitter suggested that whoever poured the punch deserves to have her grades reduced and some have even urged Emiliee to give the bully a taste of their own medicine.
All in all, Emiliee is extremely grateful for the support flooding into her inbox.
She said: "The way that people have responded has absolutely overwhelmed me and has proven to me that I can get through everything and I hope that this makes me a stronger person. I'm personally making the decision to keep the name of the girl anonymous because I would HATE to be spreading her name around and causing her more hate and stress." Spoken like a true hero.