If you were a child anytime between 1963 and present day, you know about Mr. Rogers.
He was the amazingly kind, generous, and compassionate host of Mister Rogers' Neighborhood, which taught children the importance of imagination, being yourself, and learning about the world around you.
Here are 20 fascinating facts you might not know about our favorite neighbor.
1. All of his sweaters were knit by his mom.
As you'll undoubtedly remember, every episode of 
Mister Rogers' Neighborhood 
began with Mr. Rogers entering his home and changing into a zippered cardigan. According to
an interview he did for Emmy TV
, they were all handmade by his mom. One of his iconic sweaters is currently displayed at the
Smithsonian Institute
 as a Treasure of American History.
2. He changed into sneakers for every episode because they were quieter on set.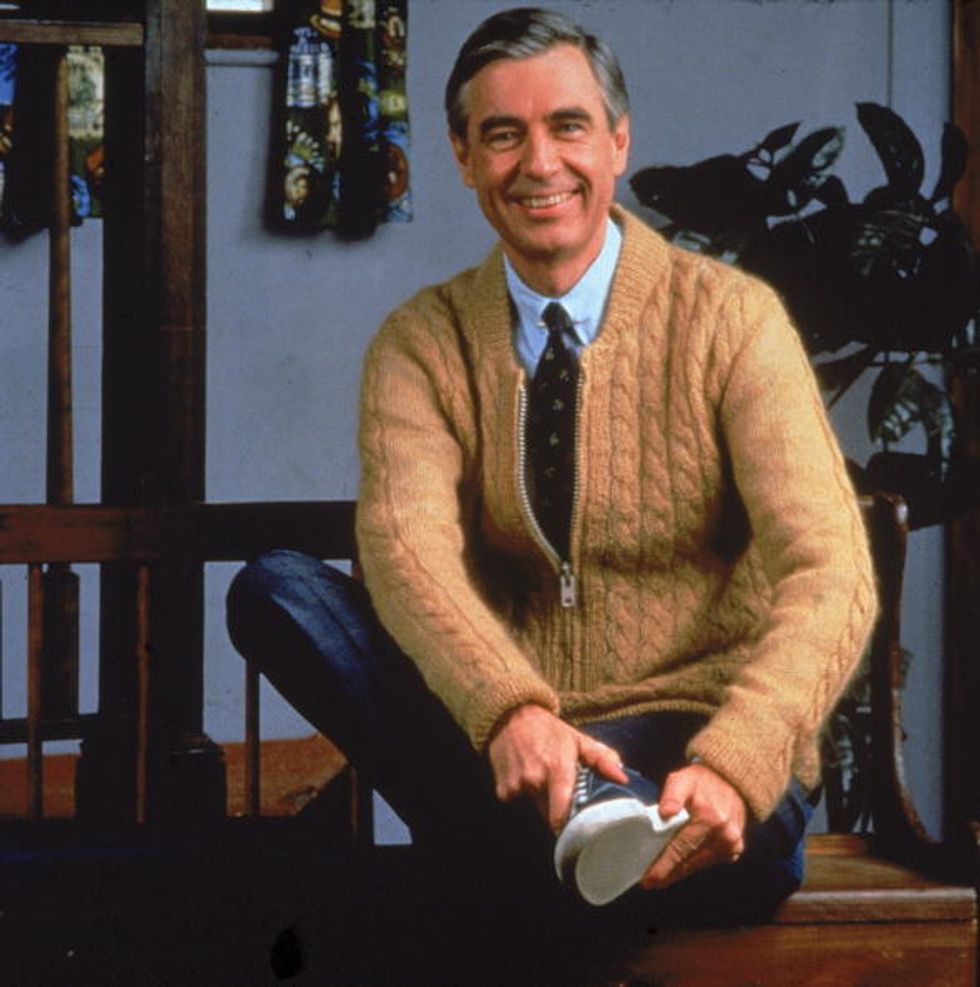 via: Getty
Rather than clomping around in his dress shoes,
Mr. Rogers changed into much quieter sneakers
. His shoes of choice were Sperry Topsiders or Converse Skidgrips.
3. Each episode of Mister Rogers' Neighborhood featured live music.
Mr. Rogers hired Johnny Costa as the show's musical director, arranger, and keyboardist. Costa's music was originally regarded as being too complicated for a children's program, and he refused to play "baby music," lending the show its unique score. For every episode, Costa and his trio played live music in the studio.
4. Fred Rogers himself had a B.A. in Music Composition.
He spent much of his early life listening to his mother play the piano and started playing himself at the age of 5. He earned his degree in 1951 from Rollins College in Winter Park, Florida and composed almost all of the songs he sang on the show. He also earned approximately 40 honorary degrees over the years.
5. He was also a minister.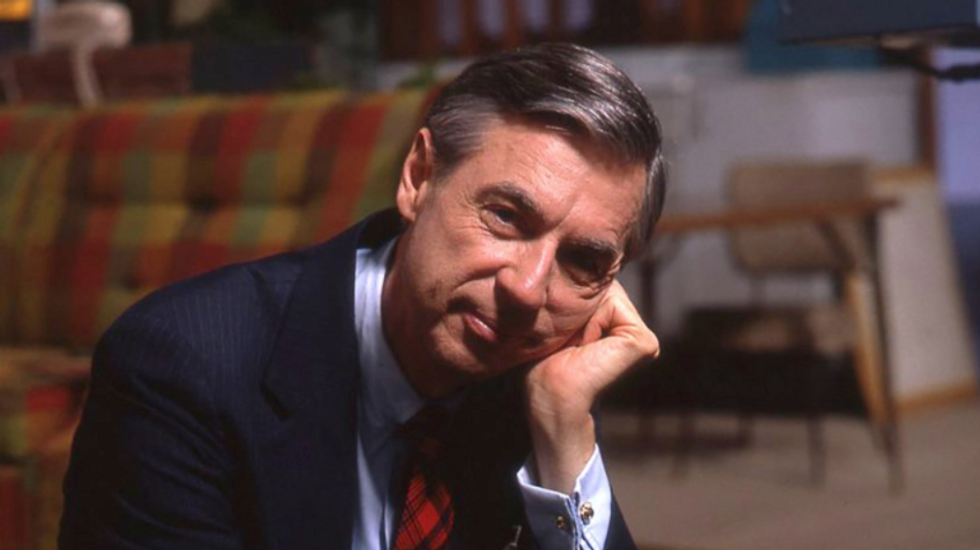 via: Twitter
After attending Rollins College, Mr. Rogers attended Pittsburgh Theological Seminary and was ordained as a Presbyterian minister in 1963. But music composer, children's show host, and minister are just a few of the hats Mr. Rogers wore. He also had a pilot's license...
6. He was a private pilot.
However, contrary to popular belief, Mr. Rogers was never in the military. (For some reason, those rumors continue to make the rounds.) He reportedly said that his brother George, who was a flight instructor for the Tuskegee Airmen, taught him how to fly.
7. He was color blind.
Red-green color blind, to be specific. His television partner
Josie Carey
reports that Mr. Rogers' colorblindness made it so he was unable to distinguish between tomato soup and pea soup when he had them for lunch, and that once he asked her to taste his soup and tell him which one it was.
8. He swam every morning.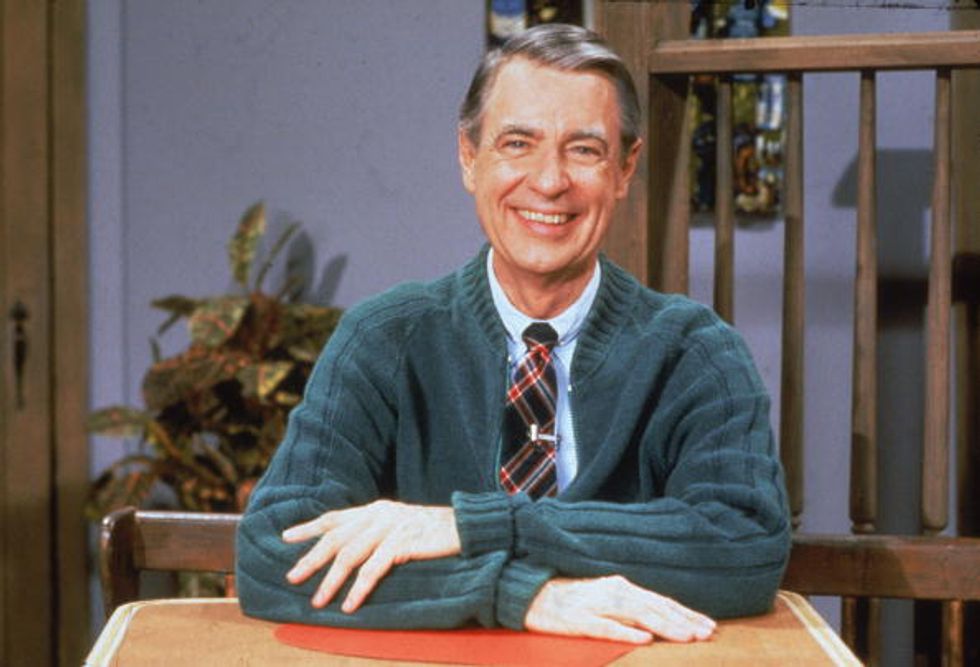 via: Getty
But the cardigan and sneakers were nowhere to be found as part of this daily routine. Apparently,
he preferred to swim in the buff
.
9. There's a very touching story behind his on-set fish.
Mr. Rogers once received a letter from a young girl who was blind and a fan of his show. She said that she worried about his fish because he didn't always say when he fed them. From then on, Mr. Rogers would always announce when he fed his fishy friends.
10. His middle name was McFeely.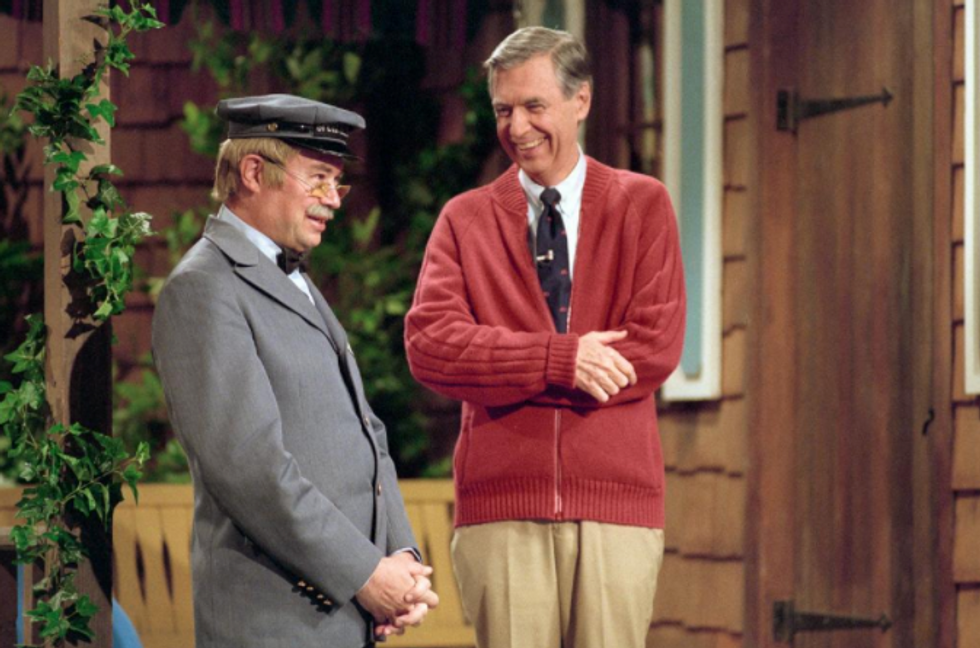 via: Twitter
(Also his mother's maiden name.) Mr. McFeely isn't the only 
Mister Roger's Neighborhood
character named after a real person, though. Mr. Rogers named Queen Sara Saturday after his wife and Lady Elaine Fairchilde after his sister. And speaking of the many characters in the Neighborhood of Make-Believe...
11. Mr. Rogers provided voices for a lot of the puppet characters.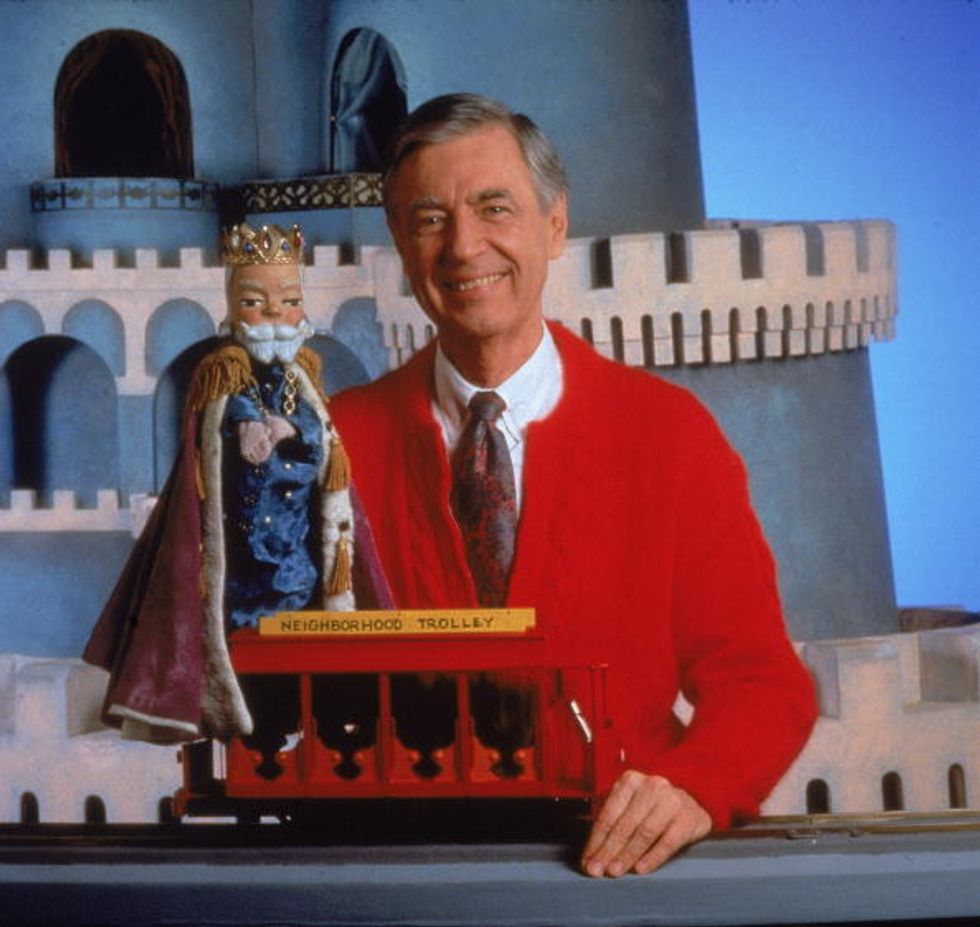 via: Getty
He was the voice of King Friday XIII, Queen Sara Saturday, X the Owl, Henrietta Pussycat, Daniel Tiger, Lady Elaine Fairchilde, and Larry Horse.
12. He insisted on not adopting an on-camera persona.
With Mr. Rogers, what you see is what you get. He once said, "One of the greatest gifts you can give anybody is the gift of your honest self. I also believe that kids can spot a phony a mile away."
13. He basically saved public television.
Back in 1969, the government wanted to drastically cut Public Television funds. Mr. Rogers — who at the time was relatively unknown — went to Washington to testify before a Senate subcommittee. You can watch his testimony in the video above. Do it. You won't regret it. The grumpy politician in charge of the questioning was so struck by Mr. Rogers' testimony that the funding for Public Television jumped from $9 million to $22 million.
14. He was a vegetarian.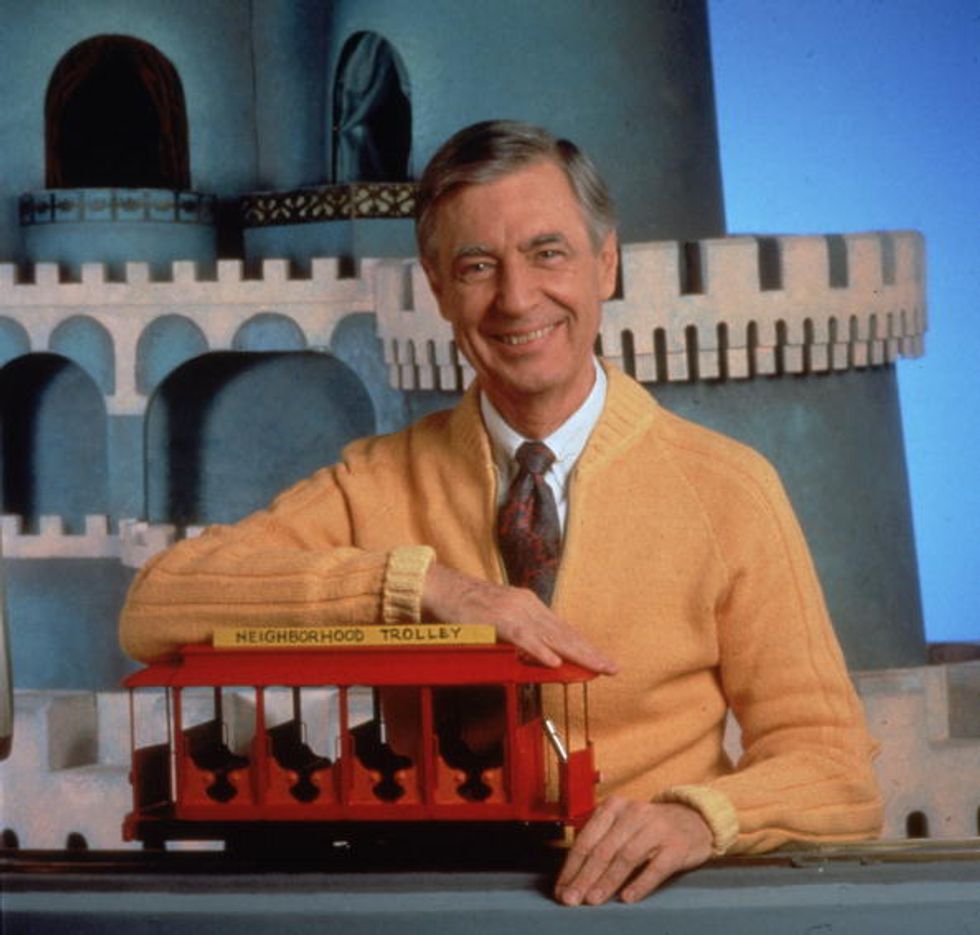 via: Getty
"I don't want to eat anything that has a mother," he often said. He also once said that "It's hard to eat something you've seen walking around."
15. He once appeared on an episode of Candid Camera.
But it didn't quite go according to plan. The prank show had removed the TV from the hotel room he was planning on staying in for a PBS conference. However, Mr. Rogers didn't seem to mind the lack of a television set. "That's perfectly all right," he said to the bellhop. "I sometimes watch the news but that's all and I wasn't going to watch that tonight... I could live happily without a television set forever probably, so for tonight it's no problem at all." Speaking of furniture, Mr. Rogers had a fascinating way of decorating his office...
16. He didn't keep a desk in his WQED Pittsburgh office.
via: Twitter
He only had a sofa and armchairs. Why? Because he thought a desk would create "too much of a barrier."
17. He's going to on a stamp this year.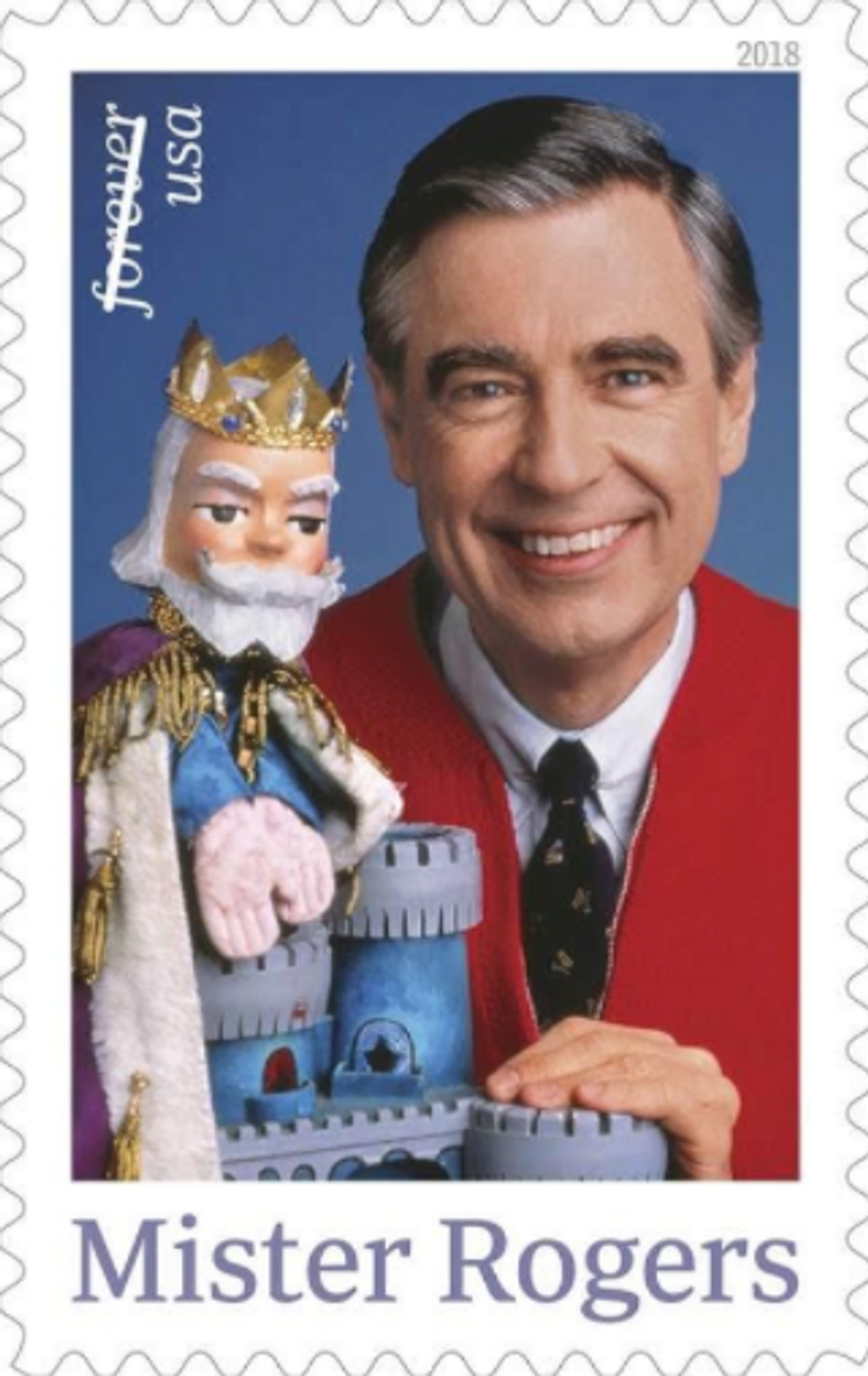 via: Twitter
Mr. Rogers is scheduled to be featured on the U.S. postage stamp accompanied by King Friday XIII. The stamp will be available starting on March 23, 2018.
18. He weighed 143 pounds for most of his adult life.
He considered 143 to be a very special number because it takes one letter to spell "I," four to spell "love," and three to spell "you." And if that's not the most heartwarming thing you've read all day, I don't know what could possibly top it. Except maybe this next fact.
19. He never appeared in commercials.
In 1984, Burger King created an ad parodying Mr. Rogers with a character named Mr. Rodney. Mr. Rogers called a press conference and told the company he did not endorse the company's use of his likeness or character. "I have never made a commercial," he said. "My face has been on the air for about 30 years and I have never even appeared in a [television] auction because I feel strongly that young children need to be protected against those whom they trust not telling them things." Burger King apologized and pulled the ad.
20. Michael Keaton was a stagehand on Mister Roger's Neighborhood.
In 2004, Keaton hosted the PBS TV special Fred Rogers: America's Favorite Neighbor. "[He] was one of the nicest, authentically good people you've ever met," Keaton said about Mr. Rogers. "Really good dude [with] kind of a sneaky, sly great sense of humor."