We've all enjoyed the pure, childlike joy when the wave machine comes on at our local pool. Something about being swept away in the water is simultaneously calming and carefree yet still thrilling and exciting. At least, that's the aim.
But one water park in China massively missed the mark this week when they turned their wave machine to full throttle. Think that sounds fun? You'd be very wrong - the "tsunami setting" caused gigantic and powerful waves that left forty-four of the park's guests injured - and many on the internet with some serious questions. Like, "why on earth make a setting that's so powerful?" and, of course, "how can I make sure I never go to this water park?"
Don't believe a wave machine could be so terrifying - or so dangerous? Read on for the full video.
When summer rolls around, nothing beats relaxing in the pool.
Being able to relinquish the responsibilities of dry land and just float freely is one of life's greatest pleasures.
And for those of us who live far from the coast?
Well, thankfully, there are magical inventions called wave machines, which help man-made pools mimic the soothing (or sometimes thrilling) effects of mother nature.
But there's one thing to bear in mind.
Wave machines are meant to provide fun. As in, they should be a pleasant, enjoyable experience.
But one waterpark employee had a different idea.
It's one thing to get drunk on the job. But if your job is to protect the safety (and enjoyment) of dozens of waterpark guests, then it becomes even more dangerous.
Because we all know what happens to our judgment after a few beverages.
Things that would ordinarily seem like a supremely terrible idea start to look a little bit funnier.
Our story takes place at the Shuiyun Water Park.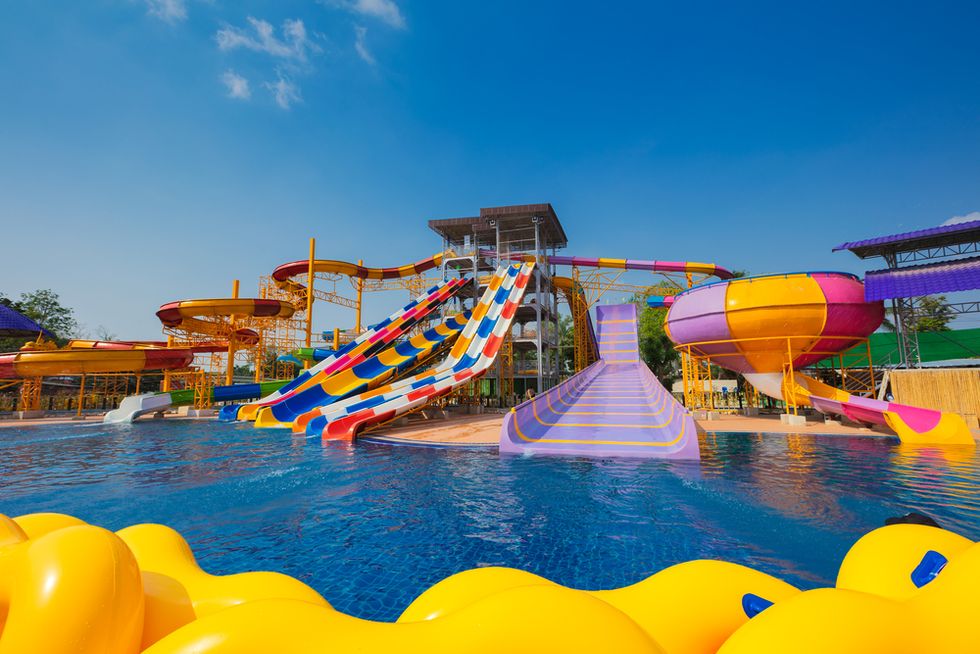 via: Shutterstock
The popular destination for holidaymakers is in Northern China.
And one employee at Shuiyun decided to go rogue.
Taking control of the wave machine, he decided to go to a level the park had never experienced before.
Sound like fun?
You'd be very wrong. And people on the internet are absolutely baffled by this crazy-seeming wave machine.
Internet users have one overriding question.
Why does the machine even have this setting? Or, as one Twitter user put it, "Why is there even an option to go that big? TF are the levels? -NoWaves -kiddyWaves -NormalWaves -SurferWaves -KillEveryoneAndLeaveNoSurvivorsWaves"
Although there are some theories out there.
Alongside the allegations that the employee may have enjoyed a few too many brewskis before operating his post, others suggest he was just too rock 'n' roll, man.
Others posited different theories.
@barstoolsports When you have a bad day and want everyone to feel your pain.

— 🅵🅸🆃🆉 (@🅵🅸🆃🆉)1564587800.0
For example, this one - the employee was simply having a bad time and wanted to watch the world burn with him.
Or perhaps this makes more sense.
@1984to1776 @roostersghost If you're gonna get fired, give them something to remember you. https://t.co/kJa0uuPzKQ

— Black Pilled Orwell 🏴 (@Black Pilled Orwell 🏴)1564542913.0
Maybe said employee was on a final warning and decided it was best to go out with a bang rather than a whimper.
Here's another suggestion.
@barstoolsports Won't be getting anymore complaints that "the waves aren't big enough"

— Daniel Murray (@Daniel Murray)1564587315.0
We don't claim to know the struggles of the wave machine operating community - but we can imagine constantly getting complaints about the feebleness of the waves could start to drive a person mad.
Although the whole internet does agree on one thing.
@1984to1776 It's funny that someone thought it was an okay idea to have a tsunami setting

— Elaine (@Elaine)1564552333.0
The fact this wave setting was invented in the first place seems completely insane.
Nonetheless, there are some thrill-seekers out there.
@barstoolsports that looks fun af

— Grant Crack (@Grant Crack)1564586471.0
While most watched the video with a wince on our faces, there are some out there who experienced a strange feeling of jealousy.
Some had an ... innovative idea.
@barstoolsports that looks fun af

— Grant Crack (@Grant Crack)1564586471.0
Perhaps there could be special times set aside for those who are dare-devils - or who less regard for their own personal health and safety.
We can see this point.
@discordspies @1984to1776 @isabellarroche It looks simultaneously fun and horrifying. I think it would be fun as he… https://t.co/FVWnFfkFje

— Johnathan Irwin (@Johnathan Irwin)1564585126.0
While the video (see below) does look pretty terrifying, the idea of enjoying these sorts of waves without fear of getting bashed in the head by a fellow pool-goer does seem more appealing.
Of course, there were some jokes on the subject.
@Kaicinan1 @1984to1776 @LoperVonn No one knows why but it's provocative!

— ʝօɛʟy (@ʝօɛʟy)1564547016.0
Don't ask "why" there's such a setting if you're looking for any sort of sensible answer, ok?
Although some answers were submitted.
Perhaps the inventor of this particular wave machine ended up going mad with power?
Here's the video that has got everybody talking.
And if you thought this drunken behavior was dangerous, keep scrolling for an even crazier escapade.