Ah, there's nothing like a cute kid being their adorable-selves to tug on the internet's heart-strings - and 5-year-old Elijah is no exception.
To celebrate his birthday, the 5-year-old Disney fanatic had a magical Up-themed photoshoot with his ninety-year-old great-grandparents and the result is one of the sweetest, most heartwarming things we've laid eyes on.
The movie tells the story of seventy-eight-year-old balloon salesman, Carl Fredricksen, who, following the death of his wife, embarks on a lifelong dream by tying thousands of balloons to his house to fly away to the South American wilderness.
Up is Elijah's favorite film, and when his mom shared the adorable pictures to Facebook, the snaps went viral, winning the hearts of hundreds online.
Sadly, there's also a heartbreaking tale behind the photoshoot. Keep scrolling to catch a glimpse of the magical snaps and why the shoot was more than just a birthday celebration.
Disney's Up is a heartwarming family adventure.
The 2009
Disney Pixar movie
tells the story of seventy-eight-year-old Carl Fredricksen, who ties thousands of balloons to his house to fly to South America.
He meets many fun-loving characters along the way.
Including a boy scout named Russell, who ends up being an accidental stowaway aboard the b
alloon-powered house. 
The film is tainted with the underlying theme of grief.
Carl's wife, Ellie, has passed away, and Carl takes it upon himself to fulfill their dream to travel together to find Paradise Falls.
It's become a favorite amongst the Disney-loving community.
The animated movie received rave reviews from critics and fans alike, with the adventure-seeking storyline striking a chord with viewers.
One fan of the movie is 5-year-old Elijah.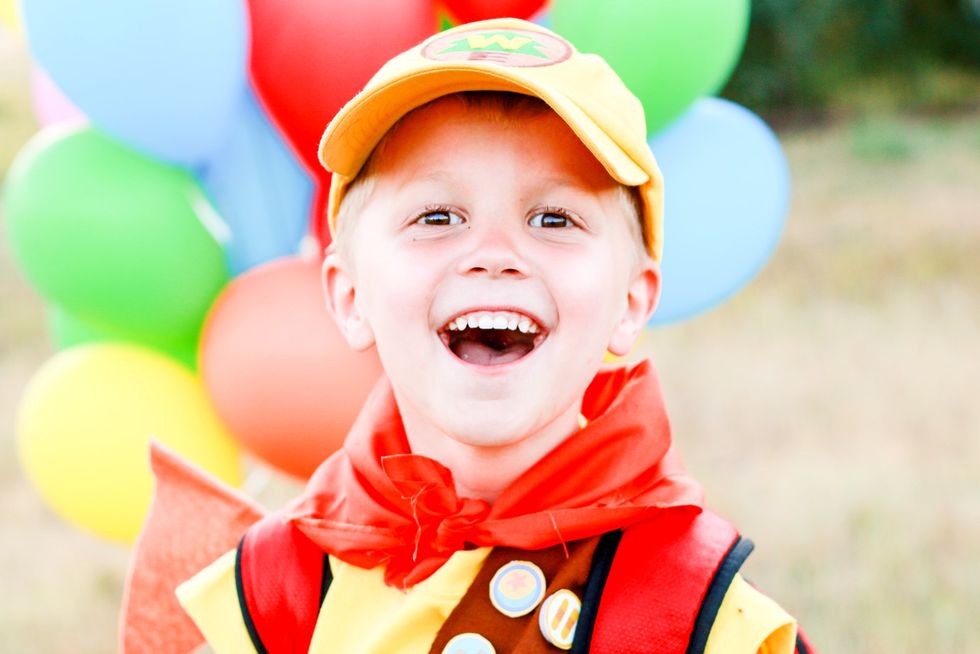 According to his mom, Rachel Perman, the 5-year-old is "obsessed" with the movie. So much so that it's one of the only movies he'll watch. And when his fifth birthday came around, his mom, who's a part-time photographer, gave him the choice of a "magical" photoshoot to celebrate the occasion... and, of course, he picked
Up
.
So his mom made his dreams come true.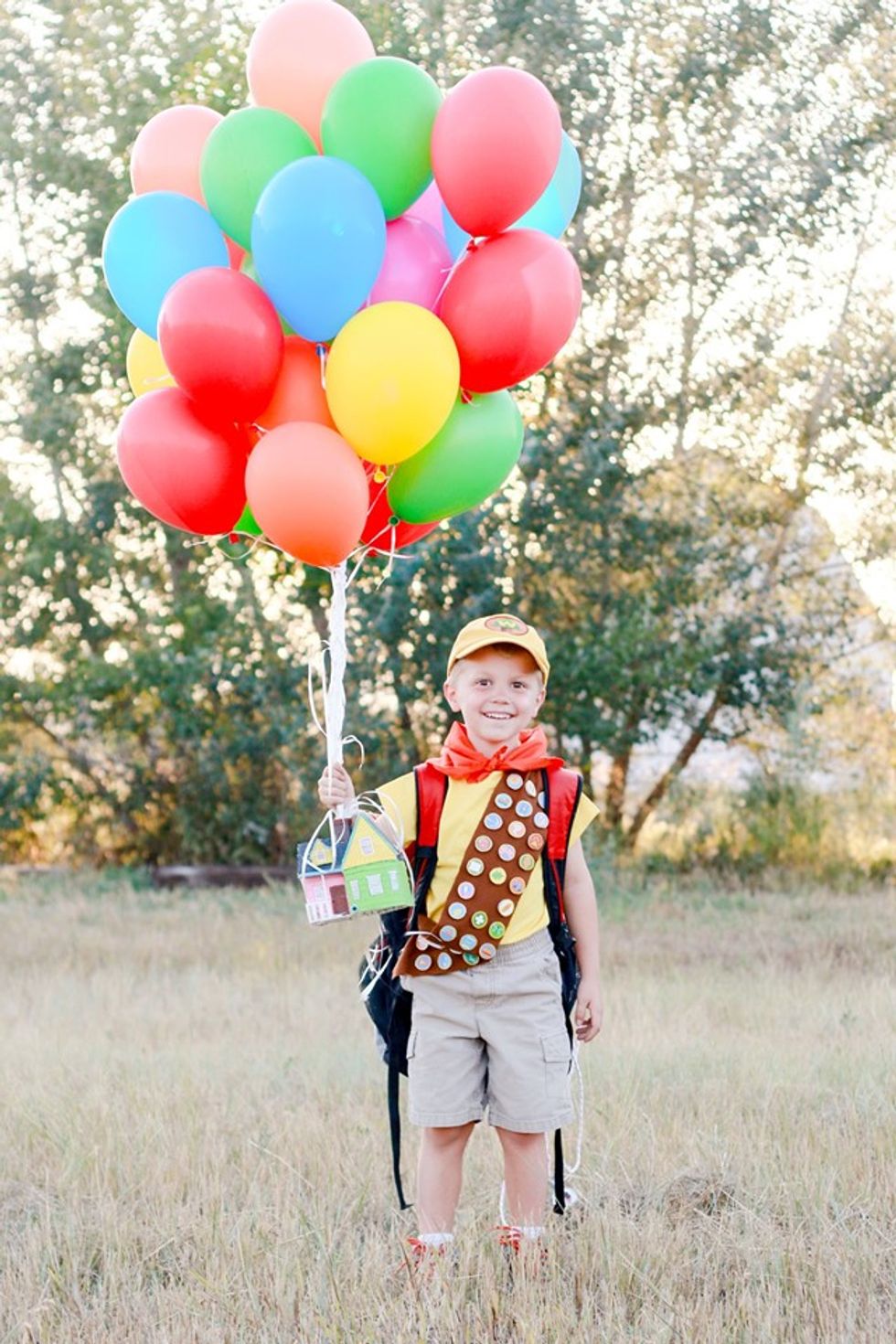 Elijah dressed as Russel, the boy scout who accidentally embarks on the trip of a lifetime with OAP, Carl.
But, his mom then had the idea of roping in Elijah's great-grandparents.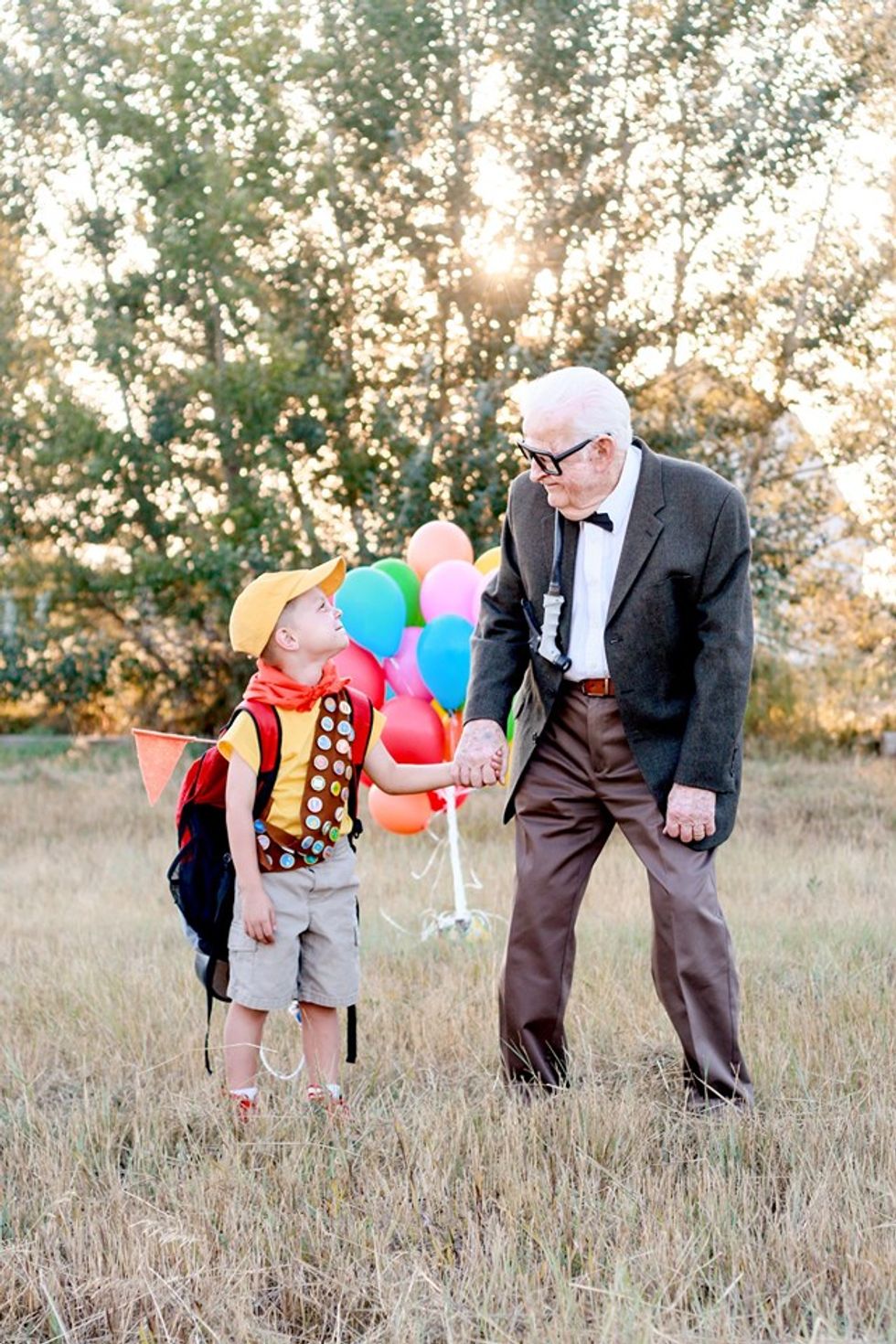 His great-grandad, Richard, dressed as Carl from the animated adventure.
The trio looks the spitting image of their Disney counterparts.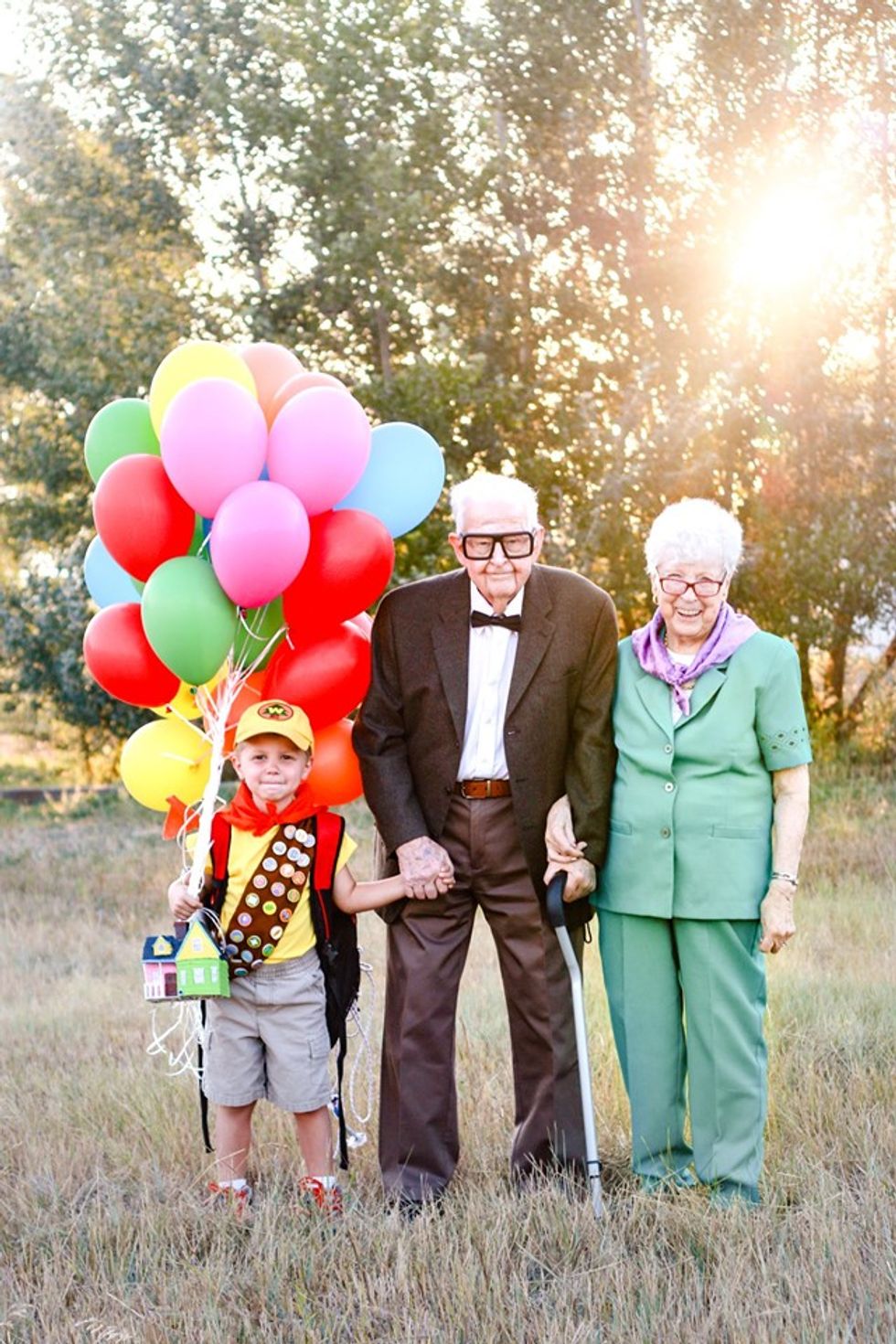 During the adorable shoot, Elijah stood alongside his ninety-year-old grandparents, Richard and Caroline, and they look like they
just
stepped out of the Disney movie.
The real-life Carl and Ellie are true love birds.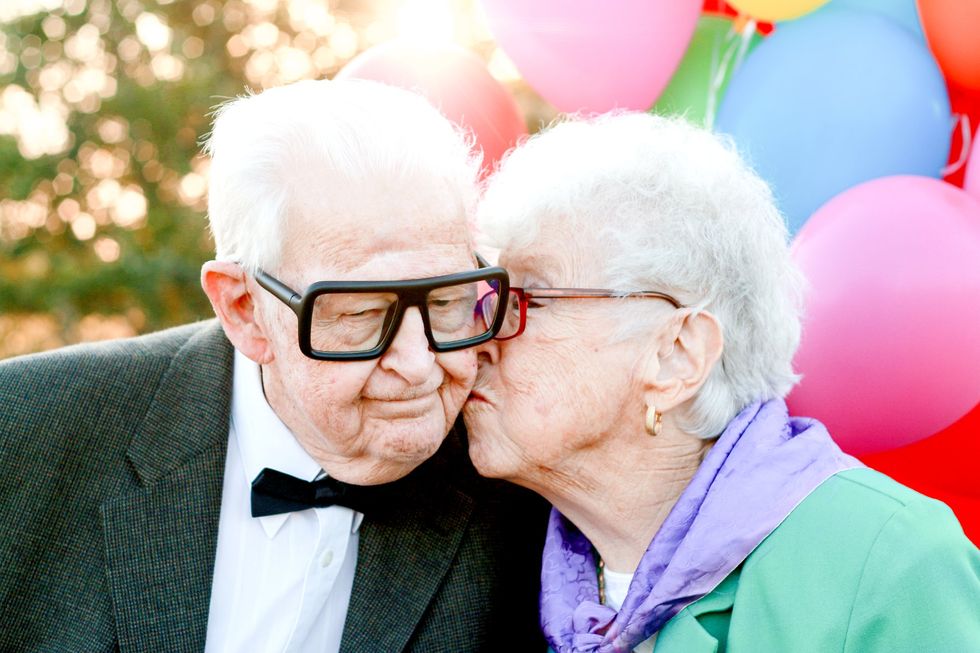 It's not just 5-year-old Elijah that's captured everyone's hearts, but his great-grandparents are also the sweetest thing we've seen.
It's the most adorable thing we've seen.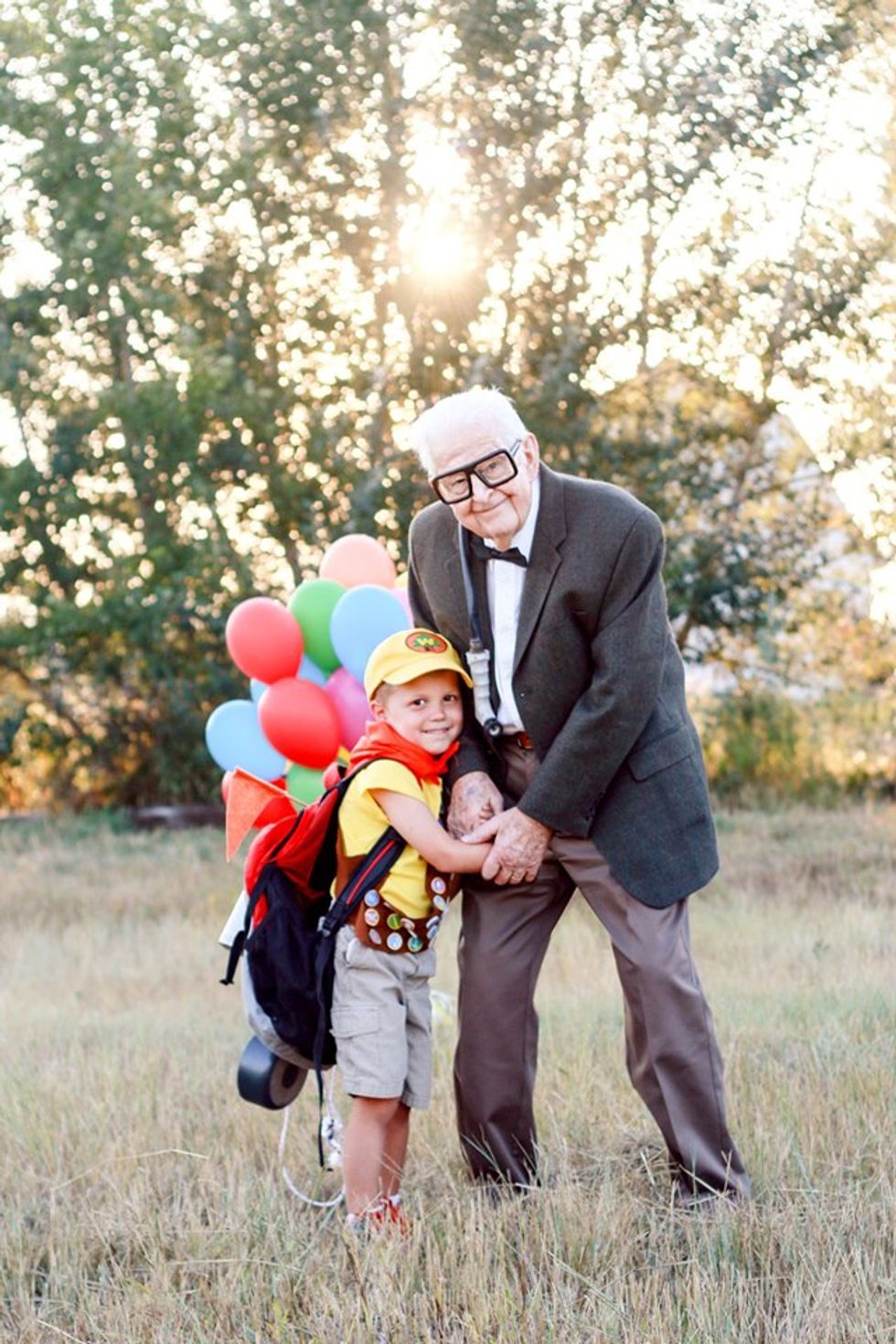 Rachel, who took the pics herself, posted the images to her Facebook, where they instantly won the hearts of the internet.
But, the shoot isn't just a birthday celebration.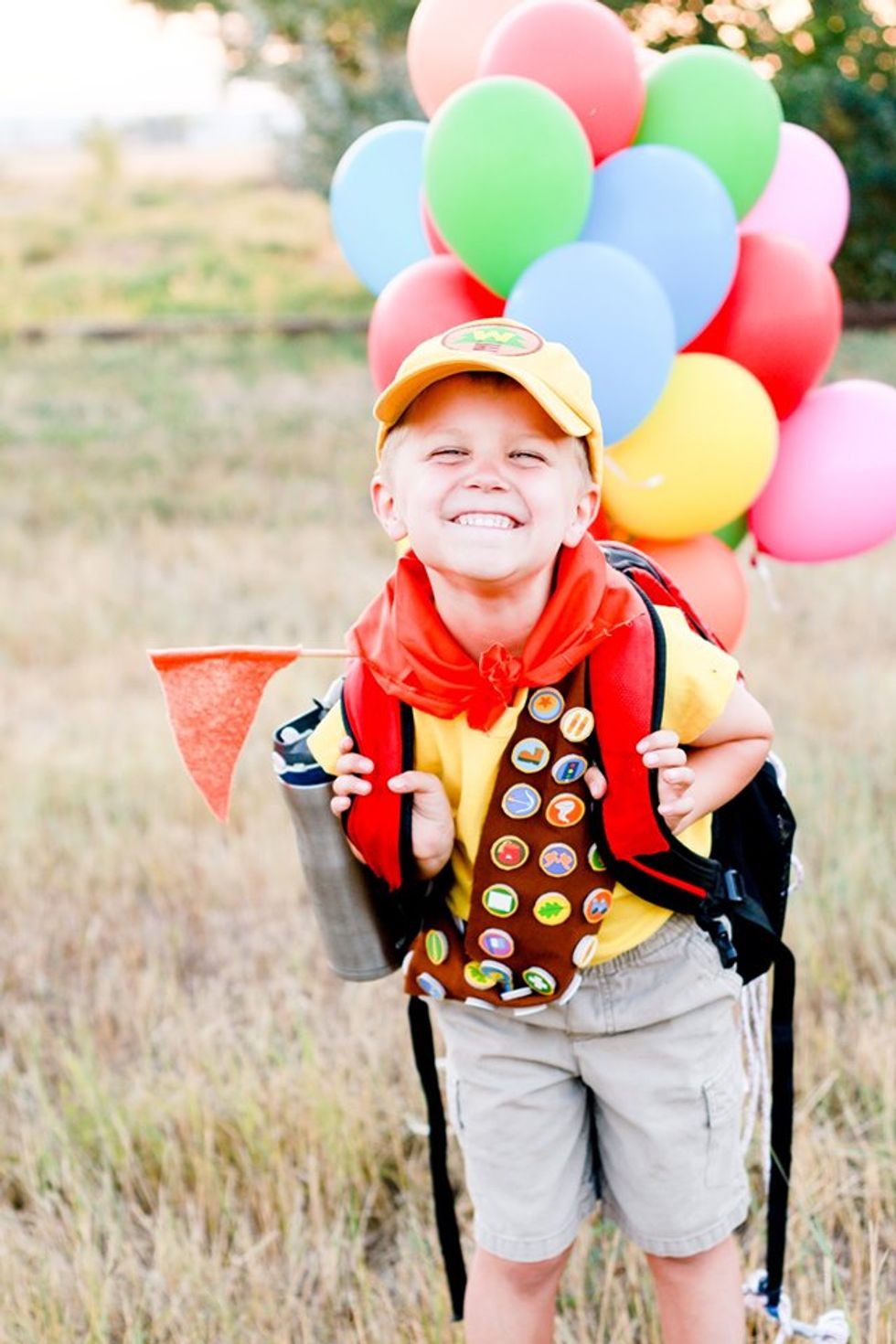 Sadly, there's a deep-rooted driving force behind the Disney-themed photo shoot.
Elijah's mom Rachel, had been diagnosed with cancer 5 years earlier.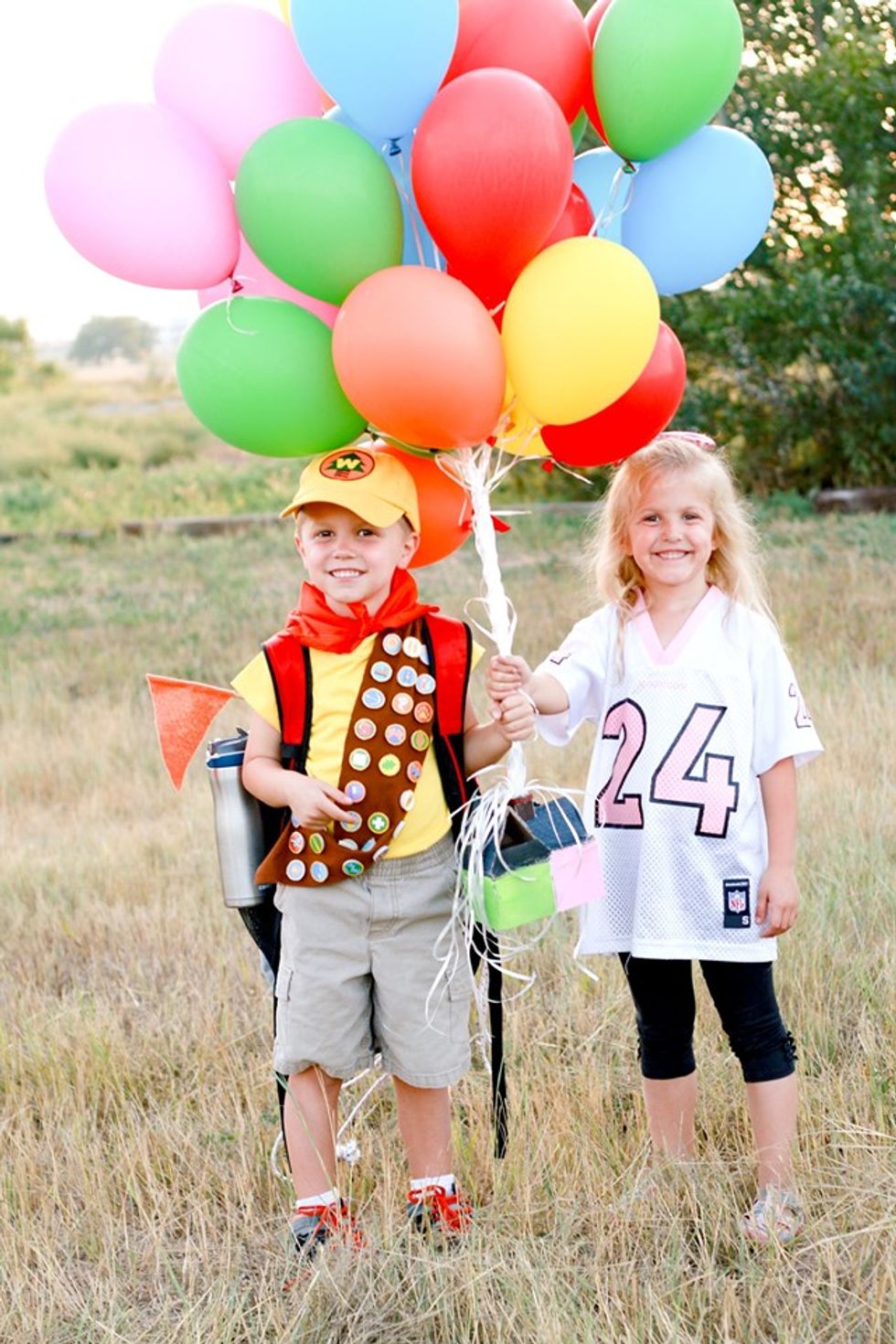 Speaking to CBS,
Rachel, who's mom to Elijah and his twin sister, Emilee, explained: "5 years ago, I was diagnosed with cancer right after my twins were born, and had fears if I would even get to see their fifth birthday." "My oldest was 5 at the time and I hated not knowing if I would get the same time with them that I got with her."
Fortunately, Rachel is now in remission.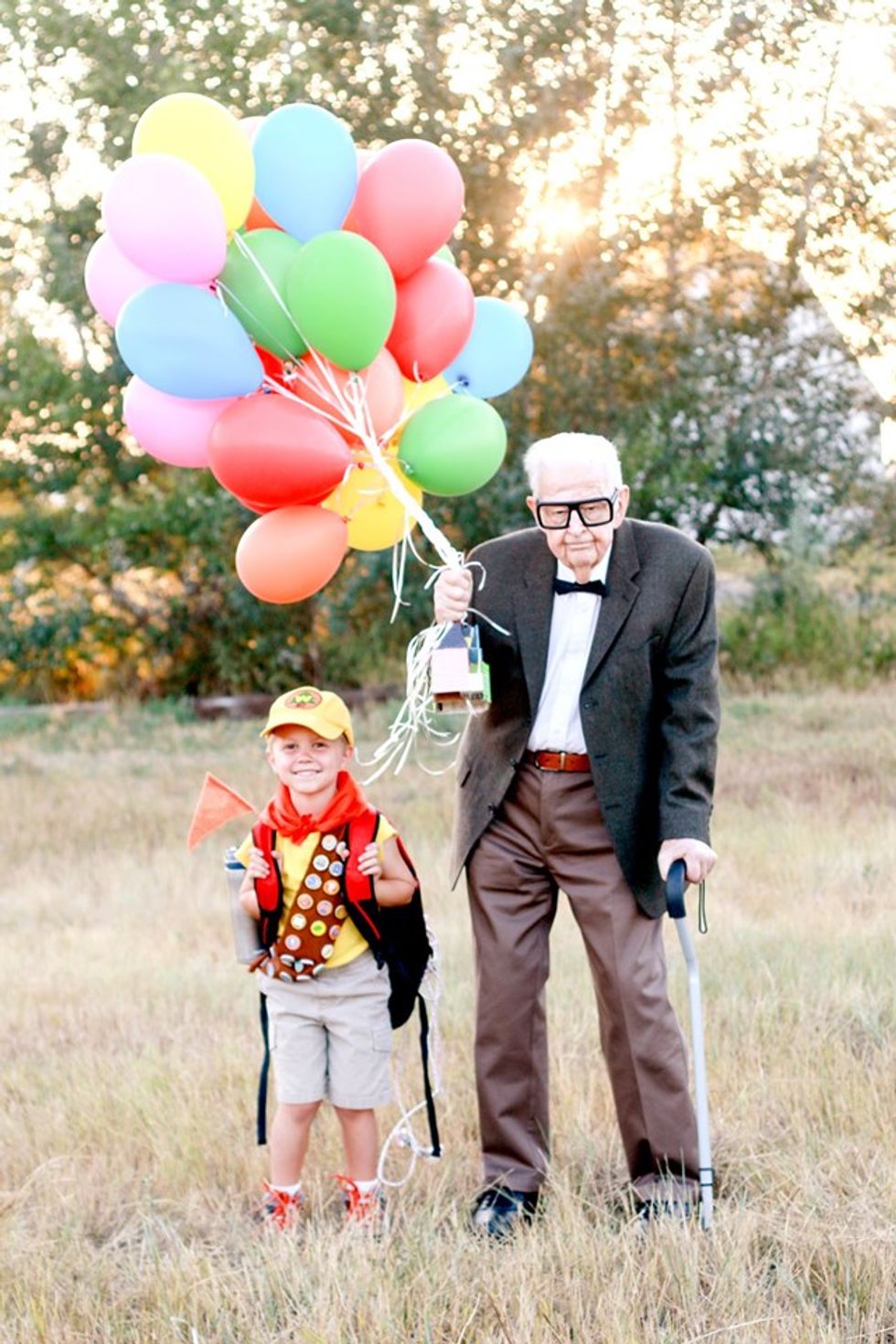 After making it to her twins' fifth birthday — something she was so unsure of - she wanted to celebrate in a big way. "It's a celebration for me and them!" she explained.
She also gave Elijah's twin sister, Emilee, a themed photoshoot.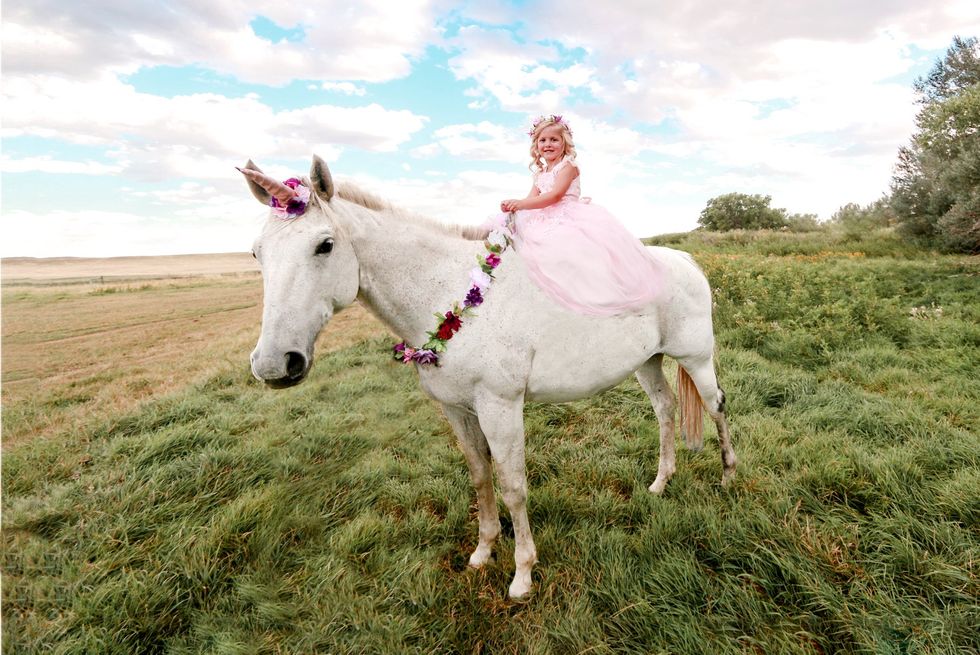 Emilee opted for a mystical unicorn theme.
But, after posting Elijah's Up photoshoot, the snaps went viral.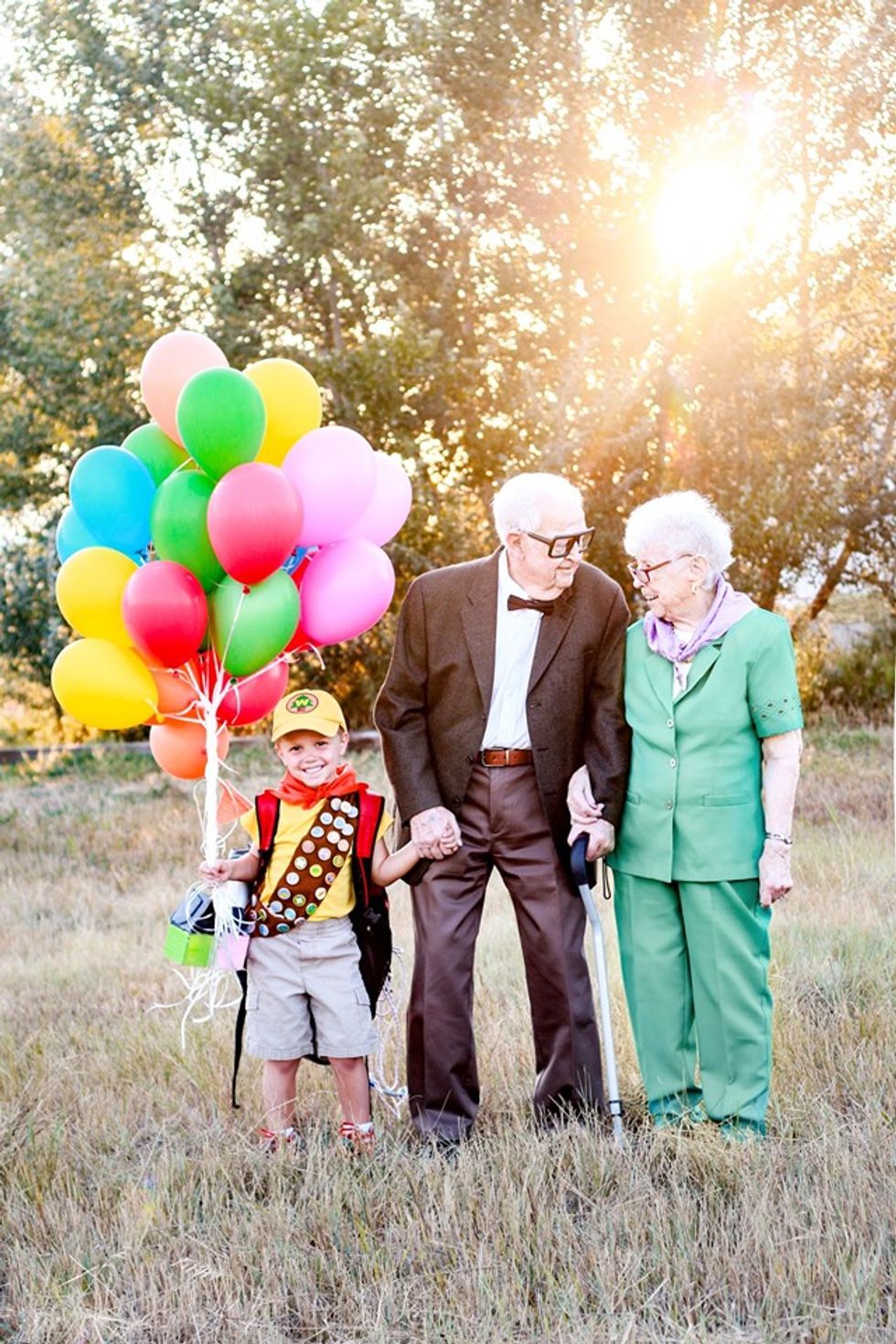 "This is the best photoshoot I've ever seen!" wrote one user, while another expressed their glee at seeing "Carl and Ellie" grow old together. Many people were also moved by the adorable family shoot. "Your story is amazing, your kids are amazing, and your photos are amazing! Thank you for sharing this. My own struggle seems less after hearing your story. You have truly warmed my heart," wrote one user. Want more adorable parenting content? Keep scrolling to read the story of a
very
crafty 6-year-old who is quite literally a scamming pro after ordering over $300 worth of toys on her mom's Amazon account.