There's something about love, isn't there? The emotional fanfare of finding someone perfect is aspirational.
In spite of many comments to the contrary, plenty of us still seek out marriage as a confirmation of that commitment. Nowhere is this more highly scrutinized than in the wedding planning process.
And one couple really thought outside the box with their matrimonial celebrations...
Finding love is something most of us hope for.
But the searching can make it seem like it's basically an impossibility. It can be a jungle out there, folks!
Dating is no joke.
In fact, romantic life can often just feel like a string of missed opportunities as you search and search for "the one."
Looking for love can be exhausting.
But once you find it, for many of us, it really does make every part of life seem a little bit brighter.
Many people aim for that happy relationship.
Finding the person who's a perfect fit, and that you can stay committed to for a long time, can make it feel like your life is moving in the right direction.
Plus, PDAs are nice.
Having someone to hug and kiss (and who hugs and kisses you right back) is a pretty sweet feeling.
Some couples wish to take their commitment a step further.
Becoming engaged to be married is one way that many choose to express the seriousness of their love for one another.
Many of us have marriage in our life plan.
And for many women in particular, the marriage fantasy is something they spend a lot of time planning for.
But others favor a ... different route.
Going for a more unique wedding is always a sure-fire way to make it a day to remember - and ensures your wedding will be able to stand out from the crowd.
And while many wish to keep the general ceremony traditional...
There are still fun twists that can spice things up. One simple way to make your wedding a little different? Go for a theme.
But how do you choose?
Well, by going for something the 2 of you enjoy, you can make your special day feel more personal...
But one couple really went off-piste with their theme.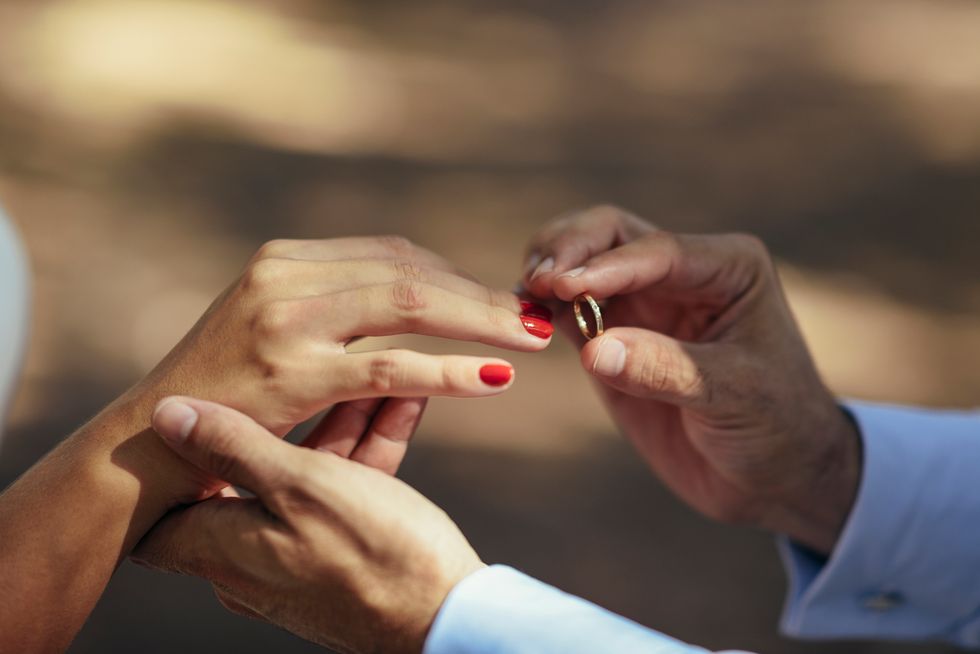 The pair decided they wanted their special day to reflect their favorite thing - KFC.
Fast food is one of the many pleasures of life.
So it's no surprise that this loved-up couple opted for a fast food-related wedding...
Yes, it's really a thing...
The couple beat out some stiff competition to bag the fast-food company's wedding service.
Fresh Prince of Bel-Air
theme tune, all about their love for each other, won over the judges.
"We're over the moon to have been selected for the first-ever KFC Wedding and having the Colonel present on our big day took us back to the first meal we shared together,"  the couple explained.
Their friends and family were completely in the dark about their KFC themed wedding...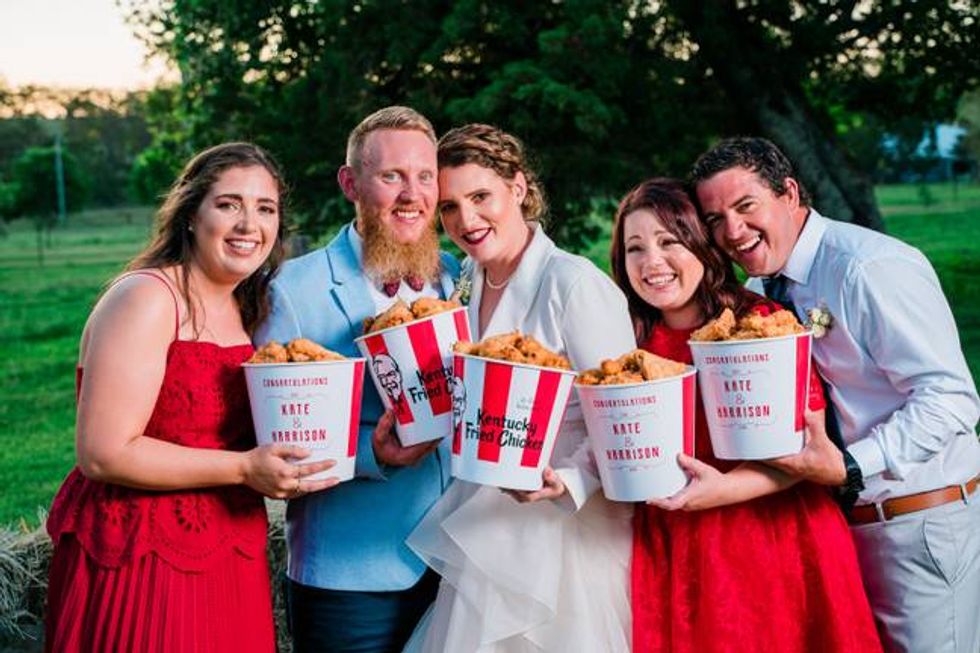 "Our friends and family were stunned when they arrived to find out it was actually our wedding day - and not just any wedding but a KFC wedding."
The big day featured an array of KFC-themed goodies...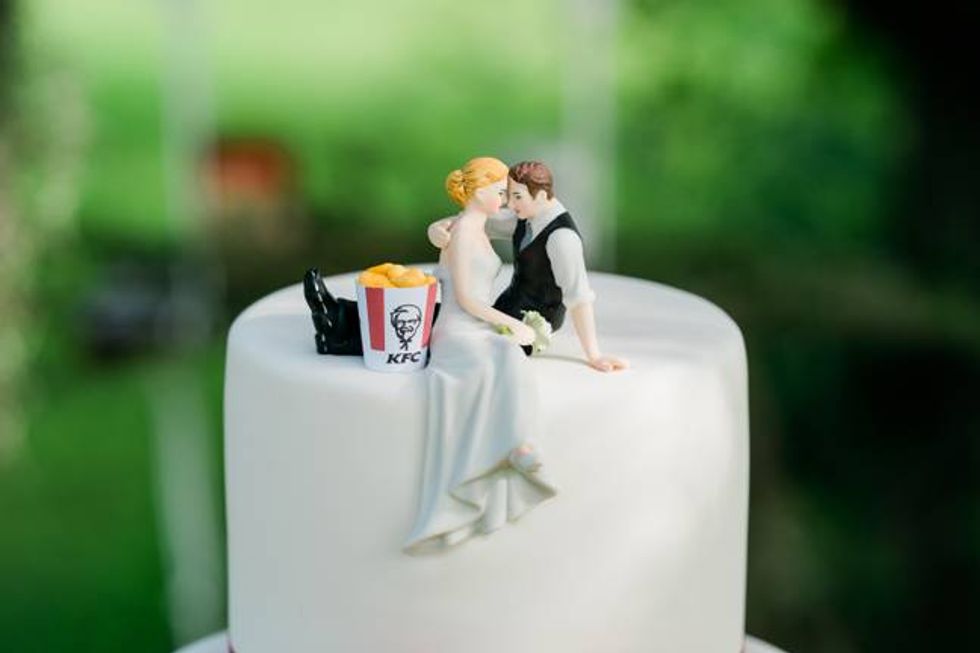 Including personalized KFC buckets, a KFC-themed wedding cake, a photo booth, a KFC Food Truck, and a Colonel-style singer.
That's some serious passion for fried chicken.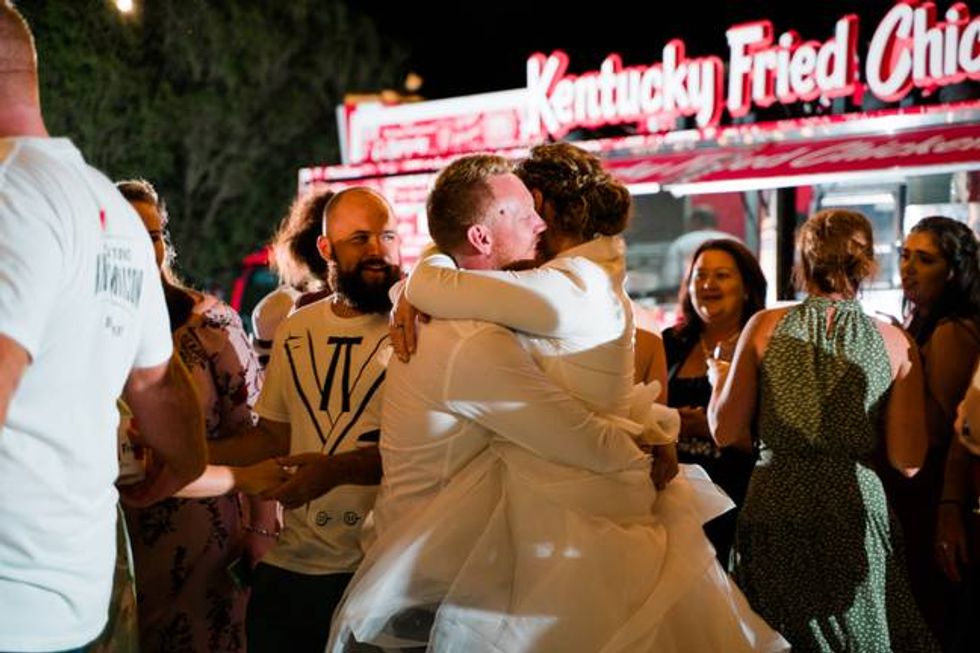 KFC Australia's CMO Kristi Woolrych said: "We're delighted to see Kate and Harrison get married and celebrate their love for each other over a bucket of Kentucky Fried Chicken with their nearest and dearest."
And it seems Kate and Harrison will be far from the last couple to have this unique wedding...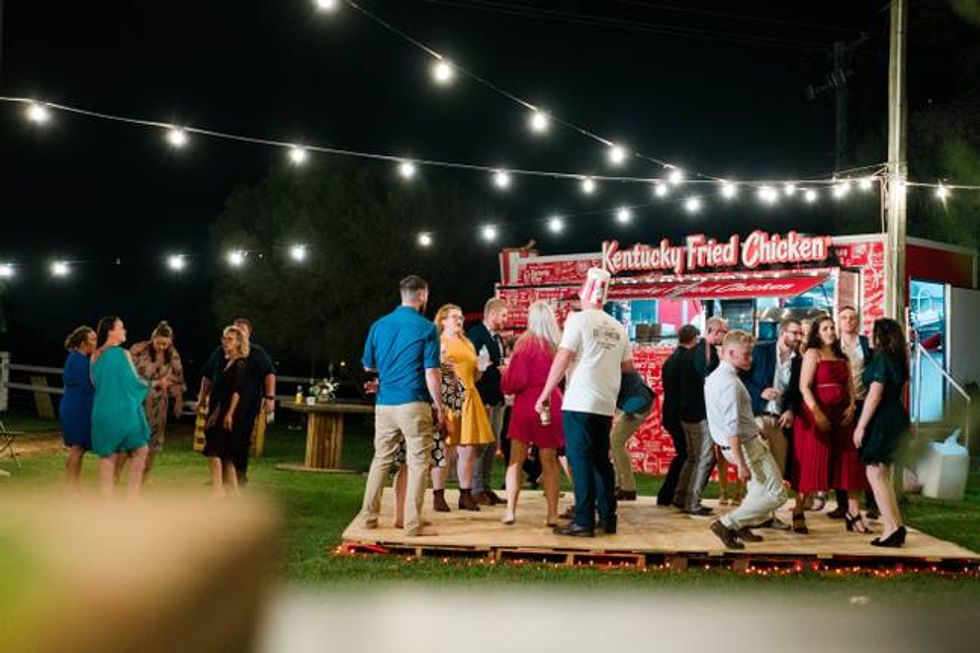 5 more lucky couples set to be announced from the competition. "We hope it's a day they will remember for the rest of their lives. We can't wait to see the next lucky couples have their very own KFC Wedding."
It certainly looked like they had a ball...
Congrats Kate and Harrison! Kate and Harrison aren't the only couple to go for a fast food theme as they tied the knot. Keep scrolling to check out another fast-food wedding...