With millions of people around the world currently self-isolating, many have found that they are now unable to go shopping for their groceries.
But thanks to one dog in Colorado, a man who has been self-isolating is now able to get his hands on those essentials.
Keep scrolling to find out more…
And millions are now living in total quarantine in a desperate bid to prevent the spread of the virus.

A lot of people have now died globally.
38,991 to be precise. A further 802,434 people have also been tested positive for the virus and are currently infected.

More and more countries are now implementing lockdowns.

When a government declares a nation-wide lockdown, it requires civilians to remain in their homes at all times and they can only leave to either shop for essentials, do 1 hour of exercise, or to travel to work if they absolutely cannot from home.

The reality of being in a lockdown isn't all it seems.

Including China, Italy, Spain, Germany, the United Kingdom, New Zealand, and many parts of the United States.

So many people have been left without jobs…
And the prospect of sitting indoors with no company and nothing much to do is extremely hard for many.

Such as taking the dog out for a walk, or having a stroll in the local park.

Governments around the world have given permission for authorities to fine people and use legal action against those who don't stick to these lockdown conditions.

Times are unbelievably difficult…
And some people simply cannot stay cooped up in their homes for days on end.

And many are missing the independence of being able to shop for their groceries and snacks.

People are now there for each other more than before, and one woman from Colorado recently helped out her neighbor in the best possible way.

And for the past 10 years, she has lived next door to Renee Hellman.

And she has been completely self-isolating for the last few weeks as a precaution.

Karen and Sunny had the perfect idea to help her stock up on her essentials.

"She got the list, she gave it to Sunny, Sunny brought it to me," Evelth told KKTV. "I went to the store, got her groceries, and he delivered them all to her."

"It's been fun," she said. "It's been a real treat. Little things like Sunny coming over to visit is nice and it makes you feel good. It's a way of communicating."

"Anybody can do something small, that can be so helpful," she explained.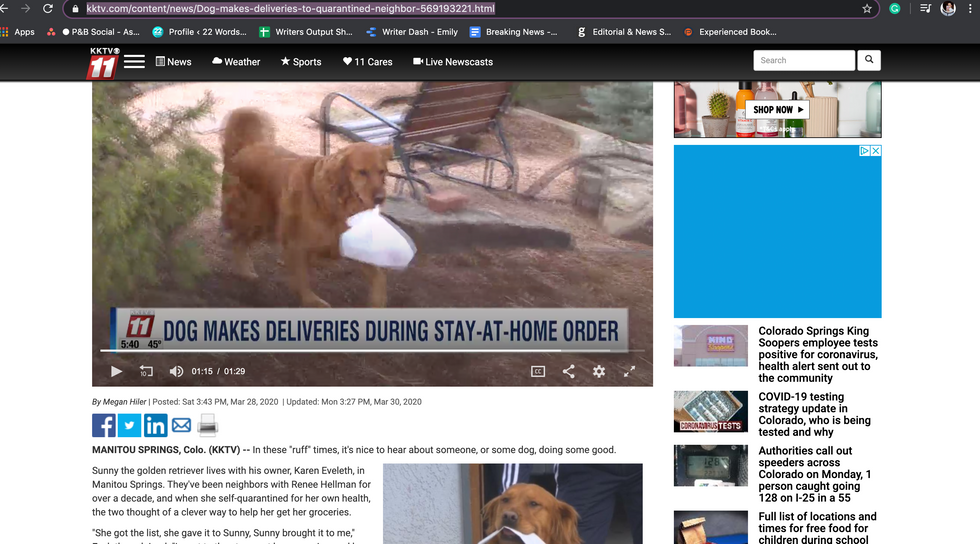 Make sure to keep scrolling for the latest coronavirus updates…