Amid Black Lives Matter protests, more and more scrutiny is being put on the media we consume - more specifically, the movies and shows we watch.
This week, news has emerged that a screening of Kindergarten Cop has been canceled, and people appear to be scratching their heads over the reasoning...
The future of several cop-oriented TV shows and movies has come into question in recent weeks.
The current climate surrounding police brutality has put the magnifying glass onto shows and movies that "glorify" the police.
Police brutality has been happening for centuries now...
via: Getty
But George Floyd's death back in May has sparked an outrage like never before.
Thousands upon thousands of people have been taking to the streets in protest...
via: Getty
And they are all marching for one thing: For the blatant racism and injustice in this country to be brought to an end.
Police officers have been forced to resort to violence in order to maintain the riots...
via: Getty
And this has only fueled the nation's anger further.
Tensions surrounding our police force are continuing to escalate.
via: Getty
Police racism has been casually happening across our country for centuries, and it needs to end
now.
It's an unbelievably difficult time...
And it's hard to distinguish the good police officers from the bad.
It seems that the police will never be viewed in the same way again...
via: Twitter
And now, people are calling several TV shows into question due to their portrayal of police officers.
First off we had Cops...
Paramount Network made the decision to cancel the show, which was heading into its 33rd season.
The original decision to halt production on the show was spurred on by the protests against police brutality.
"
Cops
is not on the Paramount Network and we don't have any current or future plans for it to return," a network spokesperson said.
The cancelation of Cops was only the beginning...
Popular children's cartoon, Paw Patrol, also came under fire last week.
Nickelodeon's Paw Patrol is a very popular show...
It follows a boy named Ryder and a team of 6 playful rescue dogs who use their individual talents to protect the seaside town of Adventure Bay - including a police officer, a firefighter, and a construction worker.
It all started with this tweet...
In solidarity of #amplifymelanatedvoices we will be muting our content until June 7th to give access for Black voic… https://t.co/72Lluc4gPW

— PAW Patrol (@PAW Patrol)1591104101.0
Paw Patrol
issued a statement to their followers explaining how they will be temporarily muting their content to mark the Black Lives Matter movement.
Even though many praised the production for making this decision...
@pawpatrol you've already brainwashed a bunch of kids into thinking law enforcement is a noble and just profession.… https://t.co/2FsVCYK3PR

— carl bright (@carl bright)1591112834.0
So many
Twitter users began slamming the show for "encouraging kids into thinking law enforcement is a noble profession."
Even the characters' names were criticized...
@pawpatrol Perhaps naming your main character police dog "chase" is a bit tone deaf to the suffering of people who… https://t.co/CULoLChMwV

— Laura C. Bernardo (@Laura C. Bernardo)1591144613.0
Apparently, the name "Chase" represents people who have been attacked by police dogs in a very tone-deaf way.
Okay
then...
Many viewers came forward and expressed how Chase's character made them "uncomfortable."
@pawpatrol I have always been uncomfortable with the increased militaration of Chase. I am being serious.

— frank vera (@frank vera)1591124841.0
Who'd have thought an animated puppy would make an adult uncomfortable? However, as of now, it
doesn't
look like the future of the show is hanging in the balance, and the team is yet to respond to the online backlash.
Law & Order also got some bad press.
Law & Order: Special Victims Unit and the Dukes of Hazzard, are 2 hugely popular TV shows, and one of the latest to be drawn into controversy amid police brutality protests.
Rolling Stone writer EJ Dickson wrote in a story published by the magazine on Friday that the show should be canceled.
Why? Because of Olivia Benson's "quintessential Good Cop character."
Here's what she had to say in the article, titled "Olivia Benson: The Law and Order: SVU Protagonist Should Be Canceled."
She
claimed
Benson is "the embodiment of all of the qualities we wish law enforcement figures would have: she's tough but fair, vulnerable yet steely-eyed, displaying constant compassion for survivors and providing no quarter to abusers."
She continued:
"She always fights for and believes victims, a marked contrast to real-life law enforcement officials, whose record on convicting sexual offenders is abysmal."
She went on to say that Benson is not the type of cop to change.
"Not fundamentally, because nobody wants Olivia Benson to change. We're probably not going to see her making an effort to hire more police officers of color. We're probably not going to see George Floyd incorporated into plotlines in anything but a cursory, ripped-from-the-headlines way."
And now, a cop-oriented movie has come under scrutiny.
...the 1990 Arnold Schwarzenegger movie, Kindergarten Cop.
According to MailOnline, the film was scheduled to screen at the NW Film Center's Cinema Unbound.
The screening was part of a summer-drive-in movie series in Portland, Oregon, taking place this week.
The action-comedy follows an undercover detective who works at a school to catch a drug dealer.
But, the organizers very quickly had a change of heart when it came to airing it at the event.
There were concerns raised over the choice of the movie, amid anti-police brutality protests.
The outrage over the film choice was reportedly ignited when Portland author Lois Leveen, who has since made his social media channels private, criticized NWFC, tweeting: "A weird time to revive Kindergarten Cop."
The author claimed the movie "romanticized over-policing" in the States.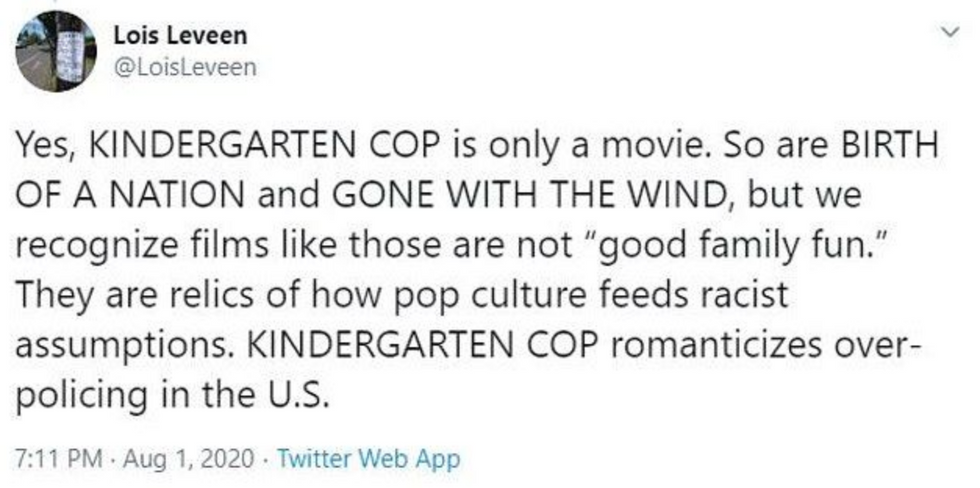 Adding that these movies are "relics" of how pop culture feeds into racist ideologies.
He continued: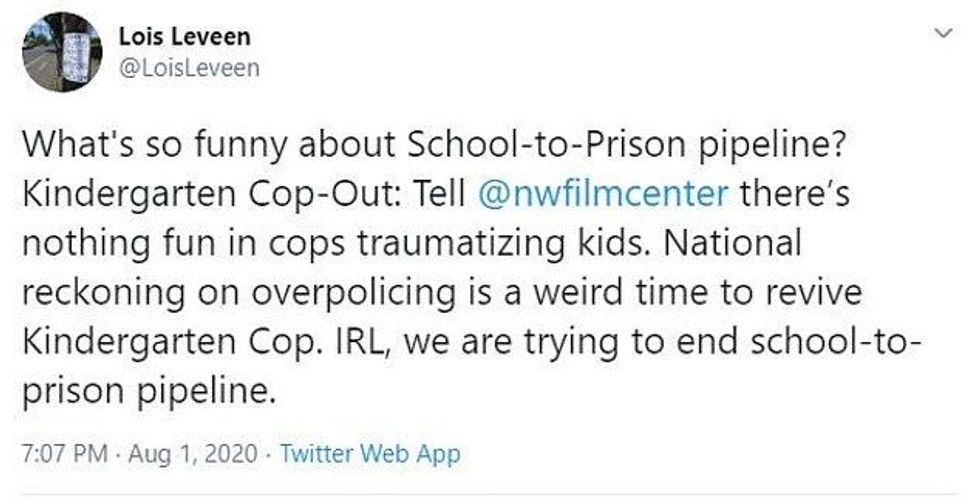 "There's nothing fun in cops traumatizing kids."
Of course, the movie's cancellation also came under fire.
Nutty. Angry leftists hate Hollywood. Anyone who disagrees will be censored. Hollywood, afraid of the mob, will k… https://t.co/qm9SjY7FF8

— Ted Cruz (@Ted Cruz)1596600508.0
Not everyone was pleased that the flick was pulled from the event.
In place of Kindergarten Cop, the event's organizers will instead screen John Lewis: Good Trouble.
For more like this, scroll on to watch incredible footage that has emerged of the moment a Black Lives Matter protester carried an injured white, counter-protester on his shoulders to safety. It's now been called the most powerful picture of our time...