Tinder is hardly ever a source of heartwarming stories that will restore people's faith in humanity. In fact, the quick-swipe dating app is often a place wherein you'll discover the worst in people - creepy unwanted comments, bizarre displays of aggression, it's all there. If you're looking for a reliably positive interaction, it's probably best to look elsewhere.
But one particular profile has sparked outrage this weekend as a woman horrifically fat-shamed a potential match. Luckily, though, he had the perfect response for her...
First launched in 2012, Tinder revolutionized the dating scene.
It worked on a location-based search, finding available singles with the app in your immediate area. Tinder hugely streamlined the way we date.
The app allows you to build a pretty minimal profile.
It keeps the information that you can provide to a minimum and makes the process super visual. Based on whether someone likes what they see, they can swipe either right or left, yes or no.
The swiping process can be a little hypnotic.
Some have criticized the way that Tinder is set up as it makes dating feel more like a game than a way to initiate real human interaction.
When 2 people swipe right for each other, they're set up as a match.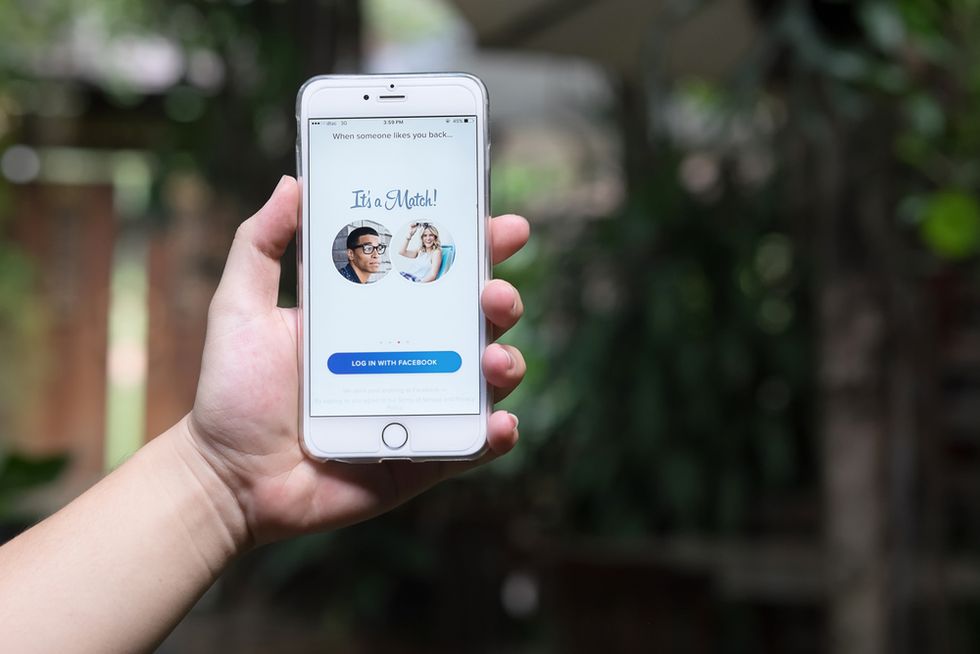 We imagine this would give us a
major
self-esteem boost because it actually becomes quite addictive for many.
And thus, the cycle continues.
The seemingly endless swiping process has totally changed the way that we date - both online and in real life.
In fact, many wish that other life decisions came with the same process.
It now seems that simply approaching people IRL is off the table, and all flirting has to take place within the confines of an app.
This can cause problems.
Many people on Tinder feel safely hidden behind their profile and they think that they can get away with things that they'd
never
do in the real world.
Flirting can go from zero to one hundred pretty quick...
And many feel less inhibited through their screens than they do when actually speaking to someone, which can lead to some fairly cringe-worthy interactions.
There's another major issue with Tinder, too.
It reduces people's entire selves down to a few pictures and a couple of sentences. This can make Tinder seem like a pretty superficial way to judge whether you "like" someone or not.
Many view Tinder as a place to hook up rather than to date...
And the lack of emotional connection and values can make Tinder seem quite shallow. It also seems to bring out the vain and judgemental sides of its users.
Behaviour on Tinder is often a little questionable.
[Tinder] Him: u're cute Her: u'll be my 3rd victim Him: rockin' ass too Her: I'm literally a serial killer Him: *sends dick pic*

— Samir Nazim (@Samir Nazim)1488937721.0
In fact, many on the internet now look to Tinder as the place to view the worst of humanity.
Many users are accused of not being totally honest...
The gap between dating expectations and the reality of what typically goes down on Tinder can make you despair a little for romance.
And many dislike the open nudity that often presents itself on the app.
I keep this photo saved on my phone for whenever guys from a Tinder ask me to send them a nude. https://t.co/Q3WSTOmWGD

— Sarah Mirk (@Sarah Mirk)1488582801.0
If you aren't into constantly being pestered for - and with - nudes, online dating might be best avoided.
But it's not just about how we present ourselves.
*finds soulmate* *swipes left in hopes of finding a hotter soulmate*

— DaddyJew (@DaddyJew)1421860817.0
It's also about how we interact with one another. The idea that people are a kind of commodity in the realm of mobile-dating can be a little bit frightening when you think about it.
So, it's safe to say that Tinder doesn't tend to bring out the best in us.
When you run out of people to swipe on Tinder, your camera should turn on and force you to look at what you've become.

— Greg Dorris (@Greg Dorris)1436881678.0
In fact, some are a little fearful of the impact that these types of dating apps could end up having on the way that we interact with one another.
Well, one particular interaction has recently gone viral...
And it seems to encapsulate the many things that are wrong with Tinder all in one go - which is actually quite impressive, in a
really
depressing way.
One woman sent a man she'd matched with a horrendous message...
It annoyed pretty much everybody - but the man in question had the perfect response.
The woman, known only as Becca, opened the interaction in a very strange way ...
"You're very fat. I don't like fat people. I accidentally liked you. I'm sorry," she said, according to
Indy100.
It then got weirder.
"Please don't kill yourself. Someone will love you and your husky one day. Just not me. Cus I like normal sized people. Which you are not. So Bye."
Luckily, the man had a perfect response.
"Wait I'm fat?! When did that happen?"
"But I promise I won't kill myself. Thanks for the opinion/facts about me. I'll try to work on it. I'm not really into c***s anyway."
Touche! Want more from Tinder? Scroll on for another hilarious interaction ...