It's been an awfully quiet 6 years since the ending of Breaking Bad, and the thing that we've been eagerly anticipating since the finale in 2013 is a Breaking Bad movie. So, obviously, fans were delighted to hear the news of the movie, El Camino, last month.
At the movie's premiere, people were disappointed at the absence of Aaron Paul's adorable daughter, Story.
Last year, Story made her debut public appearance at the San Diego Comic-Con dressed adorably in a miniature, Breaking Bad inspired hazmat suit. And now, Aaron has finally revealed the story behind how he acquired the suit, which was a whole 5 years before his daughter was born...
El Camino was announced back in August.
Aaron Paul announced the "secret" over social media, after months of hints and teases over the prospect of a movie.
Aaron Paul was visibly very excited about the project.
And regularly posted about the movie on his social media accounts in the lead up to its release. He even gave fans a little teaser as to what to expect of the movie and shared a crucial scene from the series that is of some importance to El Camino.
But further details about the movie were kept tightly under wraps.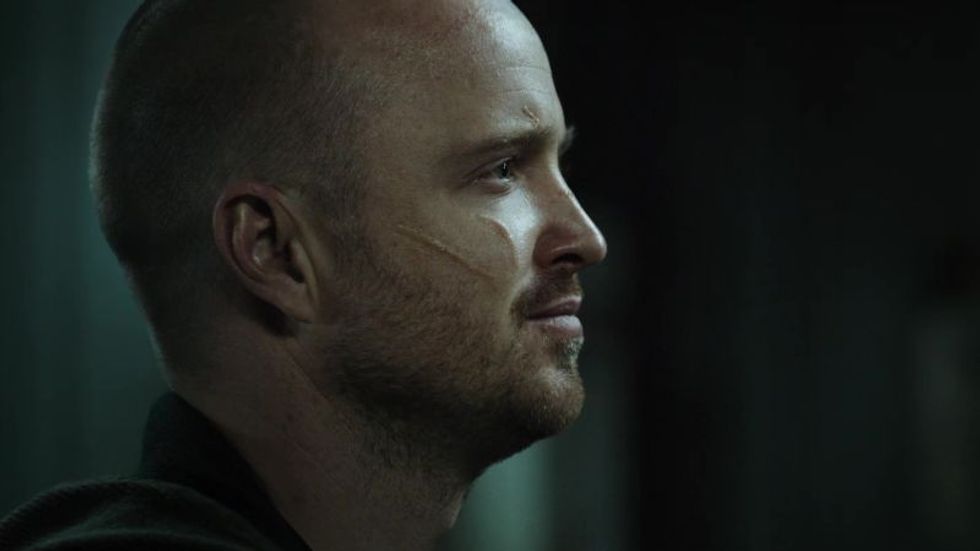 Though Paul was very vocal about his excitement over the project, even telling
The New York Times
that he "couldn't speak for a good thirty to sixty seconds" when he first read the script for the movie, the presence of other major characters has remained unknown.
And, with every movie release...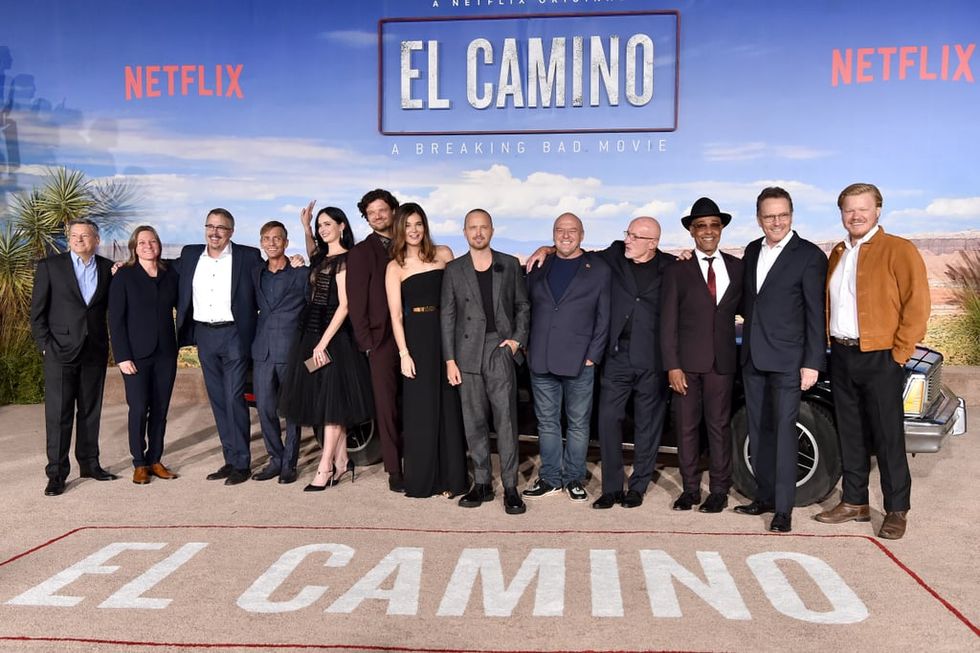 There's the premiere.
The Breaking Bad cast were finally reunited.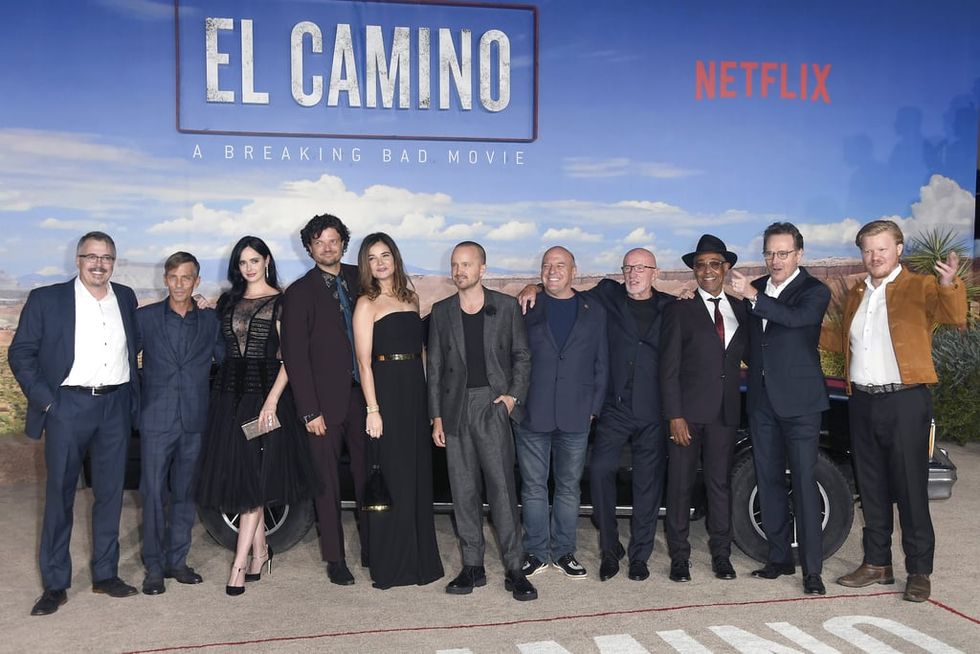 The stars arrived at the Los Angeles premiere, where they were visibly ecstatic to be back together again.
And there was the duo we'd all been waiting for...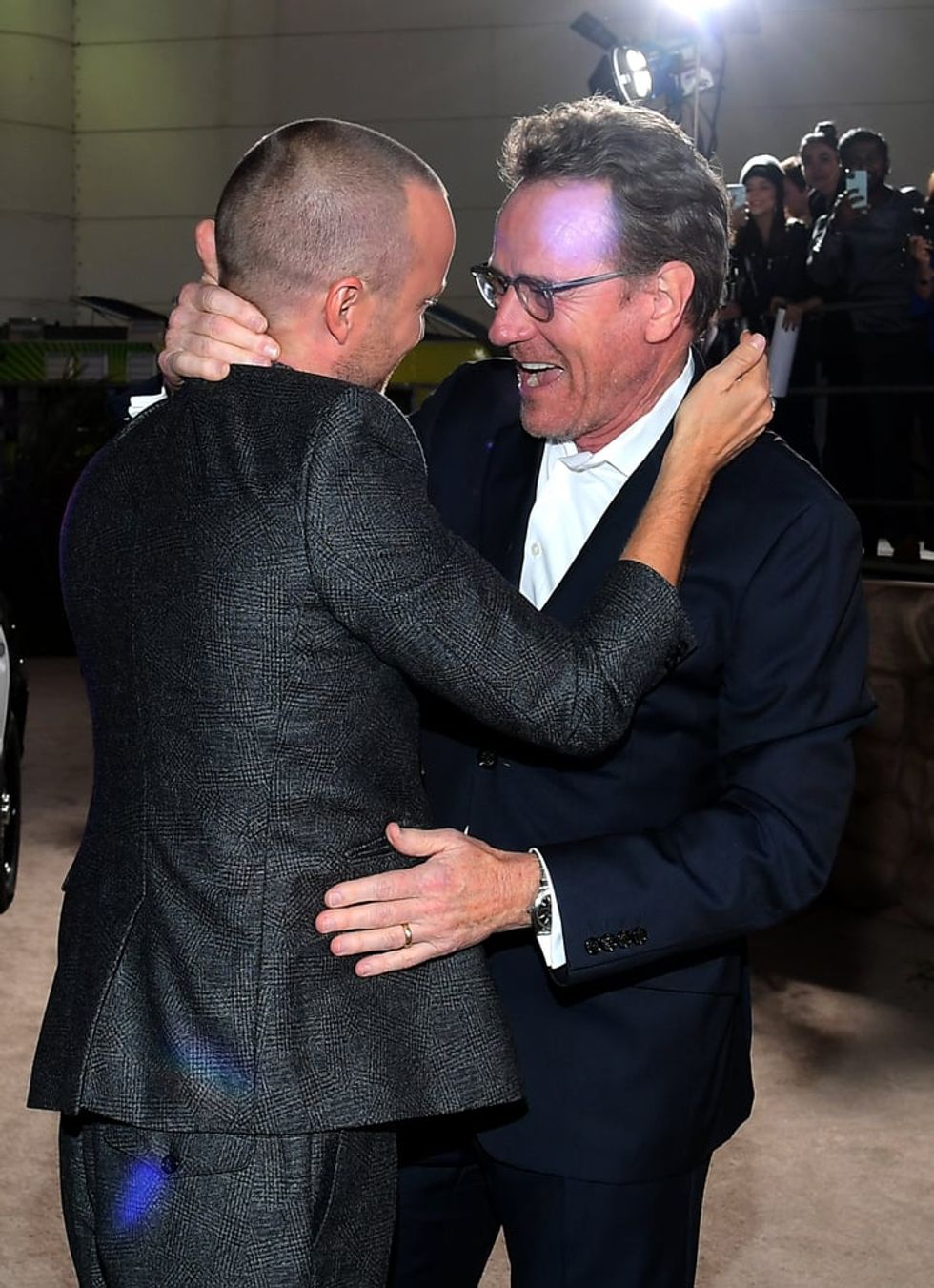 Bryan Cranston and Aaron Paul have a highly documented bromance, and the pair were visibly overjoyed to see each other again.
The pair have remained firm friends since the end of Breaking Bad...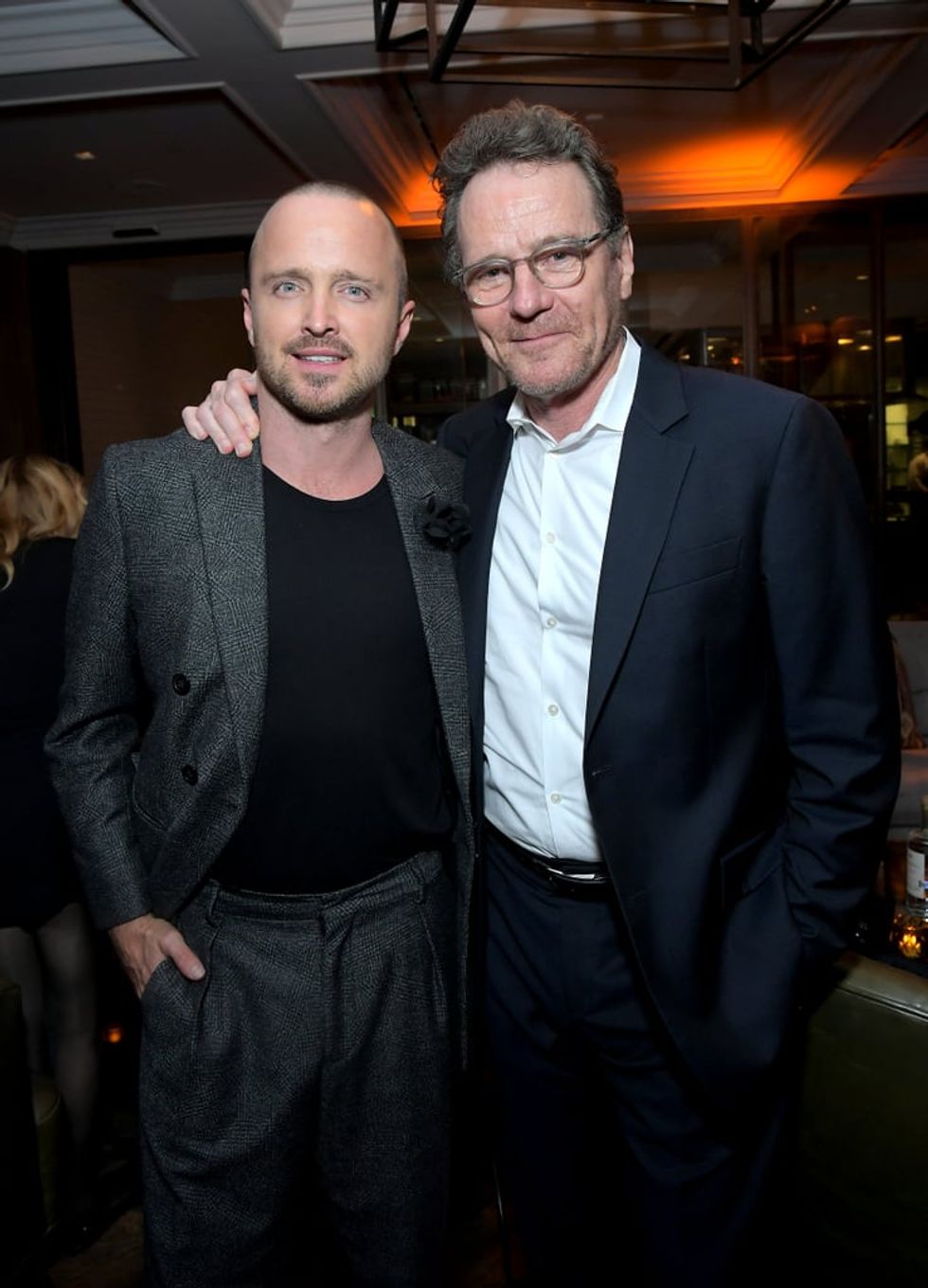 And they have even become business partners, as they recently launched their own Mezcal brand,
Dos Hombres.
The duo looked suave as they posed for photos.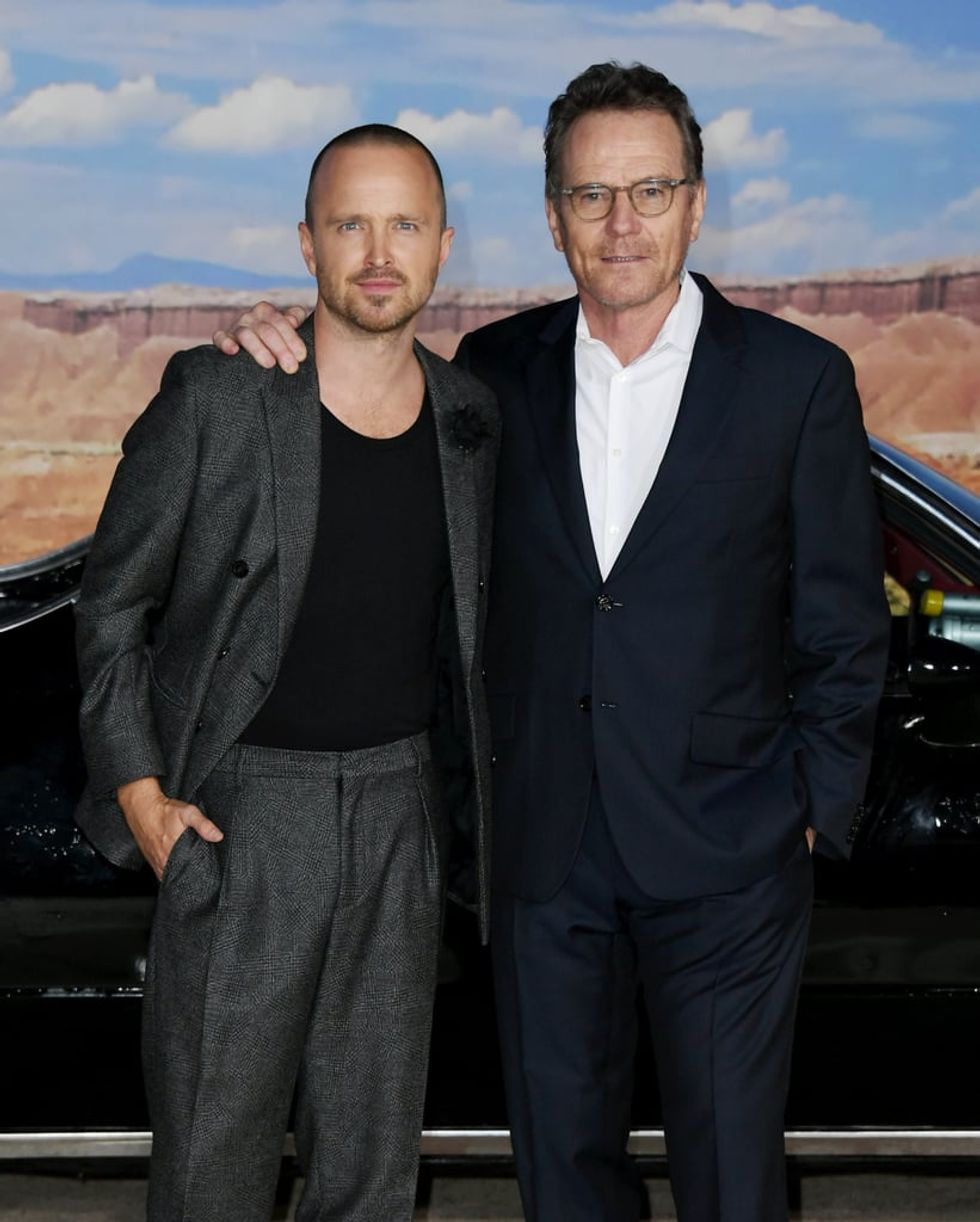 And Bryan had his arm firmly around Aaron for the duration of the photoshoot.
They looked worlds apart from their on-screen characters...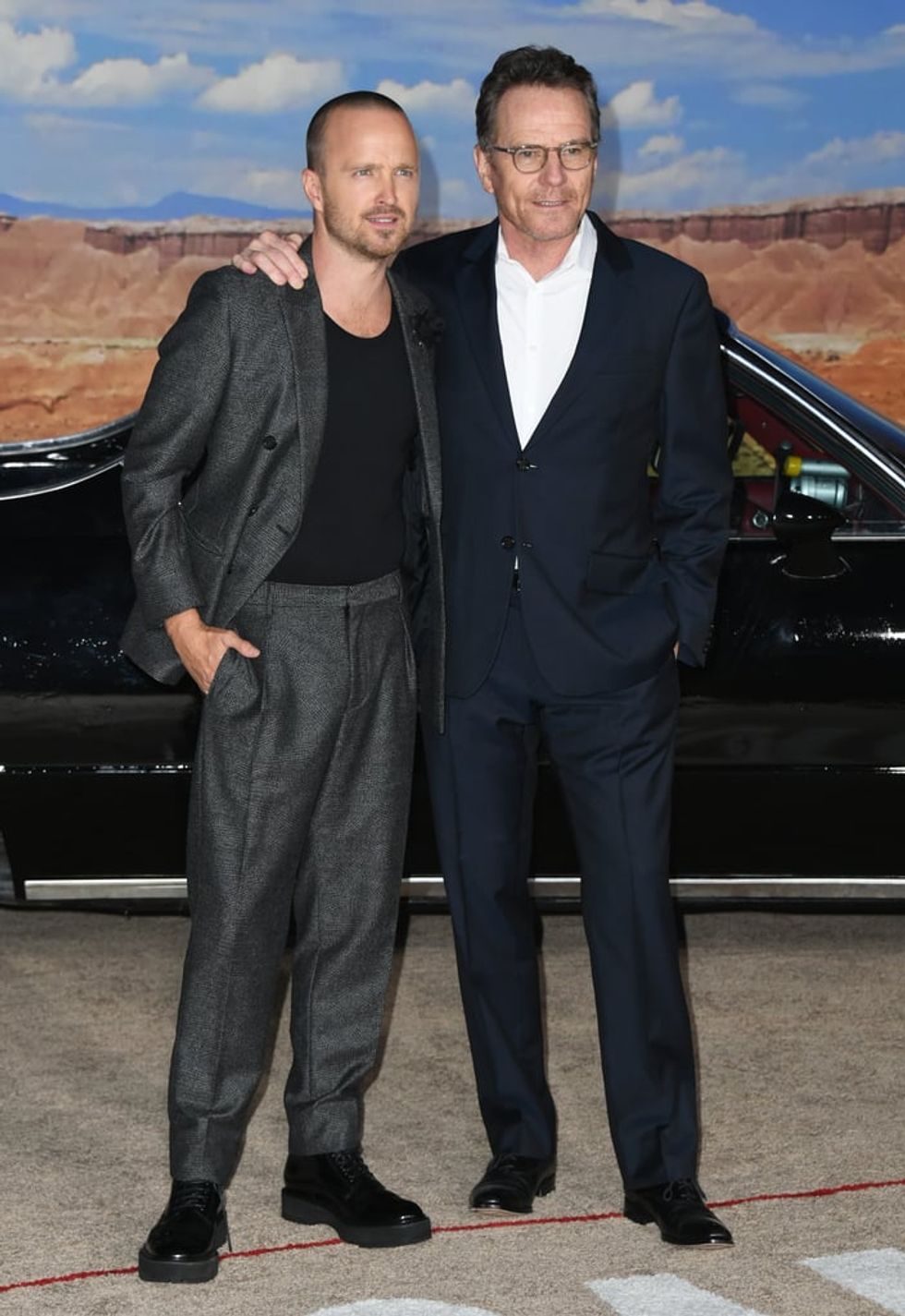 While Bryan rocked a white shirt and plain blue suit, Aaron opted for a classy grey suit and black shirt combo.
Aaron was joined by his wife, Lauren Parsekian.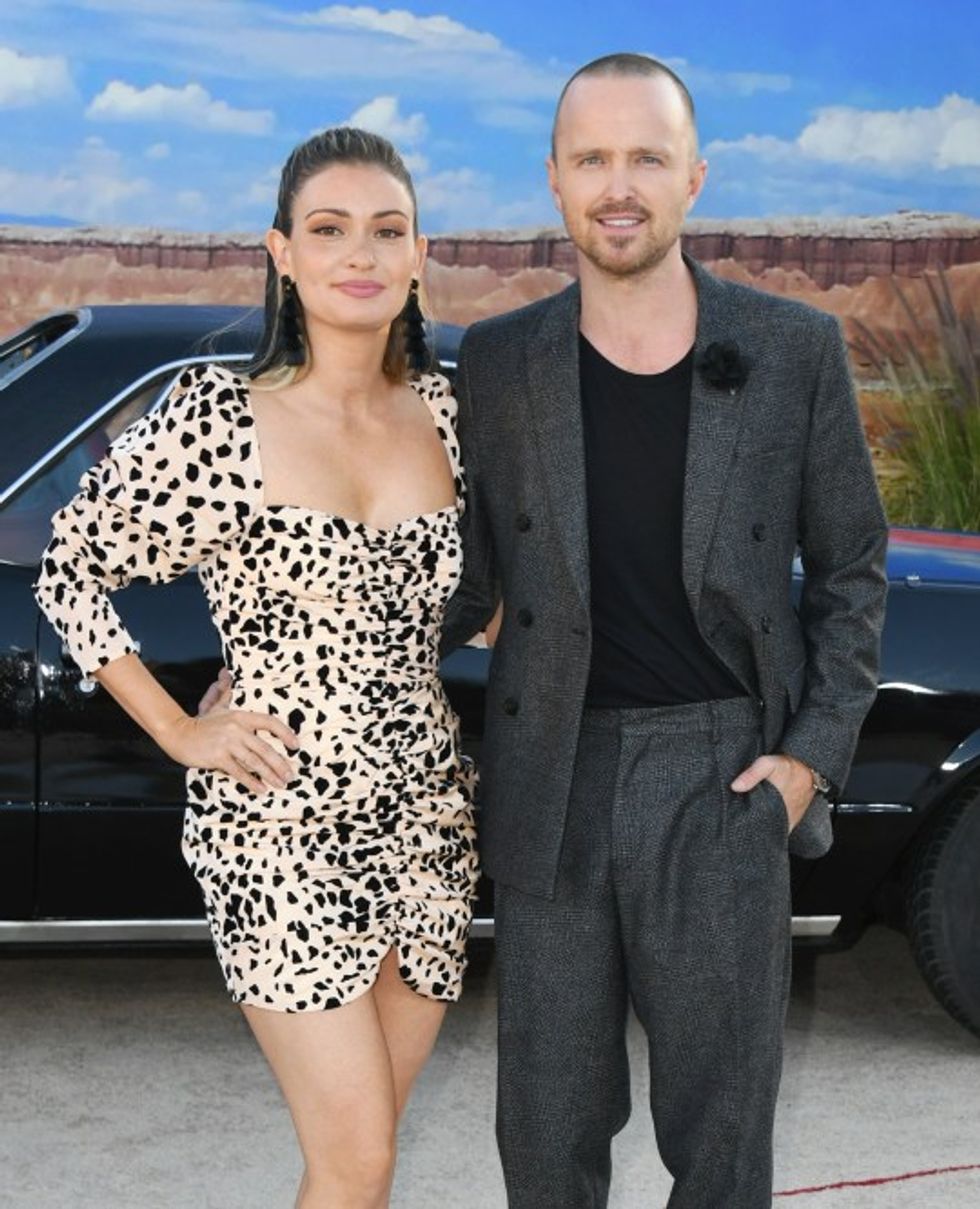 Parsekian, who shares a daughter with Paul, was wearing a dalmatian-print dress and looked proud of her husband as they posed for photos.
The shows creator, Vince Gilligan, was spotted among the festivities...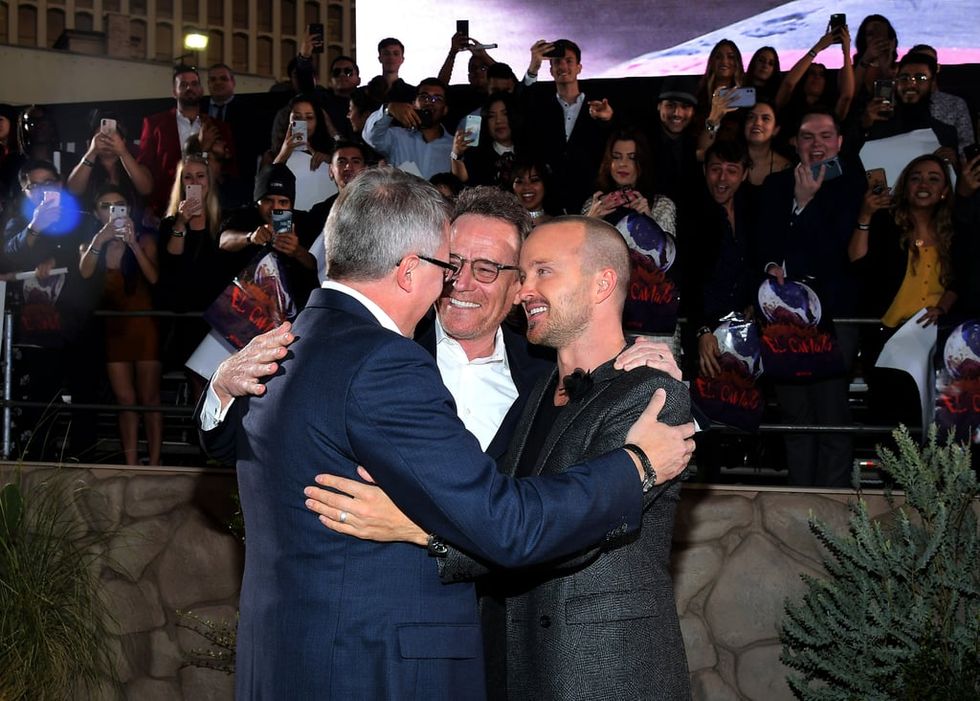 And he was seen embracing his 2 main stars.
Breaking Bad has changed Vince's life.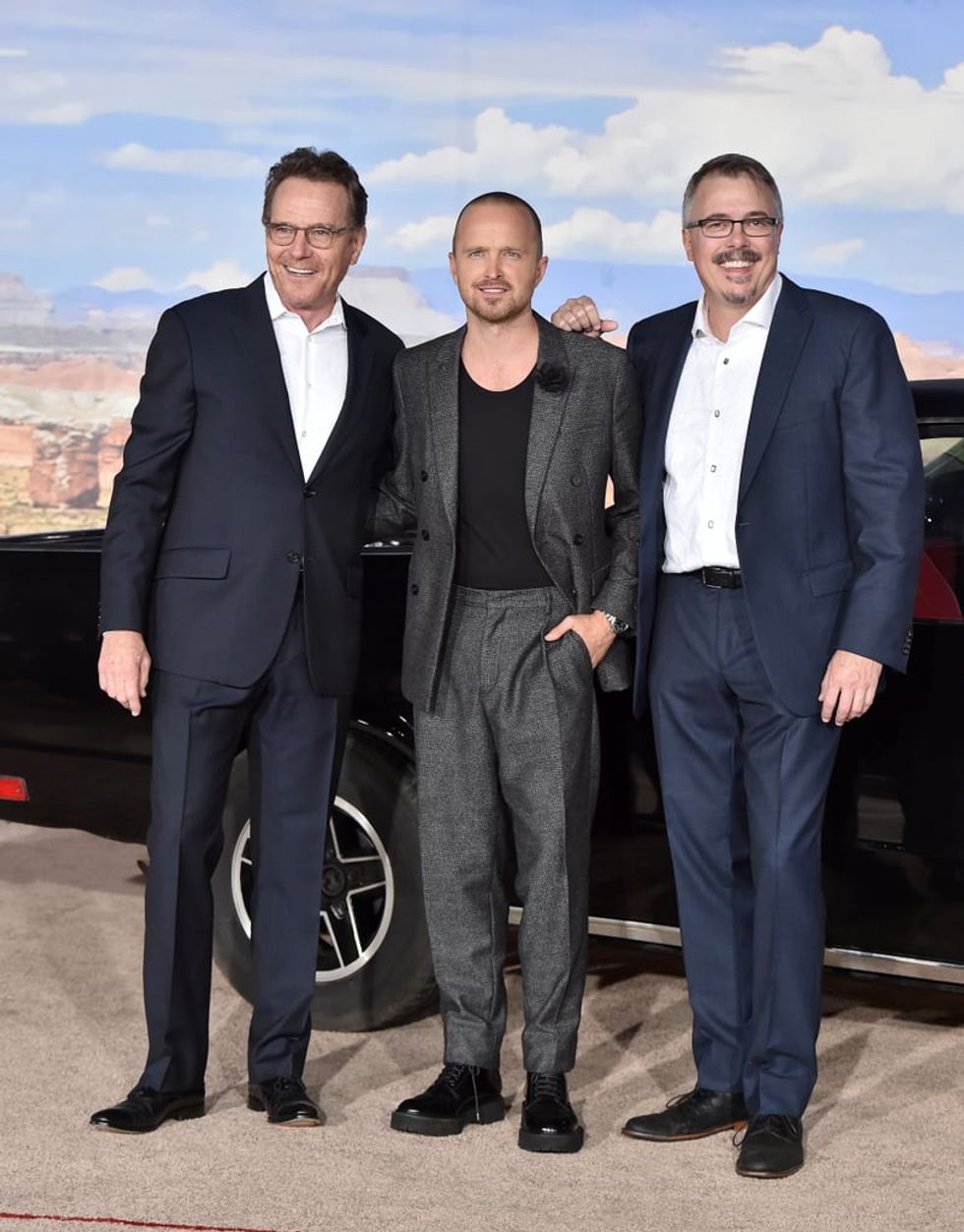 And he was visibly overcome with emotion at the premiere of the spin-off movie.
Many other familiar faces were spotted...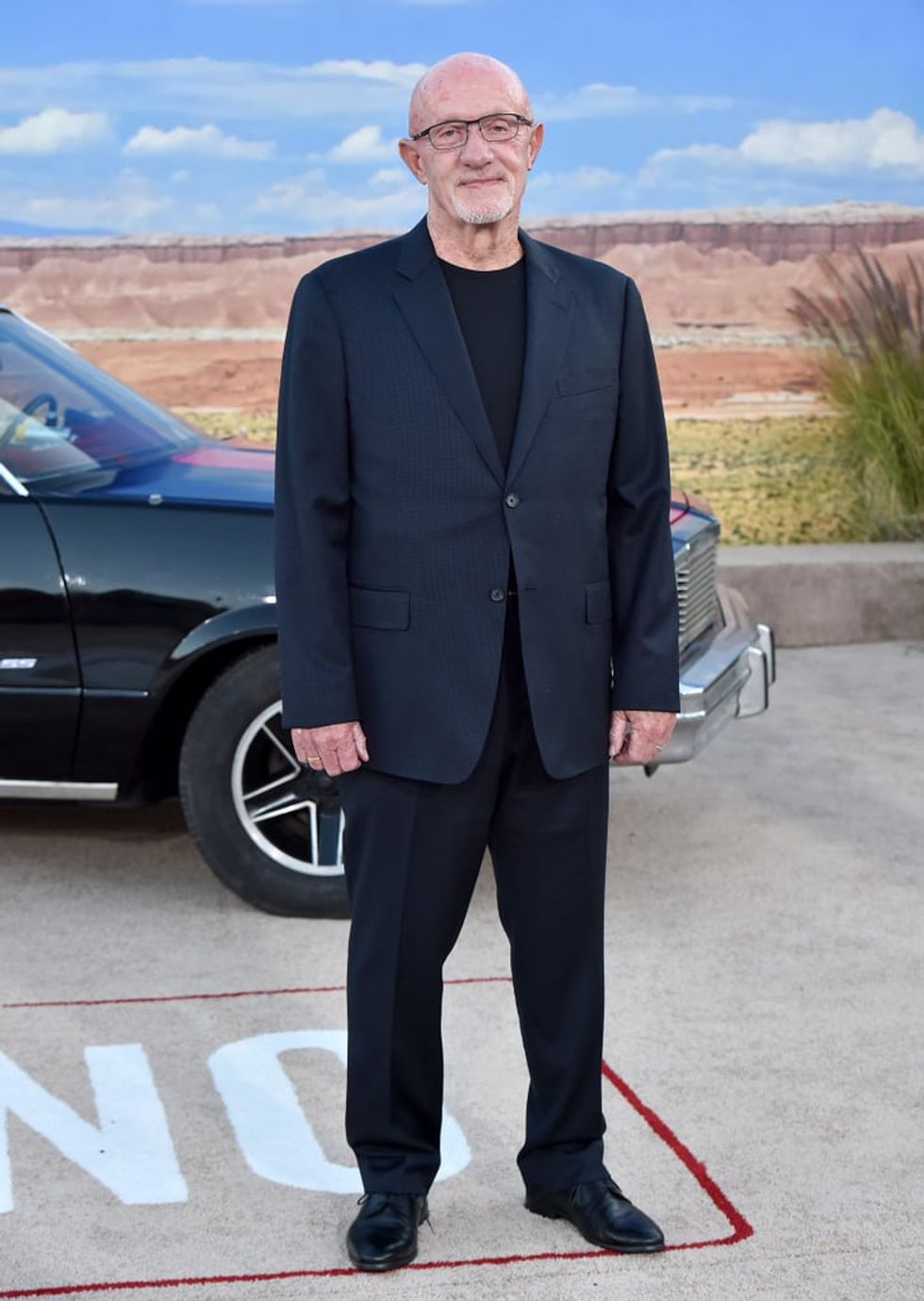 Johnathan Banks, who plays Mike, the hardened hit-man who ensures the cooking operation runs smoothly, looked extremely dapper in a black suit.
Giancarlo Esposito also made an appearance...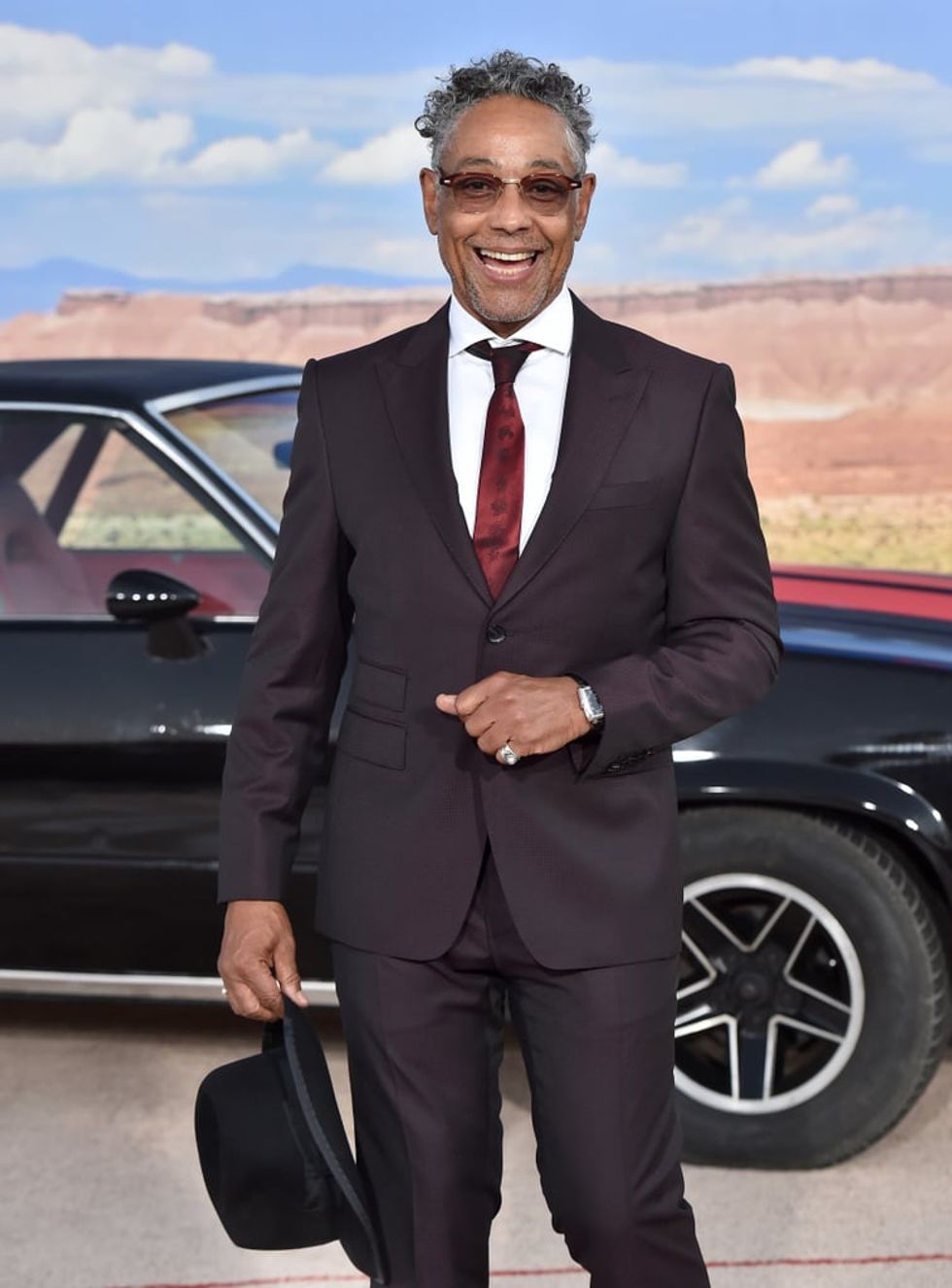 And the actor looked much friendlier in real life than he did when he was playing the role of the notorious drug kingpin, Gustavo Fring.
He donned a classy suit and top hat combo...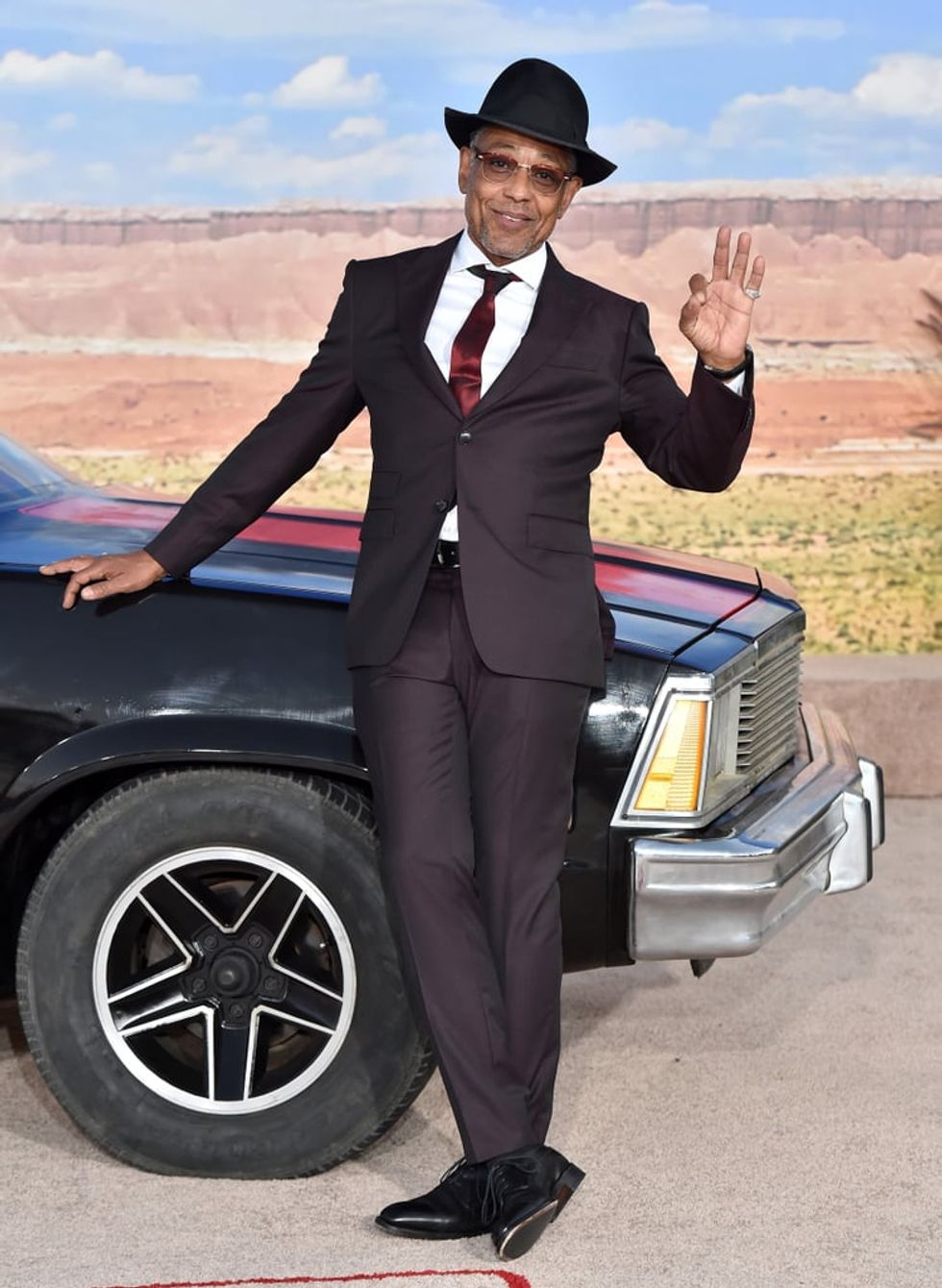 And gave the cameras a jaunty wave as he posed against a car and desert backdrop.
Uncle Hank made it to the premiere.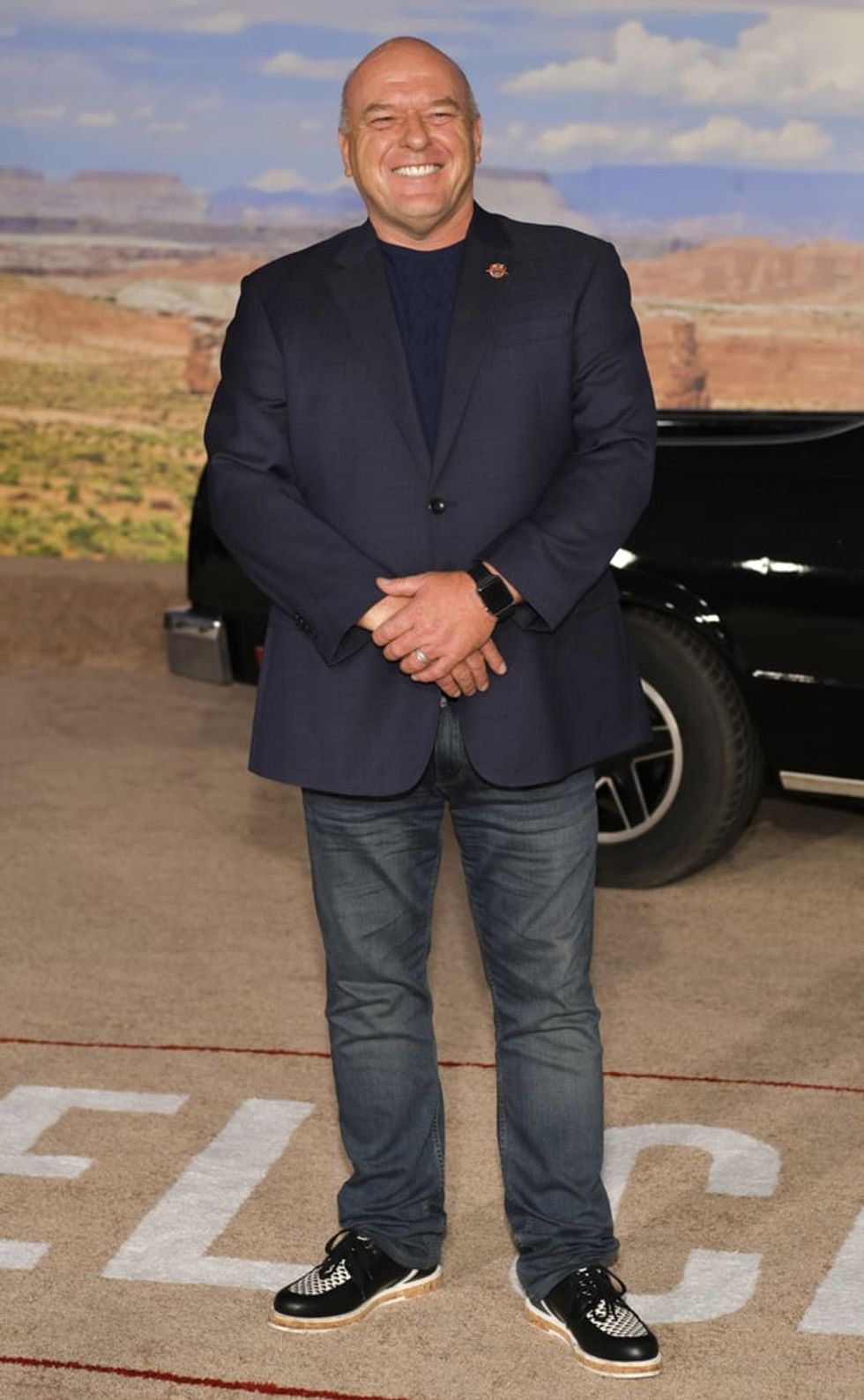 Or Dean Norris, as he's known as in real life. Hank, Walter's DEA agent brother-in-law, was the main catalyst throughout the show, and many fans were left heartbroken when his character was killed off in the last season.
But it looks like Hank is back... For now.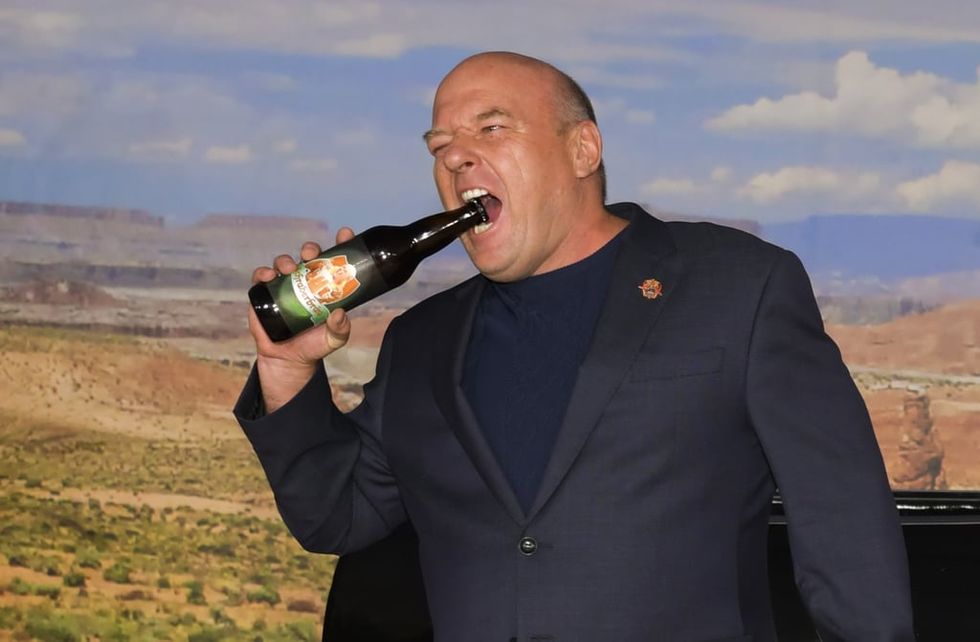 And there was even an appearance of the famous Schraderbrau, which Dean can be seen playfully biting onto.
Though Schraderbrau wasn't the only tipple of choice...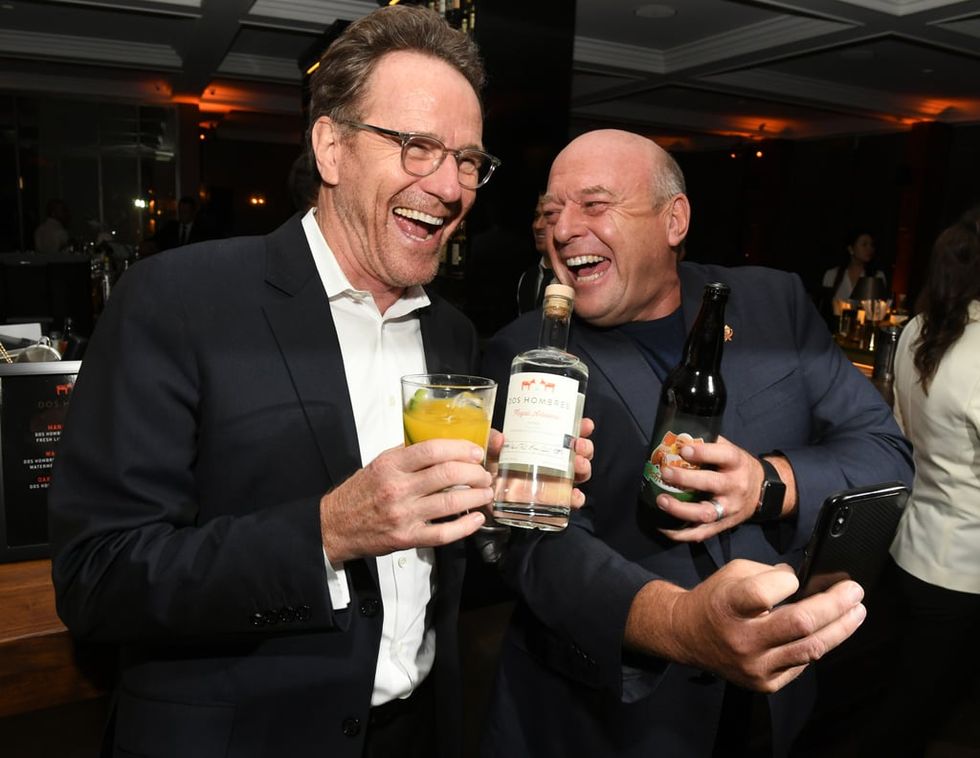 Because Bryan and Aaron's Mezcal, Dos Hombres, was seen
a lot
during the celebrations. That sounds like one heck of a party...
Jesse's ex-girlfriend was brought back from the dead...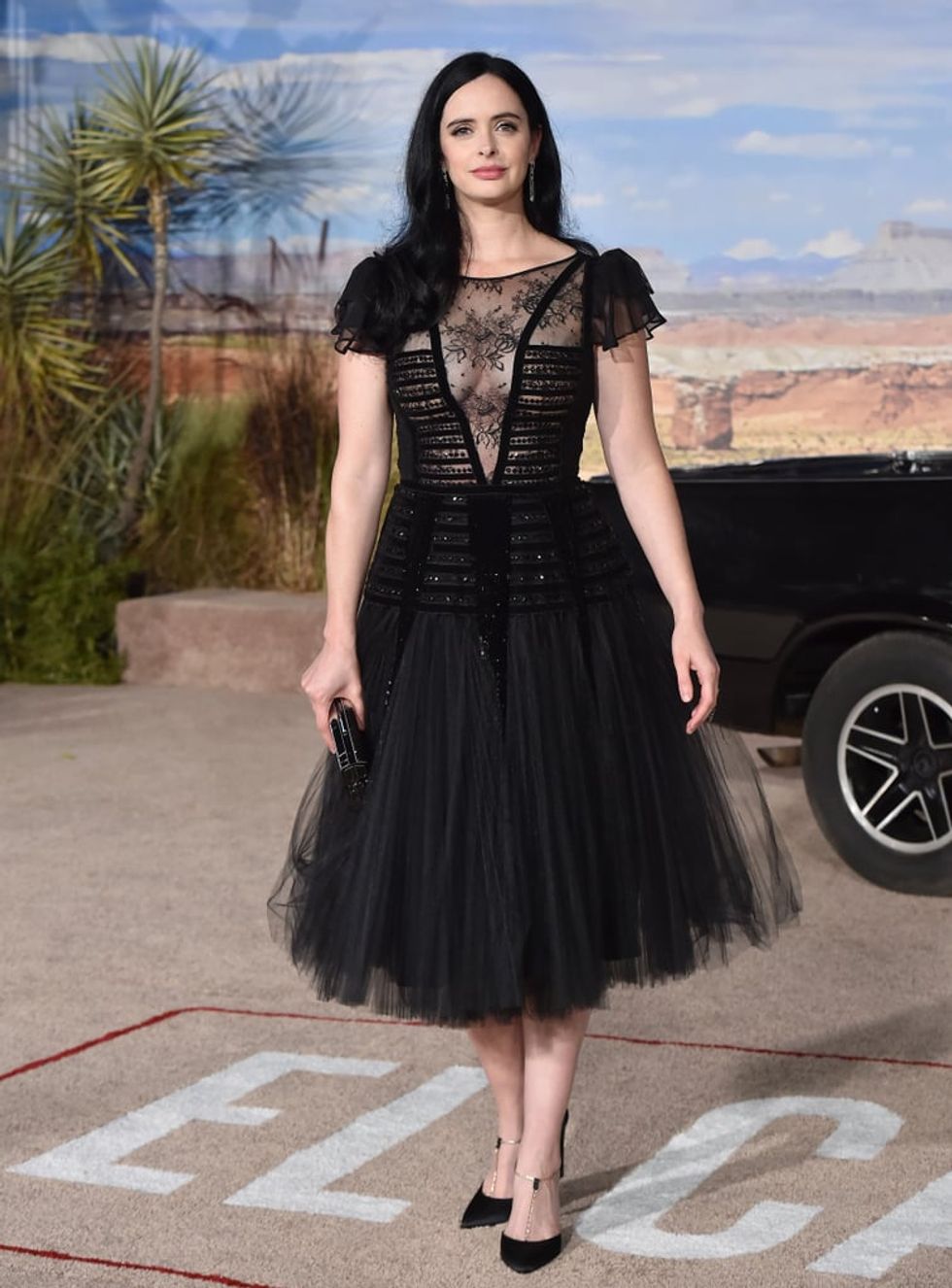 We all remember that horrifying scene when Jane choked to death on her own vomit after overdosing on heroin. Well, actress, Krysten Ritter looked in much better health in a beautiful black lace dress.
Aunt Marie also made an appearance...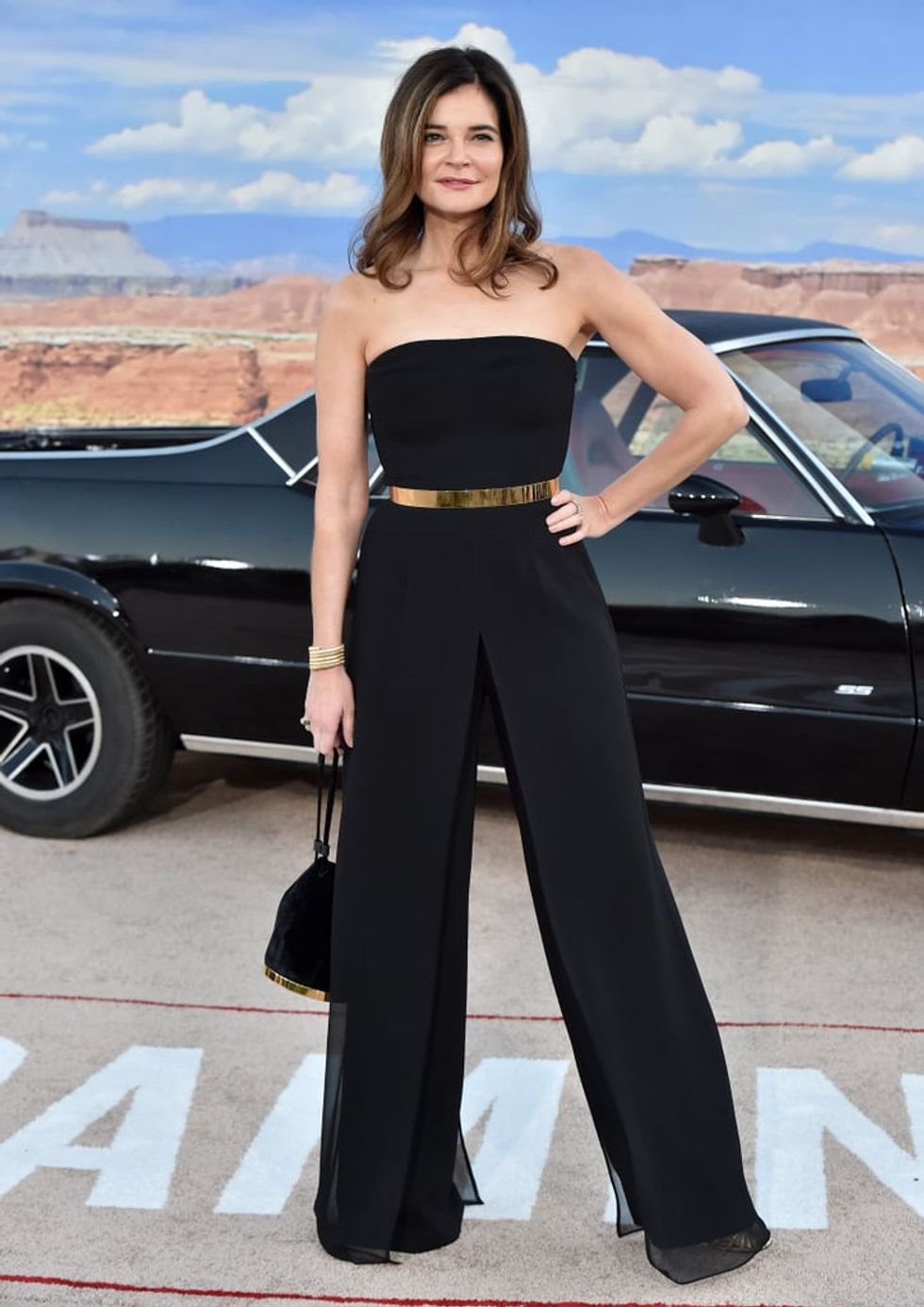 And actress, Betsy Brandt, rocked a full-length black catsuit. Though it was strange seeing her in something that isn't purple...
Our favorite bodyguard showed his face...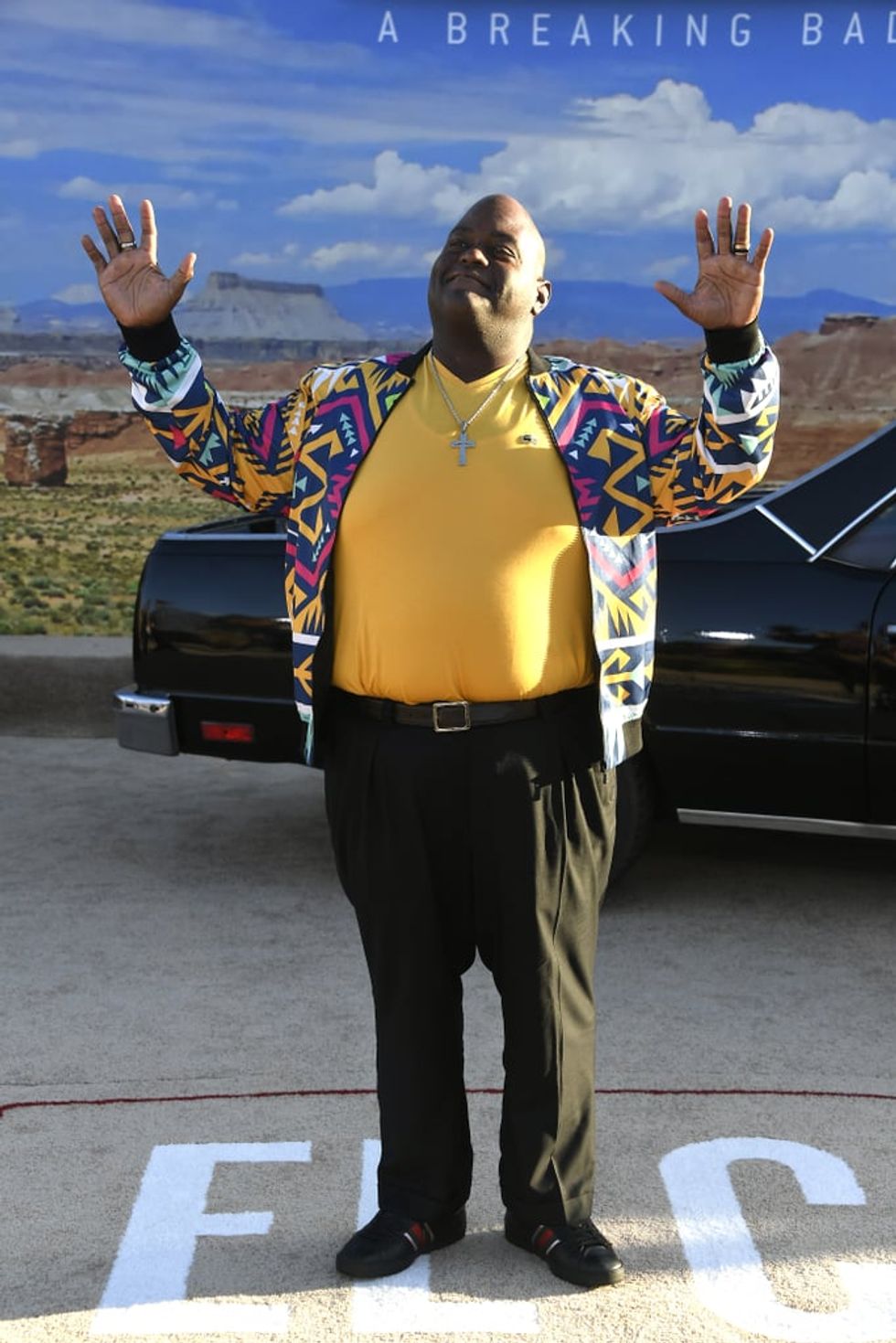 Lavell Crawford, who played Saul Goodman's bodyguard, Huell Babineaux, stood out of the crowd in an electrifying, '80s style jacket.
Jesse Plemons was also seen at the event.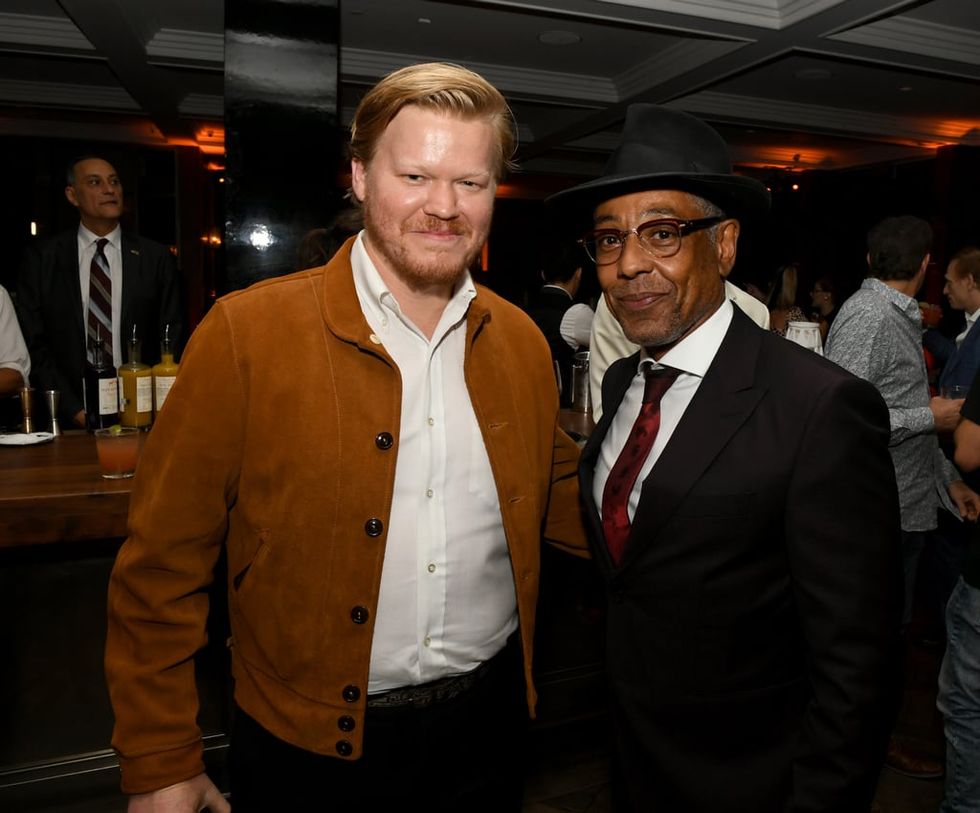 Plemons played the role of Todd in season 5. Todd was a "cook" but was notoriously racist and an incredibly dangerous man.
RJ Mitte looked unrecognizable.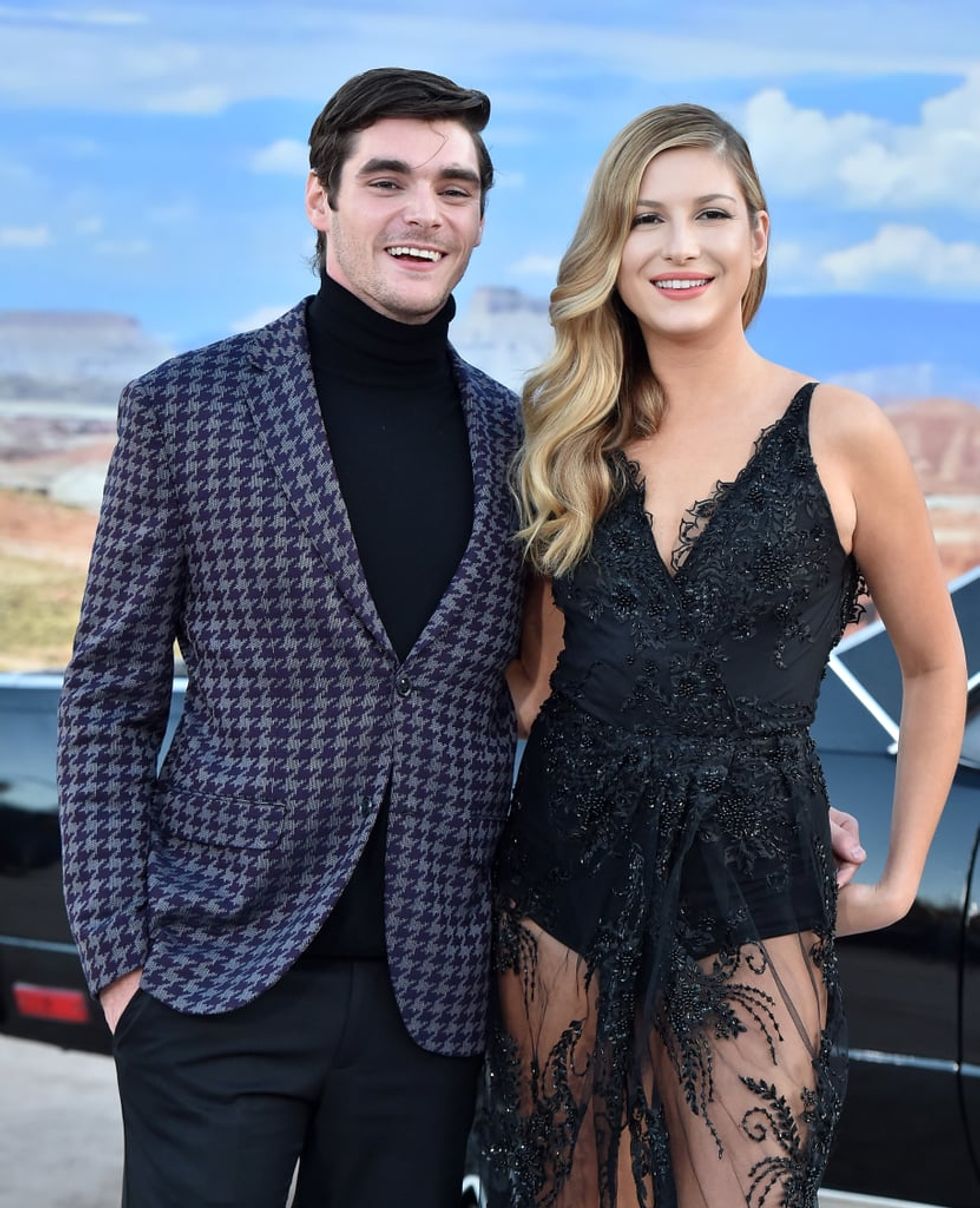 Mitte plays Walter's son, Walter Junior, in the series.
He was reunited with his on-screen aunt and uncle...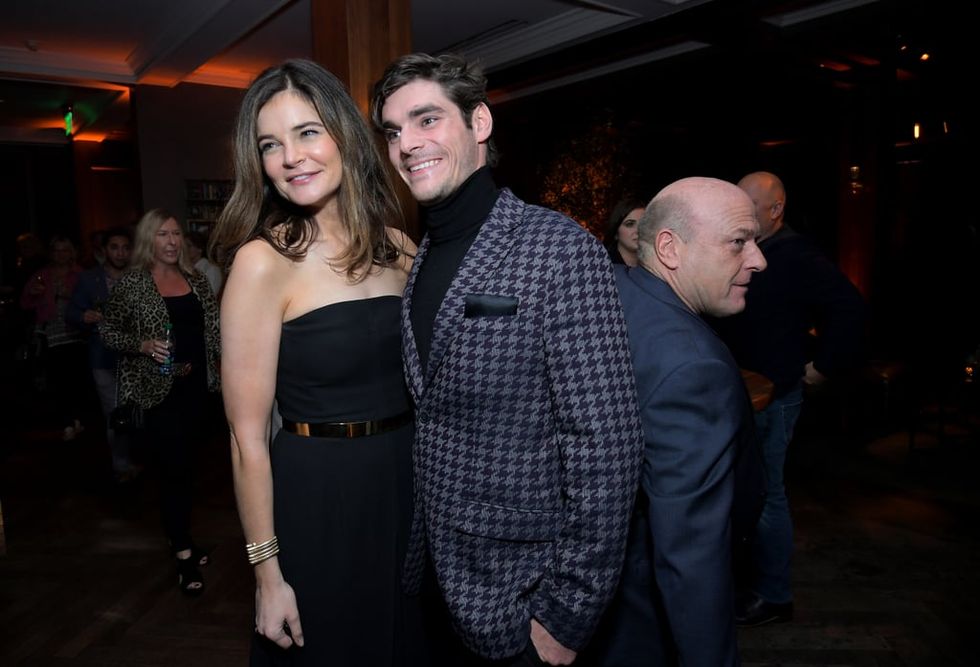 Hank and Marie were just complete couple goals, weren't they?
But, much to the disappointment of Breaking Bad fans far and wide...
Aaron and his wife, Lauren, introduced Story Annabelle Paul to the world in February last year.
And we all remember the time he dressed Story up in a miniature, Breaking Bad inspired chemical hazmat suit.
But he actually got the mini hazmat suit before Story was born...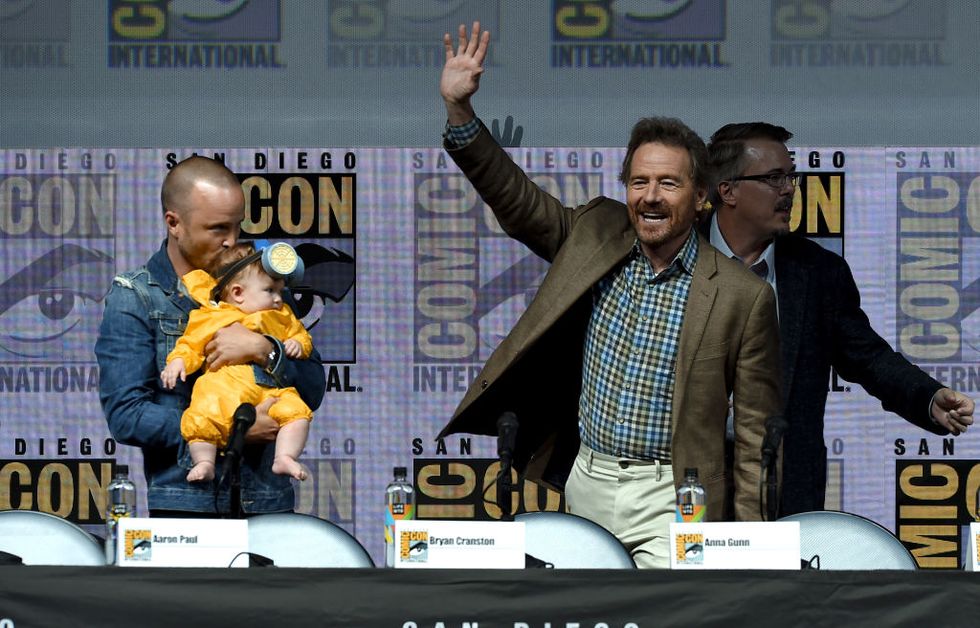 via: Getty
Appearing on
Live With Kelly and Ryan
on Wednesday, Aaron spoke about the time Story completely stole the show, and where and how he acquired the suit in the first place.
He picked up the suit a long time ago.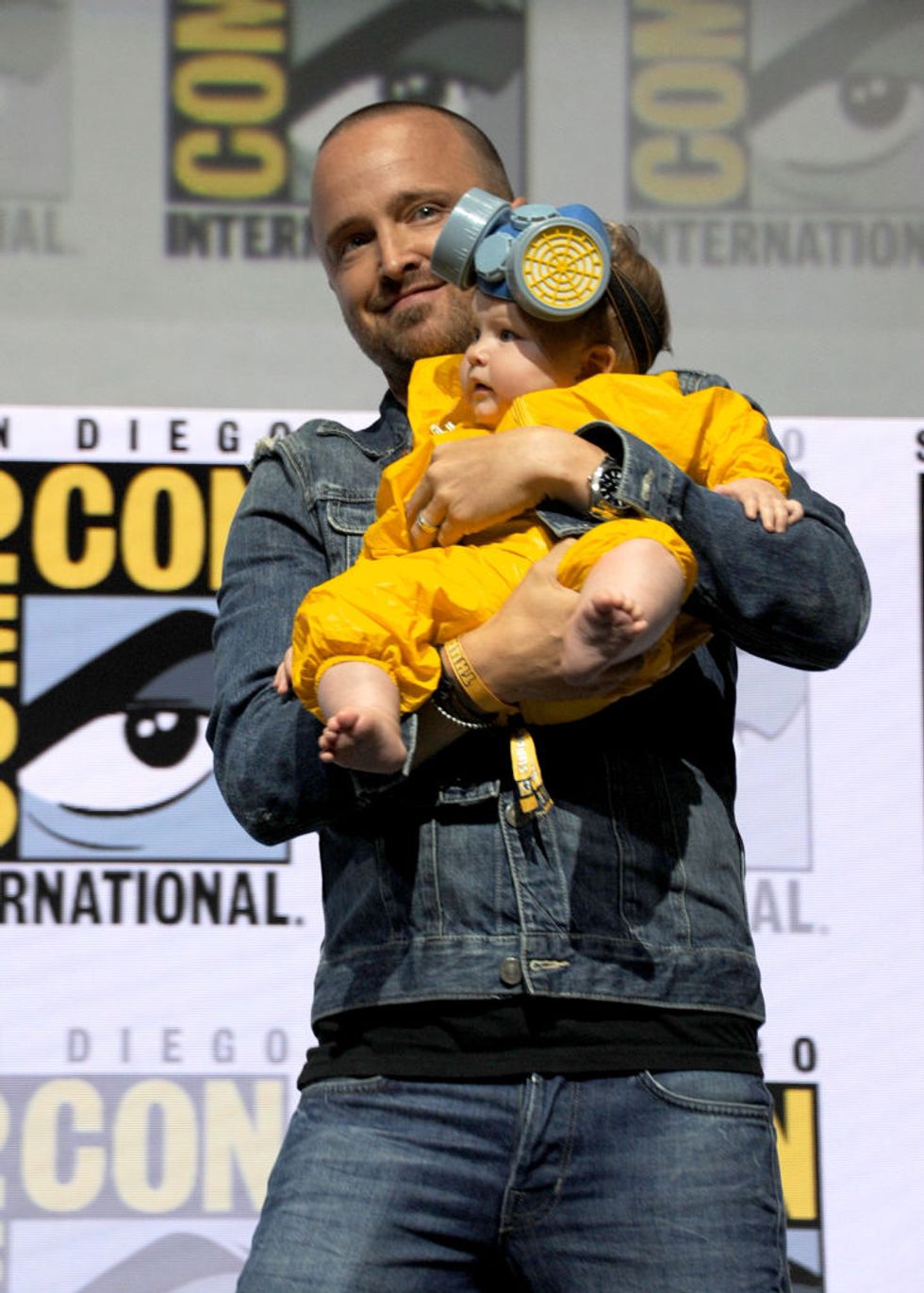 via: Getty
"I actually got that outfit the last time I was at Comic-Con five years previous to this," Paul said. "I went, 'I'm going to keep this and put it on my baby one day."
As for the bad connotations of the suit?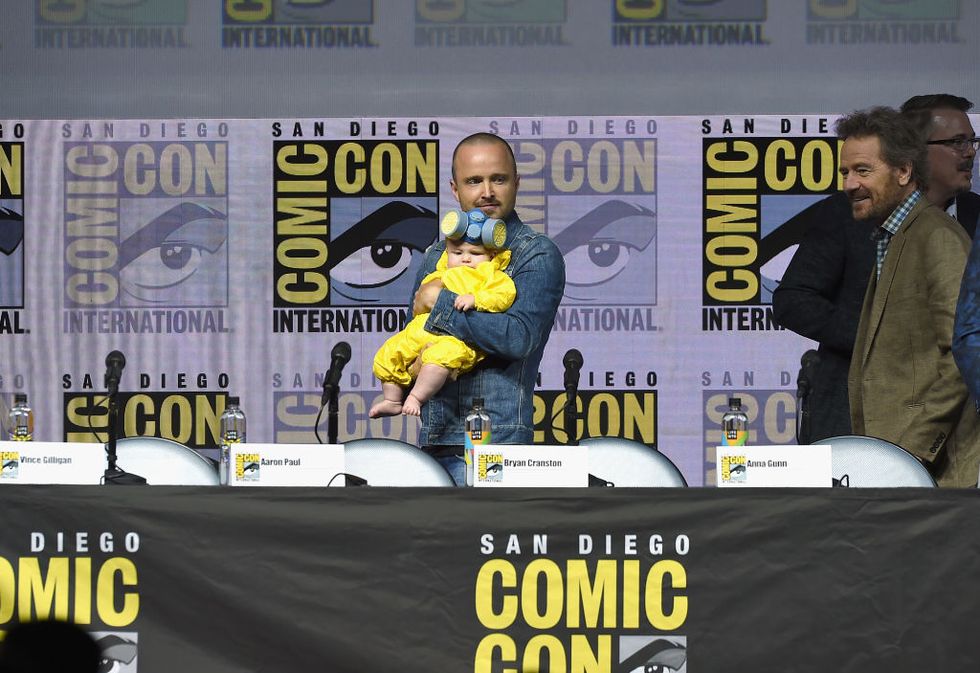 via: Getty
Paul has it covered. After cohost Ryan Seacrest jokingly suggested that putting a baby in a hazmat might be "sending the wrong message," the actor said, "Look, don't do meth."