If this isn't considered breaking news, then I don't know what is...
Breaking Bad is getting a sequel in the form of a movie. Since this life-changing news was announced, fans all around the world have been losing their minds over what to expect from the movie, which is going to be named El Camino.
Aaron Paul, who plays the character of former-junkie-turned-meth-cook, Jesse Pinkman, has recently spoken out about the movie and has given some wise words of advice to all of us eager fans out there, so keep scrolling to find out more...
It's probably the best news of 2019 yet.
Breaking Bad is finally getting a movie!
Since Breaking Bad ended in 2013, the demand for a sequel has been non-stop.
With it being considered one of the greatest TV series of all time, the anticipation for
El Camino
is building and, as a huge fan myself, I can safely say that the wait is absolutely
killing us!
Its release date is the 11th of October...
It will be instantly available to stream on Netflix on this day, and it's looking pretty likely that a lot of people will be calling into work sick that day...
El Camino has again been written and directed by Vince Gilligan...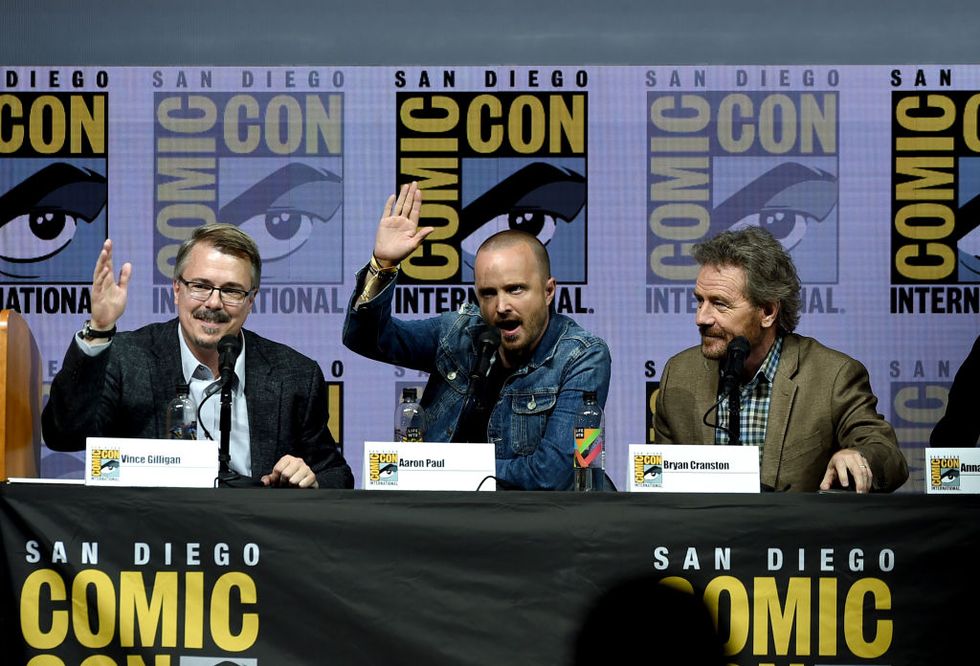 It will follow the life of Aaron Paul's character, Jesse Pinkman, who is on the run from the FBI after they took down the infamous Heisenberg - otherwise known as Walter White, played by
Bryan Cranston.
The return of Walter White is looking unlikely...
A Netflix synopsis reads: "In the wake of his dramatic escape from captivity, Jesse must come to terms with his past in order to forge some kind of future," which poses the question as to whether Bryan Cranston will even appear in the movie after the cliff-hanger that season 5 ended on.
Cranston's silence on social media has also hinted at his lack of involvement in the production...
He has openly advertised the Mezcal brand that himself and Aaron Paul have released, but he is yet to post anything on his Twitter or Instagram account in regards to El Camino. Aaron Paul, on the other hand...
He has been openly advertising the movie over social media...
And it was Aaron Paul's tweet that officially confirmed the movie and sent the world crazy.
Aaron has already revealed some teasers in preparation for the movie's release...
Speaking to
The New York Times
, he admitted that he "couldn't speak for a good thirty to sixty seconds" when he first read the scripts that were written by writer and director, Vince Gilligan.
We weren't the only ones who thought that Breaking Bad was over for good...
Whilst Aaron admitted to being "forbidden" to reveal anything that happens in the movie, he confessed that he also believed that he had said goodbye to
Breaking Bad
when the series ended.
Now Aaron has released a tiny teaser for what to expect...
"Cats out the bag, and the bag is in the river," he wrote on
Twitter.
"Here's a moment from
Breaking Bad
to prepare you all for what's to come."
Looks like I'm going to have to rewatch the whole of Breaking Bad...
Which is fine! The scene that Aaron was referencing is from season 3 and features in episode 7, in which Jesse lays into Walt from his hospital bed for the way that he has been treated by the new-found drug lord.
It is a gripping and emotional scene to watch...
"Ever since I met you, everything I ever cared about is gone, ruined, turned to sh*t, dead. Ever since I hooked up with the great Heisenberg. I have never been more alone," Jesse said to Walt in the scene. "I have nothing! No one."
People are sharing their excitement over Twitter...
People seeing #BreakingBad is getting a movie in a nutshell: https://t.co/b2gC9KXBqB

— TRAFON (@TRAFON)1566690806.0
Am I the only one who thinks that October is
way too
far away?
Many have praised Aaron for the hard work that he has put into the show over the years...
@aaronpaul_8 I'm so excited for this!!!! I'm such a fan of yours and the show! Can't wait to watch this character a… https://t.co/QP0ChzPK7O

— Kristen Dzurinko (@Kristen Dzurinko)1566758302.0
And it has to be said, his acting in this particular scene was absolutely
breathtaking.
Now, all we can do is wait...
And I'm more than sure that it will be totally worth the wait. To see the teaser trailer for El Camino, simply keep scrolling!