Walk into pretty much any kids' clothing store and you'll see the same thing: two separate and distinct sections, one for boys and one for girls. In the boys' section, you'll see camo prints, button-up shirts, and pants with actual pockets. Over in the girls' section, things tend more toward the pink side of the spectrum.
But now, Abercrombie & Fitch is introducing a line of kids' clothing that changes pretty much everything you knew about shopping for kids' clothes.
Isn't it time kids' clothing caught up to society?
Boys can wear pink. Girls can wear blue. Gender is not binary, so our clothes shouldn't be either. This isn't groundbreaking stuff here, folks. But Abercrombie's response to society's progress may very well be.
The well-known clothing manufacturer has now released a line of unisex kids' clothing.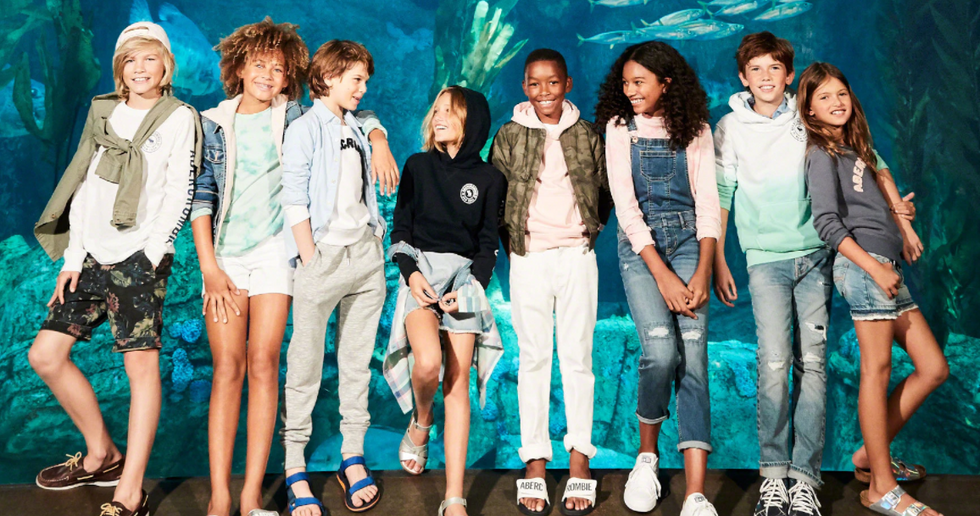 via: Abercrombie
They're calling it the "Everybody" collection. Because that's exactly who can wear it! The line features an assortment of gender-neutral clothing that doesn't distinguish between girls' sizes and boys' sizes. Speaking as someone who has been burned too many times by online shopping, could all stores adopt universal sizing?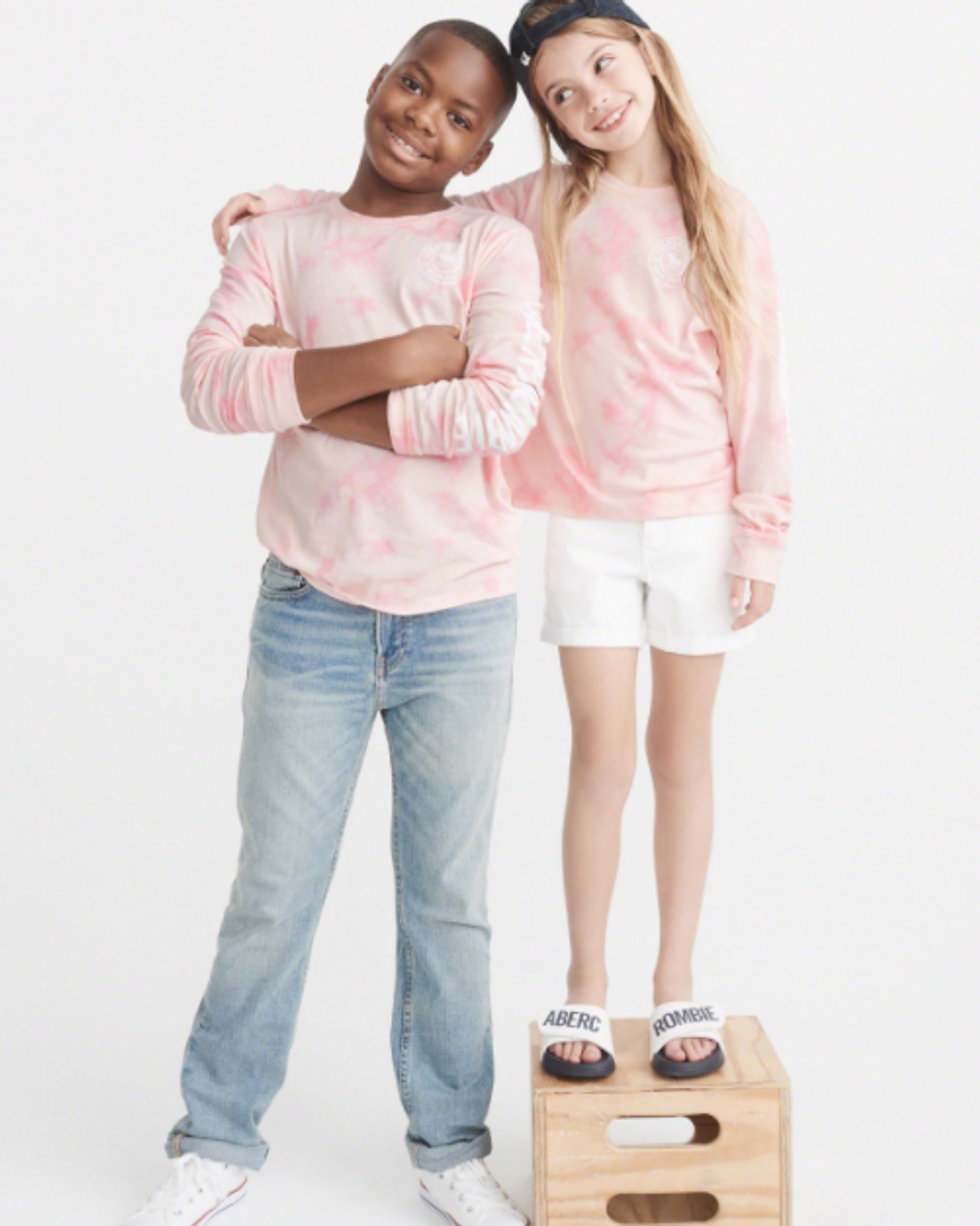 via: Abercrombie
In addition to being unisex, the clothes also look super comfy. While I'm making requests to the clothing industry as a whole, I'd also like a version of the pullover shown above in grown-up size.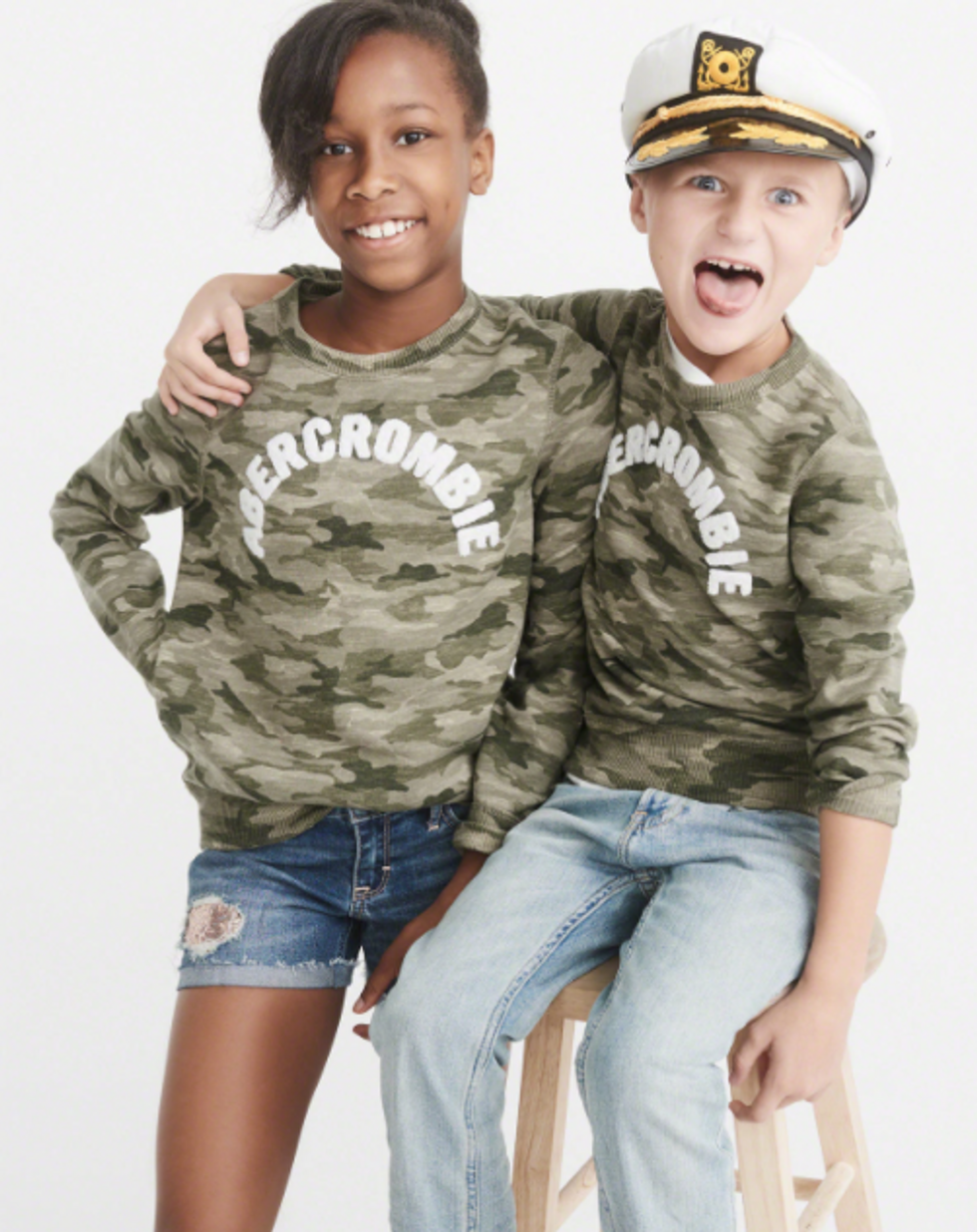 via: Abercrombie
Imagine how much easier it will be for parents of kids who don't want to dress according to society's bonkers gender stereotypes. This is definitely a step in the right direction.
Of course, there are always going to be those who question why we'd need something like a kids' unisex clothing line.
And to those people, I say: Because we do. If you personally don't, that's cool. Maybe your kid fits neatly within the gender identity you ascribe to them. But not every kid does, and they should be able to wear clothes they're comfortable in, too. Duh. For the most part, people seem to support this new line from Abercrombie...
Some people are wondering what's taken so long.
@Abercrombie Well guys where were you when I was growing up ??? I love the new gender neutral line you are putting… https://t.co/NRa0PLUuS3

— Shawn Duquette (@Shawn Duquette)1516323136.0
Seriously. Gone are the days when Abercrombie & Fitch was only for people who just wanted to look like Barbie and Ken clones.
This mom has a great point regarding pink clothing:
@Parrashoes @cnni My son loves pink. Most pink clothes are labeled "girl." For him, it matters a great deal to his… https://t.co/T86VSURiqV

— Elisabeth Staab (@Elisabeth Staab)1516371779.0
Now, her son can shop in a section where nothing is "wrong" for him. Isn't that great? It is.
@wwd @Abercrombie I see this trend in my own house. My ten year old girl has no desire to dress girly at all. She l… https://t.co/FimFyoCRoU

— M 🎗👒🎗👒🎗👒 🎗👒 (@M 🎗👒🎗👒🎗👒 🎗👒)1516234404.0
For kids who are non-binary, trans*, or gender non-conforming, clothes like the ones found in Abercrombie's Everybody line aren't just convenient; they're also important because they allow those kids to discover and explore their own gender identity without outdated "rules" getting in the way.
@cnni the future is non-binary ❤️❤️❤️

— tajja #BTLM (@tajja #BTLM)1516385610.0
Now we just need to get rid of the gender stereotyping going on in other realms of society. (Lookin' at you,
BIC for Women pens
.)
But before we get too celebratory, let's not forget that Abercrombie is by no means a bastion of progressive practices.
.@Abercrombie gender inclusive collections are so necessary and we wish we could be excited about it - but until yo… https://t.co/KU87K26YJV

— International Labor Rights Forum (GLJ-ILRF) (@International Labor Rights Forum (GLJ-ILRF))1516287671.0
They still exploit garment workers from other countries (yikes). And we can't forget that whole fiasco that went down a few years ago when the former CEO said he didn't want overweight or unattractive people to wear A&F's clothes (double yikes). Still, this is a step in the right direction.