Okay. I'm going to say it. I don't know how it happened but Murder Mystery was huge. The reviews weren't exceptional, but the viewing figures were and it turned out to be one of Netflix's biggest original movies of all time.
And now, Murder Mystery has had a sequel confirmed!
Jennifer Aniston and Adam Sandler are no strangers to the comedy scene. Let's be honest, almost every beloved, cheesy comedy seems to star at least one part of the duo.
Read on to find out more about the original, the records it broke, and the sequel.
Let's start off by introducing the pair.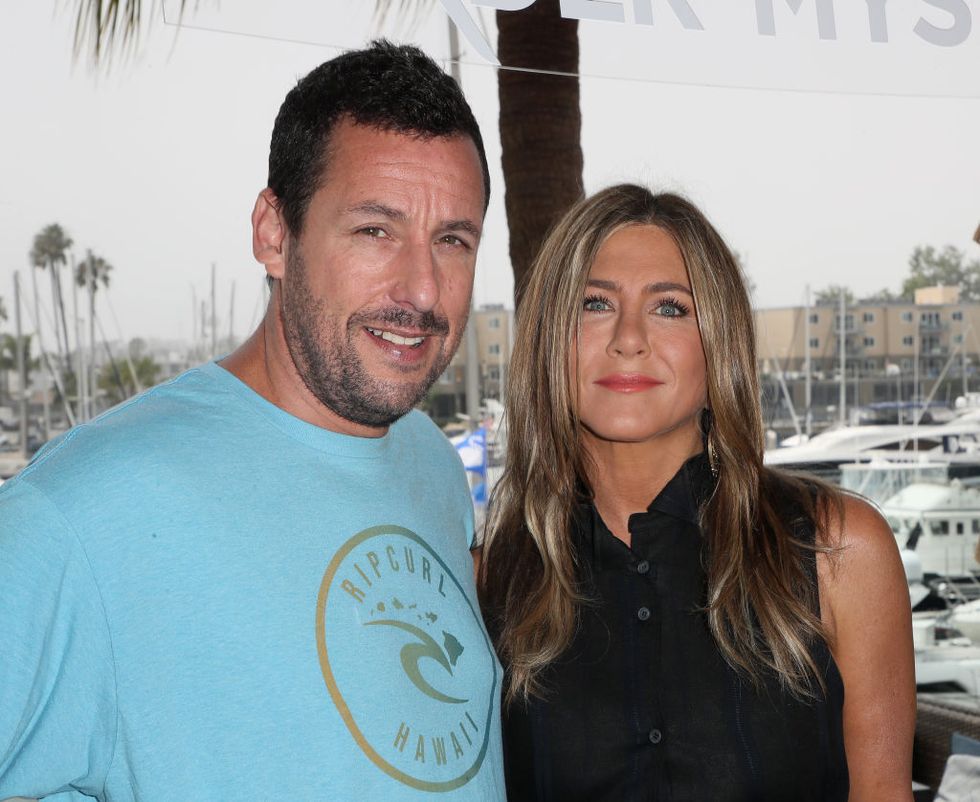 via: Getty
Though we aren't sure that they really need much introducing...
First up, Jennifer Aniston.
After wrapping up her flagship role as Rachel Green in the sitcom Friends in 2004, the actress has seemingly stuck to her comedy roots, starring in countless rom-coms, including 2006's The Break Up, 2013's We're The Millers, Marley and Me in 2008, and, more recently, Mother's Day and Horrible Bosses 2.
Then we have Adam Sandler.
The actor kicked off his career as a Saturday Night Live cast member and went on to become an established face in the comedy sector of Hollywood, starring in the likes of popular movies, Grown Ups, 50 First Dates and, most famously, the '90s comedy classic, Happy Gilmore.
You may remember them starring in this film together.
via: imdb
The pair starred alongside each other in the 2011 rom-com,
Just Go With It
.
Though, critics-wise, it didn't go down well, for regular viewers, the movie became a cult classic in the rom-com genre.
The film follows a recently heartbroken plastic surgeon, Danny (Adam Sandler), who convinces his assistant, Katherine (Jennifer Aniston), to pose as his soon-to-be-ex-wife to cover up a lie that he told to his much-younger girlfriend.
The pair are also great friends off-screen.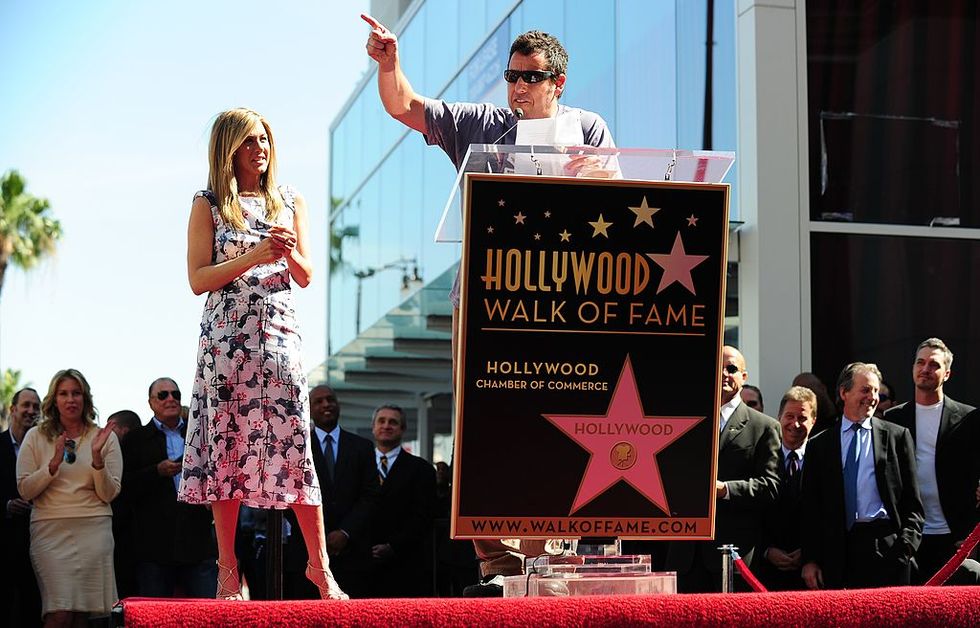 via: Getty
When Aniston was awarded her Hollywood Star in 2012, Sandler not only accompanied the actress, he also made a speech at the event.
Starring together in Just Go With It isn't the only thing that the pair have in common...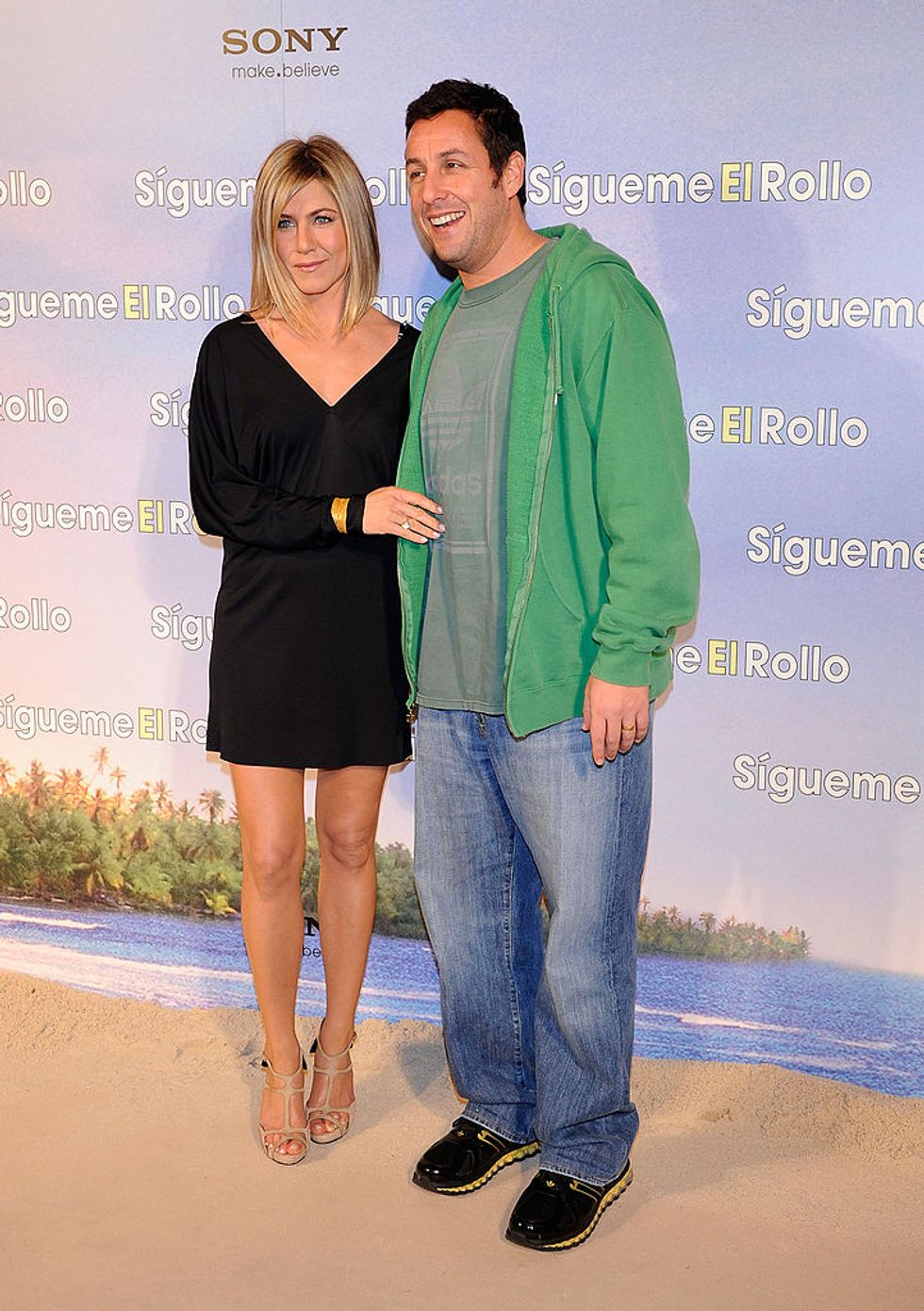 They also both have affiliations with the streaming giant, Netflix.
Aniston recently starred in Netflix's Dolly Parton-inspired movie, Dumplin'.
via: imdb
The musical, inspired by the music of country-queen, Dolly Parton, saw Aniston star as the former pageant queen mother of a teenage daughter, Willowdean, whom she calls "Dumplin'". In protest, Willowdean signs up to her mom's Miss Teen Bluebonnet pageant, but this soon turns into an escalation that quickly starts to alter the rigid stereotypes that come hand-in-hand with the pageant.
But Sandler has an even bigger relationship with the streaming service.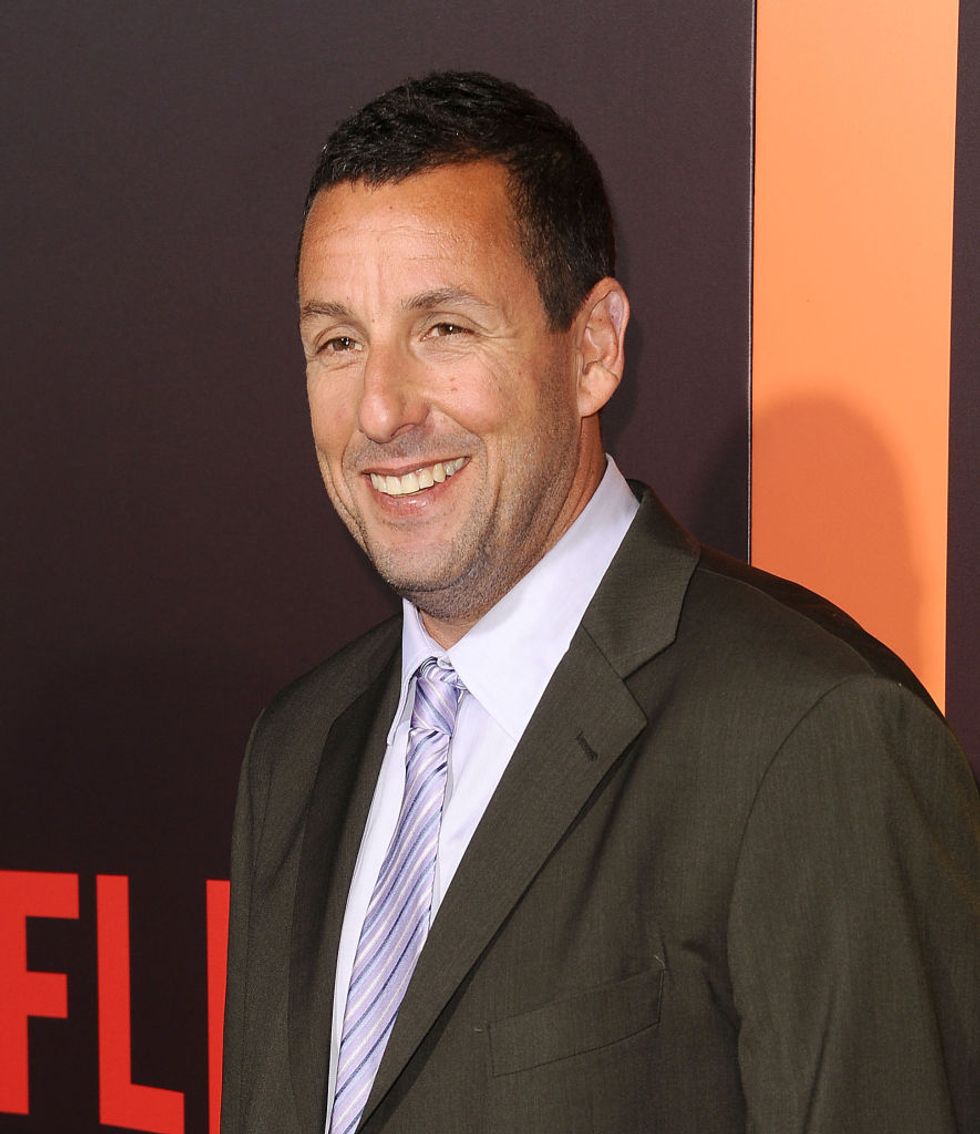 via: Getty
The A-lister's "Happy Madison Productions" company signed a 4-year-movie deal with Netflix in 2014, as well as a deal for a further 4 movies in 2017.
Some people questioned the move.
Sandler's more recent box office appearances haven't gone down as well with critics, leading people to question why Netflix opted to seal a deal with the comedy actor. Some people were pretty harsh about it.
But his productions seem to have proved the critics wrong.
via: imdb
His first two films for the platform - 
The Ridiculous 6
 and
The Do-Over -
 brought in staggering numbers that made them the two highest streamed movies on Netflix at the time. Wow.
The latest film starring Aniston and Sandler has defied the odds, too.
Murder Mystery, skyrocketed to popularity. In the three days since its debut; it even managed to break a huge record...
Comedy and murder mystery... what is this film actually about?
via: imdb
The film follows a couple from New York who get caught up in the middle of a mystery surrounding the death of an old billionaire during a belated honeymoon trip to Europe. It's essentially been
described
as
Murder on the Orient Express
with added comedy elements.
Netflix appears to have struck gold.
Omg #MurderMystery is brilliant 😂😂😂😂😂 It's like a ridiculous modern Poirot except with Jennifer Aniston and Adam Sa… https://t.co/Zt276rklCj

— Katy English ✨ (@Katy English ✨)1560801950.0
Fans rushed to their Netflix accounts to watch the comedy during its opening weekend. Though many people have since taken to Twitter to praise the film, stats have also surfaced proving
just
how well this movie has done and they're pretty staggering...
You won't believe just how popular the movie has become.
Murder Mystery smashed records with millions tuning in after its release. Specifically, 30,869,863 accounts worldwide watched the film during its first three days, making it the biggest opening weekend ever for a Netflix film. They're some eye-watering statistics.
Believe it or not, the figures weren't actually released by Netflix, but by a more unconventional source...
🚨ADAM SANDLER AND JENNIFER ANISTON BREAKING NEWS ALERT🚨 30,869,863 accounts watched Murder Mystery in its first 3… https://t.co/787Girh56f

— Netflix Is A Joke (@Netflix Is A Joke)1560891664.0
But a 
Netflix spokesperson
later confirmed that the data that was tweeted out was accurate. They also said that Netflix only counts views if members finished at least seventy percent of a film - so basically, they've
not
cheated.
Netflix never used to release its ratings...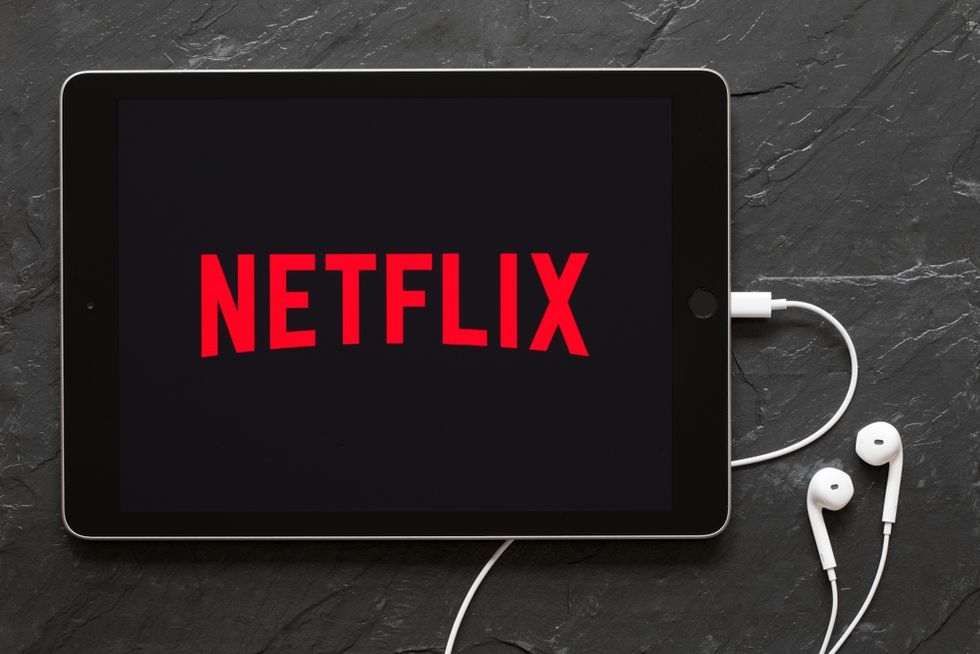 Executives used
to say
that this data "didn't matter for a subscription service that wasn't relying on advertising," but it seems like,  recently, the streaming giant has been letting us into some of their success stories.
If you aren't one of the thirty million people who have watched Murder Mystery, we suggest that you log into your Netflix account right now...
The movie is available worldwide to stream on Netflix.
And if you've already seen it?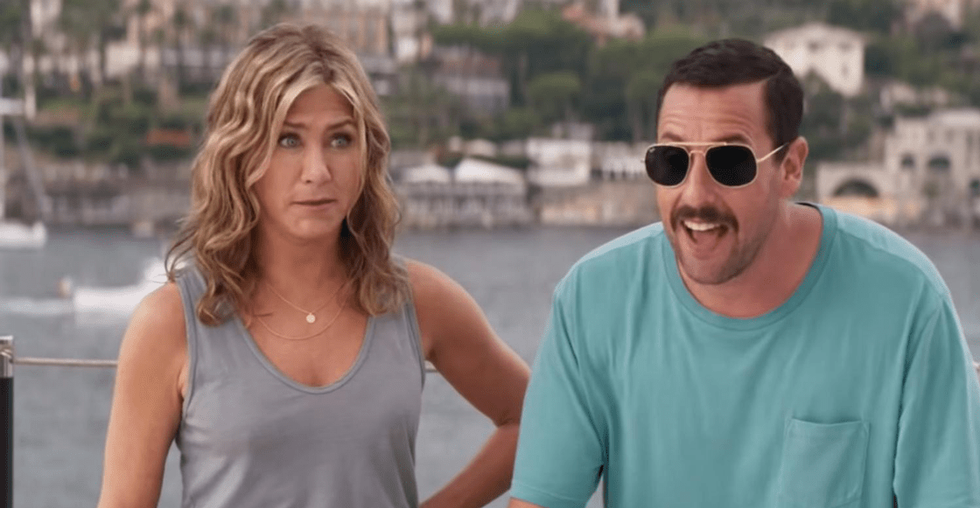 Watch it again. Why? Because you're gonna need to stay on top of it as the
Murder Mystery
Netflix sequel has reportedly been confirmed, according to
The Hollywood Reporter
.
Sandler and Aniston are expected to return.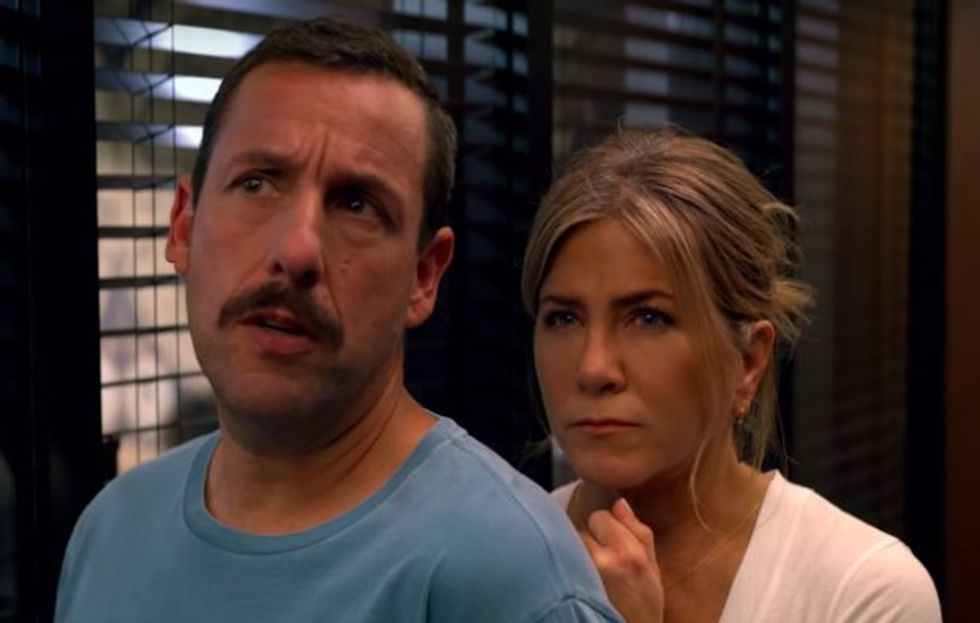 Although no deals are currently set, it is hoped and expected that Sandler and Aniston will both agree to do the follow up.
The sequel is in early development.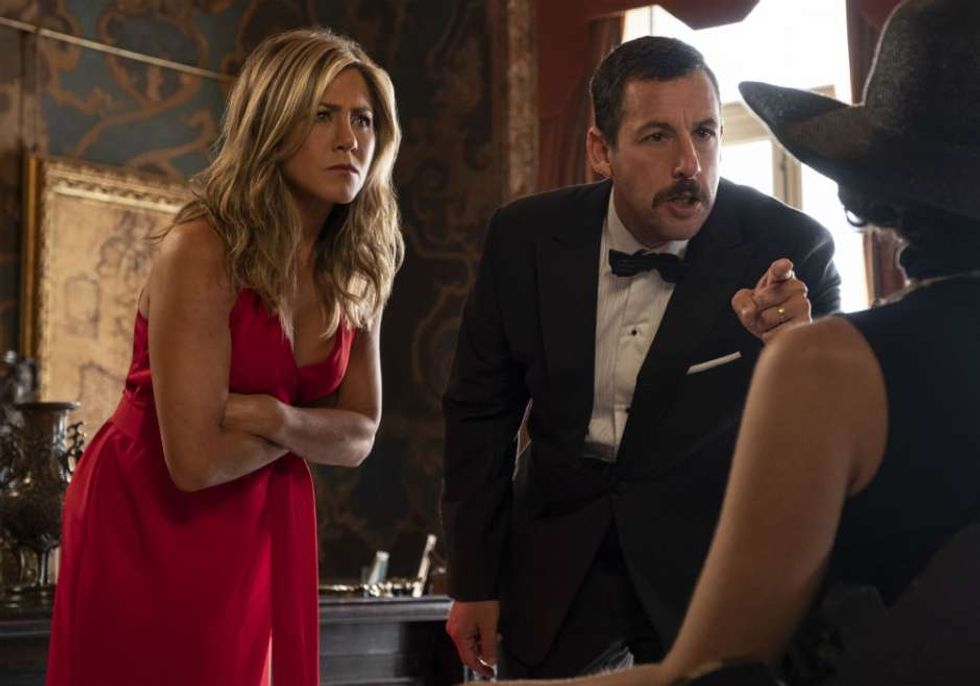 As reported by the press, the sequel is in early development and is expected to be picked up by Netflix pretty soon. Sandler has a first-look deal with Netflix and makes the majority of his movies for the streamer. Going off the gargantuan successes of the first movie, it would be pretty strange for Netflix to reject the sequel...
James Vanderbilt is in negotiations to pen Murder Mystery 2.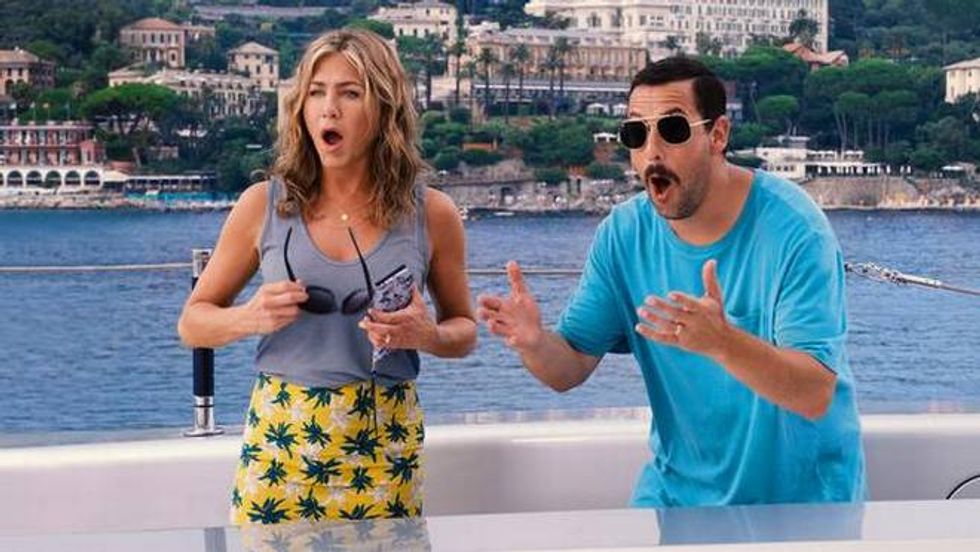 Murder Mystery's
original writer, James Vanderbilt, is reportedly in negotiations to write the script for
Murder Mystery 2
. And that's a good thing for fans, because he's one of the most sought after script writers in the world - and makes a fortune doing so.
We can't wait.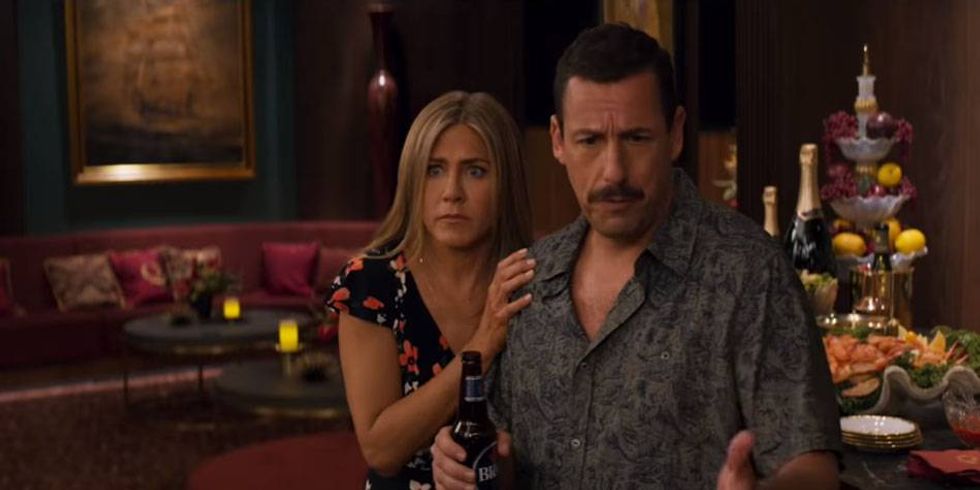 As we're still in the early days, it's likely
Murder Mystery 2
won't be around any time soon, but the hype is real ladies and gentlemen. We can't wait!