During most award show speeches, you expect to hear things like thanks to my mom, thanks to my producers, etc. These speeches are overly prepared because no actor wants to forget someone. Often, they're pulling out that long list of everyone because it's so important to get this speech right.
But Alex Borstein was, well, a little more free-wheelin' about the whole process.
Maybe we should've known her acceptance speech tonight at the Emmys was going to be a little different from the traditional acceptance speech. A writer and comedian for years and years, part of Alex Borstein's whole deal is writing jokes.
Alex Borstein tonight won the Best Supporting Actress in a Comedy Series Emmy.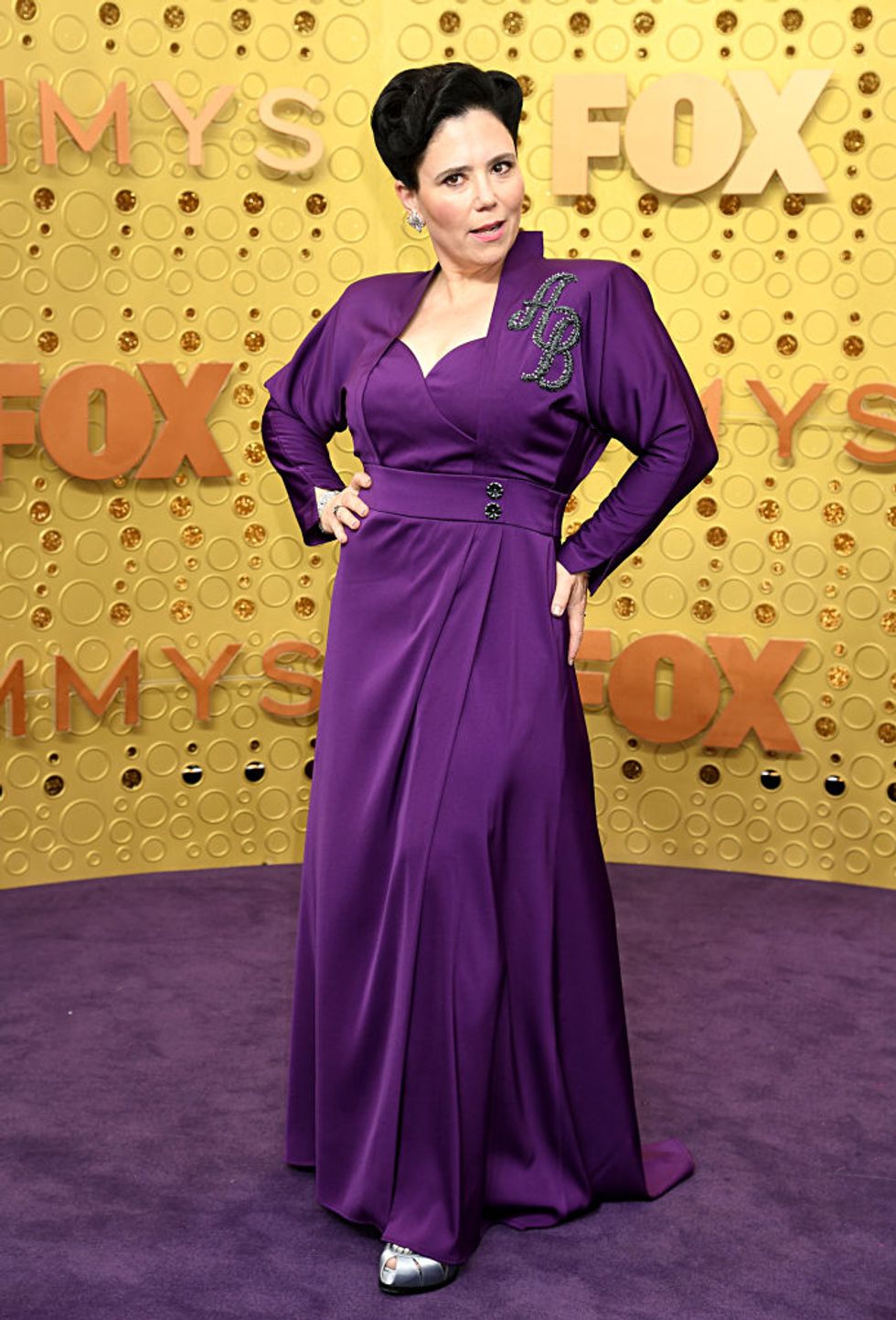 via: Getty Images
On
The Marvelous Mrs. Maisel
, Alex Borstein plays Susie Myerson, the titular Mrs. Maisel's comedy manager. The role snagged her a second Best Supporting Actress in a Comedy Series Emmy in as many years.
Last year, her wardrobe caused a bit of talk.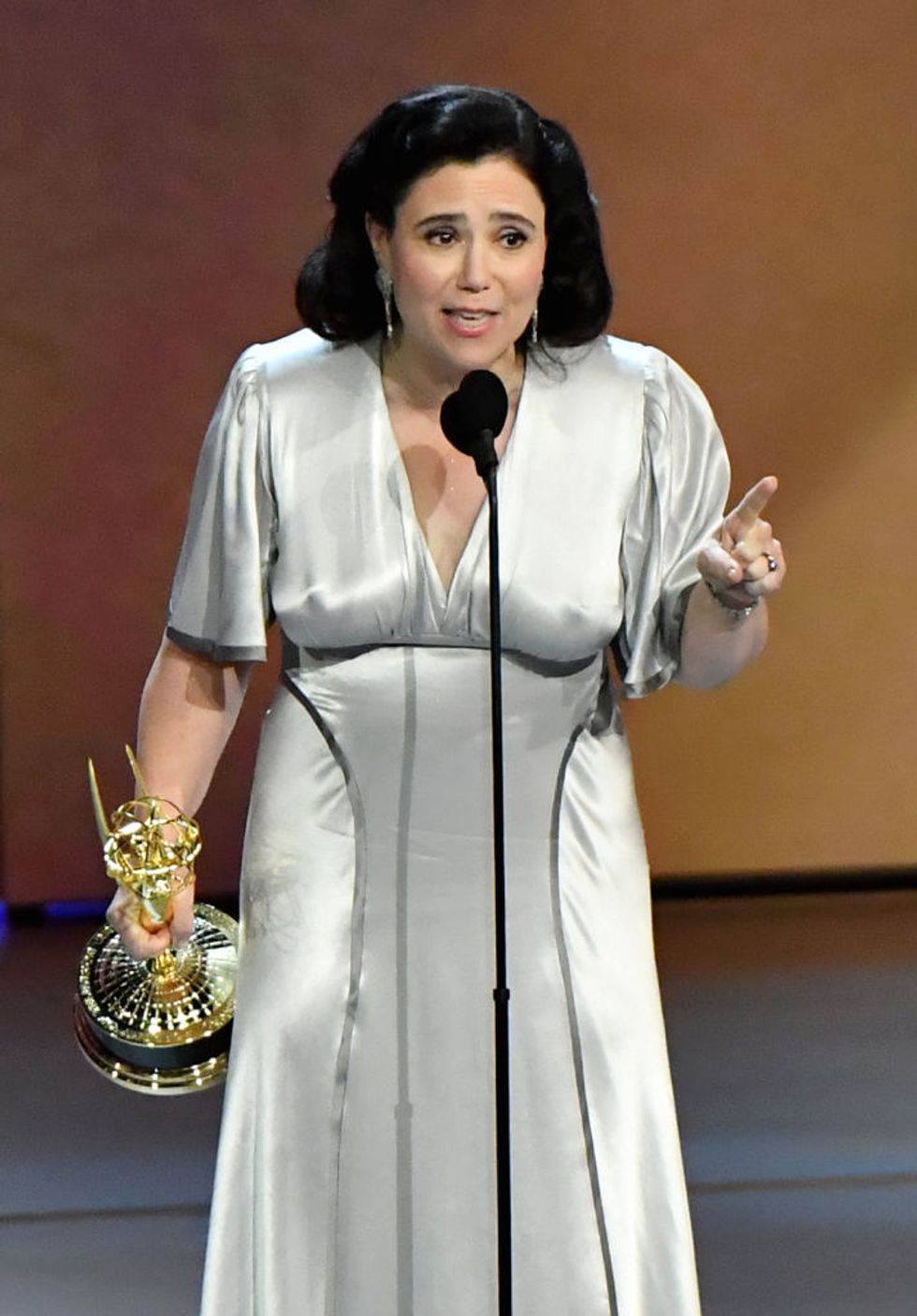 via: Getty Images
Last year, Alex Bornstein wore a flowing white gown to the ceremony, and as was pretty obvious while she was onstage, she didn't wear a bra. And it had people
talking
.
She was even asked this year if she had any big plans, wardrobe-wise, for tonight.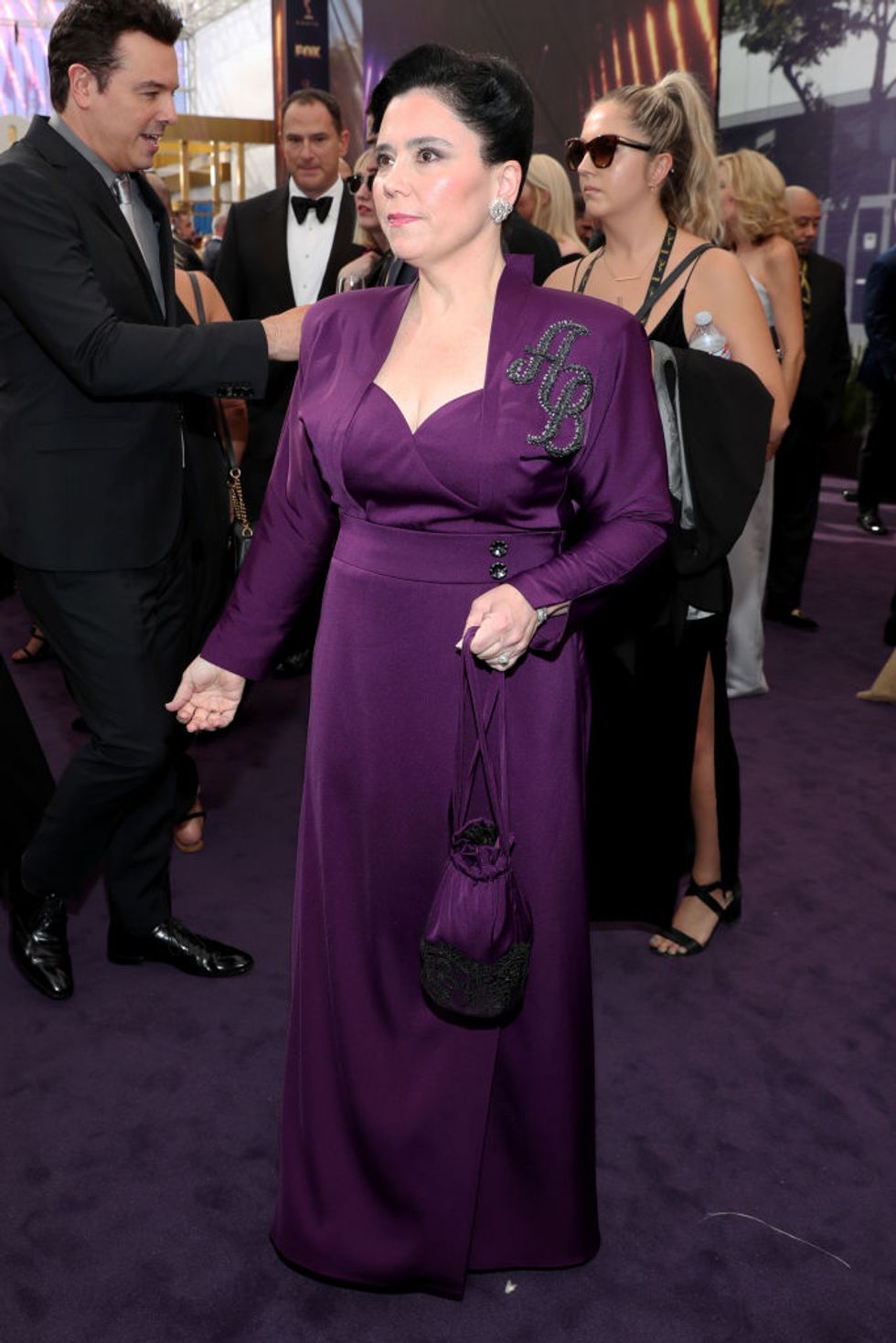 via: Getty Images
While walking the red carpet tonight with her
family Guy
co-star Seth MacFarlane, Alex was asked if she had any wardrobe plans for tonight. She told them she would go up and just take off her pants.
So when Alex went up to accept the Emmy...
When presenters Catherine O'Hara and Amy Poehler read Alex's name, she gave Seth a kiss on the cheek and headed onstage wearing a dress, and not the pants she had threatened to take off just moments ago on live TV.
... the censors had to be sweating.
You have to wonder if these guys take celebrities on the red carpet seriously. I mean, at any point, someone like Bryan Cranston could just rip off his clothes. He made his Breaking Bad money, what does he need Hollywood for?
She started by apologizing.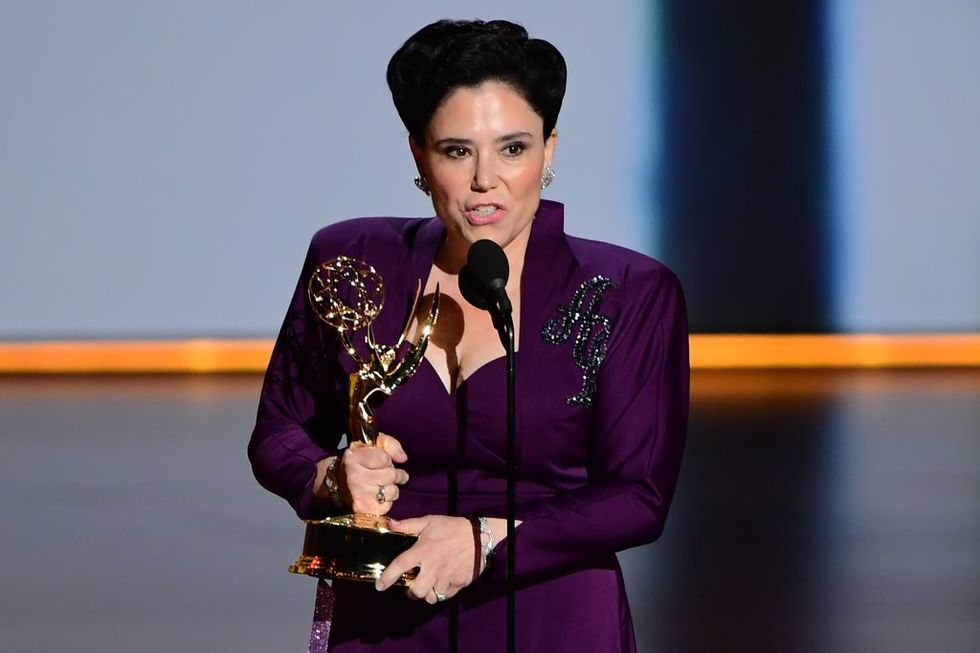 via: Getty Images
The first line of Alex's speech made it sound like she was going to atone for her wardrobe choices last year, saying, "I know a lot of people were upset last year because I wasn't wearing a bra, so I want to apologize."
But then, she made it clear.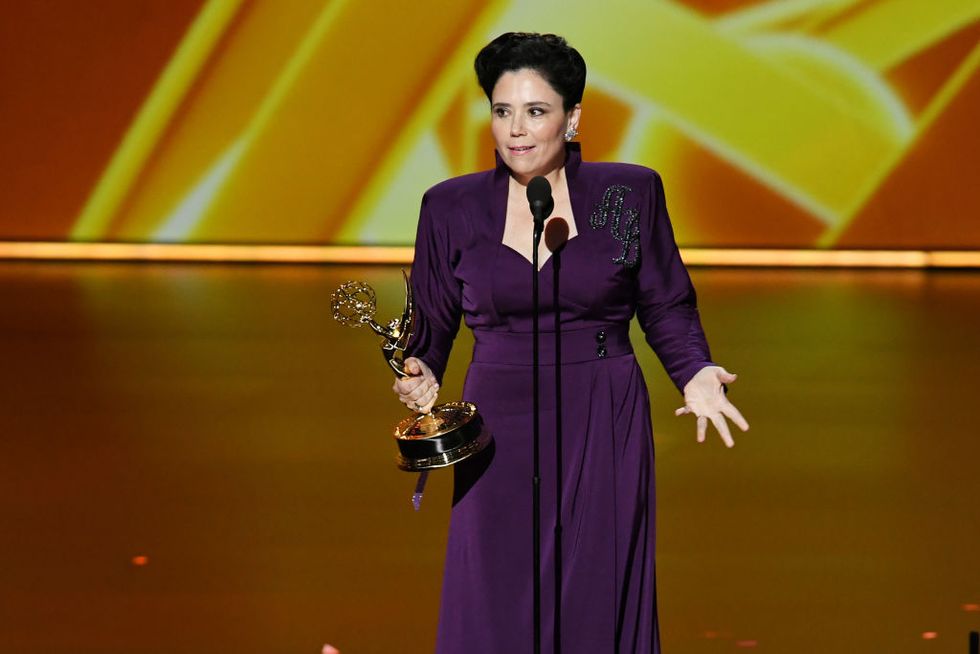 via: Getty Images
Her
full
statement was, "I want to apologize because tonight I'm not wearing any underwear."
Alex joked that they'd have to hose down the seat.
"Just throw that chair out or clean it pretty good," she said of her seat down in the auditorium. "It looks pretty on TV, but it's like a hot bikram yoga class in here. A lot of nervous women."
It was more a thumbing of her nose at anyone who was upset about her wardrobe last year.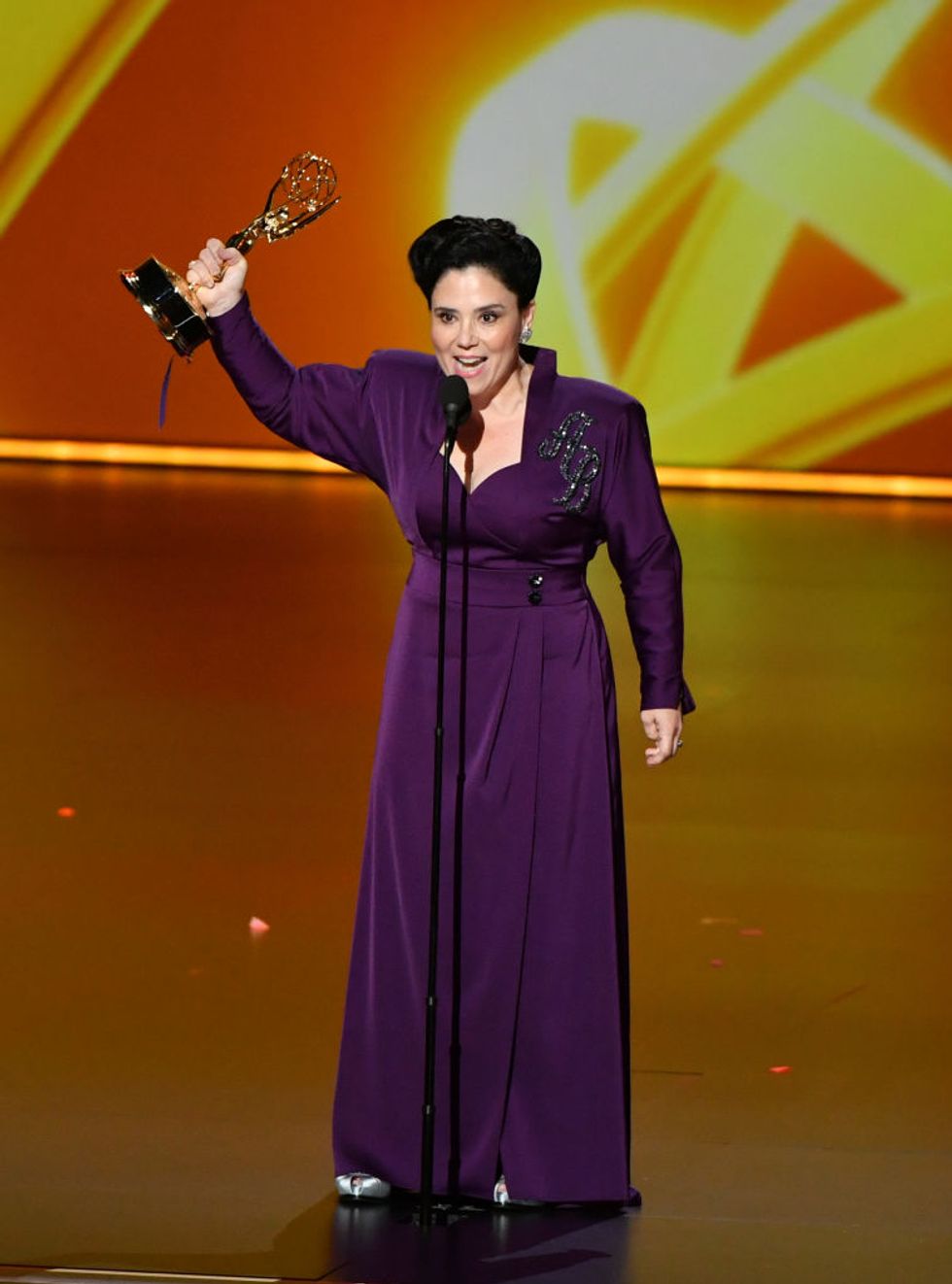 via: Getty Images
It was the kind of perfect fake-out you love to see in comedy. She lulled us in by making us think she felt bad about what she'd worn last year before doubling-down and revealing she wasn't sorry
at all.
God only knows what she'll not wear next year.
No one wears bloomers anymore. Love Alex Borstein? Stay tuned for 50 other incredible women who have made history...