Having people over and hosting your friends and family is one of life's greatest pleasures. But a common issue that hosts face is where exactly to put up all those extra people, particularly if their house is a little more on the petite side. There's only so much you can do with air mattresses and pull out couches, after all - and if the lack of sleeping options prevents you from being able to have guests over, that's a real shame.
Luckily, an innovative solution has just been discovered online. Amazon (frankly, where else?) has just stocked up on a truly incredible item that could end up changing lives. It's essentially a flat-pack home, promising easy assembly in a matter of hours, and it could be the answer to all of your hosting woes. And as you'd imagine, the internet is pretty excited at the prospect.
Hosting can be a real pleasure.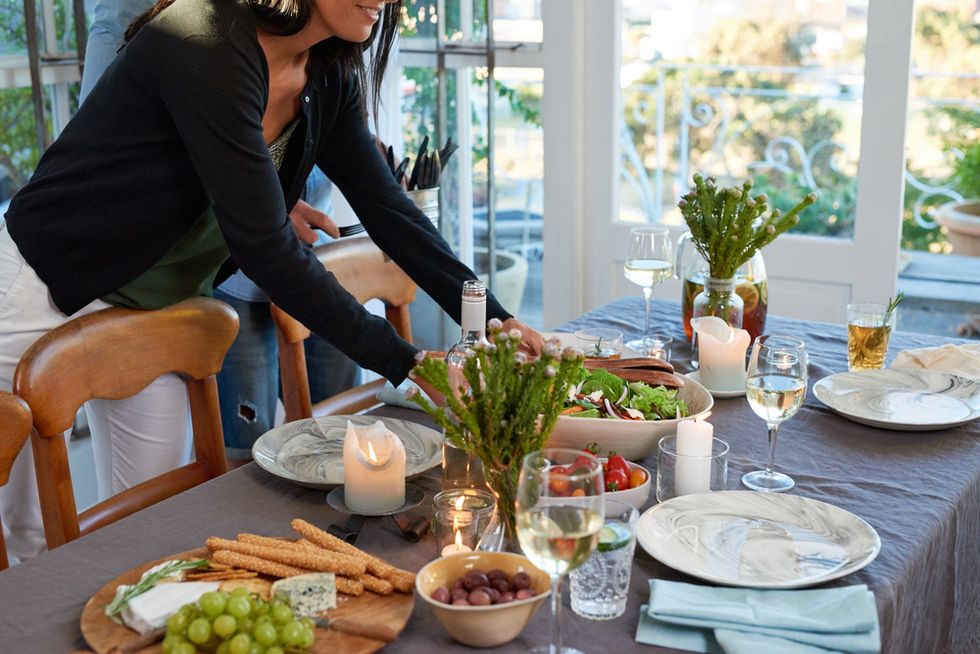 via: Shutterstock
There's not a more wholesome activity than inviting people you love over to your space and looking after them all.
Many of us truly thrive on it.
Opening up the doors for friends and family is a wonderful way to express how much you love and care for them.
However, hosting is not without its problems.
And one of the very biggest? What exactly you're supposed to do at the end of the night, when your guests start to feel a little tired.
There's always the couch?
But honestly, that's hardly the most comfortable spot for someone you care for - especially if they're prone to rolling over!
You could always turn the couch into a bed?
But let's face it, that's never quite the same. Particularly if your guests have to share, and one of them is a renowned wriggler.
There's the classic air mattress?
But that comes with dangers all of its own; even when used correctly, they'd never exactly be described as "comfortable."
It can be a real puzzle.
If you want to have guests sleep over, but are lacking in adequate space, it can really spoil your hosting fun.
But there's been a recent solution to your hosting woes.
And the best part? It's something you can purchase online, and have delivered straight to your door!
And we bet you can guess where it's from.
It's Amazon, of course, the biggest of internet shopping treasure troves! Whatever you need, you can bet they stock it.
It's an easy place to blow some cash.
Me: let me check out these #AmazonPrimeDay deals. Imma just look but not buy anything. Also me: https://t.co/5HkNwcnBqH

— Mila thee Medallion (@Mila thee Medallion)1499747434.0
When there's a shop that sells basically everything out there, you can
guarantee
that everyone can find something they want to purchase.
Or, indeed, something they don't.
ME: I just don't need more stuff ME, on Amazon Prime Day: I don't have a cat but this litter box is 8% off I'm buying three

— actioncookbook (@actioncookbook)1499775988.0
Hey, if the price is right, it can almost seem rude 
not 
to add something to your cart!
That can have a downside, though.
Amazon shopping can be particularly dangerous late at night, after getting paid, or if you happen to have consumed a glass of wine.
Sometimes, Amazon is just too tempting.
every day is #AmazonPrimeDay when you have a credit card and no self control

— Kerin Cunningham ⚡️ (@Kerin Cunningham ⚡️)1499782402.0
And their latest offering is truly exceptional - even by Amazon's high standards. It's something that it's hard to believe can be purchased online.
Amazon are offering a solution to a classic hosting problem.
A guesthouse, which can be purchased online, and assembled in your garden in a matter of hours!
The product comes in a flat pack.
Which means it's a pretty time-consuming project - but one that's absolutely worth it for those in need of some extra space.
Here's what it looks like.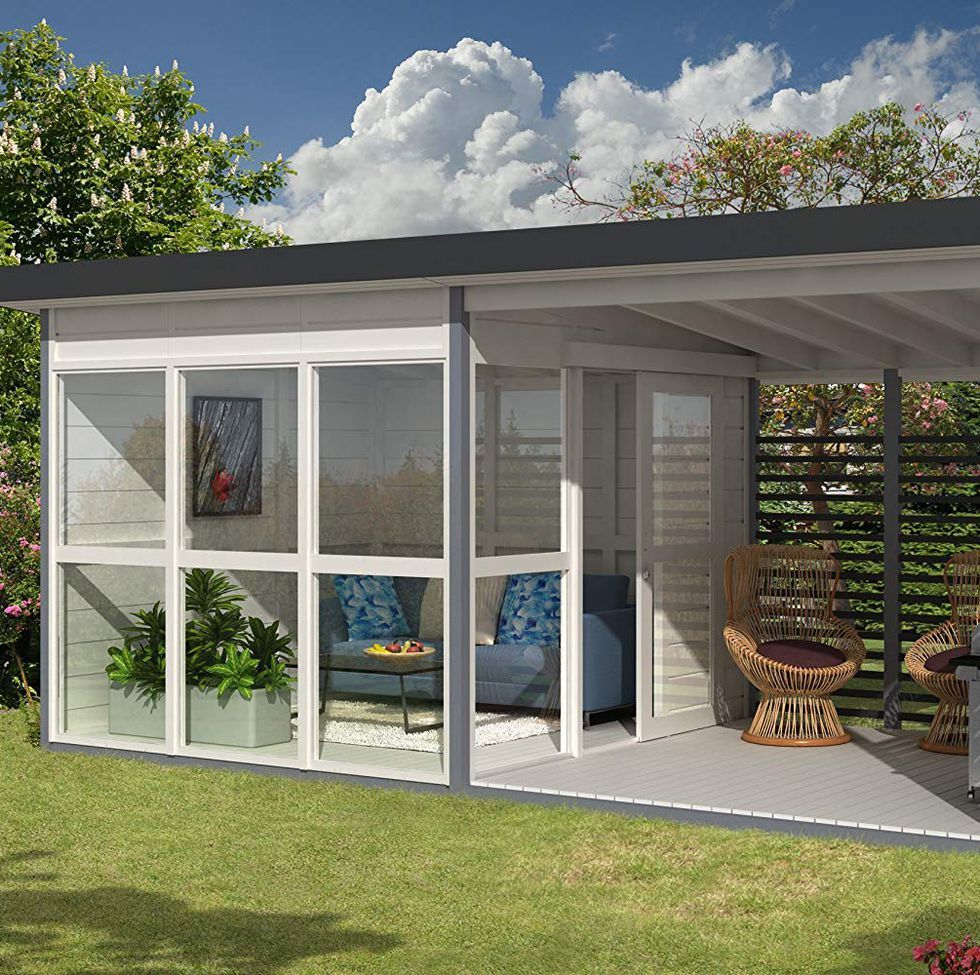 via: Amazon
It has 172 square foot floor area and comes with a bedroom
plus
an outdoor area!
The listing shows off the impressive dimensions.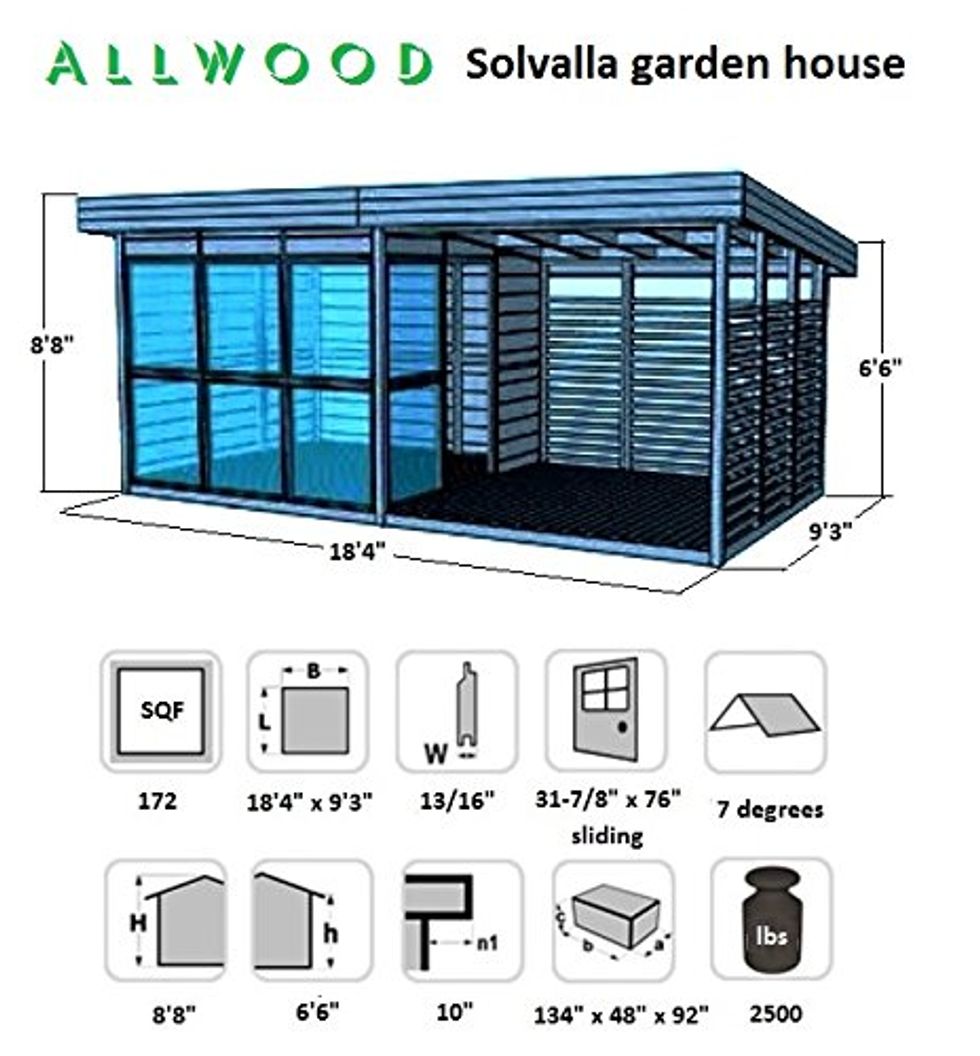 via: Amazon
And although it's definitely on the petite side, we think that this space would be more than acceptable as a spare bedroom.
When assembled, the place looks lovely.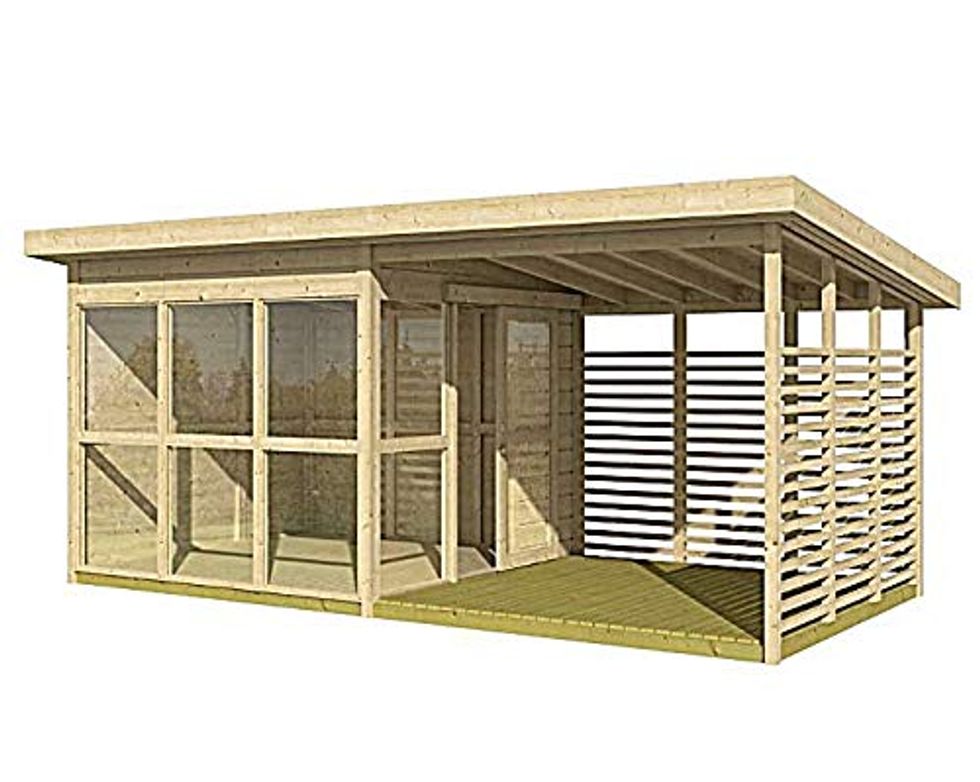 via: Amazon
It has an outdoorsy look to it, for sure, but it definitely doesn't look like something ordered from Amazon and built from flat pack.
If you don't have guests, there are many potential uses for the space.
For example, an at home music studio for those would-be pop stars out there.
Or what about a summer house?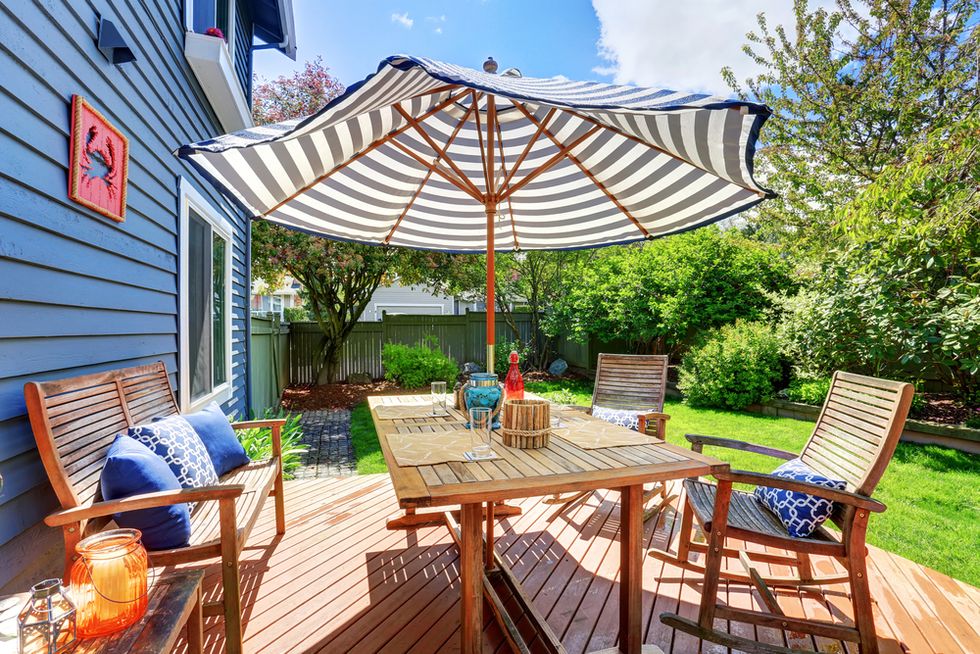 via: Shutterstock
Many gardens could use a little more outdoor space for chilling out in the warmer months.
The possibilities are endless.
For instance, how about a fully stocked games room, filled with all your childhood favorites?
Or, why stop there?
This little gem could make the perfect set up for an at-home gym - so no more excuses for not working out!
The listing shows a few different options.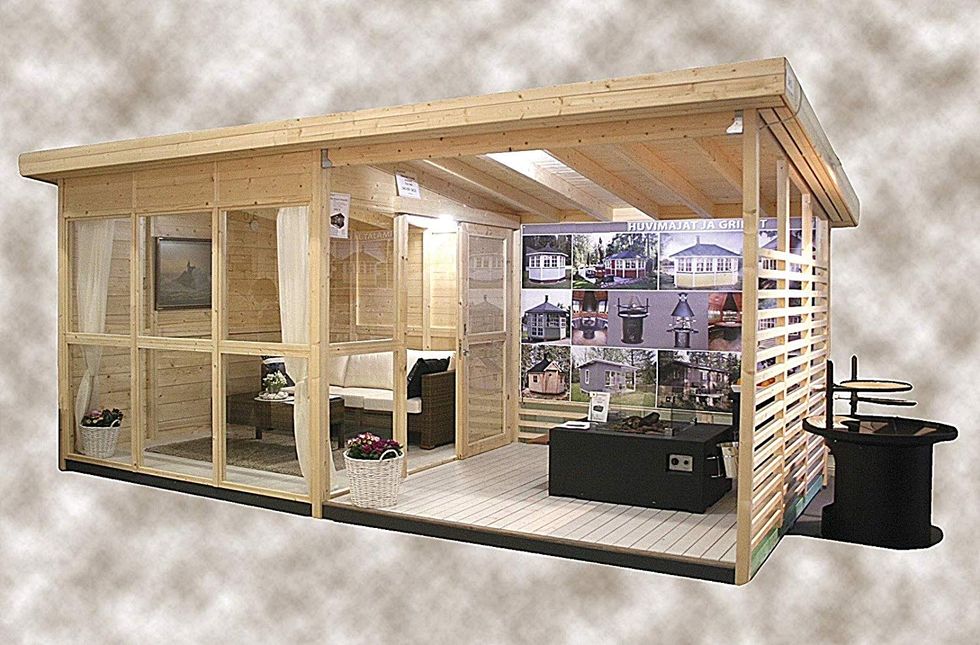 via: Amazon
And the fact that you can set up such a versatile space all by yourself, with no additional building costs, is pretty incredible.
The outside is full of potential, too.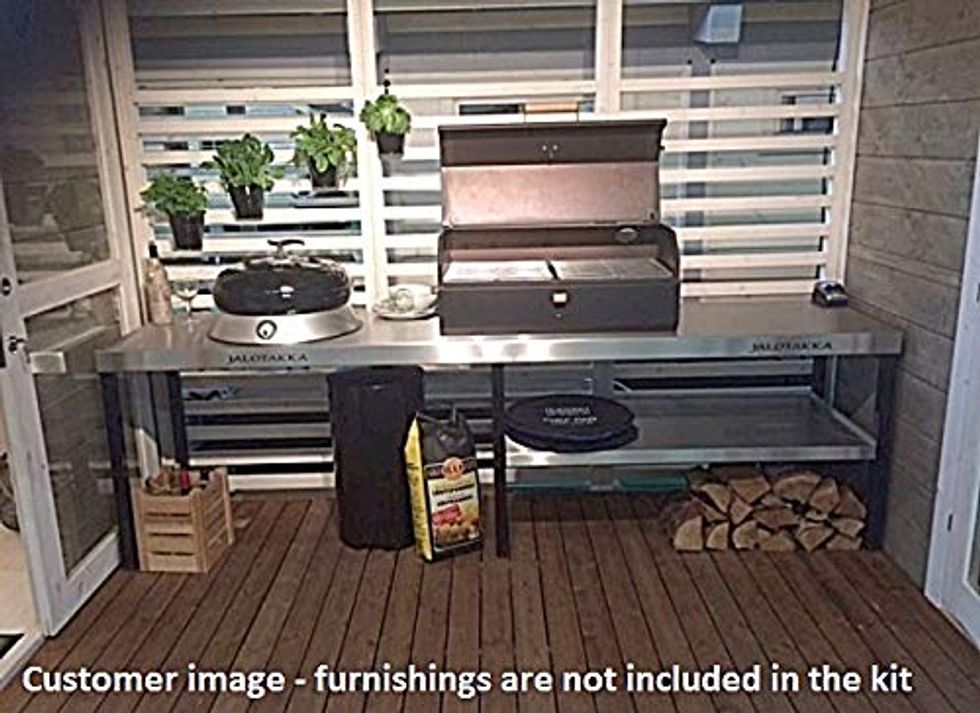 via: Amazon
It looks to be a great space to set up a barbecue (or even a bar) to entertain some friends when the weather is nice.
In fact, we're feeling pretty tempted.
If you do want to add to cart, though, it'll cost you - the guesthouse is currently listed at $7250 - yikes!
Nonetheless, it's a pretty excellent deal.
#Amazon Is Selling a DIY Backyard #GuestHouse... https://t.co/Xkhtx69DK4 #RealEstate #homes #DYI #tinyhome #TinyHouse

— JoN GarDellA | #RealEstate (@JoN GarDellA | #RealEstate)1557285531.0
When you think about the cost of building a home - even a tiny, basic one like this - it would usually be a lot higher.
The place isn't perfect though.
It doesn't come with any electrical amenities - although if you're serious about the project, they could be set up.
And that's not all...
The place is not just plumbing free, but it's actually lacking in any space for a bathroom - so you can't quite get ready to move in fully just yet.
Nonetheless, the place is pretty incredible.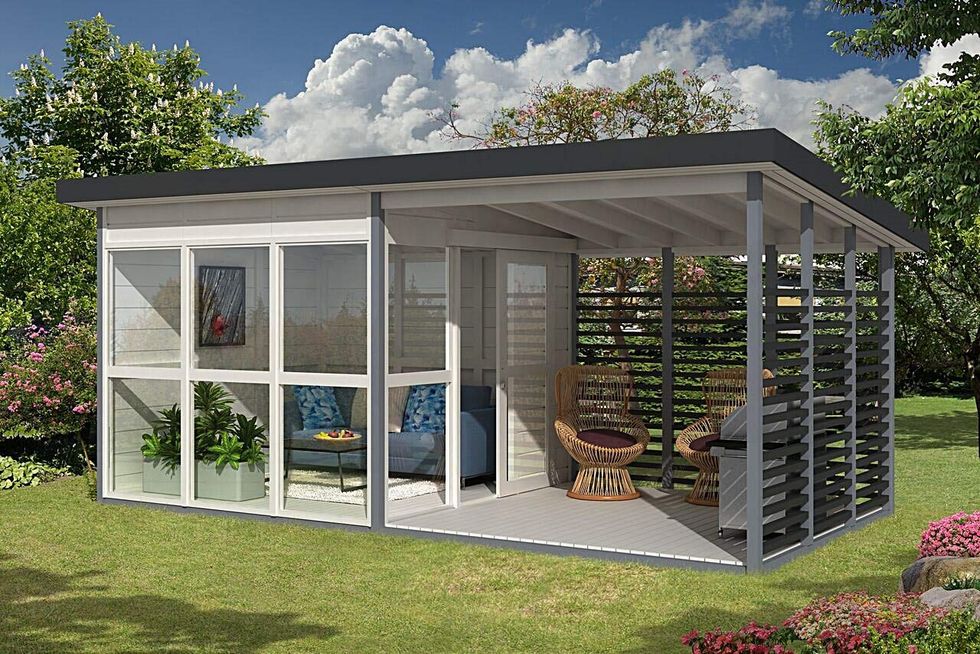 via: Amazon
And for under $8000, we think you'd be hard-pressed to come up with a more cost-effective solution.