Until today, Angela Lansbury's record was pretty spotless. She played the lovable Jessica Fletcher on Murder, She Wrote. She voiced Mrs. Potts in the original Beauty and the Beast. There's a lot to love about her.
Unfortunately, Ms. Lansbury is under fire today for saying some pretty ridiculous stuff about victims of sexual harassment and assault. This topic has been especially prevalent over the past few months as more and more people in the entertainment industry and in politics (most of them men) are accused of sexual misconduct. It seems as though Lansbury has decided to join the victim blamers of the world, and it's honestly pretty disappointing.
Lansbury was recently interviewed by the outlet Radio Times.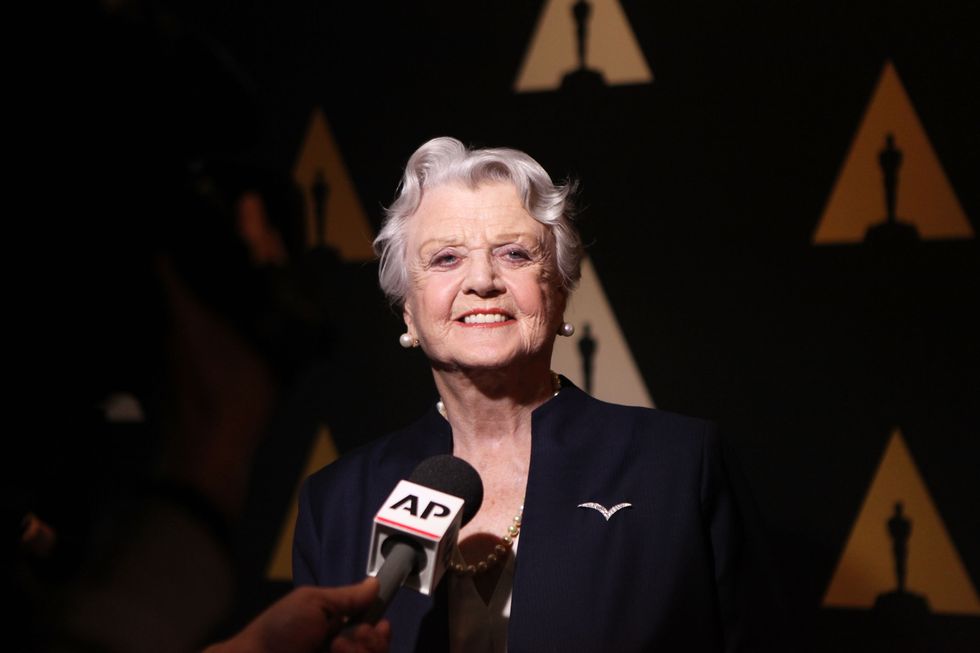 via: Getty
A central point in
the interview
was the way Hollywood has been dealing with the almost constant allegations of people within the industry sexually harassing and assaulting both women and men. It all appeared to start with the news that Harvey Weinstein harassed and assaulted women for decades. He's now (finally) facing the repercussions of his abominable actions, and there has been a slew of new allegations against multiple other people, including director James Toback, actor Kevin Spacey, and even
Pixar founder John Lasseter
.
When asked about her reaction to the allegations against Harvey Weinstein (et al.), Lansbury had the following unfortunate response:

via: Twitter
"There are two sides to this coin," Lansbury said. "We have to own up to the act that women, since time immemorial, have gone out of their way to make themselves attractive. And unfortunately it has backfired on us — and this is where we are today."
Lansbury went on to say more: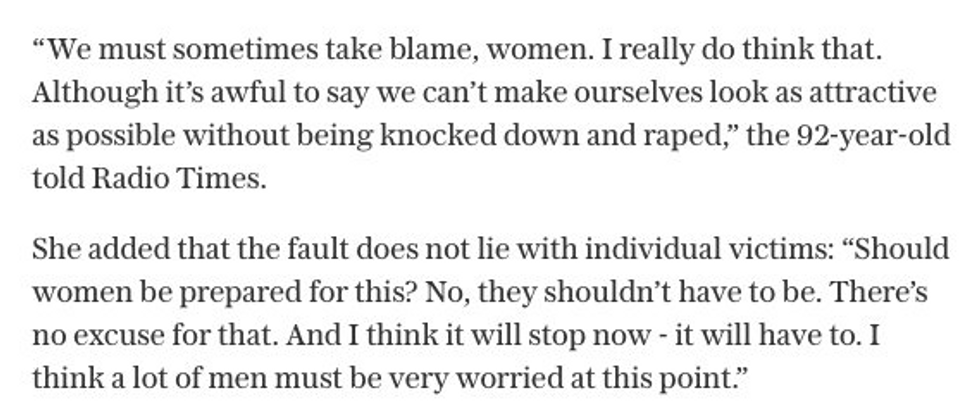 via: Twitter
"We must sometimes take the blame, women. I really do think that." Wait. What???
Oh no, Angela Lansbury.
Noooooo. This is not an OK thing to say. Or an OK thing to think. We're disappointed.
This Twitter user breaks down all the ways that Lansbury's statements are problematic.
Oh, Angela Lansbury. No, girl. Just no. 1) Rapists don't rape because of the way we dress. They rape to exert pow… https://t.co/DQbDwtkMmh

— Holly Figueroa O'Reilly (@Holly Figueroa O'Reilly)1511872107.0
Blaming victims of sexual assault for the assault is a "tale as old as time" — and not one of the good ones. It's a completely backward way of thinking and it's harmful to our entire society. Rapists are the ones breaking the law. Not a woman wearing a skirt.
Obviously, Twitter was pretty upset by the chinks in the armor being shown in yet another Hollywood hero.
*sees Angela Lansbury is trending* "OH NO SHE BETTER NOT BE DEAD" "oh wait it's worse" https://t.co/zJJVhE2MUm

— THAT is Olly Smith (@THAT is Olly Smith)1511867359.0
It's a good thing that Angela Lansbury hasn't died. That gives her the rest of her life to catch up on all that progress the rest of society has made.
Some people are wondering how Murder, She Wrote would have been affected if Lansbury herself wrote the plots.
*Murder she wrote opening theme plays* Angela Lansbury: *looks at murdered woman* she was wearing a skirt. It's he… https://t.co/alG1UstPPn

— DorothyBillowy🎃 (@DorothyBillowy🎃)1511869755.0
Basically, it'd make the show way, way worse. And nobody deserves that! Listen, Jessica Fletcher. You don't blame murder victims for getting murdered, and you don't blame victims of sexual assault for getting sexually assaulted.
It might be tempting to give Angela Lansbury the benefit of the doubt, here.
Me when Angela Lansbury said THAT: https://t.co/cXaf3hfiR3

— Isaiah, but pronounced correctly. (@Isaiah, but pronounced correctly.)1511868589.0
And we'd be remiss if we didn't point out that Lansbury also said that women shouldn't have to be prepared to be sexually assaulted. You might also find yourself thinking that because the 92-year-old Lansbury is from "another generation," she shouldn't be held to the same standards as the rest of us.
But here's the thing:
Old age is no excuse for ignorance. Our society is learning and growing all the time, and it's not leaving anyone behind who isn't at some level choosing to ignore progress. We can do better than this.