You do not want to end up on Anna Wintour's bad side. Trust us on this one.
Earlier this week, though, the Vogue editor-in-chief revealed the one celebrity who she would never again invite to the Met Gala.
Place your bets now!
Look at this woman. Just look at her. She is fierce and she doesn't take any bull from anyone.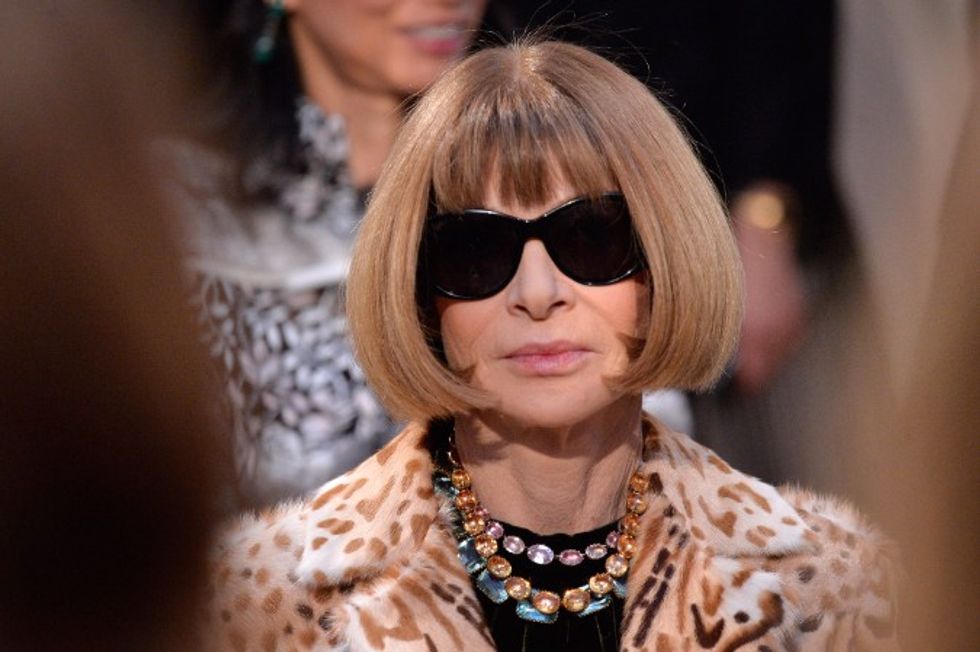 via: Getty
If you've seen (or read!)
The
Devil Wears Prada
, you've seen Anna Wintour in action...kind of. Meryl Streep's steely character Miranda Priestly is widely believed to have been based on Wintour. Probably because the author of the book 
Devil Wears Prada
was once Wintour's assistant. So, yeah. You don't mess around with Anna Wintour.
Anyway, earlier this week, Wintour appeared as a guest on The Late Late Show with James Corden. She played a game called "Spill Your Guts or Fill Your Guts," wherein players have to either answer a question or eat something gross like bull penis or chili dog smoothies.
During one round, James Corden asked the following question: "Anna, You famously host the celebrated Met Gala that takes place in Manhattan each year. Celebrities from all walks of life are desperate to get a ticket. Everyone from Beyoncé to George Clooney attends. So my question is, who would you never invite back to the Met Gala?"
Corden, Wintour, and the audience broke out in laughter immediately. Wintour took a moment to compose herself, then promptly answered:
Donald Trump! Like, deep down we knew the answer, but it's so nice to hear it, ya know?
Anna Wintour OUT.
We are so glad she answered that question instead of slurping down some chili dog smoothies. Can she just appear on every late night show now?
You can watch the entire game here:
Just in case you ever wanted to watch one of the classiest ladies of all time take a bite of bacon-wrapped pizza. Yes, that really happened.