It's always super refreshing to see some diversity on our screens.
From news channels to Hollywood movies, there are more and more ethnically diverse actors stepping into the limelight nowadays and we're absolutely living for it.
When it comes to movies with characters that have been around for a long time, though, we typically only ever see cisgender, white men on our screens. Big names like Marvel and DC Comics have been around for years, but, in recent times, re-makes of their classic movies have been stepping forward with a much more diverse cast and it looks like Captain America is next on the list.
Keep scrolling to find out more...
Superhero comics have been around for years...
They are one of the most common genres of American comic books and have held this title since the 1930s.
There is a historical and universal rivalry between 2 certain comics...
Marvel Comics and DC Comics are the hottest on the market for superhero comics, books, and movies.
Despite their differences...
via: IMDB
They're both equally
as good.
Marvel is well known for its famous superheroes such as The Amazing Spider-Man, The Incredible Hulk, Iron Man, and Captain America.
There's a non-stop debate over which is better...
Many argue that Marvel holds a more realistic element than DC, while others have debated that DC sticks to a mythological theme with its characters representing ancient Gods. They're each so unique and fantastic in their own ways, it has to be said.
We simply cannot decide...
via: IMDB
But the one similarity that the 2 universes hold is
the ethnicity
of their superheroes.
It's no secret that the majority of superheroes are white...
via: IMDB
And this has been noticed more and more.
But thankfully, the world of superheroes has ethnically expanded over the years...
via: Getty Images
Marvel introduced superhero movies such as
Black Panther -
a movie which starred a black actor and a dominantly black cast.
War Machine, Blade,
and
Storm 
also feature black lead characters. DC's John Stewart, who is one of the most prominent faces of
the Justice League
, is also depicted as black man in both the comics and the movies.
And who could forget...
The rumors recently around the possibility of a
black Batman?
But many still demand more diversity in superheroes...
And we're totally with them! It's been put forward by
Qrewcial
that "minority groups deserve to see themselves represented on screen in meaningful ways that allow them to visualize themselves as the hero of the story." "Seeing diverse representation in these blockbuster superhero films also normalizes and humanizes diverse groups in a way that has an impact on society."
But this week has brought us an incredible announcement...
And it is all about the one and only Captain America.
Marvel veteran Anthony Mackie has confirmed he is in line to play Captain America.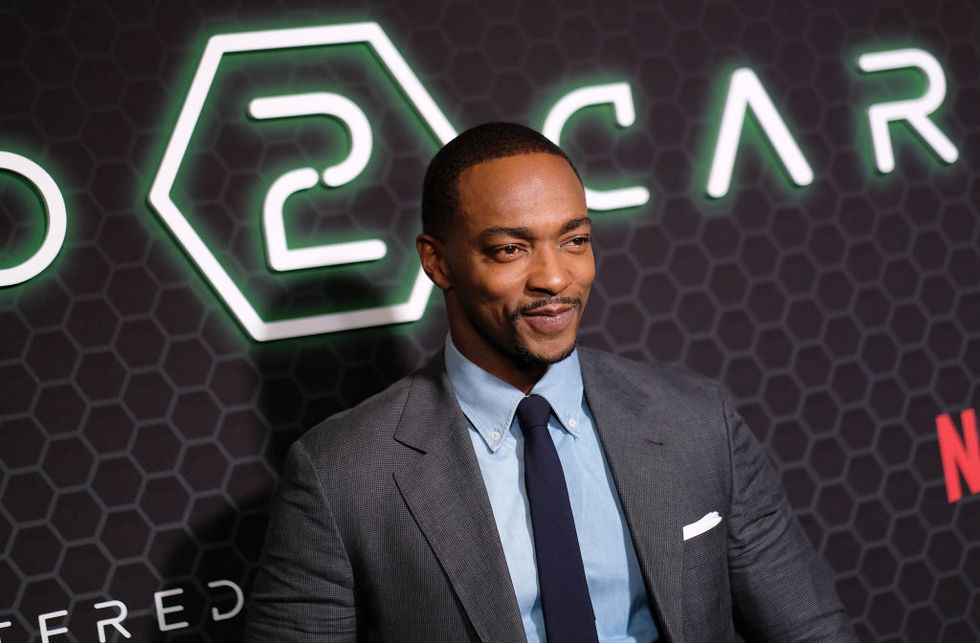 via: Getty Images
The forty-one-year-old actor is no stranger to the Marvel cinematic universe, with him having played Falcon/Sam Wilson in several of the
Avengers
movies.
His role as Captain America is for a forthcoming Disney+ series...
via: IMDB
The new series, 
The Falcon and the Winter Soldier
 will pick up where we left things at the end of 
Avengers: Endgame
, when
Wilson
was handed Captain America's shield, as (SPOILER ALERT) Steve Rogers, the previous incumbent of Cap's uniform, had time-traveled back to resume his old life with lost love Peggy Carter.
The series is expected to follow up from the movie...
Loosely based on the comics of the same name, the series will follow Wilson and Bucky Barnes (Sebastian Stan) and it is due to drop on Disney+ at some point in August.
Anthony has admitted that stepping into the Captain's shoes is a daunting task...
Speaking to
Shadow and Act
, he said, "With the idea of being a black man and becoming Captain America, it's been a daunting task because I think, at this day and age in America, I think we are open-minded to the idea of having my face represent us, as a country."
He feels that his race will make a difference...
via: IMDB
He continued, "And my race
represents
us as a country because we're truly a melting pot. So there is no distinctive look or feel or design of an American."
Anthony wants Captain America to represent everyone...
via: IMDB
"We're all Americans... To be Captain America,
I want my Captain America to represent everybody, not just a specific group of people."
Congratulations, Anthony!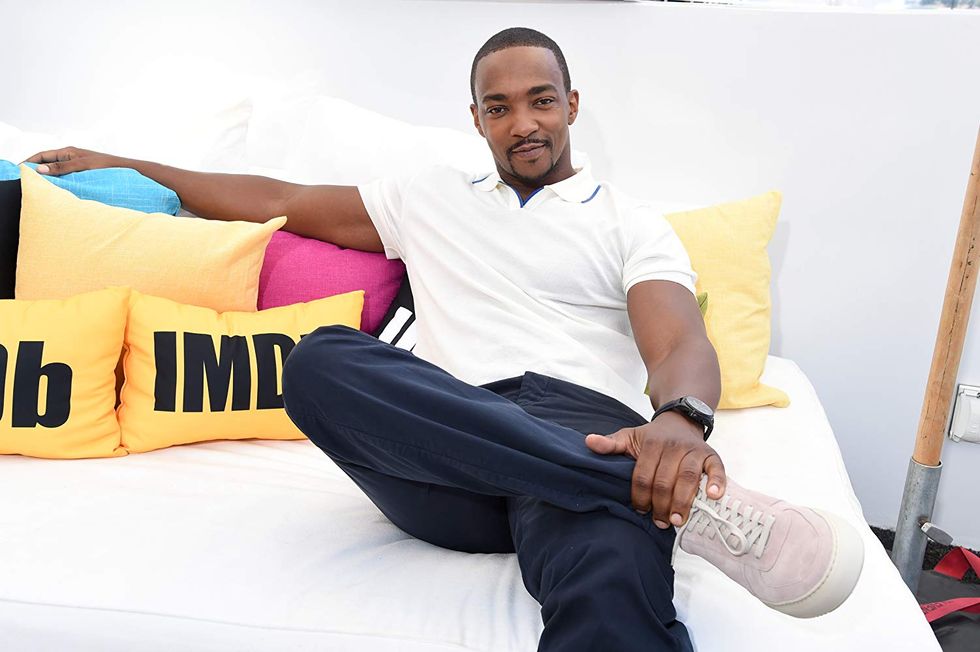 We know that he will absolutely crush his new role as
Captain America!
Make sure to keep scrolling to learn about how Marvel has set to showcase its first-ever gay kiss in
The Eternals...