Scaramooch! Scaramooch! Will you deny the Holocaust?
Kind of. The Scaramucci Post, a media company owned by Anthony Scaramucci, posted a Twitter poll on Tuesday morning asking, "How many Jews were killed in the Holocaust?" with four answer options ranging from "less than one million" (Mel Gibson Land) to "more than five million" (THE TRUTH — it's actually around 6 million).
They received instant backlash (obviously), deleted the poll, and the Mooch is reportedly furious.
What a way to find out Anthony Scaramucci owns a media company, huh?
Anthony Scaramucci's blustery entrance into the public eye ended up being nothing compared to his explosive exit a mere 10 days later.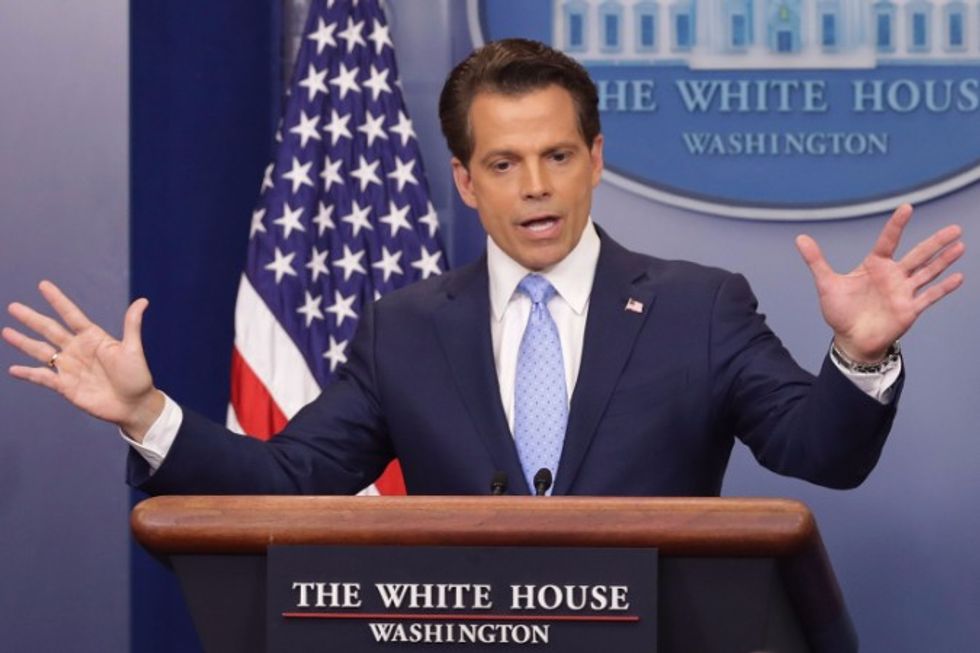 via: Getty Images
If you recall, Scaramucci was appointed White House Communications Director in July of 2017. Literally
less than two weeks later
, he gave a no-holds-barred interview with
The New Yorker
that cost him his job, his wife, and any credibility whatsoever. So what did he do? He started a media company, of course. And he thought he'd get away with it, too.
But then, the Scaramucci Post posted a poll asking people to choose how many Jews were killed in the Holocaust.
The post was taken down after about 90 minutes and the Scaramucci Post issued the above explanation, in which they include a screenshot from the offensive poll in question. Why would you do that?! Why?! Why?!!
Following the deletion of the poll, the account's manager, Lance Laifer, actually REPOSTED the image. Then, he apologized.
The intent of the poll may have been to "highlight ignorance of the basic facts of the Holocaust" but all it did was highlight the ignorance of the person who posted that poll. By giving people the option to choose how many people they believe died in the Holocaust, it implies that there's a discussion. Holocaust deniers exist, and their wrong ideas should never even be entertained. Who was it that posted the poll again?
Oh yeah.
Oh Lance, you apologize 
if
anyone was offended? Spoiler alert: Sooooo many people were offended. Anyone who values the truth was offended. According to
The Washington Post
, "Laifer said the poll was meant as a simple trivia question." He also said he had posted it without consulting Scaramucci himself.
This is why, according to CNN's Jake Tapper, Scaramucci is reportedly "furious."
@Scaramucci 2/2 and "he's going to take immediate disciplinary action. At least one person is getting fired."

— Jake Tapper (@Jake Tapper)1508245590.0
Tapper's source said, "At least one person is getting fired." This time, though, it probably won't be Anthony Scaramucci.