In Donald Trump's America, racists and white supremacists feel more emboldened than ever before. And their behavior was on full display when a postcard appeared in mailboxes all over Edison, New Jersey (about 40 miles from New York City), calling for the deportation of two Asian members of the community running for the local school board.
The person or group behind the mailer has yet to be identified. It's a stark reminder that the United States of America is still extremely divided. In the last year, it seems like we've taken so many steps back.
The postcard was mailed to residents all over Edison, New Jersey and included photos of Jingwei (Jerry) Shi and Falguni Patel.
@MattFriedmanNJ have you seen this Edison mailer yet? https://t.co/gU1FsU62WA

— Charmi Patel Peña (@Charmi Patel Peña)1509583874.0
Both pictures had the word "DEPORT" stamped below their faces. "Make Edison Great Again," the mailer says, which suggests that whoever sent this was emboldened by Donald Trump's rhetoric and behavior.
"Stop Jerry Shi & Falguni Patel from taking over our school board," the postcard read.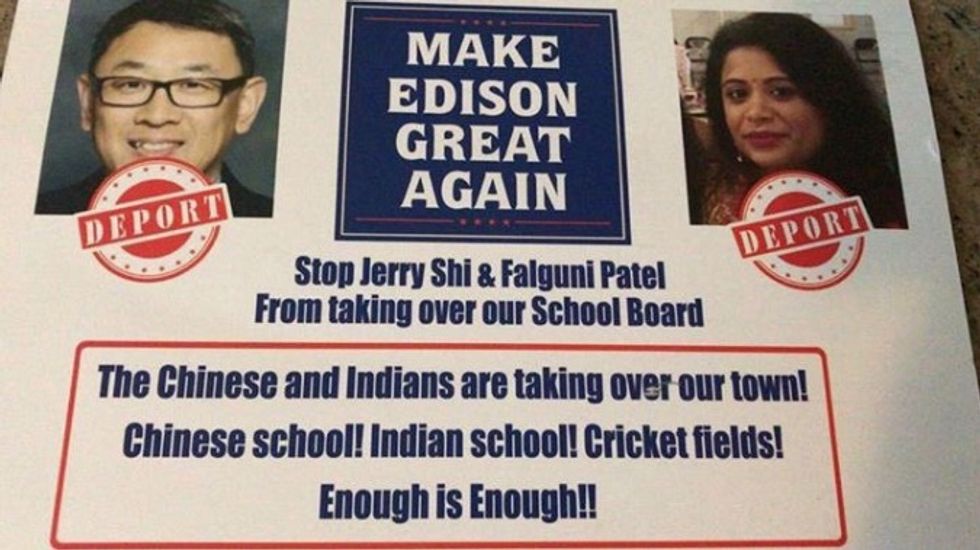 via: Twitter
"The Chinese and Indians are taking over our town! Chinese school! Indian school! Cricket fields! Enough is enough!" Authorities are investigating the incident, but the perpetrator has not yet been found. "I'm obviously disgusted by it, to say the least," Patel
told a local radio station
. "I didn't expect anything like that. We live in such a diverse town, it's very shocking somebody would put that in writing."
Even the envelope in which the postcard was mailed was full of hateful language like, "Stop the outsiders!"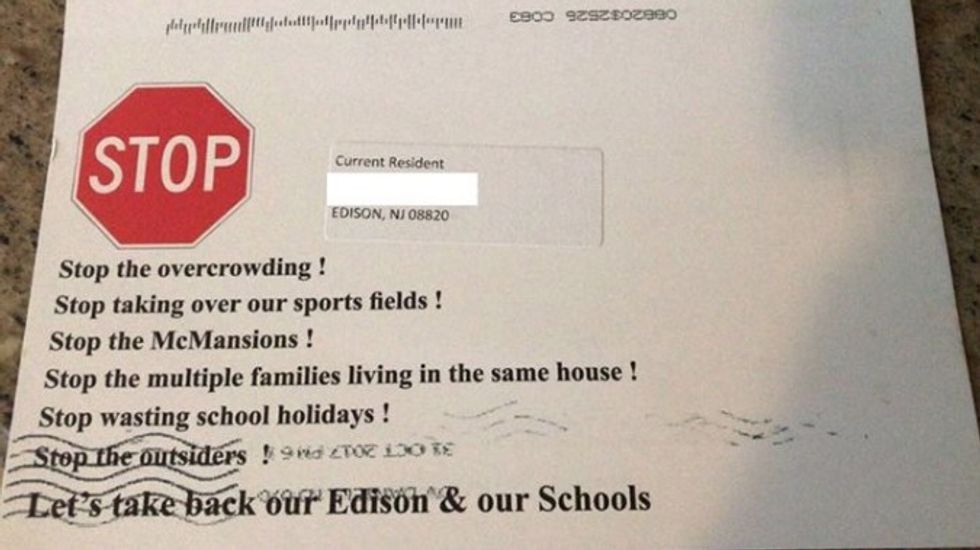 via: Twitter
This town was rightly shaken up by the infusion of such explicit hate. Thirty-seven percent of Edison's population is Asian, and about
35,600 residents are immigrants
. Shi and Patel made a joint statement to HuffPost about the incident: "Edison is a wonderful community full of amazing people of all backgrounds, this is our strength. So, we will not be distracted by these unfortunate attacks. They are un-American and not the Edison we know."