The Minnesota fast-food sandwich chain, Arby's, has come under fire this week.
The Elk River branch has been called out by members of the public for a sign.
The sign was deemed insensitive and suggested Arby's was not a "family-friendly" chain.
Arby's apologized and the sign was taken down.
That being said, since the story went viral there have been many people defending the sign, saying it should never have been removed.
Here's the scoop...
It's natural for kids to play with their food.
Exploring their food by playing with it is perfectly natural for young kids.
Taking kids out for food can be stressful.
Any parent knows that navigating the trials of taking a hungry child out for food can be the ultimate challenge.
Some people felt the sign was necessary.
@DailyMail Everyone wants to be offended by something today. What's the big deal with the sign? Kids ought to have… https://t.co/uU3tRxtSKx

— GrandOldPenguin 🐧 (@GrandOldPenguin 🐧)1573693448.0
It seems that Arby's employees aren't the only ones that get annoyed at young kids running wild.
Arby's is home to the curly fry.
It not where you go for a legendary chicken sandwich though...
You should never write a sign when you're angry.
Which is clearly what happened when the staff member at Arby's wrote the fateful sign.
If it had been written differently, there might have been a different outcome.
@StellaNews8 @Arbys Hard subject, there are some parents that let their kids go wild but we also have some that do… https://t.co/H2Lfag5gRF

— Rita Brenes (@Rita Brenes)1573633364.0
Some people agreed with the general message of the sign but felt it could have been worded better.
Perhaps it was written by a spiteful employee.
It's clear whoever wrote the sign was not having a good day.
Arby's employees are sandwich artists...
They're not necessarily going to be the best wordsmiths. Can we really penalize them for a badly worded sign?
I guess it was a little prejudiced...
@fox35orlando The parents offended are ones that have no control over their kids and let them run rampant. The prob… https://t.co/tZcVEIbUgC

— DG (@DG)1573600484.0
As this Twitter user points out, the sign suggests they will only banish unruly children from the restaurant. But what about unruly adults, eh?
The sign was not good for Arby's reputation.
After the sign was removed, the chain released an official statement saying: "We've spoken to the restaurant team and have removed this sign as this does not reflect our company values and the family-friendly environment we aim to provide in our restaurants."
The team and its manager were disciplined.
Ensuring the public knew that Arby's was taking the situation seriously, they explained that they were taking action. In the statement, they also said, "We recognize the language on this sign was insensitive. We removed it quickly, and have disciplined the manager and team working at the restaurant."
Personally, I feel sorry for the employees.
I mean who knows what kind of day they were having and how badly they were being terrorized by unruly children.
Do you think the sign is unacceptable?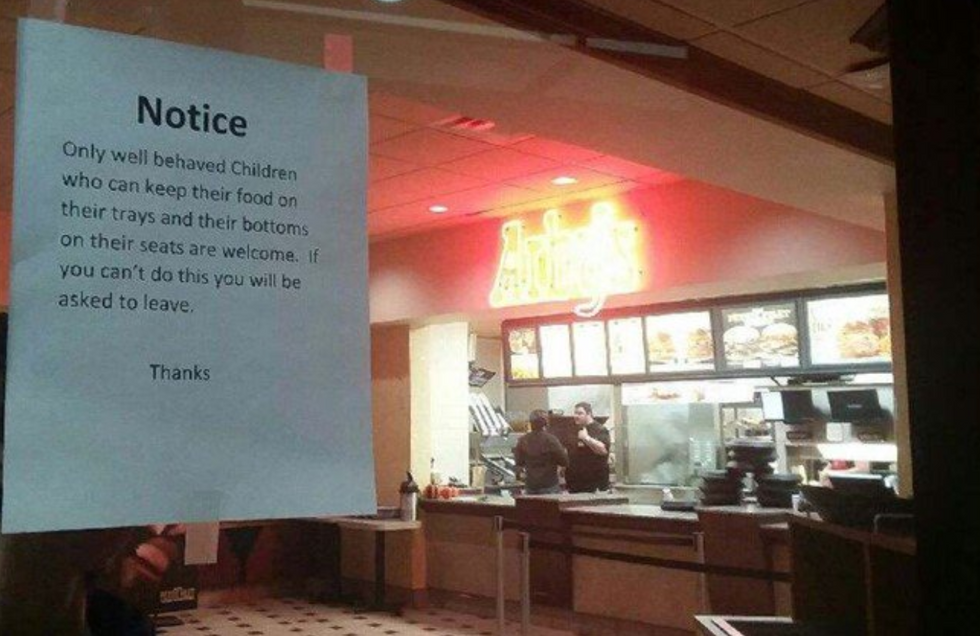 via: Twitter
The parent that reported the sign, mum-of-3 Christine Hemsworth, spoke to
KARE-TV
, saying "I was shocked to find a sign like that. It is a fast-food restaurant, it's not something with white tablecloths. It's supposed to be family-oriented as far as I knew."
It seems Arby's are trying hard to turn things around...