It's been a turbulent 2018 for anyone that's been following the Pete Davidson Ariana Grande saga, and with the year winding down, of course there's a new development in this always insane story.
Ariana and Pete have been the subject of media attention since early this past summer.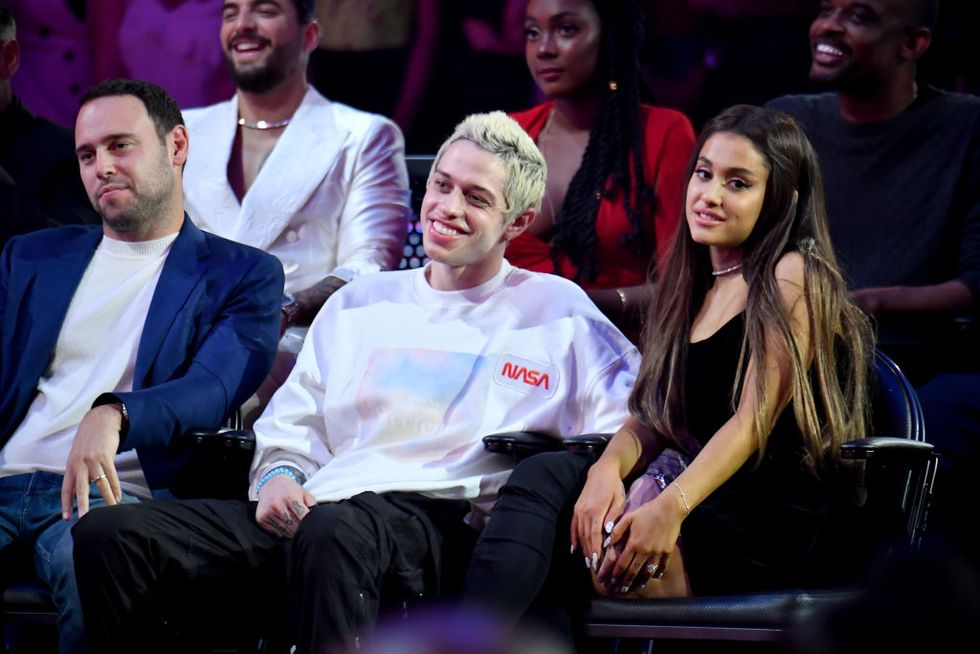 via: Getty
The couple started dating in somewhat secret circumstances.
Fans started to piece everything together using tattoos they had in common.
Wait so Ariana has a new tattoo of a mini cloud on her finger and Pete (the guy from snl that she's apparently dati… https://t.co/lQocigCY5O

— sophia (@sophia)1526863427.0
Including a finger tattoo that read "pete" on Ariana's hand!
The couple started dating and got engaged after a couple of months.
Ariana debuted their engagement and her new album on Jimmy Fallon. Check out the end of this video where she talks about their relationship.
After their breakup, Grande is doing some serious covering up.
In the behind the scenes to her latest music video, Grande points to a new tattoo. A spot on her foot that used to have the numbers "8418" -- Davidson's dad's firefighter badge number. He died in the 9/11 attacks and Davidson has the same numbers tattooed on his arm.
Now, the number of Ariana's dog adorns her foot.
Here's what people had to say about the cover-up.
@TMZ She has turned into Taylor Swift

— RIP 8•24 (@RIP 8•24)1543861782.0
I mean... the drama is certainly comparable.
Don't get a relationship tattoo - ever!
@TMZ perfect reason why should never get a tattoo with a persons name on / in it

— Harold (@Harold)1543871173.0
I only get tattoos of the names of my exes so there's no guilt after we break up.
A fair point...
It seems kind of rude to cover up the badge number of someone who died during 9/11, even if it does remind you of your ex. But hey, it's her body.
She also covered up another tattoo.
The tattoo that used to say "pete" is now just a nice heart. Who are these cover-up artists? These are seriously impressive.
Pump the breaks.
Yo Ariana Grande is trash for all this. I find it ironic she breaks off an ENGAGEMENT days after Mac passes, then w… https://t.co/5oTnDciWID

— M.J. (@M.J.)1543883958.0
Some people have gotten way too worked up over the whole tattoo debacle.
Pete responded to some of the hate today on Instagram.
Pete has definitely said some controversial things.
Especially on his SNL Weekend Update segments that he is most known for.
It seems these segments have unfortunately only fueled his haters.
While he tries to keep the tone light, there is clearly a lot of pain behind the jokes, and his haters are using it to try to get under his skin.
Pete is also partially to blame.
Sometimes he has crossed the line, and insult people politically. A move that has earned him a lot of hatred.
He even had to apologize on air.
Fans got so heated that Davidson had to apologize for some of his jokes. But at least he was able to reconcile with his mistakes.