In yet another story to add to the "reasons to never move to Australia" list, footage has emerged from the country of a huge Huntsman spider carrying a dead mouse... And it is every bit as horrifying as you could imagine.
Keep scrolling for the full story, and to see the nauseating video that may make you never want to venture to that part of the world...
It's probably the most common phobia...
via: Getty
Arachnophobia, or more commonly known as the fear of spiders, affects a staggering percentage of people here in the U.S.
But why are we so scared of the creatures?
via: Getty
Considering that (most of) these insects are relatively harmless, it seems quite silly that we freak out so much over them... Doesn't it?
Psychologists hold many theories over our somewhat irrational fear...
Some suggest that arachnophobia was a survival technique for our ancestors and that the fear has simply been conditioned into us throughout generations.
Though not all psychologists believe this...
As some feel that arachnophobia is more likely based on cultural beliefs about the nature of spiders.
But, whatever the reason may be...
via: Getty
The fact remains that hundreds of thousands of us are
completely terrified
of the eight-legged arachnids, and nothing about that is going to change anytime soon.
Though we do have to count our blessings...
Because we live in a country where most of our eight-legged critters can be caught with a drinking glass and a piece of paper.
This isn't the case in some countries...
Nope. Some places bring with them some monstrous, home-invading spiders that are too big for the old glass and paper trick.
And there's one country that instantly springs to mind...
Australia, of course.
Australia is completely riddled with gigantic spiders...
Remember this video? When some insanely brave Aussie guy attempts to capture a huge spider with what appears to be a large mixing bowl? And still somehow fails? Yeah, so do we...
The country is notorious for its massive creepy crawlies...
via: Getty
But perhaps the most formidable of them all is the famous Huntsman spider.
Huntsman spiders are probably the most feared spiders in Australia...
via: Getty
Even though they're mostly harmless (which is a rarity in that country...) their sheer size and speed have gained them quite the reputation.
They're sickeningly huge...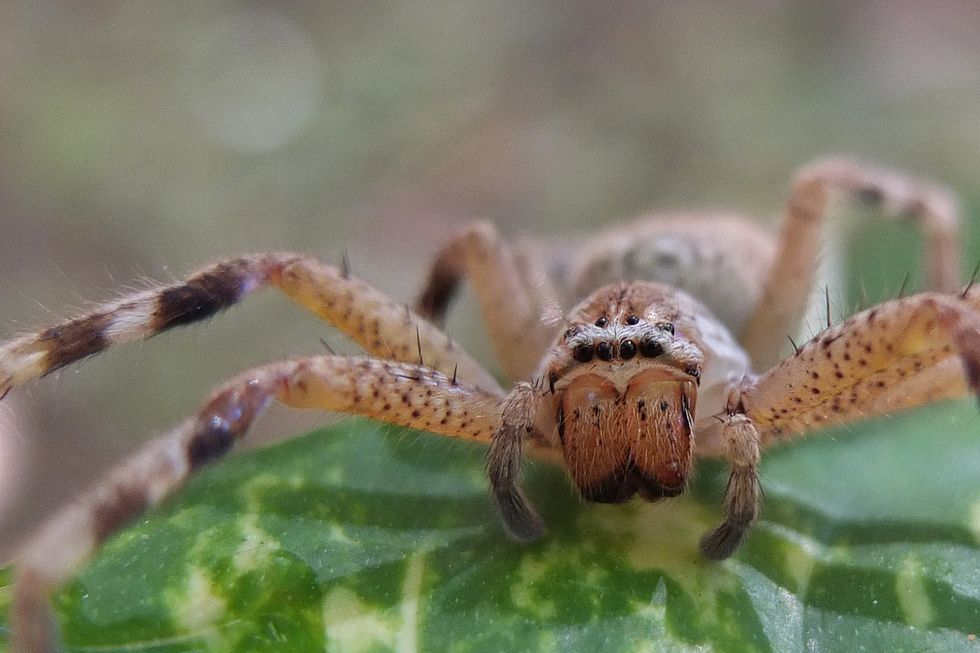 via: Getty Images
A typical Huntsman's leg-span can reach fifteen centimeters, while some have been known to reach thirty centimeters.
But Huntsmans are generally quite respected in Australia...
via: Getty
The spiders, which tend to live in the woods and warm, tropical climates, are excellent forms of pest control, as they keep cockroach and mosquito numbers at bay.
And they pose no threat to humans.
via: Getty
Nope, despite how formidable they may look, the Huntsman spider isn't venomous, and very rarely bites humans. Instead, they take shelter and hide until the coast is clear.
But none of this changes the fact...
That they're simply terrifying to look at. Sorry, it's just a fact.
And now, fresh evidence has emerged that cements that fact further.
Not like we needed it...
Footage has emerged of a huge huntsman spider carrying a dead mouse...
In October 2016, Jason Womal, of Coppabella, Queensland, was preparing to leave for work when his neighbour invited him over to take a look at something... Keep scrolling for the clip.
When he arrived, he wasn't expecting to see this.
"We proceed[ed] to his place and he shows me this. Huntsman trying to eat a mouse," he wrote on Facebook.
In the video, a gigantic huntsman is crawling up a mini-fridge, dragging a dead mouse with it.
The spider appears to be pretty much the size of the mouse itself too. "Ok guys so just letting you all know that the spider is fine. We have named him Hermie, we have adopted him and he is now running his own extermination business out of our town Coppabella. Oh and he is now paying rent. Lol."
Watch the terrifying clip below:
It's a no from us... This is far from the only terrifying spider story to surface recently. Keep scrolling for another equally chilling encounter...