Is there anything that Bear Grylls hasn't done out in the wild?
The former SAS serviceman is well-known for his unconventional and practical methods when surviving out in the wild - many of these weird and wonderful methods are featured on his TV shows. Remember when he drank his own urine?
Many of Bear's endeavors have resulted in him risking his own life in several dangerous situations, but his most recent stunt was extremely close to taking his life.
Keep scrolling to find out how Bear's encounter with a bee nearly ended very badly...
Bear Grylls is one of the world's most famous adventurers...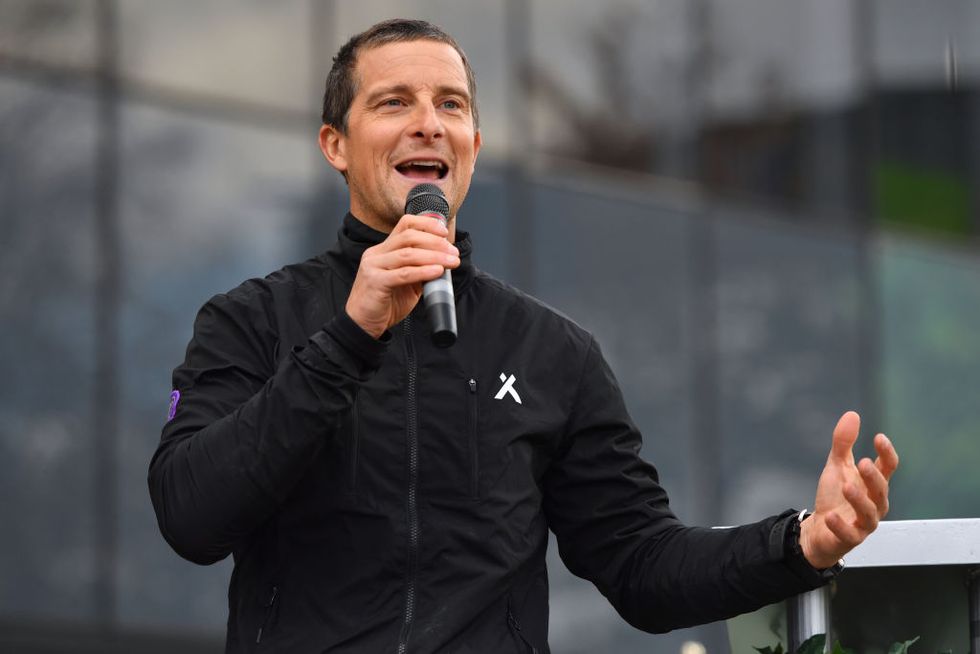 via: Getty Images
The forty-five-year-old Brit is known best for his television series,
Man vs. Wild,
which aired from 2006-2011. But, before his rise to fame, he served in the SAS and was a survival instructor for many years.
His tips for rural human survival have made him a sensation...
Bear likes to throw it back to our primal days, when we would survive out in the wild on nothing but natural instincts.
Bear has always had a taste for adventure...
He has accomplished many impressive things so far in his life, such as climbing Mount Everest, crossing the North Atlantic Ocean, paramotoring over the Himalayas, and journeying to Antarctica.
He has had a large number of TV shows...
These shows include Get Me Out Alive, Mission Survive, Bear Grylls Survivor School, and Running Wild With Bear Grylls, which featured a range of celebrities who followed Bear on his adventures including Zac Efron, Ben Stiller, and even former president, Barack Obama.
He's done some stuff in the wild that he's not exactly proud of...
These questionable stunts include eating numerous raw animals, such as snakes, ticks, alligators, a raw salmon, and drinking the blood of a reindeer.
Bear's TV shows document him going back to basics...
He has been seen building his own rafts, huts, fashioning shoes and clothes out of natural materials, hunting his own food, and even fighting off competing predators such as a wild tiger shark.
But the authenticity has been questioned in his shows...
The Guardian
reported that there were allegations about staged scenes in his
Born Survivor
series, with the revelation of smoke machines used to mimic a volcanic eruption and the "wild horses" featured actually being tamed and trained horses.
He admitted to having some assistance in the production of some of his shows...
said
the new series was "100% transparent."
His most recent show certainly appears to be much more authentic...
Treasure Island, will air on Channel 4 in the U.K. next month, and it will involve members of the public who will compete for the chance to win a £100,000 ($122,000) prize.
The show will feature a wide range of people of all ages and backgrounds...
Whilst filming for the new series, Bear took his participants to a remote island...
They traveled to the remote island on a small boat when they were joined by a curious bee.
The bee left Bear with a nasty sting...
But this is bad news when you have an allergy to bee stings... which is exactly what Bear has.
Bear very quickly began going into anaphylactic shock...
His fellow surgeon participant was there to witness the entire thing...
Speaking to
The Daily Star
, Mano Shanmuganathan, the brain surgeon appearing on the show said: "The irony of Bear the survivalist being stung, having the potential of an allergic reaction, and needing to be treated with an EpiPen, was a bizarre moment. That was crazy!"
Luckily, Bear is now as good as new!
This isn't the first time that Bear has opened up about his bee allergy...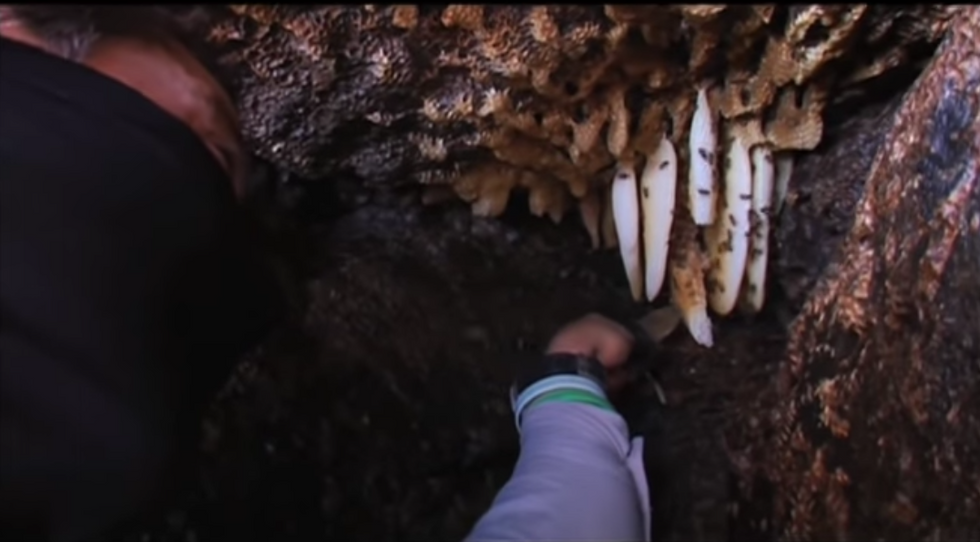 via: Youtube
He had previously shown the severity of his allergies on
Born Survivor,
when he got a little too close for comfort to a beehive in Baja California.
Considering he has a severe bee sting allergy, it's unknown as to why he voluntarily went into a beehive...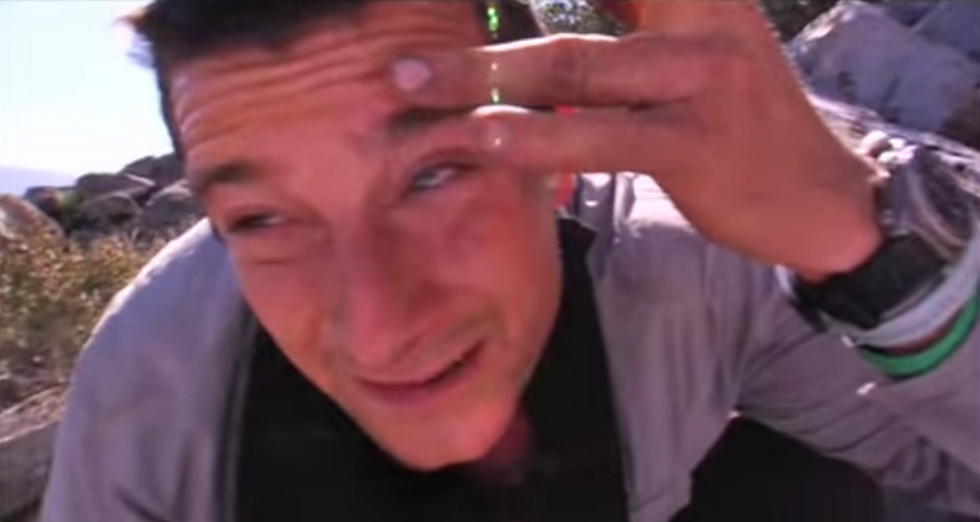 via: Youtube
Bear is seen picking away at the honeycombs when the bees begin to swarm in on him. A bee lands on his forehead and leaves a pretty nasty sting, which forces him to instantly back off and assess the situation.
His face very quickly swells up...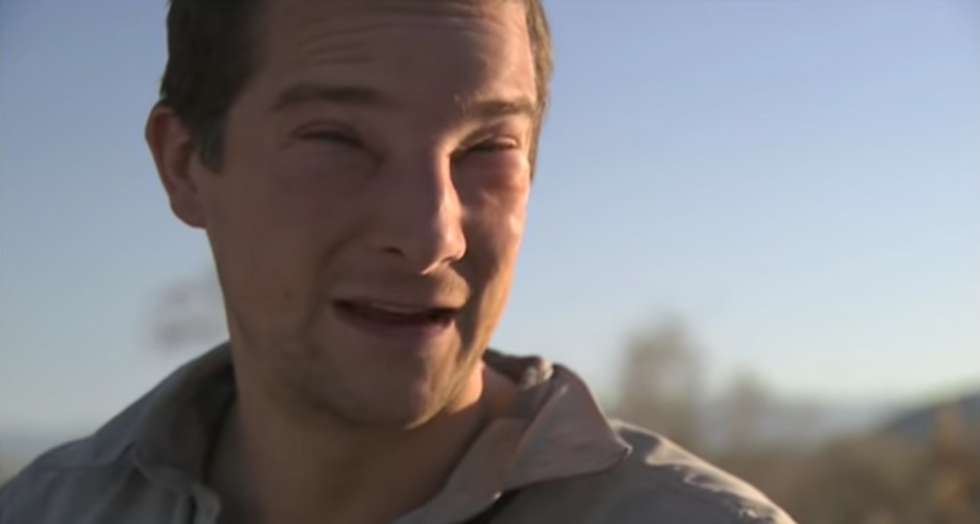 via: Youtube
Despite rubbing honeycomb onto the sting, which is a recommended method as the honey contains antiseptic for beestings, Bear's face swells up to twice its size and the results are
pretty noticeable.
But this didn't seem to phase the adventurer...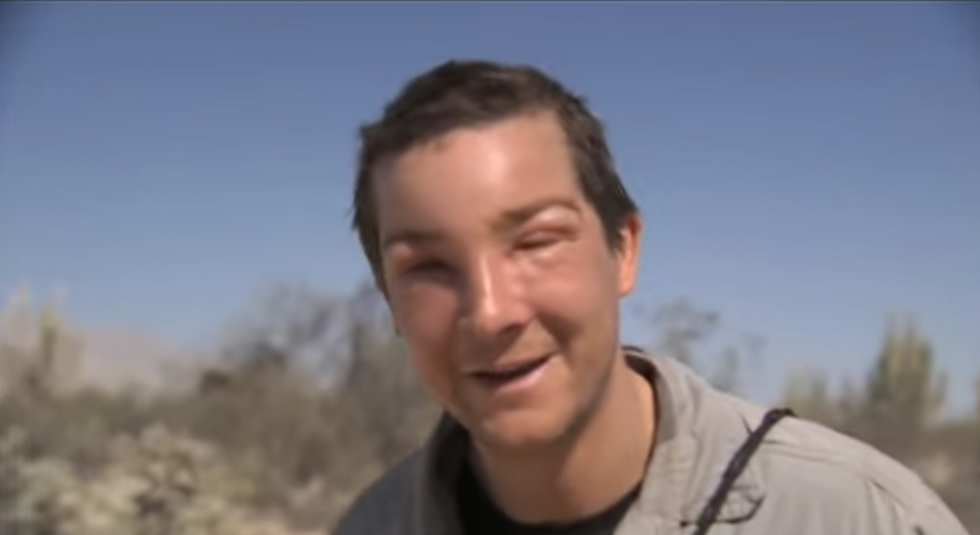 via: Youtube
Bear simply seems to brush off the situation, saying: "The irony is, out of all the massive, lethal, and aggressive, man-eating crocs and snakes I've delt with over the years, the one that gets me
is a bee."
Learning a lesson from Bear Grylls...
If you have a serious allergy to something, perhaps it's best to not go and confront it face-t0-face. Even the boldest and most adventurous explorers out there get caught out by Mother Nature, so, if you see a beehive and have an allergy to bee stings, simply just stay well away. Speaking of allergy stories, did you hear about the girl whose allergic reaction caused her head to swell so much that you could poke a hole in it? Don't worry, though! Like Bear, she was absolutely fine! Keep reading to see the pics - they're pretty funny.