Singer, dancer, actress, philanthropist, spokesperson, activist, wife, mother - is there anything that Beyonce doesn't excel at? And just when you thought that Beyonce couldn't be any more perfect, it's been revealed that she has the natural hair most of us would only dream of.
In an Instagram post shared by momager, Tina Knowles, Beyonce was having her hair combed in her kitchen, while Tina commented on how long and beautiful her superstar daughter's hair is. The internet has had some pretty strong reactions to the now-deleted video, and we've got the best of them here.
There's no denying that Beyonce is a certified superstar.
Not only is she an immensely talented musician (with dance moves like no other), but she's also an activist promoting positive social change - and boosting the self-esteem of women everywhere.
But that's not all.
Needless to say, Beyonce is also absolutely stunning - and a large part of that is thanks to her iconic, long, flowing hair 'dos.
Although there may be something of a misconception there.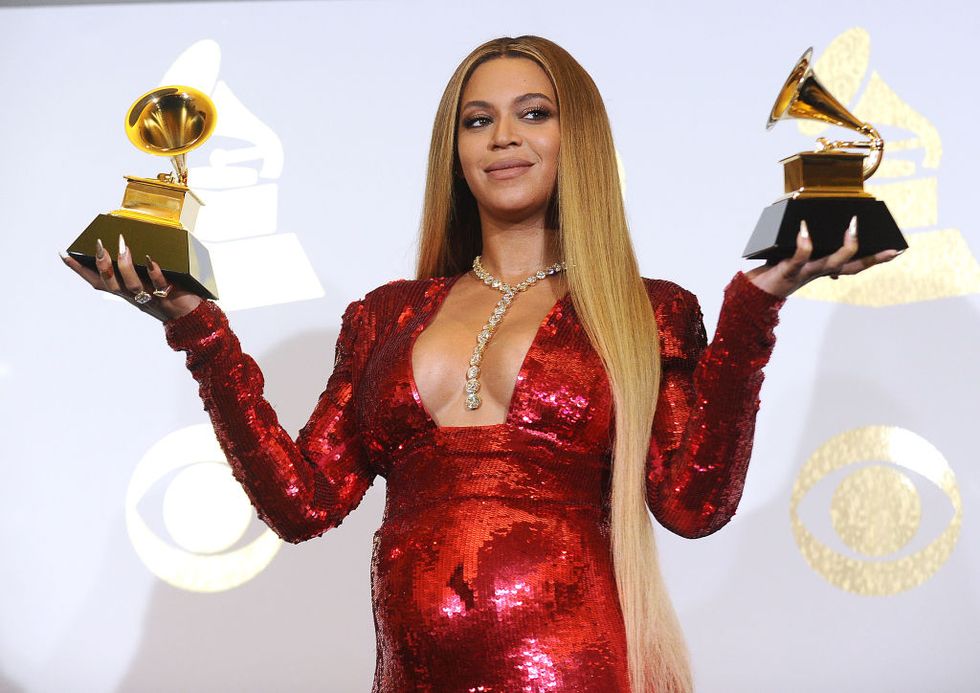 via: Getty Images
In most of the images that we see of Beyonce, she's actually wearing a wig or weave - seen here in stunning, thigh-length effect.
Sometimes these are just hairpieces.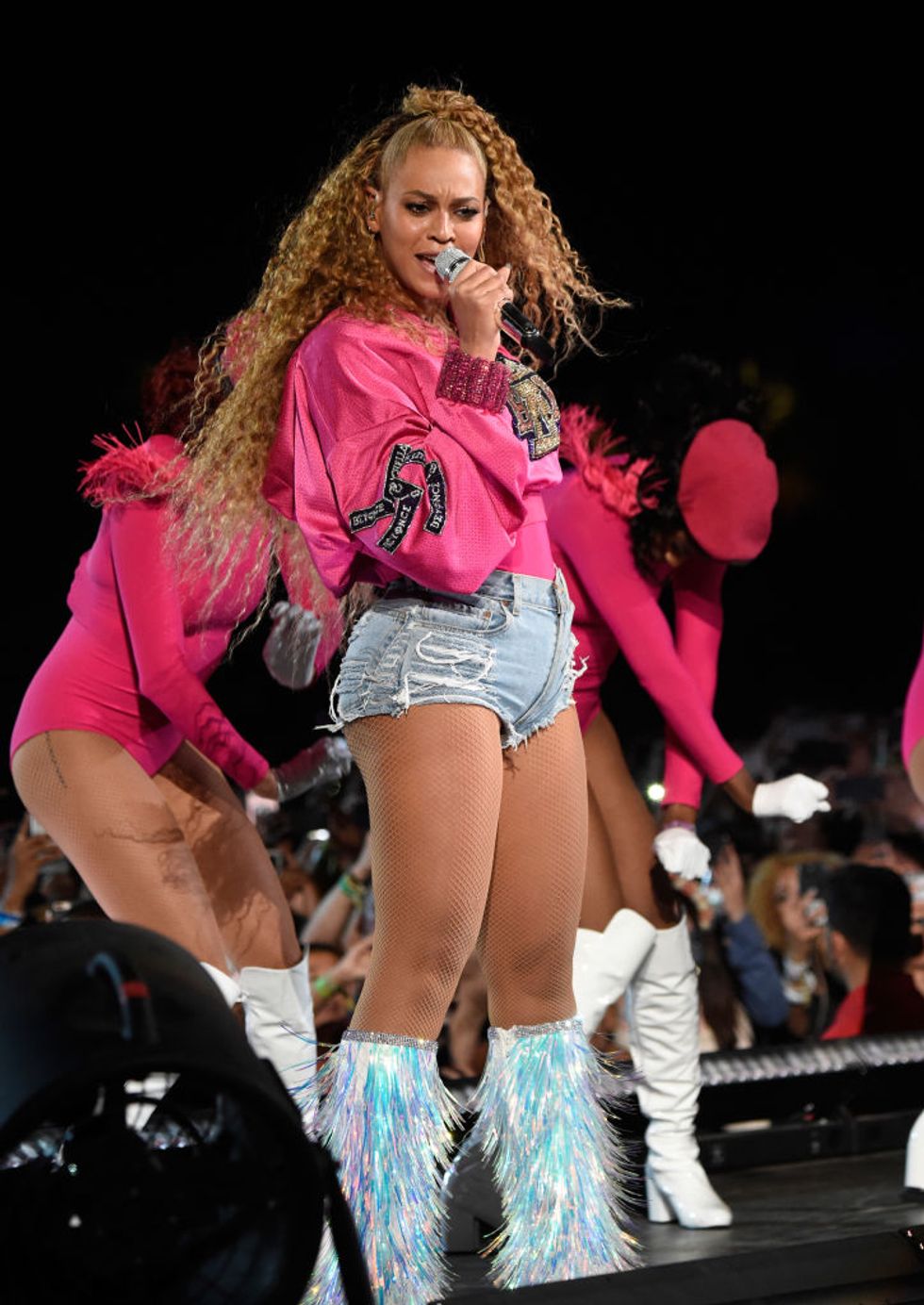 via: Getty Images
For her more vigorous dance numbers, she sometimes relies on clip in ponytails, revealing the front of her natural hair. But we haven't seen Beyonce's full natural head of hair in a long time - until recently.
Some have made speculations about the reveal.
beyoncé can't get no peace with this wig. https://t.co/iGc3hDSGz7

— Xavier D'Leau (@Xavier D'Leau)1559862781.0
Perhaps Beyonce was having such bad luck when wearing her wigs that she decided that it was time to give herself a break and allow her natural hair to see the light of day.
Back in 2013, this photo broke the internet.
Over the years, we've seen her hair progress.
And, last year, we got another update.
Already, the progress is impressive.
It's not just that her Bey's hair has grown fast - it's also that it's in such stunningly healthy condition.
But there's been an update.
This week, a new video of Beyonce's hair has taken the internet by storm - and it really has to be seen to be believed.
People are blown away.
A billionaire A vocalist A dancer A boss An entertainer Minds her business A mother A wife Great skin Accolad… https://t.co/qxJax9bOr2

— αитнoиу. (@αитнoиу.)1561606977.0
Alongside the rest of the long list of Beyonce's list of achievements, this hair 'do is pretty incredible.
Some wanted to do away with one common misconception.
Beyoncé's hair is long and beautiful. I hate when people equate wigs and extensions to women not having hair. Imagi… https://t.co/Fy5oU5rmVa

— Bigyoncé (@Bigyoncé)1561614146.0
Many tend to think that wigs are there are a substitute for hair - which Bey proves absolutely isn't the case.
Others made this comparison.
Beyonce has at least 24 inches of real hair. She snatches our shit while hers flourishes. Ain't that bout a bitch.

— Penny Forehead Proud (@Penny Forehead Proud)1561606860.0
Bey is well known for snatching the edges of her fans around the world - and some speculate that 
that's 
how she's managed to cultivate her own hair so spectacularly.
Many made this joke.
So you mean to tell me Beyonce was 'Becky with the good hair' all along? Cus she's got inchessss. 😂

— beverly lee (@beverly lee)1561607718.0
"Becky with the good hair," went viral after Beyonce called out Jay-Z for his marital indiscretions in her album, 
Lemonade.
Although others had a more negative view.
Some criticized the value that Bey placed on long hair, claiming that it perpetrated white beauty standards - although this view has been criticized, too.
Others just couldn't get over the length.
Beyoncé hair longer than all the relationships I've ever had lmao

— #YourFavPlusSizeModel🧚🏽‍♀️ (@#YourFavPlusSizeModel🧚🏽‍♀️)1561607682.0
Hair that grows all the way down your back is an impressive achievement - but keeping it a secret is what's really blown everyone away.
Although some have found it a little irritating.
Even Beyonce herself seems a little embarrassed about her mom's showing off, saying in the video, "Mama, that's really annoying. I mean very annoying."
In fact, it appears that the backlash has made an impact.
Beyoncé is annoying 😂, her mom took down the hair post. IG HIVE should go & drag her. https://t.co/7weawUyGkM

— Lisa (@Lisa)1561651059.0
Because Tina has now removed the video from her Instagram page. But the internet is forever, so we've managed to track is down for you.
Here it is.
long hair don't care #beyonce https://t.co/whimqydEdh

— BallerAlert (@BallerAlert)1561605136.0
Even with all the talk about it, it is still pretty amazing to see how long and luscious Bey's natural locks are.
Truly, she's a queen.
And in spite of the controversy that the post has caused, we don't think that there's anything wrong with showing off what you've got. Confidence is a beautiful thing, after all!