There are only a limited amount of TV series programs that actually bring back that good ol' nostalgic feeling and Beverly Hills 90210 is one of them. The show that gave us plenty of iconic moments has now been rebooted to feature all the original characters. Here's the twist though, they would all be playing fictional versions of themselves.
Even though the numbers were looking positive for the first few episodes, things quickly went downhill. In fact, things were so bad that Fox has decided to call it quits at the end of Season 1. That's right, the program is not going to be renewed again.
Keep scrolling to find out why...
Everyone knows Beverly Hills 90210 has given us some iconic moments, hasn't it?
via: IMDB
I don't know about you, but I used to binge-watch entire seasons over and over.
Remember when everyone made sure Donna graduated?
She was being punished because she got drunk at the prom but obviously the squad wasn't going to let it go. And in the end, all the hard work paid off.
And you must remember when Brenda and Kelly wore the same dress, right?
The scene brought about the iconic line that we all loved: "Brenda, how could you?"
I mean, it also gave us a true taste of heartbreak.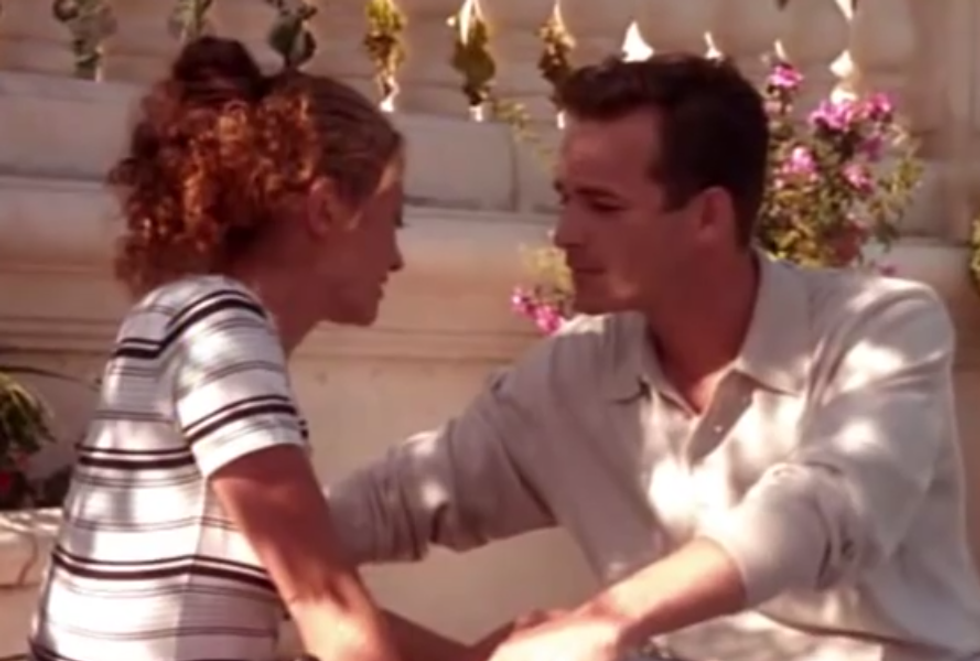 via: YouTube
You know the moment I'm referring to... When Toni died right after she got married to Dylan.
It was just the line, "look what they did to her, Brandon..."
God, that's a moment I never want to re-live.
Luke Perry
was amazing in this scene. RIP to one of the greatest actors to ever grace the planet.
And one of my favorite moments has to be this one...
When Kelly chooses herself over Brandon and Dylan. Even though she said she loves them both, she would rather "choose herself." A win for self-love!
After all these iconic moments, it's no wonder they decided to reboot it!
via: IMDB
Calling it
BH90210
, the premiere episode glued an extra 2.3 million eyes to the TV screens. The storyline was slightly different from the original version as it focussed on telling the story of real lives and relationships of Jason Priestley, Shannen Doherty, Jennie Garth, Ian Ziering, Gabrielle Carteris, Brian Austin Green and Tori Spelling.
Even though the numbers looked good for the first few episodes, things started going downhill pretty quickly...
via: IMDB
It dropped so far down that Fox has decided not to renew it for a second season.
Since the nostalgic feeling of the original wore off, it seems as if no one wanted to be part of the revival.
via: IMDB
You know what they say: "Don't fix it if it's not broken." Let the original be. That's all we need.
Twitter fans definitely agree.
@MichaelAusiello I saw the first episode and that was it...it was just bad

— STEM"Punish Domestic Terrorists"Woman (@STEM"Punish Domestic Terrorists"Woman)1573181266.0
This person thought the first episode was pretty bad... Yikes.
"I missed the show for what it was."
@MichaelAusiello @BH90210 This is really sad. The show had so much potential and a large fanbase to follow. It need… https://t.co/hpegoc90IO

— Smash (@Smash)1573171928.0
Maybe it would have worked out better if they didn't stray away from the original concept?
"It was doomed..."
@MichaelAusiello Idk, I watched all six episodes and it was doomed to die.

— Ryu Hayabussy (@Ryu Hayabussy)1573173846.0
I mean, it doesn't look like people had high hopes once they saw the reboot for themselves.
Some people are completely bummed out about it.
@MichaelAusiello Well this sucks.. I enjoyed it, it was a clever way to revive a beloved show. I'm bummed 👎🏻

— MN (@MN)1573174557.0
Maybe it's all dependant on the person.
"That sucks..."
@MichaelAusiello This sucks, let's bring on more singing and dancing shows though🙄🙄

— LISA CARROLL (@LISA CARROLL)1573172360.0
I mean, if the ratings just aren't there, there's no point continuing the show, is there?
If you're in the mood to satisfy your binge-watching cravings, then we've got you...
Keep scrolling to find out the best Netflix shows to satisfy your needs. There's enough shows there to keep you going until the new year!