With the advent of the internet, came strange new ways to earn viral fame. Consider everyone's favorite out-of-control teen, Danielle Bregoli. She rose to fame after a stunning appearance on Dr. Phil went viral, coining her a memorable catchphrase, "cash me ousside, how 'bout dat." Since the appearance, Bregoli has managed to make a musical career for herself under the moniker, Bhad Bhabie. But controversy is never far behind her - and her latest social media post has the whole internet outraged.
Many will know Danielle Bregoli for one thing in particular.
Bregoli rose to fame after a simply amazing appearance on Dr. Phil. The feature was about out-of-control teenagers, and Bregoli certainly lived up to that title.
The appearance birthed her now-infamous catchphrase.
When the audience took issue with her bratty attitude, she threatened to physically fight them all, with this iconic (and eminently meme-able) one-liner.
But since her viral appearance, Bregoli has done something quite surprising.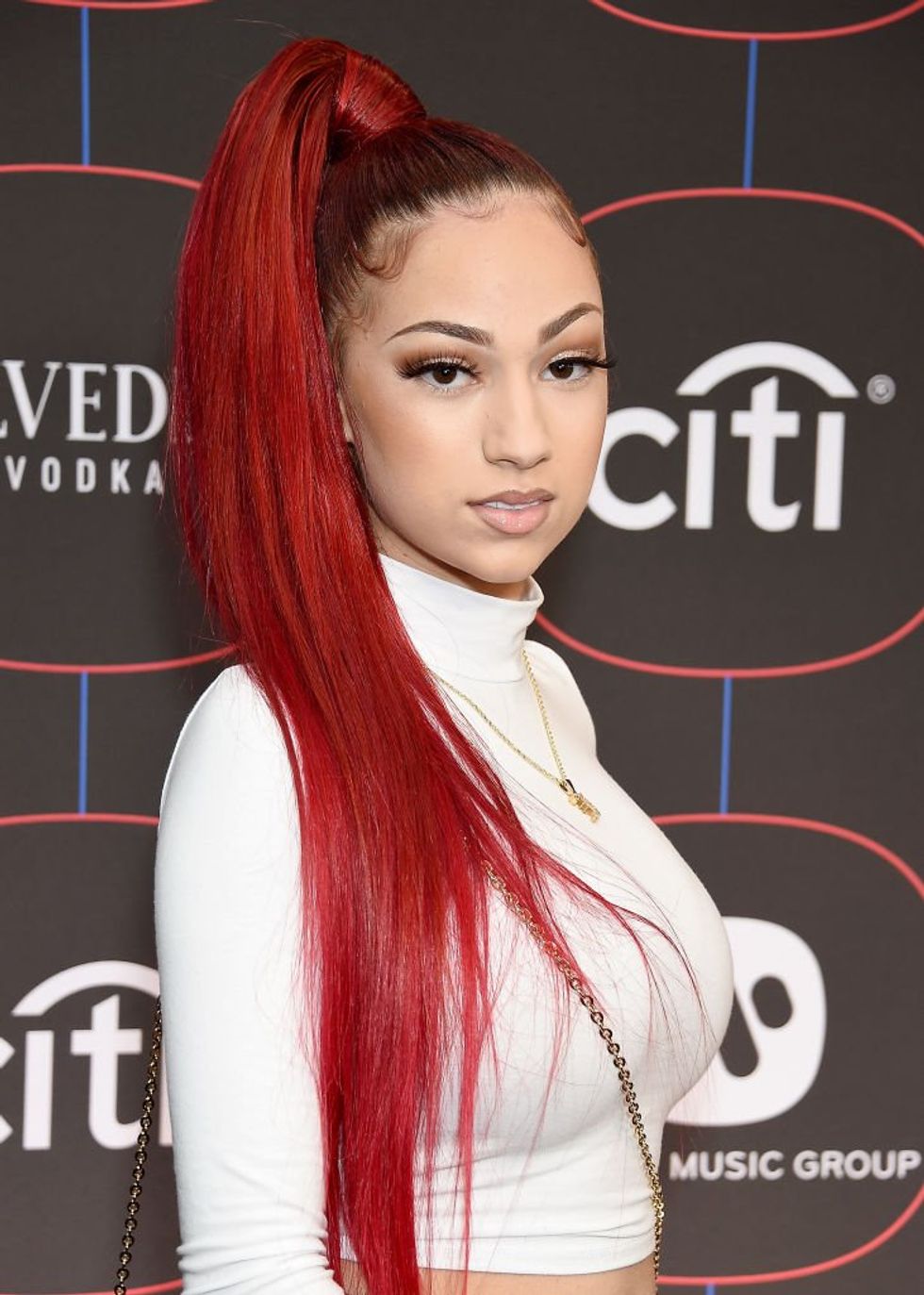 She's managed to do what very few can manage - spin her small amount of viral attention into a viable (and lucrative) career.
She's rebranded herself as rapper, Bhad Bhabie.
And she's surprisingly successful in her new career. Her music has a pretty large fanbase and it has even generated some positive critical reception.
Bhad Bhabie has legions of teen fans.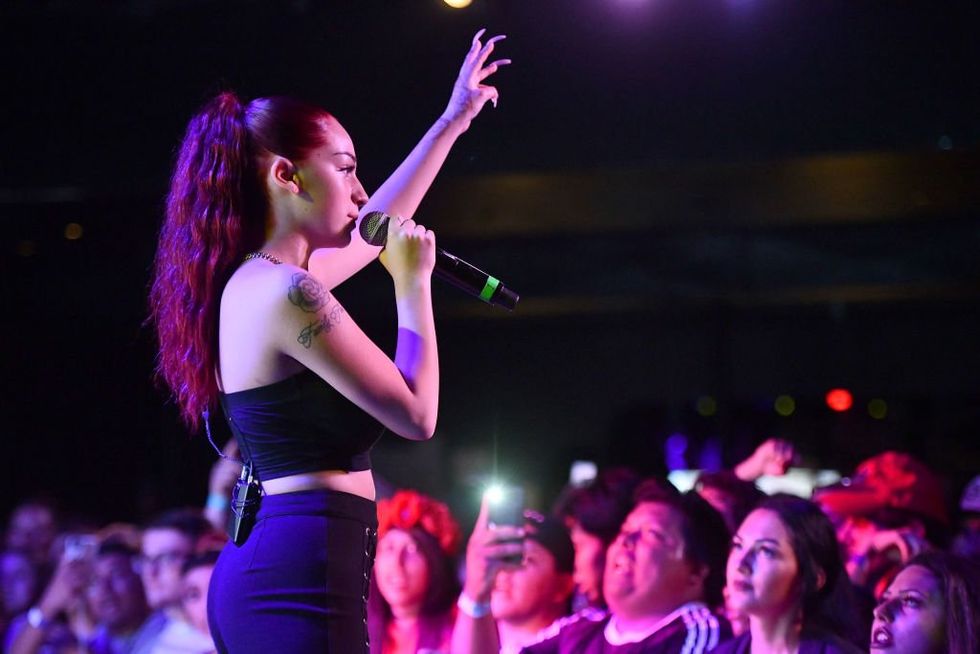 Turning a moment of internet infamy into something that she clearly enjoys (and is making bank with) is no mean feat. She's certainly more shrewd than many thought she was.
Her debut single was called "These Heaux."
It was a huge hit for Bregoli, with over 80 million views on YouTube. The success of this single led Bregoli to signing a record deal with Atlantic Records.
2018 was an amazing year for the singer.
15. She was also named by Time Magazine as one of the world's most influential teens - which can't really be disputed.
She's used her fame to pursue many different ventures.
Danielle Bregoli's Snapchat Show Draws 10 Million Viewers On First Day https://t.co/WH918utxbv

— TMZ (@TMZ)1549645216.0
Bregoli has a series with the social media giant, Snapchat, which has so far proven to be a huge success - largely thanks to her strangely captivating personality.
Bregoli has also partnered with Copycat Beauty.
Though people love to hate her, Bregoli seems to be coming out on top.
Whether by accident or through smart, entrepreneurial spirit, Bregoli has come from nothing and has become a hugely influential personality with a career that many would envy.
Not to mention, she's making a killing.
Bregoli's multiple business ventures have led her to wealth beyond any teenager's wildest dreams - and she's certainly not afraid to flaunt it!
Bregoli's debut mixtape was filled with collaborations with other rap stars.
One of the mixtape's most popular tracks was with rapper Lil Yachty. "Gucci Flip Flops" is about wealth and symbols of status - something that's clearly very important to both of them.
But controversy has never been far from Bregoli.
And her latest social media move has the internet feeling annoyed.
She recently posted a whole bunch of videos to her Instagram.
Here are some of the comments.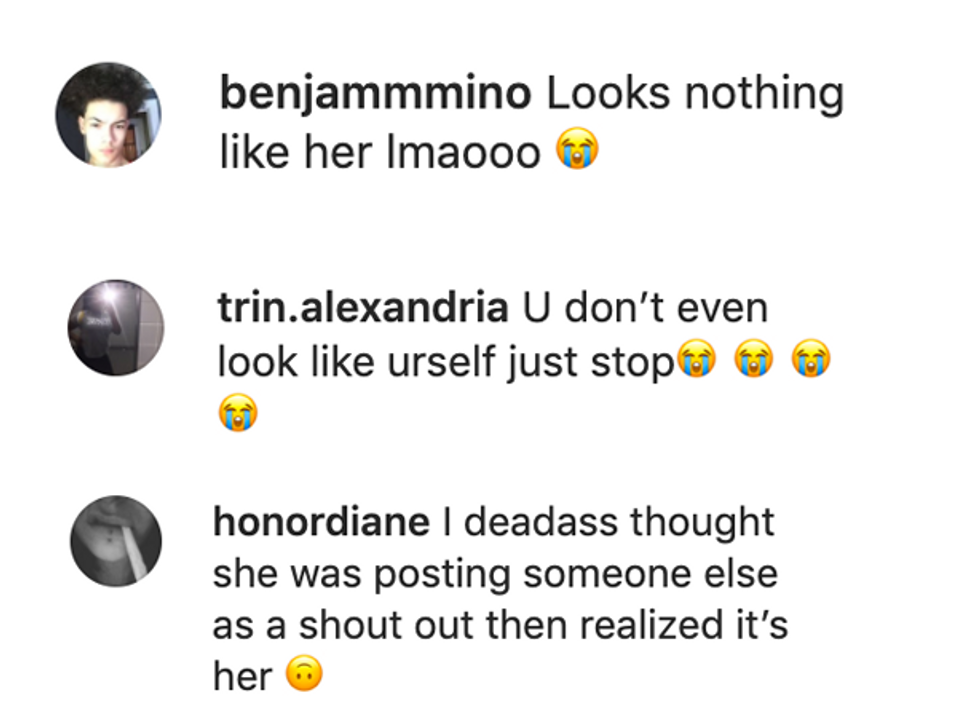 Emotions ranged from confused to amused to angry.
Some jokes were made.
How TF Bhad Bhabie go from a white teenager to a grown black woman? https://t.co/n4TEOkxVQU

— micah ❤️ (@micah ❤️)1586181635.0
Wow, they really do grow up so fast!
But it might not actually be so funny.
What in the blackfish is Bhad Bhabie doing??? https://t.co/LBedvE9JD0

— STACY ABRAMS STAN ACCOUNT (@STACY ABRAMS STAN ACCOUNT)1586180160.0
Blackfishing is actually a pretty problematic issue - and not something Bregoli should want to be associated with.
Although it didn't seem like she was too concerned.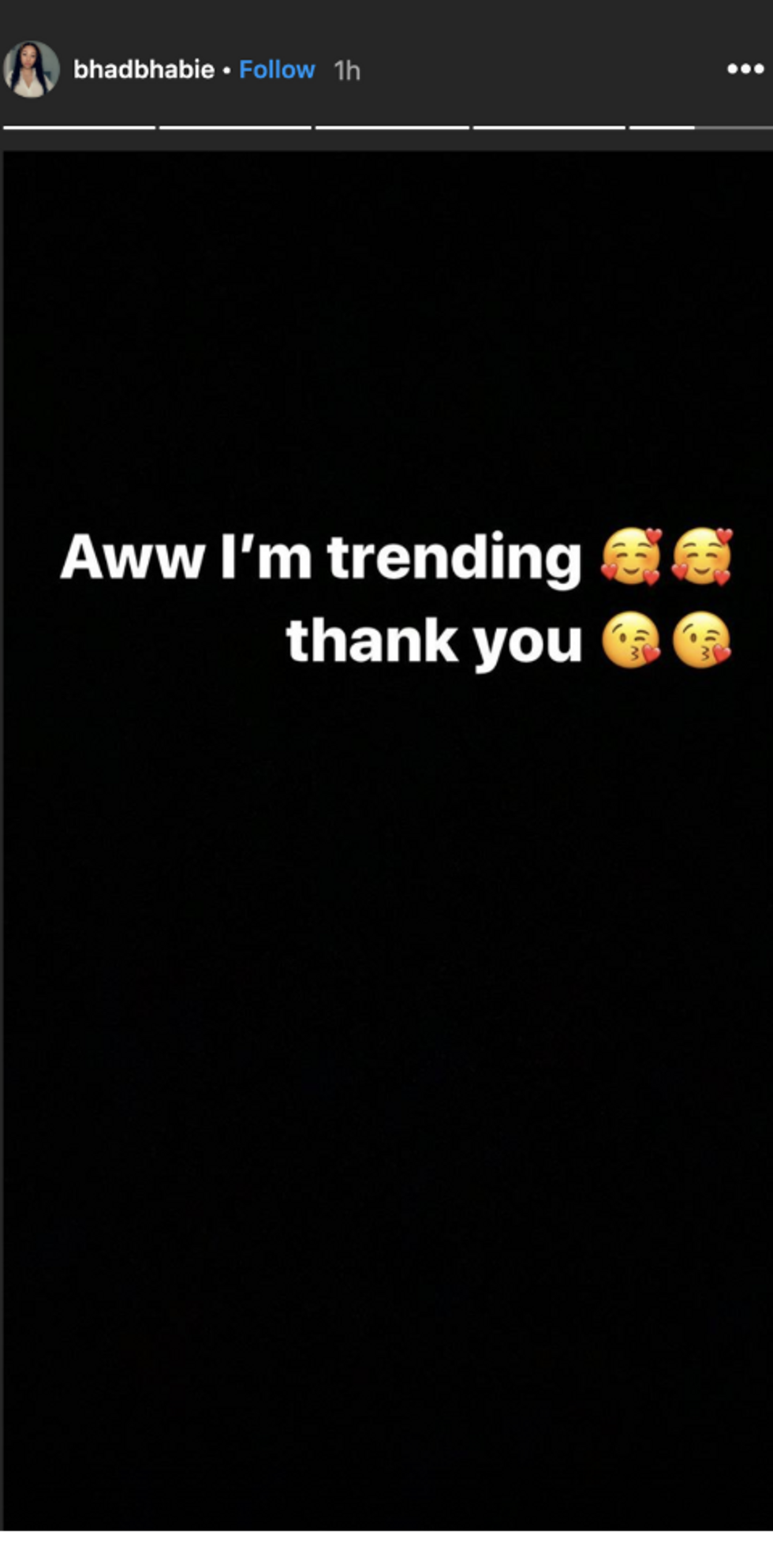 In fact, Bregoli just seemed thankful for the attention!
She also posted this response.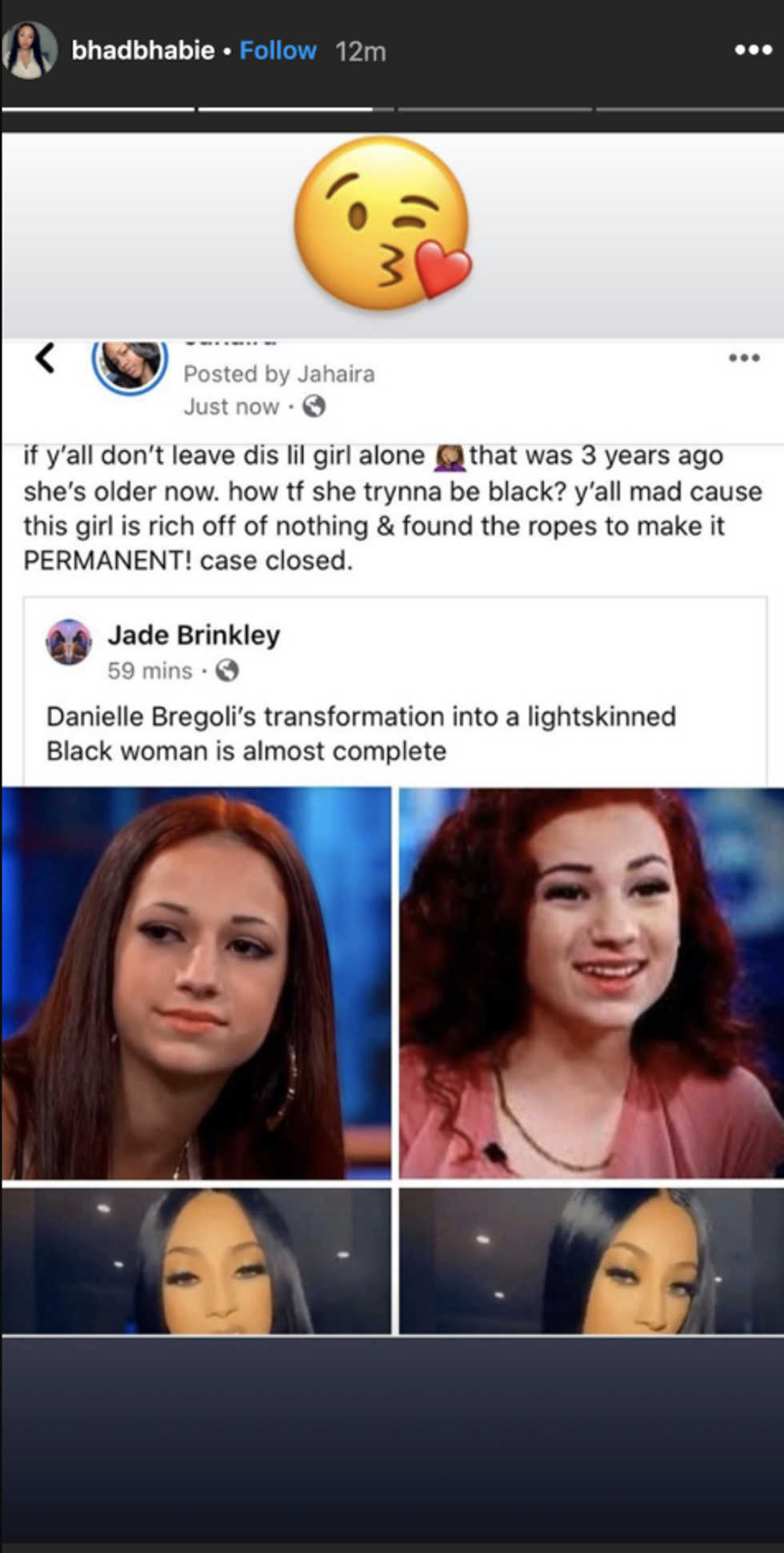 Thanking the few fans who 
did 
choose to stand up for her.
And made this final address to the issue.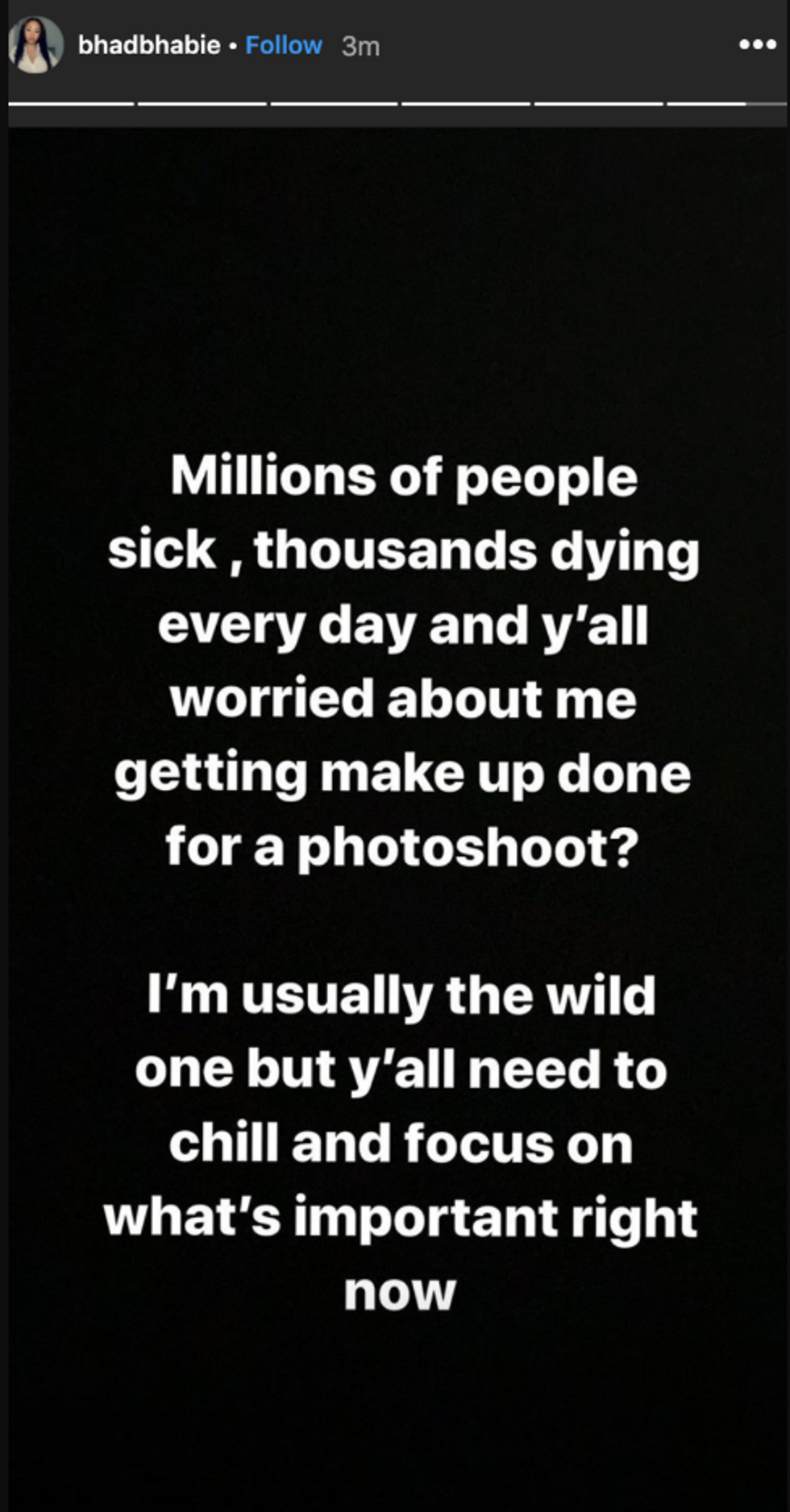 Does the world have bigger fish to fry right now? Want to learn more about the complicated issue of blackfishing? Scroll on...