Ellen DeGeneres hasn't had the best of years, what with all the sinister rumors and stories from people who have met her finally coming to light.
But even after the hashtag #RIPEllen started trending online, a new group of former employees have now come out and revealed some horrible truths about the toxicity that goes on behind the scenes.
Read on to see all the horrendous things that went on backstage…
The infamous host of The Ellen Show has been batting off accusation after accusation… But now she might have met her match after a group of her former employees rally around together to reveal the "truth" about Ellen Degeneres.

Though she has built her on-screen persona around being outspoken against injustice and generous to the needy, many people have claimed that, in real life, she is quite the opposite.

Which is certainly a far cry from the relatable and humble TV host we all know and love… Or we thought we knew and loved.

Cracks have certainly begun to show, and rumors of the somewhat nastier personality behind the famous smiling blonde-haired, blue-eyed face have been intensifying.

Now, more than ever before, people are starting to turn against the star as detrimental stories continue to resurface.

This Twitter user came forward with the story about Ellen's head writer, Karen Kilgariff. Karen was under Ellen's employment for 5 years until she took part in a writer's strike. Boom. Fired. And a word was never exchanged between the pair again.

This woman claims that her friend used to work as a writer on the show and, in the whole 2 years of her employment, Ellen didn't greet her once. In fact, none of the staff were allowed to speak to the star of the show. Apparently.

Staff weren't even allowed in the same room as her.
Wow, we really aren't worthy, are we?

For a colleague's birthday, Twitter user Alison Freer was celebrating with a BBQ outside of the Warner Bros studios where The Ellen Show is filmed. However, Ellen was quick to shut down all the festivities by sending someone over to put a stop to the celebration, all because she doesn't eat meat. Not cool, Ellen.

Ellen has notoriously sucked up to the rich and famous for years, and apparently she wants to keep them all for herself. When Russell Brand wandered into the employee break area to chat with the crew, Ellen apparently got quite irritated and told him that he "doesn't have to interact with these people."

I'm sorry, but there isn't enough money in the world that would ever encourage me to do that. Thank you, next.

Though it's great that she cares so much about animals, her sensitivity to the matter doesn't bode well for her employees.

And her own show! Who'd have thought it?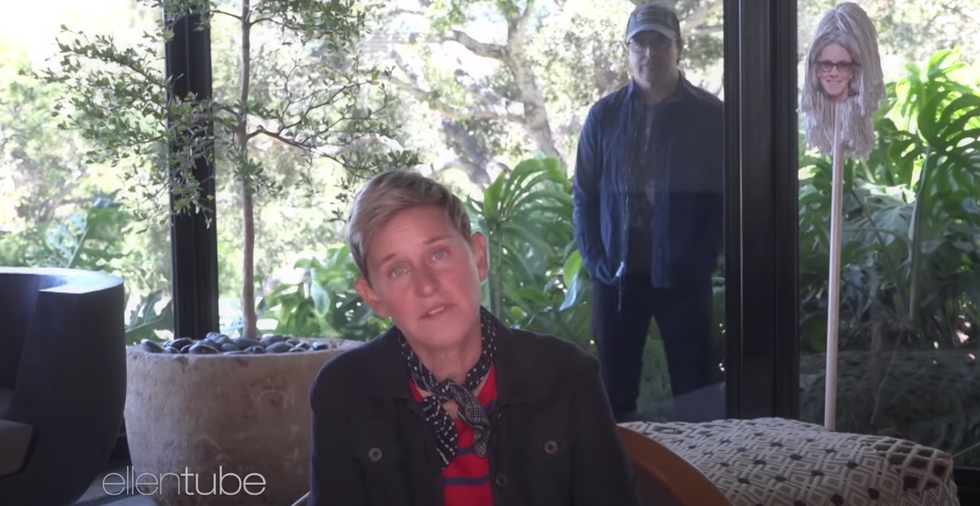 In a recent, rather weird segment on her talk show, the sixty-two-year-old rated her staff's babies after telling us "my staff [have] a lot of beautiful additions to their families. Clearly they had to be rated." Did they Ellen? Did they really?

And, as a result, her ratings have taken a huge blow.

With previous seasons of the show raking in an average of 4.5 million viewers.

The Ellen Show had its season-low rating of around 1.5.

So much so that, at one point in time, fans were convinced that the worst had happened, but the producers ended up confirming that the show is not going to be axed… Yet.

No, I am not making this up. It's a little bit much, right? But treating your employees like s*** is also not acceptable.

According to Buzzfeed News, 1 current employee, as well as 10 former ones have rallied around together to reveal their "truths" about the toxic culture behind the scenes of the show.

But they revealed that it wasn't just Ellen Degeneres that was the cause of the toxicity, there were also other bosses and managers that made their lives much more difficult on set.

"That 'be kind' bullshit only happens when the cameras are on. It's all for the show. I know they give money to people and help them out, but it's for show."

She was employed there for a total of eighteen months and in that time, she faced microaggressions and comments that made her feel uncomfortable.

"I'm sorry, I only know the names of the white people who work here." The employee also claimed a producer commented on her and another Black employees' hairstyles, allegedly stating: "Oh wow, you both have box braids; I hope we don't get you confused."

"Whenever I brought up an issue to my white male boss, he would bring up some random story about some random Black friend that he had and how they managed to get over stuff," she said. "He would use his Black friend as some way to say, "I understand your struggle," but it was all performative bullshit."

"If she wants to have her own show and have her name on the show title, she needs to be more involved to see what's going on," another employee explained. "I think the executive producers surround her and tell her, 'things are going great, everybody's happy,' and she just believes that, but it's her responsibility to go beyond that."

However, one former employee suggested the executives and other senior managers were to blame. "The issue is these three executive producers running the show who are in charge of all these people [and] who make the culture and are putting out this feeling of bullying and being mean," the source said. "They feel that everybody who works at The Ellen Show is lucky to work there, 'so if you have a problem, you should leave because we'll hire someone else because everybody wants to work here.'"

These claims have hit the host hard in what has already been a very turbulent year for her.

"Over the course of nearly two decades, 3,000 episodes, and employing over 1000 staff members, we have strived to create an open, safe, and inclusive work environment," they said. "We are truly heartbroken and sorry to learn that even one person in our production family has had a negative experience. It's not who we are and not who we strive to be, and not the mission Ellen has set for us. For the record, the day to day responsibility of the Ellen show is completely on us. We take all of this very seriously and we realize, as many in the world are learning, that we need to do better, are committed to do better, and we will do better." Let's just hope it does get better. Keep scrolling to see one of Ellen Degeneres' most questionable relationships…