Well, folks, he's at it again.
For some reason, Bill Cosby seems very focused on being in the spotlight these days. That's a pretty bold move for someone accused of sexual misconduct by at least 50 women, but he's choosing to make it anyway. Cosby recently put on an impromptu standup show and, well... It seems like it was about as weird as you'd expect it to be.
We haven't heard a lot from Bill Cosby over the past couple of years.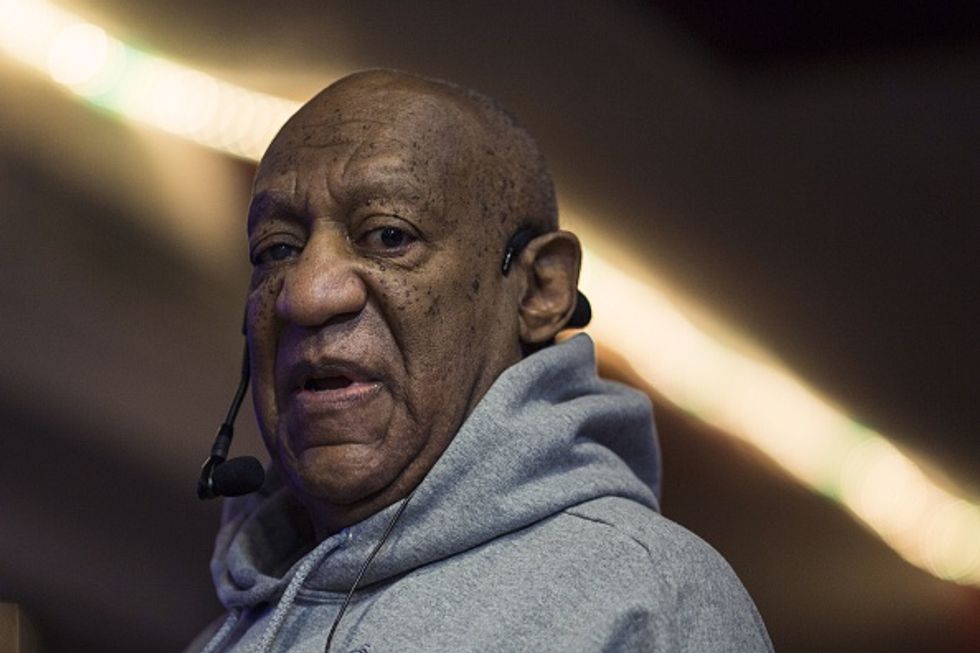 via: Getty
Ever since a 2014
video of comedian Hannibal Buress discussing the allegations against Cosby
went viral, he's stayed out of the spotlight for the most part. But for whatever reason, the disgraced comedian seems to be on some sort of PR tour this month.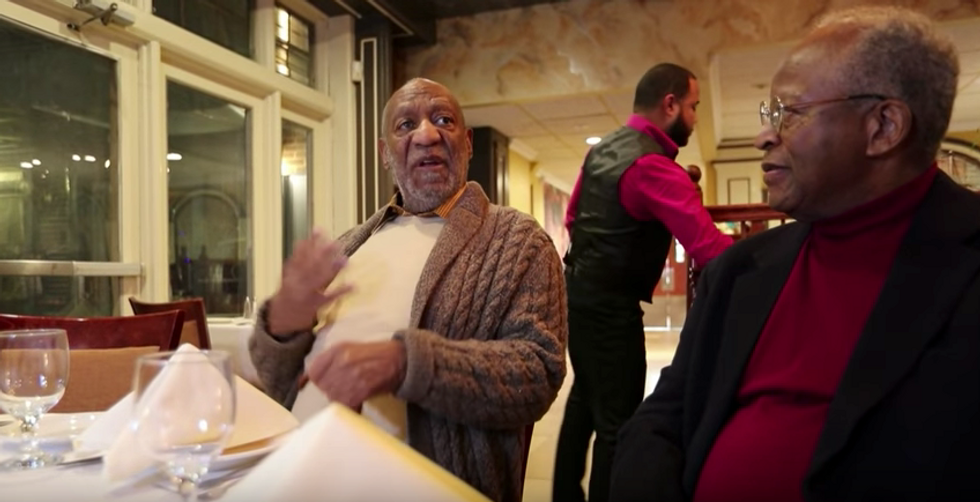 via: YouTube
A few weeks ago, Cosby went out for dinner with a friend and invited a bunch of reporters to document the experience. One reporter referred to the evening as being "
a decidedly odd affair
." The fact that
Cosby seemed to make a bizarre #MeToo joke
near the end of the night undoubtedly lent to that vibe.
But that wasn't the end of the decidedly odd affairs. On January 21, Cosby hung out at a barbershop in Philly. The next day, he decided to head to a jazz club.
Bill Cosby about to do an impromptu comedy set at a jazz club in Germantown. Jury selection in his second criminal… https://t.co/Bc42W9WXdy

— Bobby Allyn (@Bobby Allyn)1516664501.0
And that's when he decided it was a good time to do an impromptu standup set. Just as he'd done with the dinner a few weeks before, Cosby invited several journalists to document the evening. All this in light of the fact that Cosby will soon be returning to court for a retrial of the criminal case in which he is accused of drugging and sexually assaulting former basketball star Andrea Constand. Maybe not the best time for jokes?
Bill Cosby, sitting on a stool in a hoodie at a Philly jazz club, telling stories and working the crowd. No mention… https://t.co/rCYzlaP1iL

— Bobby Allyn (@Bobby Allyn)1516666196.0
Cosby began his set by working the crowd, which
NPR reports
was made up of approximately 50 people. He wore a gray sweatshirt with colorful letters spelling out "Hello Friend," a tribute to his late son Ennis who used to greet people with the phrase.
Then he decided to move onto the drums.
Ok, he's moved to the drums... https://t.co/OrmUdUVKHn

— Bobby Allyn (@Bobby Allyn)1516666399.0
OK. Sure. Drum time. I'm not the only one who thinks this entire thing is pretty darn bizarre, right? The man is accused of sexual misconduct by 
dozens of women
! He's mere weeks away from his criminal trial but has decided to go out on the town and pretend nothing is out of the ordinary. After his set on the drums, an 11-year-old boy named Mekhi Boone took over and added another awkward interaction to the evening of seemingly interminable awkward interactions.
"Who am I?" Cosby asked Mekhi.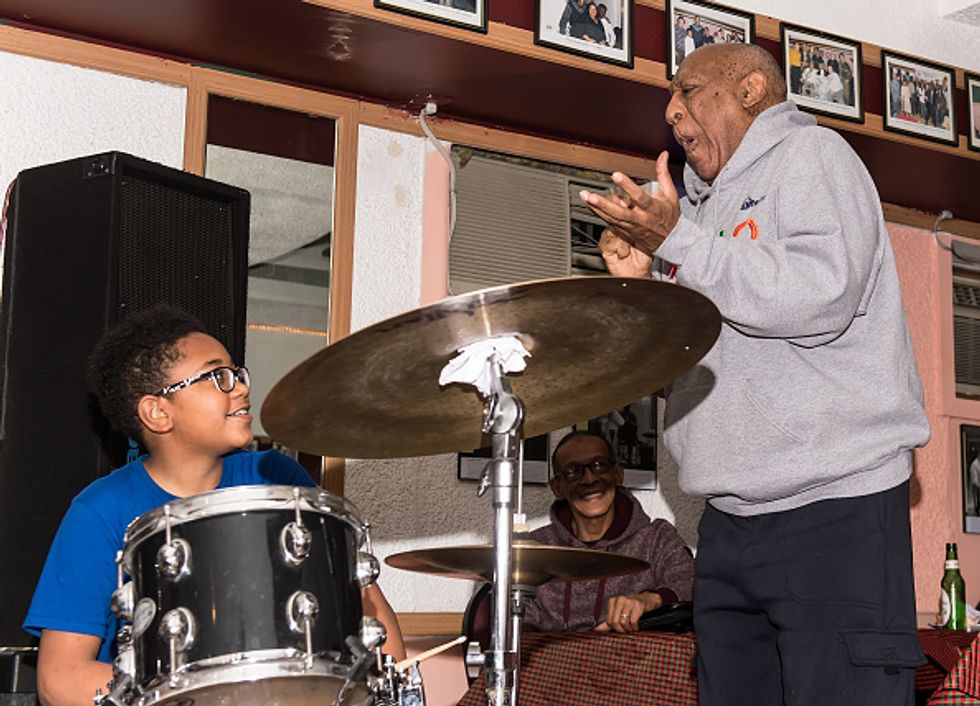 via: Getty
"Bill Cosby," Mekhi replied. "And what do I do?" "A comedian." "I used to be a comedian?" Yeah. "Used to" is right. And yet, there he was, cracking jokes.
Here's a brief clip from his set, in case you're curious:
His jokes got a few chuckles from the sparse crowd. Or were they possibly laughing at the completely bonkers situation they'd found themselves in?
Oh yeah, and he drank some peaches, too.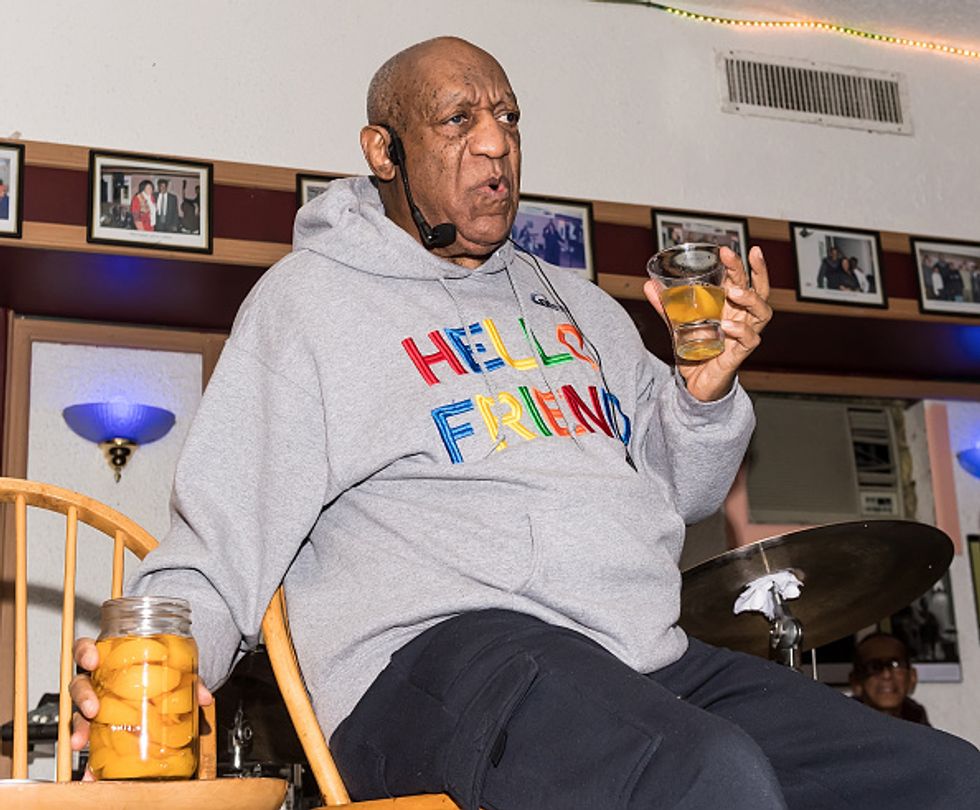 via: Getty
This was Cosby's first standup set in more than two years. Oh, and if you're wondering whether he had another weird response to the #MeToo movement...
The answer is a resounding "Yup!"
Here is the unforgettable face Cosby made when I asked him how he thinks jurors will see his case differently in th… https://t.co/NDaJ0Znpha

— Bobby Allyn (@Bobby Allyn)1516675973.0
This is the face he made after being asked how the #MeToo movement — which is focused on making the world a better place for people who have been sexually assaulted — might affect the trial in which he is accused of sexually assaulting a woman. He pulled that goofy face and then said, "I don't know!" K.
I have no idea what Bill Cosby was thinking when he decided to perform standup at a Philadephia bar earlier this week, but I definitely do not get it.
@AP Unfrickenbelievable ANYONE would give this rapist a chance to perform! Has decency been lost in this country? What about right vs wrong?

— Cherie (Wear a damn mask people!) Morrissey (@Cherie (Wear a damn mask people!) Morrissey)1516669047.0
Is this seriously some kind of final attempt at a goodwill tour? Is he trying to win people over right before he goes back before a jury? We may never know. But if that is truly the idea behind these odd PR stunts, they're certainly not working on me.