Billie Eilish is well-known for making surprisingly innovative and cool music, alongside her notoriously crazy image. No item is too brightly colored, explicitly branded, or oversized for the singer. But because of her particularly out-there and creative style, many forget that she's also just seventeen years old.
But not Jimmy Kimmel. This week, the singer was interviewed by the notorious talk show host, and very quickly her young age became abundantly clear. Be prepared - her answers to some of these questions will make you feel super old.
Aged just seventeen, Billie Eilish has taken the music industry by storm.
She's been writing and creating her own music since she was incredibly young, and has risen to fame with huge hit album When We Fall Asleep, Where Do We Go? earlier this year.
She's also known for being something of a quirky character.
Eilish was home-schooled and didn't really interact with kids her own age apart from her siblings until she started to make waves in the music scene. This gives her something of a unique outlook on the world.
It also gives her music quite a different sound.
Many are pretty shocked that such a young person could create such hauntingly catchy tunes - and such suggestive lyrics.
It's safe to say, Eilish is as famous for her image as her music.
Because the teen has some really unique personal style. She doesn't dress like your typical seventeen-year-old-girl, that's for sure.
Eilish is known for rocking some pretty out-there looks.
Or what about this full green ensemble?
But because of Eilish's mature music and fashion sense ...
Making the singer just seventeen years old.
But this week ...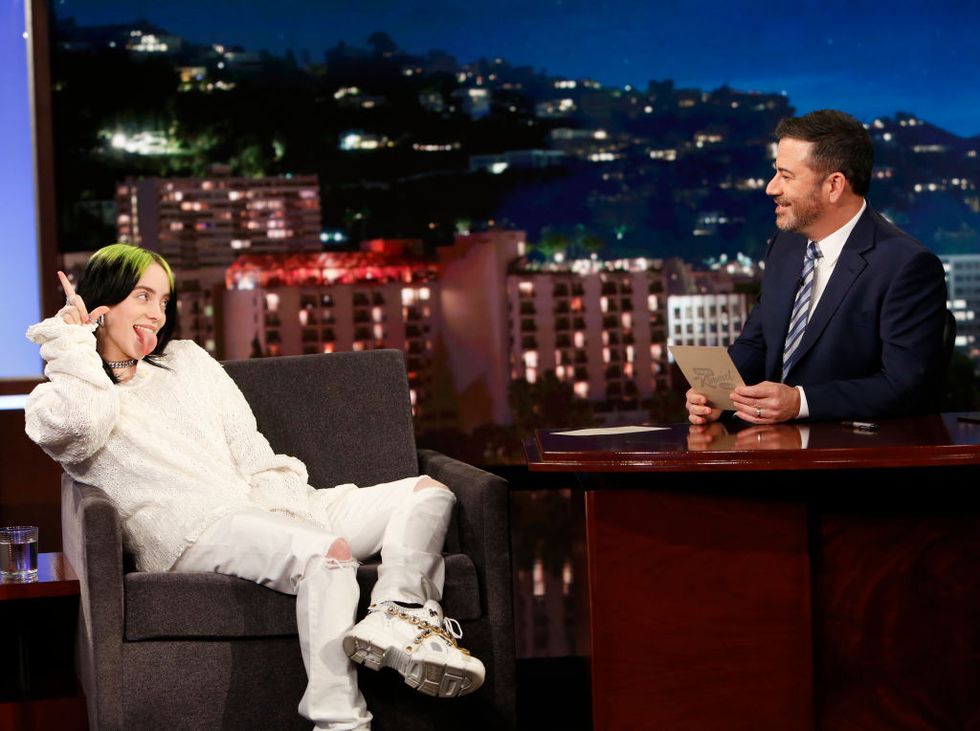 via: Getty Images
Jimmy Kimmel seemed set to remind us that in spite of her huge success, Eilish is still very much a typical teenager.
Because he quizzed her on some greats of the past.
And Eilish's answers will shock anyone born before the '90s.
Kimmel first asked Eilish if she knew who Madonna was.
And (thank God) the teenage star said yes, she did.
Kimmel then asked, "Can you name a Van Halen?"
To which Eilish simply replied, "Who?"
Kimmel was not impressed.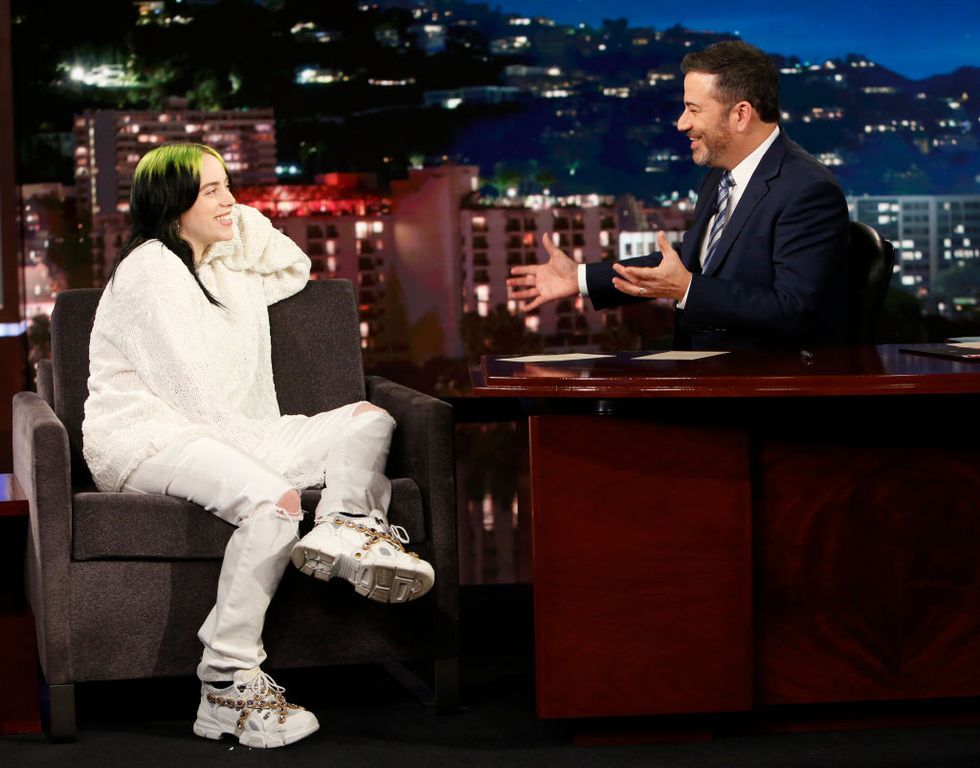 via: Getty Images
"I'm going to start crying," the host joked.
The interview wasn't a total wash.
Thankfully, Eilish had heard of iconic '80s singer Cyndi Lauper.
But there were some notable omissions from Eilish's musical knowledge.
She'd never heard of Huey Lewis or Run DMC. In fact, when asked about the latter, she simply asked: "What is that?"
And it wasn't just music Eilish had big knowledge gaps in.
She'd also never heard of a Cabbage Patch Kid. "A Cabbage Patch Kid? That's like a Sour Patch Kid. Is it a candy?" the confused star asked.
And her movie knowledge was similarly spare.
When asked about Ghostbusters and Gremlins, she confessed she didn't think she'd seen them.
It's clear Eilish was embarrassed.
"You're making me look so dumb!" she laughed.
But Kimmel claimed that wasn't his intention.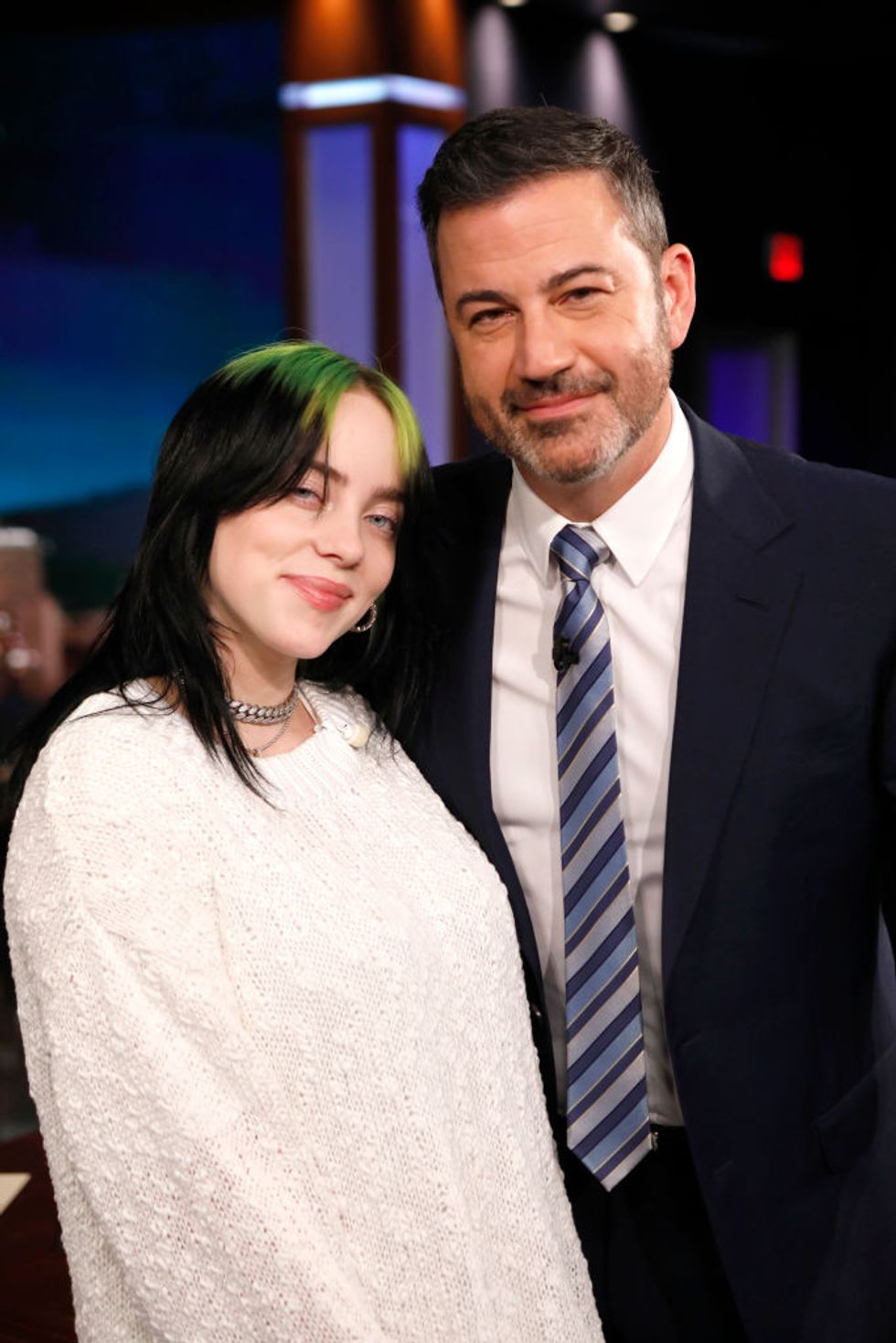 via: Getty Images
"The point that I'm trying to make is you're younger than I am," he explained.
Here's the full interview.
Alongside the quiz on cultural history (which starts around the three-minute mark), Eilish discusses the trappings of fame and the perils of being a teen - it's well worth a watch. And if you fancy more Eilish content, keep scrolling to see why the internet can't seem to stop discussing her body. Warning: it's pretty gross.