Billie Eilish has made her stance on showing off her body pretty clear - something she expresses through her unique fashion sense.
Although it seems this week, the singer has decided to show some skin - posting a powerful spoken word video in which she reveals her body.
She's conveying such an important message. Keep scrolling to watch the video...
Aged just eighteen, Billie Eilish has taken the music industry by storm.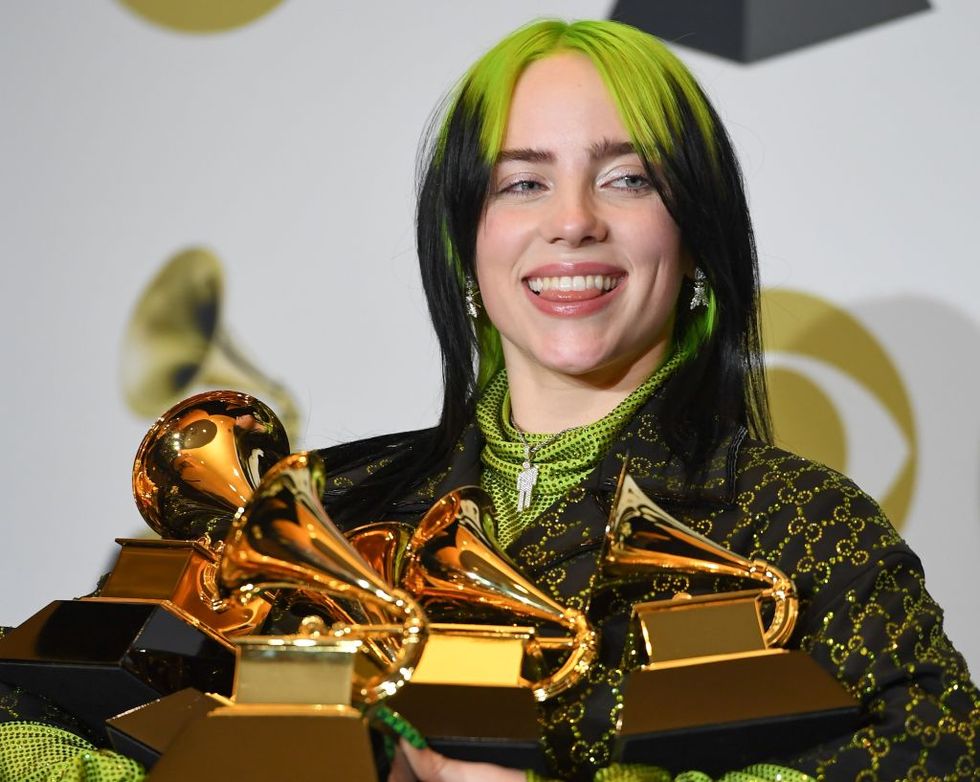 She's been writing and creating her own music since she was incredibly young, and has risen to fame with huge hit album 
When We Fall Asleep, Where Do We Go? 
that was released in March, 2019.
She's known for being somewhat of a quirky character...
Billie was home-schooled, so she didn't get the chance to interact with others of her own age apart from her siblings until she started to make waves in the music scene, which has given her something of a unique outlook on the world.
It also gives her music a different sound...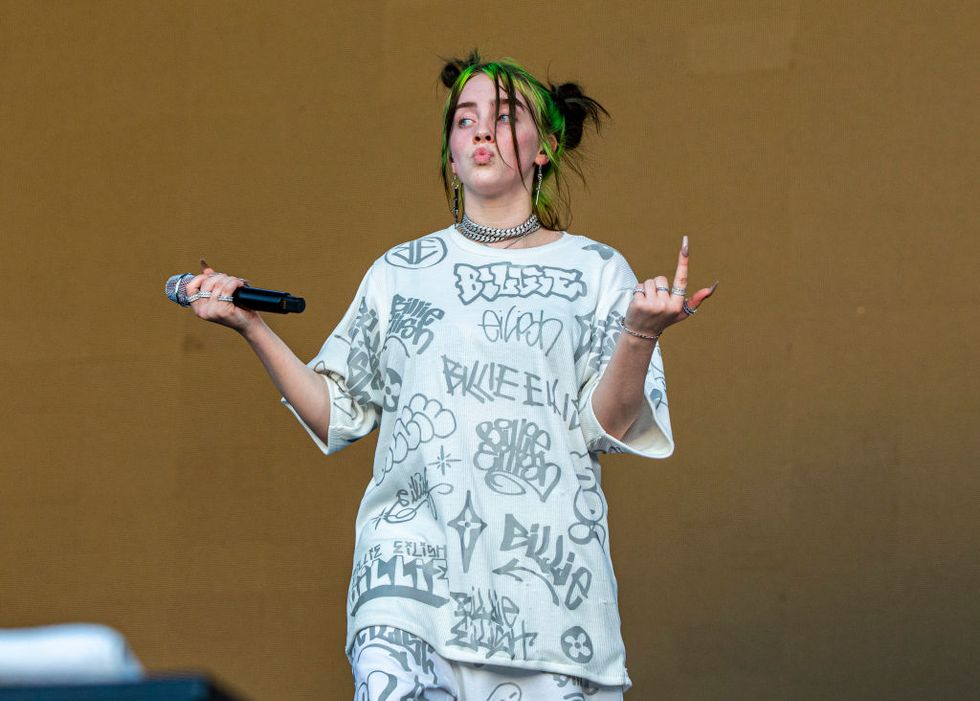 Many are pretty shocked that such a young person could create such
hauntingly catchy
tunes - and such suggestive lyrics.
Her debut album, When We All Fall Asleep, Where Do We Go?, ranked at number 1 on the charts.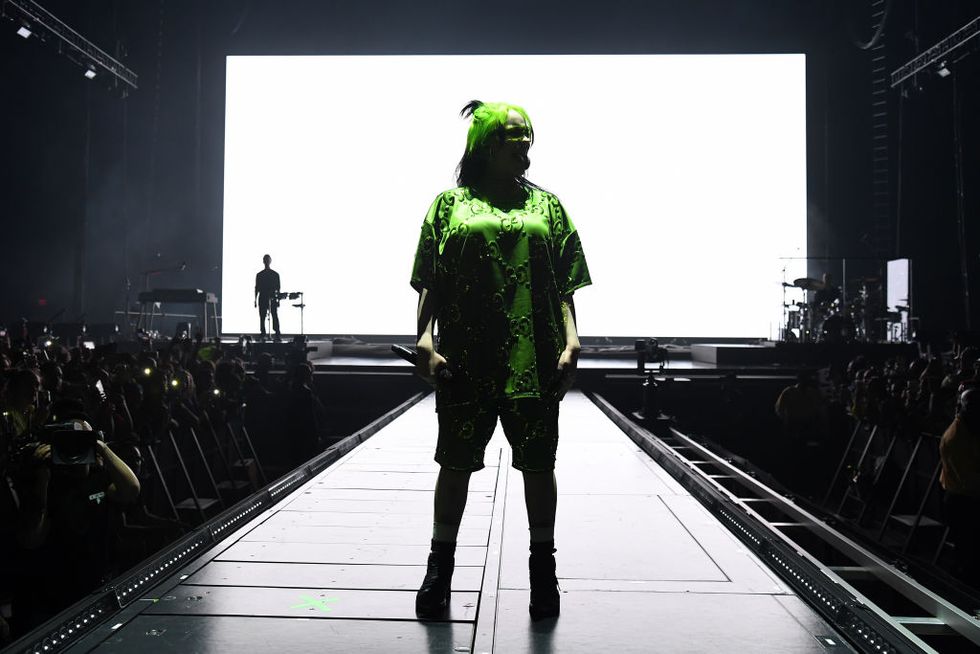 Most artists have to release a couple of albums and dedicate their lives to promoting their work before they are even recognized as an artist, but then there's a lucky few, like Billie, who reach superstardom on their first attempt. When the album was released, she wrote, "This album [means] the world to me please take care of it."
But that wasn't even the first time that we saw her climbing the charts...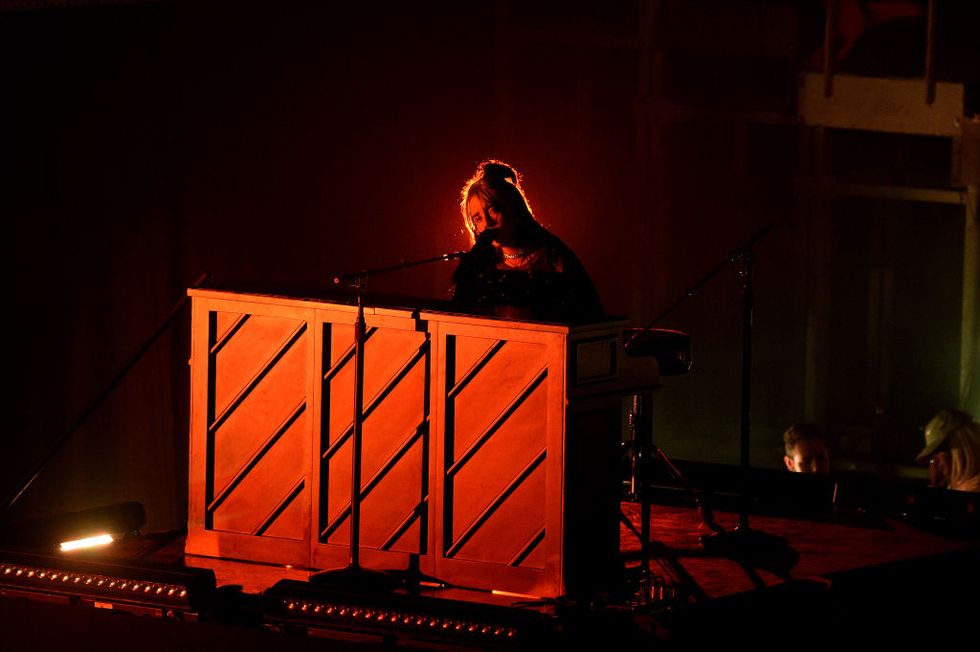 Her introductory EP, 
Don't Smile at Me,
 went all the way to slot fourteen, and has already been awarded gold, an achievement that many artists can only dream of receiving.
Her most recent single Everything I Wanted has been a huge success...
And we must say, it is an incredibly beautiful song.
But, it's safe to say, Billie is as famous for her image as she is for her music...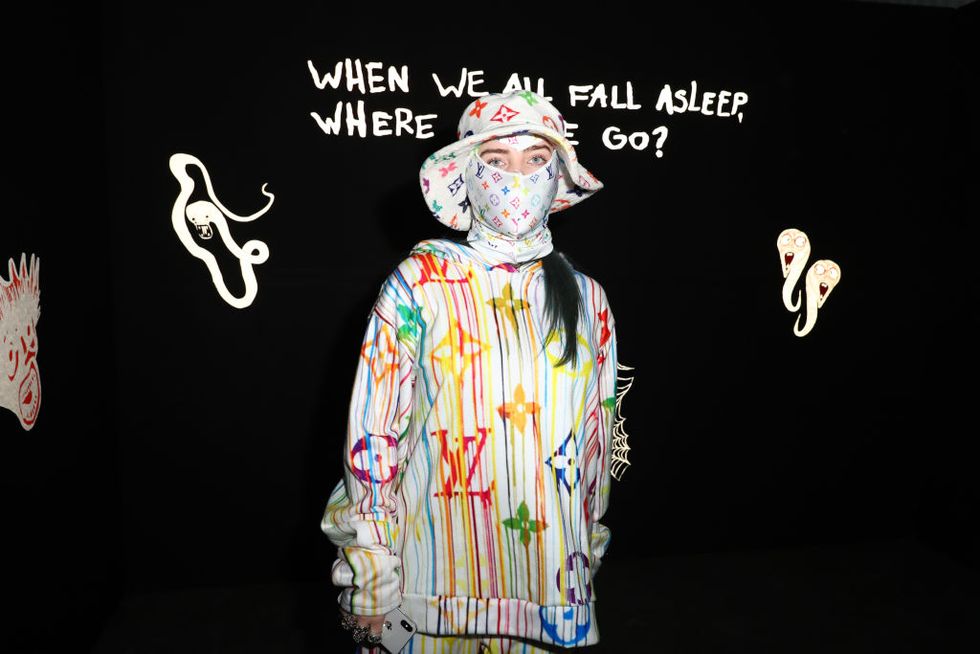 She doesn't dress like your typical eighteen-year-old-girl, that's for sure.
She is known for rocking some pretty out-there looks...
kind of works?
Or what about this full green ensemble?
And Billie doesn't just experiment with fashion...
She donned silver hair for some time...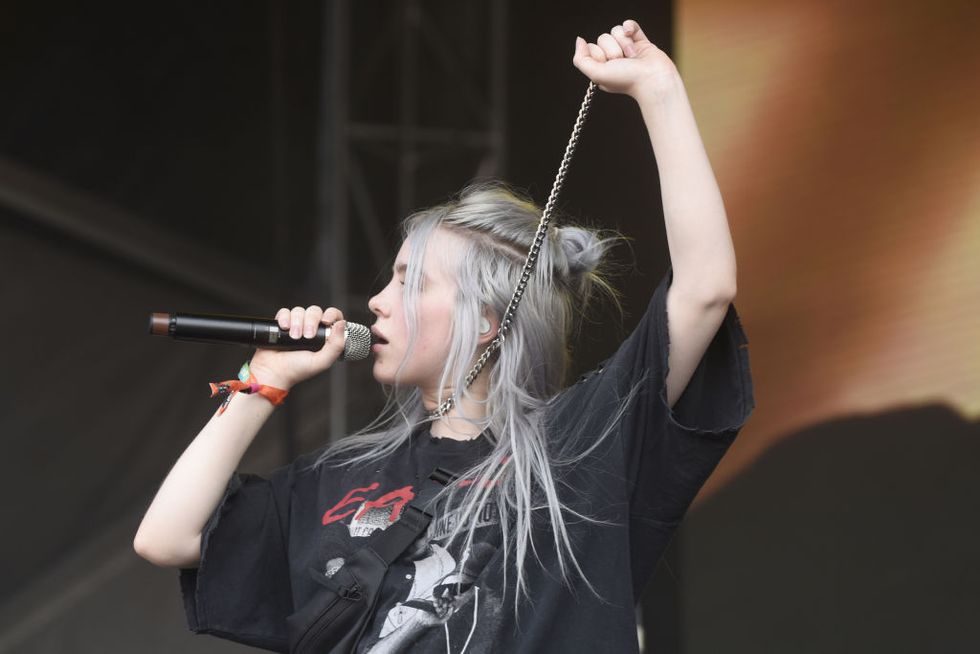 If anything, it was
this
look that became her trademark around 2017.
But more recently, she has been rocking something very eye-popping...
neon green roots.
But it turns out that there's a reason behind Billie's quirky look...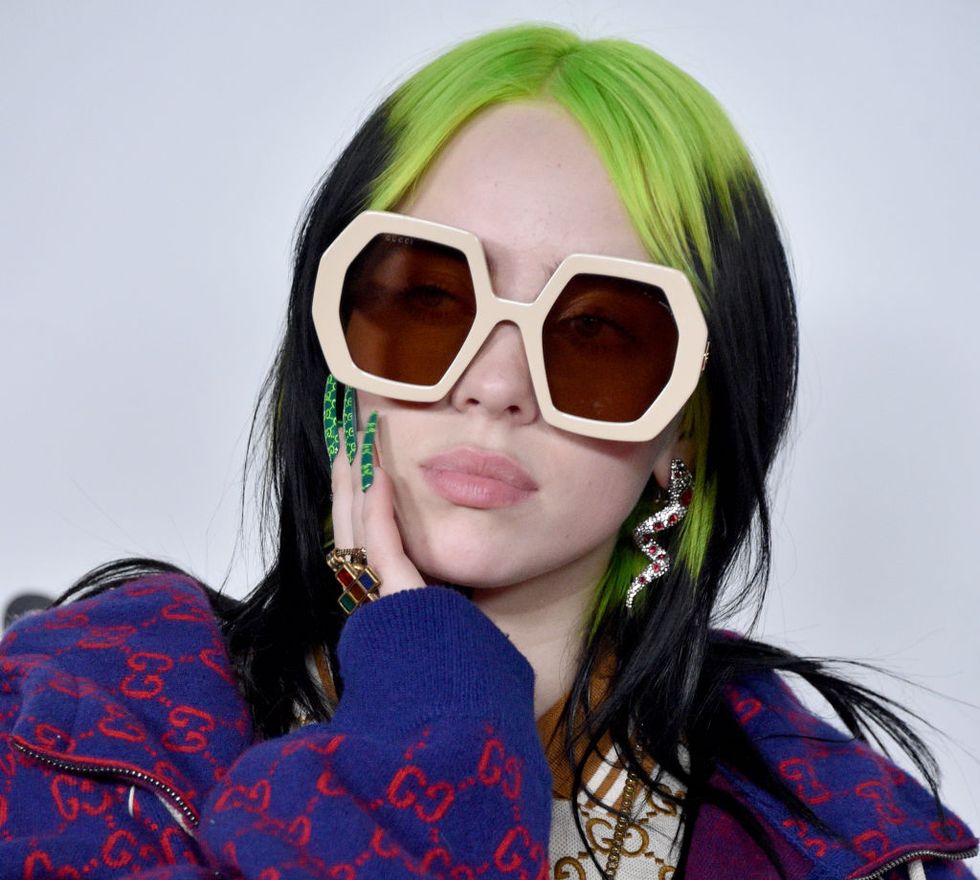 Her choices in fashion - which strongly consist of baggy, oversized clothes - are picked to protect herself from her global audience body-shaming her and judging her on her natural appearance.
Speaking in an interview last year, Billie explained these choices...
"That's why I wear baggy clothes," she
said.
"Nobody can have an opinion because they haven't seen what's underneath. Nobody can be like, 'she's slim-thick,' 'she's not slim-thick,' 'she's got a flat a**,' 'she's got a fat a**.' No one can say any of that because they don't know."
And we honestly don't blame Billie for having this attitude.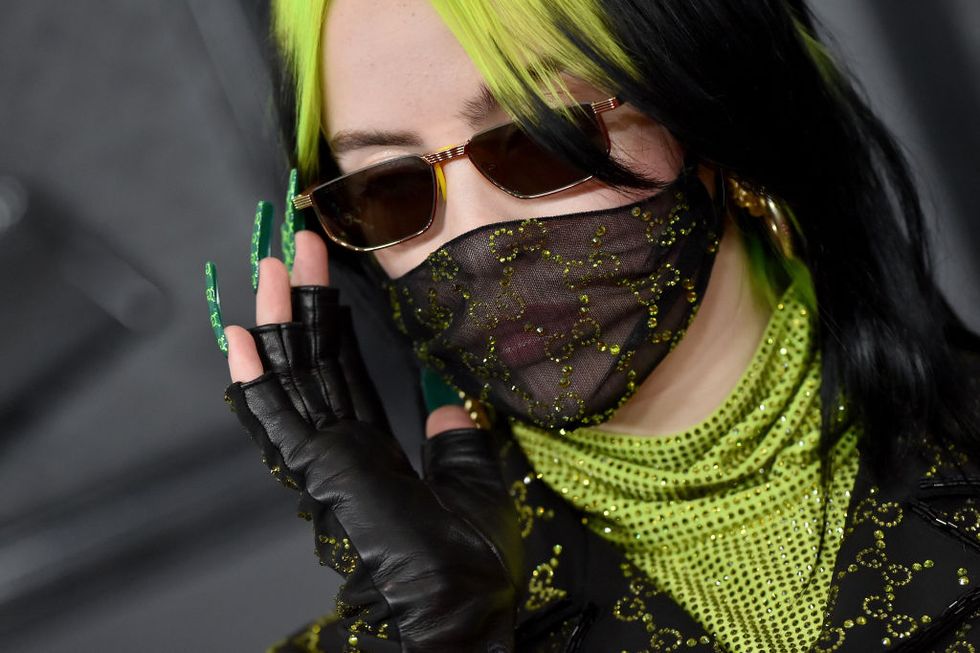 But sadly, people have already attempted to exploit and body-shame the teenager. Even when she was as young as
fifteen
, online trolls were trying to sexualize her for no apparent reason.
It's terribly sad that the singer has to put up with this treatment...
And it is a harsh reality that young women in the spotlight are always targeted by older people.
Many of these perverts have tried to blame her lyrics.
This girl literally said "bruises on both my knees for you" , "might seduce your dad" BUT I'M ONE WHO'S SEXUALIZI… https://t.co/iyObDoi4af

— k (@k)1561326693.0
But let me get this straight. Just because there's a line in her song "bad guy" that reads: "bruises on both my knees for you," it's now acceptable to start sexualizing her? I really don't see the correlation here.
Billie has the right to write about whatever she wants...
teenagers, including billie eilish, have every right to talk and sing about sexual topics bc as much as we love to… https://t.co/5i793YkIXR

— aj (@aj)1561341484.0
There's no excuse for sexualizing a young woman... Or
any
woman of any age, for that matter.
But, when discussing the topic, Billie has said in the past that she doesn't want to remain covered up forever.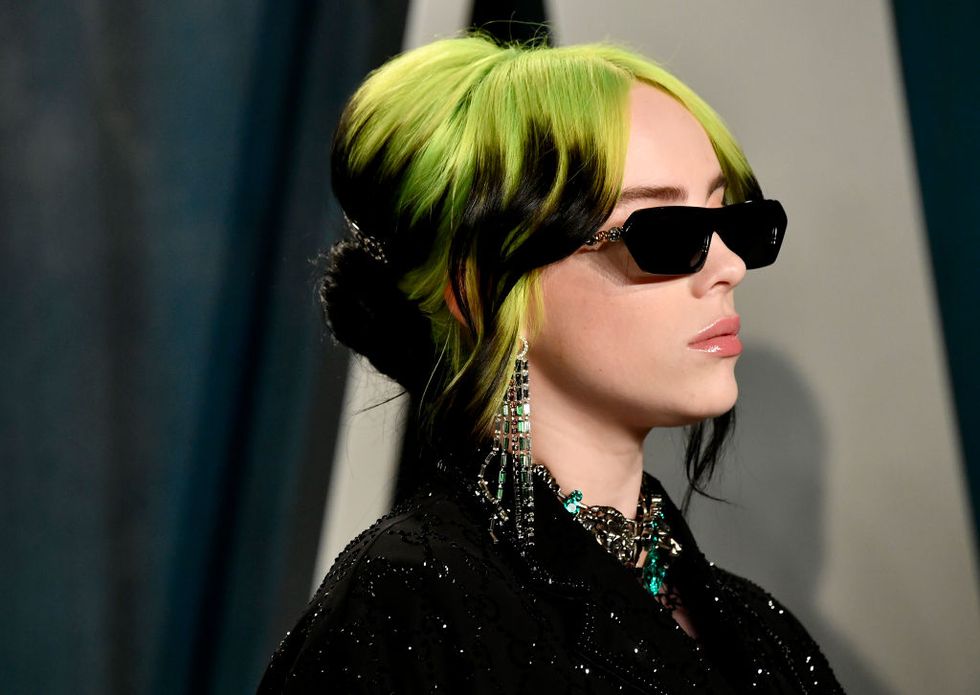 "I'm going to be a woman. I want to show my body," Eilish
told Elle
in an interview last year. "What if I want to make a video where I want to look desirable?"
She said that, upon turning eighteen, she wants the option to sometimes reveal her body.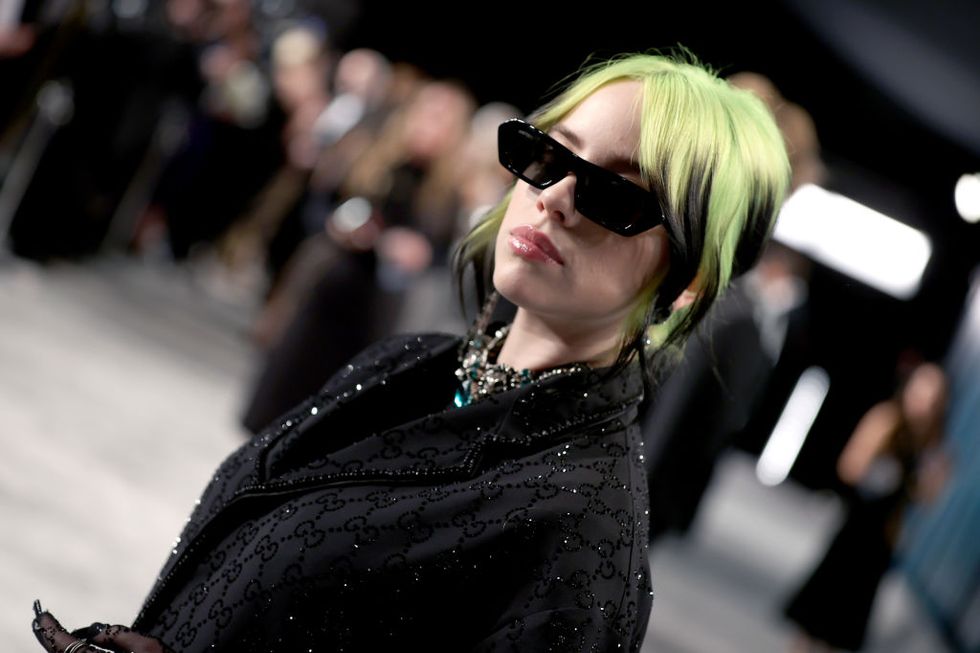 But she understands the repercussions a move like that could bring. "I know it would be a huge thing," she said in the interview, adding, "I know people will say, 'I've lost all respect for her.'"
Well, in December last year, the pop sensation turned eighteen.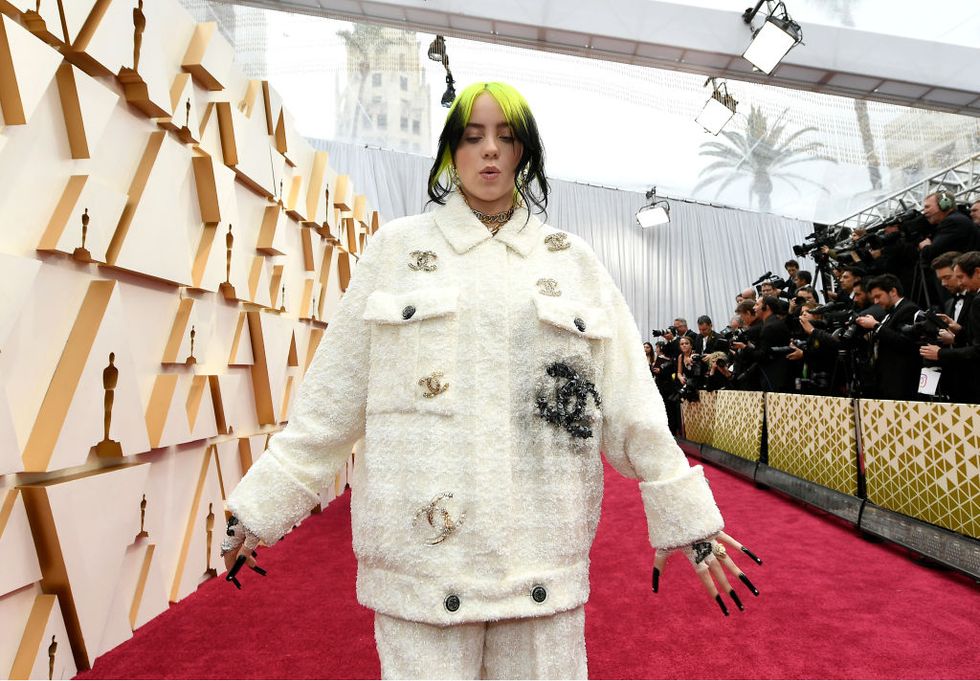 And we have been yet to notice any changes in her fashion sense and clothing choices.
The video was initially showcased during the interlude of her concert...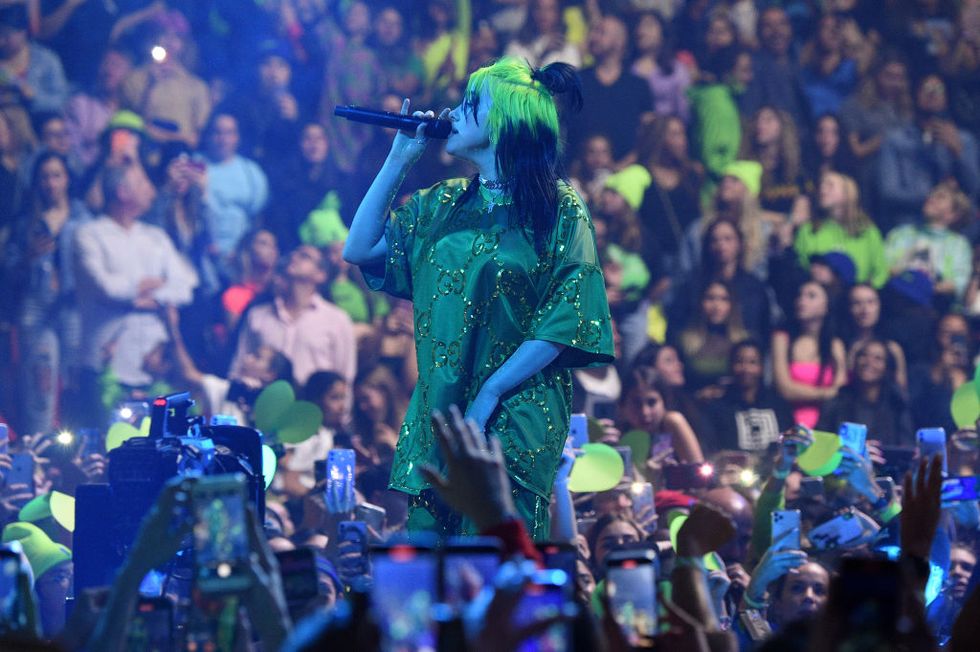 And showed Billie slowly taking off her clothes alongside a powerful message voiced by the singer.
In the video, Billie can be seen standing in an over-sized black sweater.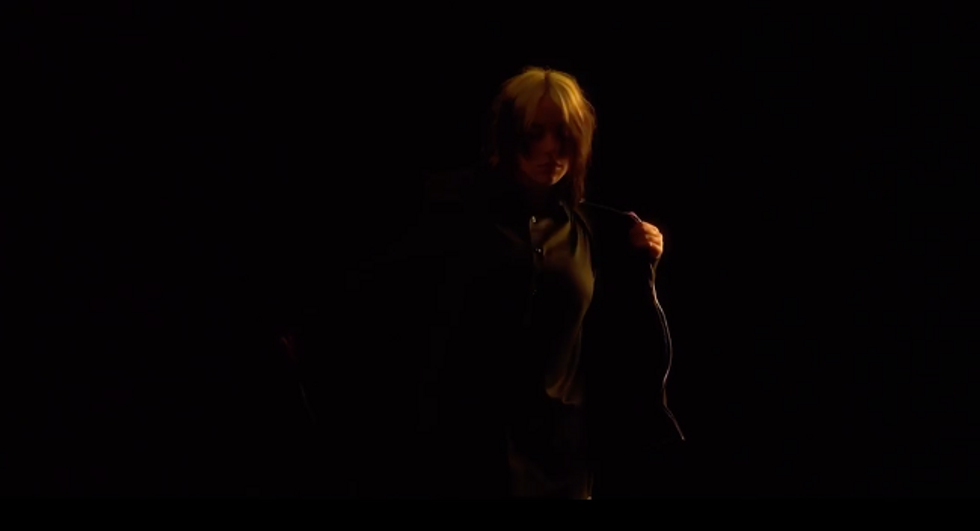 And, narrating the video, Billie's voice can be heard questioning everyone who has ever body-shamed her.
Billie then starts to slowly remove layers of clothing.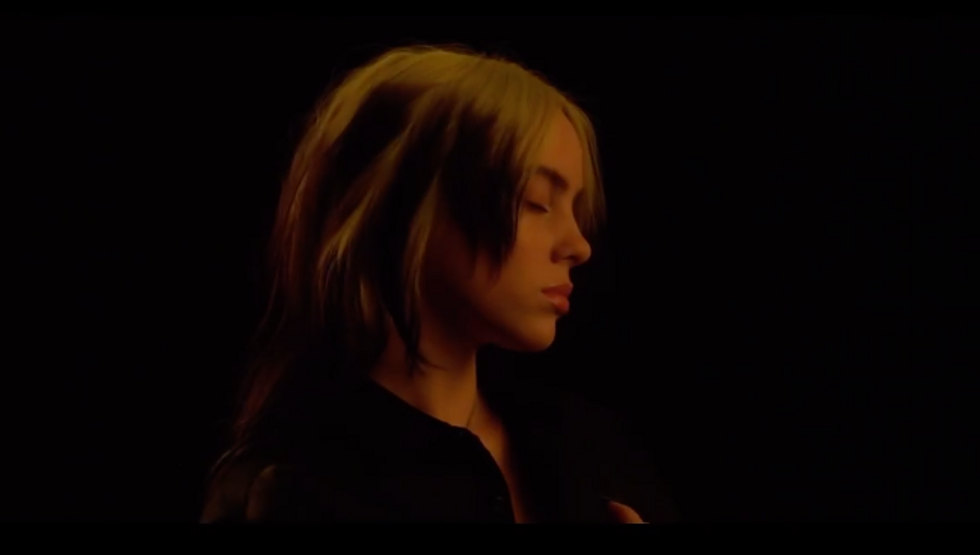 Her narration starts by saying: "You have opinions about my opinions, about my music, about my clothes, about my body."
Billie's speech moved on to discuss her own personal experiences with fame and body-shaming, as she said: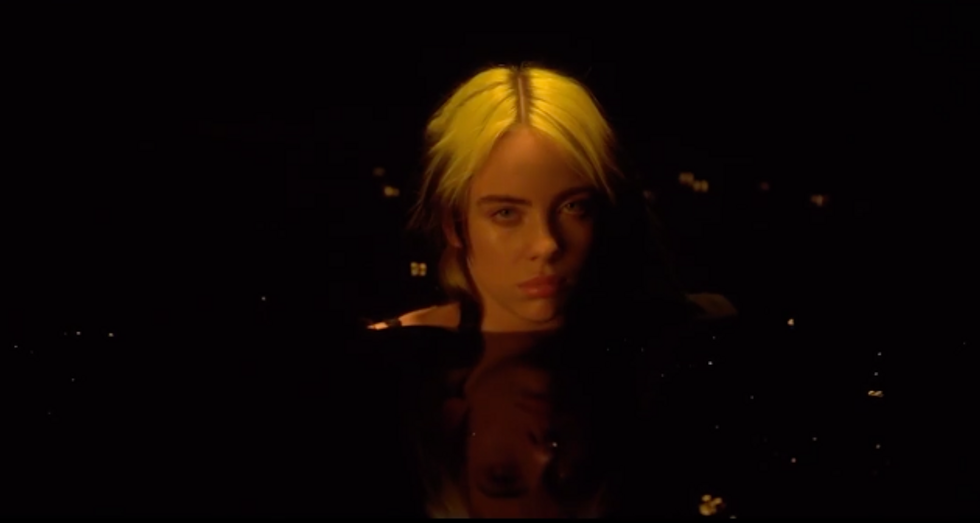 "Some people hate what I wear, some people praise it, some people use it to shame others, some people use it to shame me — but I feel you watching. Always, and nothing I do goes unseen, so while I feel your stares, your disapproval or your sigh of relief, if I lived by them, I'd never be able to move."
And, as she gradually removes more clothing and exposes her chest in a plain black vest, she questions: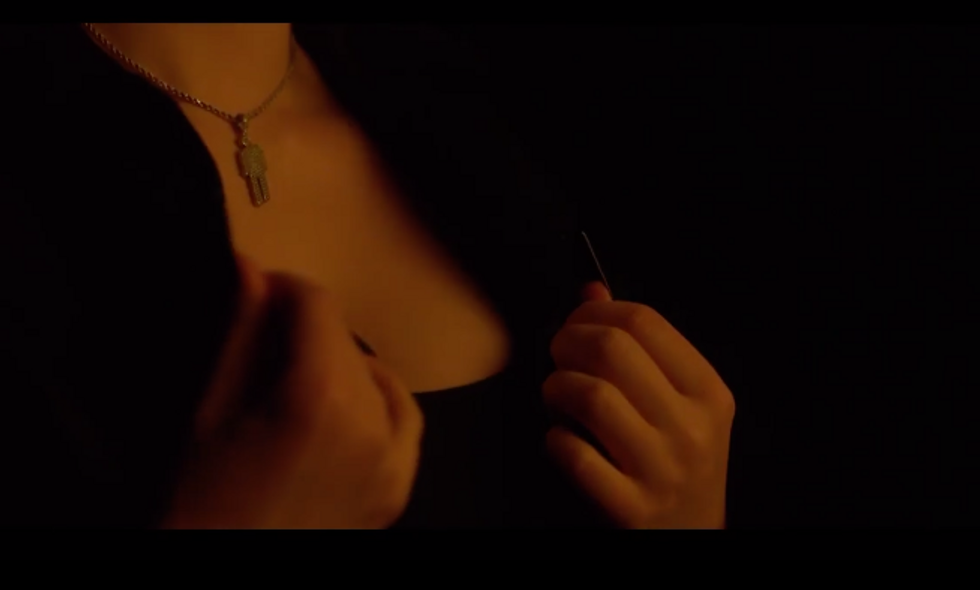 "Would you like me to be smaller? Weaker? Softer? Taller? Would you like me to be quiet? Do my shoulders provoke you? Does my chest? Am I my stomach? My hips?"
Billie's narration continues: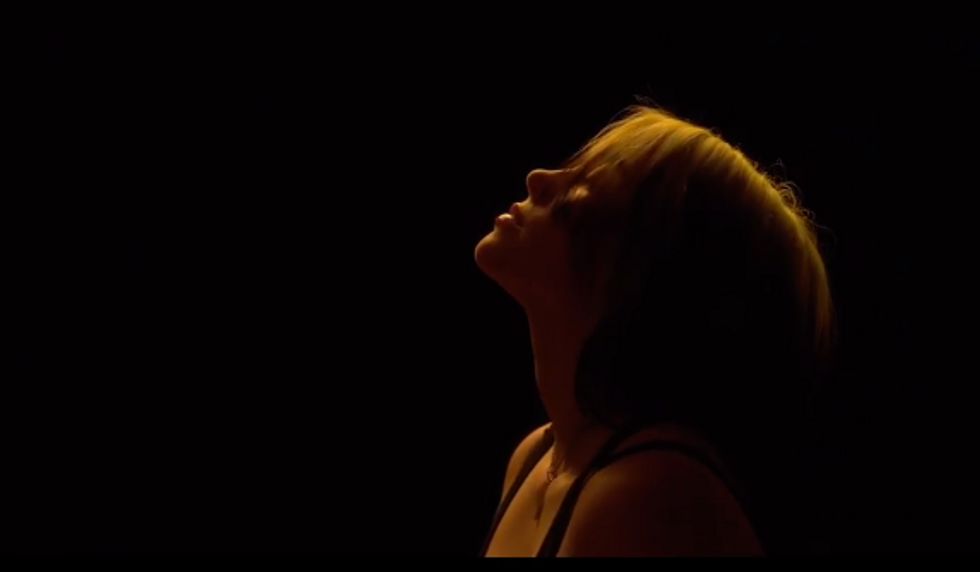 "The body I was born with – is it not what you wanted? If I wear what is comfortable, I am not a woman. If I shed the layers, I'm a slut. Though you've never seen my body, you still judge it and judge me for it. Why?"
"We decide who they are. We decide what they're worth."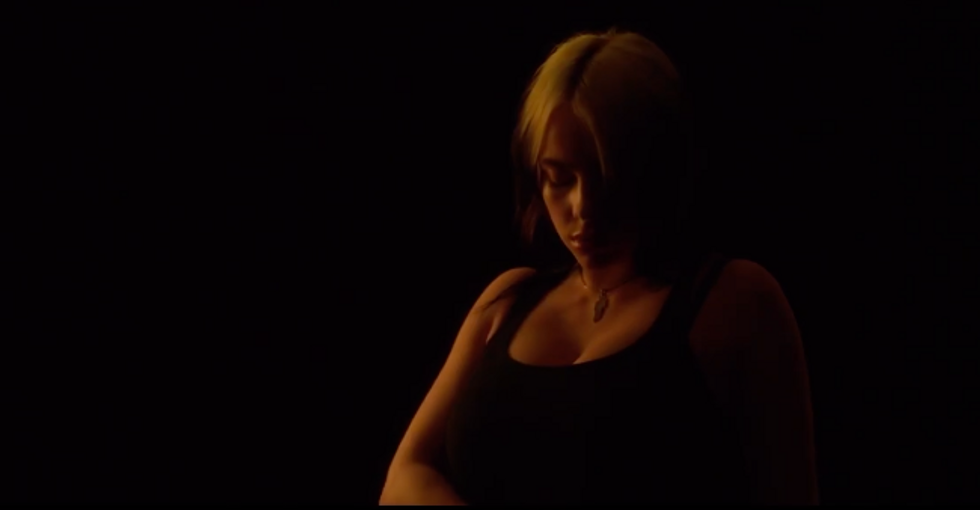 "If I wear more; if I wear less, who decides what that makes me? What does that mean?"
Billie can then be seen fully removing her shirt and standing motionless in a black sports bra.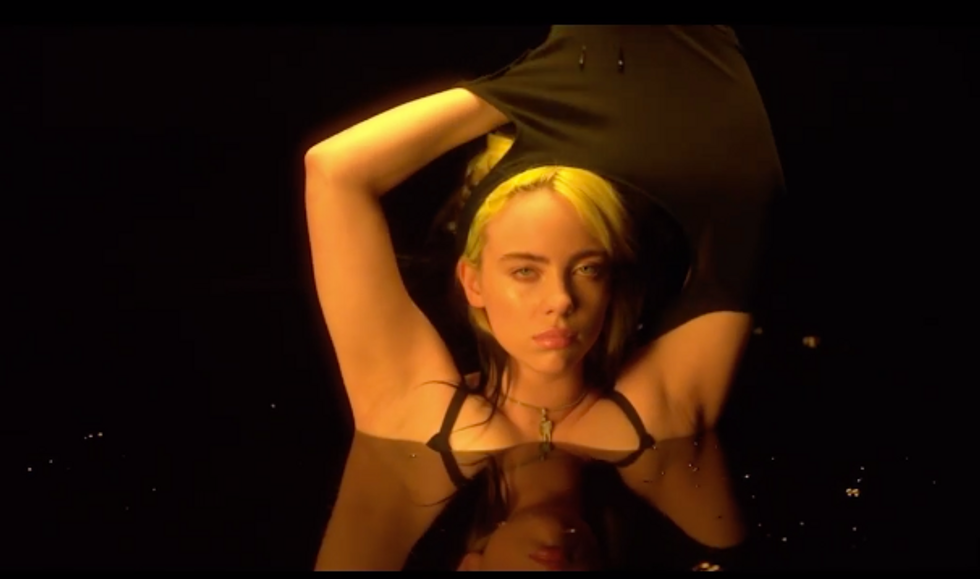 The video is drawn to a close with the simple questions: "Is my value based only on your perception? Or is your opinion of me not my responsibility?"
You can watch the full video here:
fantastic to see Billie taking ownership and control of her own body. While on the topic of powerful women, keep scrolling to read the stories of the fifty most iconic feminists…