Billie Eilish has recently started up another debate with her Nike shoes, similar to the one "The Dress" started all the way back in 2015.
Everyone's seeing different things, even her own dad.
What colors do you see?
You all remember "The Dress", right?
Give me back the time when this was all we had to concern ourselves with https://t.co/DjiP9r744D

— The Blindboy Podcast (@The Blindboy Podcast)1603036236.0
Back in 2015, a grainy photograph of a bodycon dress went viral after people couldn't decide what color it was.
Blue/Black or White/Gold?
@Rubberbandits Has this picture been tweaked or have my eyes changed? I'm seeing white and gold

— Dancing Ted Danson (@Dancing Ted Danson)1603036404.0
It was definitely white and gold, right? Well, that's what I saw anyway. However, thousands of other people thought it was blue and black?
But the controversy was cleared up by the retailers of the dress...
@CocoPhilips @Rubberbandits The internet is fucking with you... 😅 https://t.co/8GJyxNyuUI

— Lemonwilly (@Lemonwilly)1603039041.0
It was in fact, a blue and black lace bodycon dress, and a white and gold version was not available at the time. Now, the entire debate has been re-ignited by none other than Billie Eilish...
But this time, it's with a pair of Nike shoes.
And it's left the entire internet mind-boggled. Don't fret though, she's explained everything in a video where she pulled out all the receipts.
You've all heard of Billie Eilish, right?
She's been writing and creating her own music since she was incredibly young, and has risen to fame with her huge hit album When We Fall Asleep, Where Do We Go? that was released in March, 2019.
She's known for being somewhat of a quirky character...
Billie was home-schooled, so she didn't get the chance to interact with others of her own age apart from her siblings until she started to make waves in the music scene, which has given her something of a unique outlook on the world.
It also gives her music a different sound...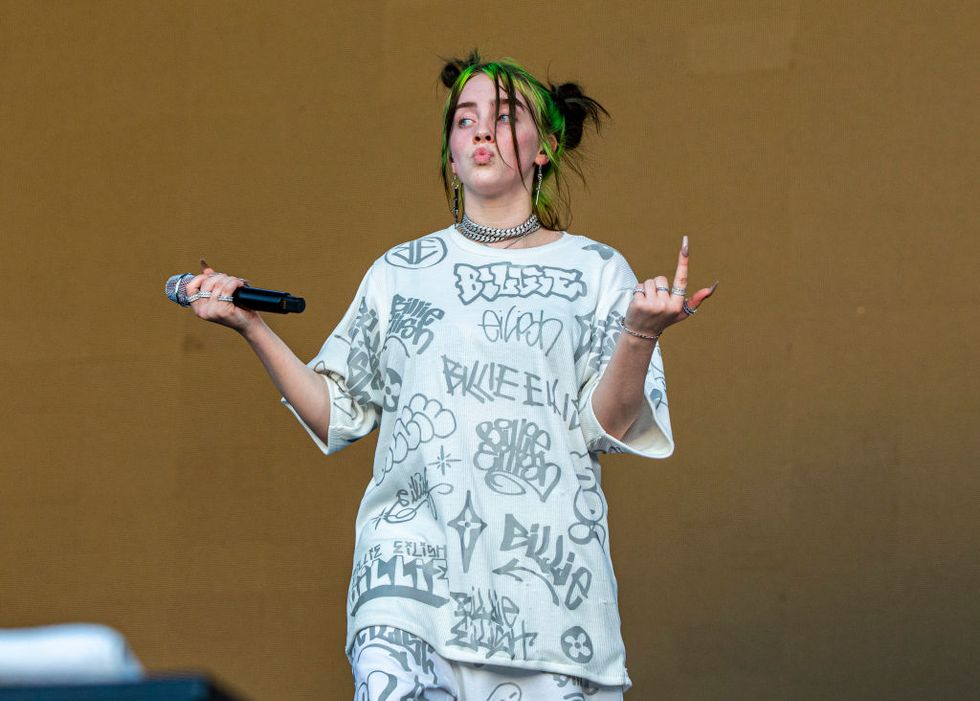 Many are pretty shocked that such a young person could create such
hauntingly catchy
tunes - and such suggestive lyrics.
Her debut album, When We All Fall Asleep, Where Do We Go?, ranked at number 1 in the charts.
Most artists have to release a couple of albums and dedicate their lives to promoting their work before they are even recognized as an artist, but then there's a lucky few, like Billie, who reach superstardom on their first attempt. When the album was released, she wrote, "This album [means] the world to me please take care of it."
But that wasn't even the first time that we saw her climbing the charts...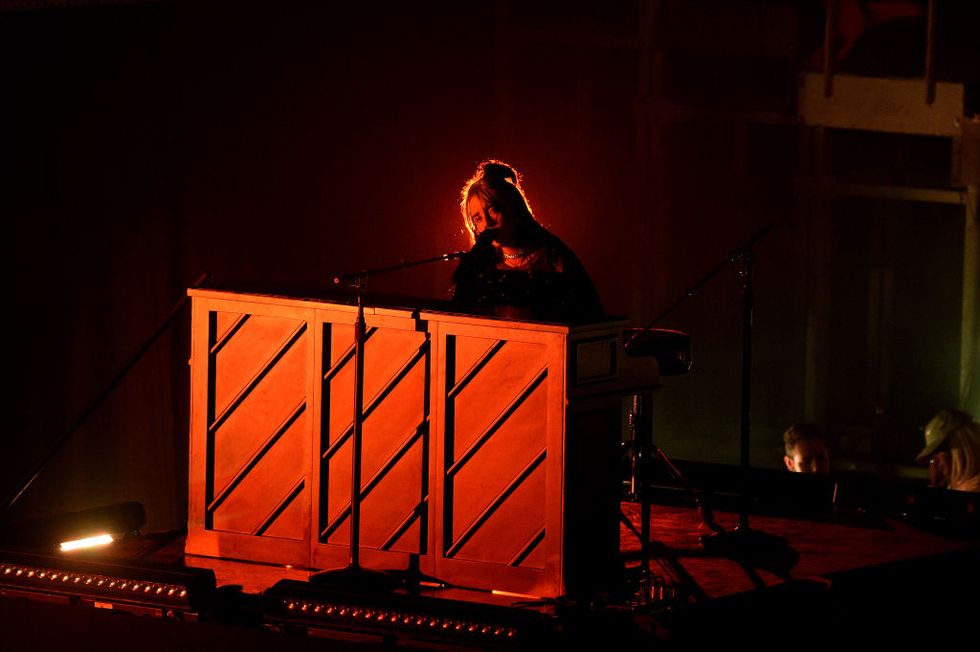 Her introductory EP, 
Don't Smile at Me,
 went all the way to slot fourteen, and has already been awarded gold, an achievement that many artists can only dream of receiving.
Her most recent single Everything I Wanted has been a huge success...
And we must say, it is an incredibly beautiful song.
But, it's safe to say, Billie is as famous for her image as she is for her music...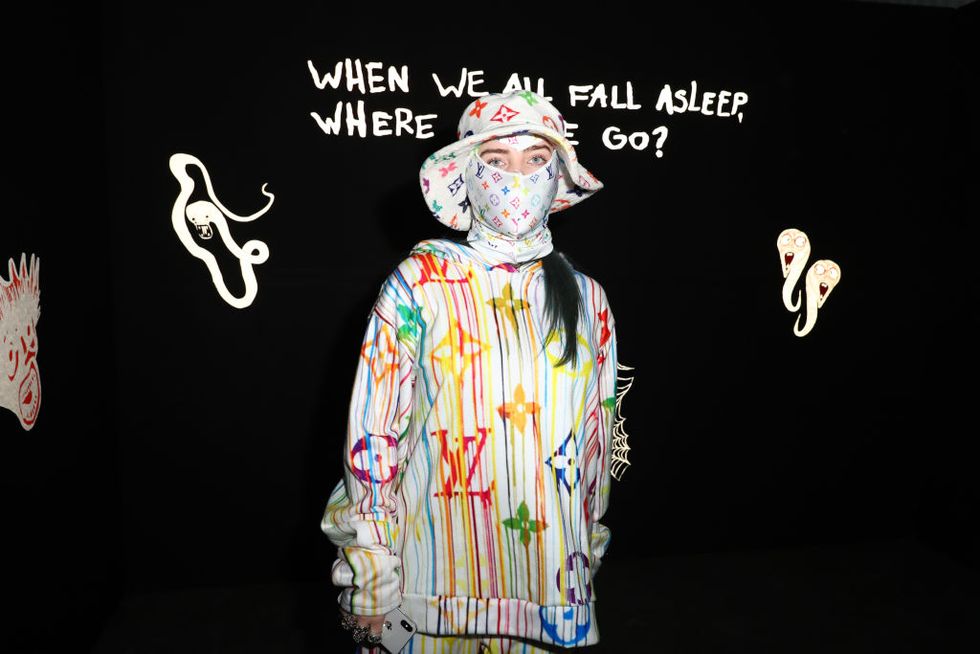 She doesn't dress like your typical eighteen-year-old girl, that's for sure.
She is known for rocking some pretty out-there looks...
Or what about this full green ensemble?
And Billie doesn't just experiment with fashion...
Her neon-green roots seem to have become her trademark...
Recently, her fashion choices have left us contemplating our lives.
During an Instagram Q&A, the singer was asked about what she thought of "The Dress", you know, the one we talked about before. And rather than picking from the two options, she had her own take on it.
She assured us that it was "blue and gold."
And she backed it up using her own anecdote, recalling a time when she bought a pair of trainers that her father thought were pink and white, but they were in fact green and white.
After she showed her fans on social media, she was left speechless...
As a lot of them actually agreed with her dad!
To say Eilish was shocked would be an understatement.
She posted a video in which she was holding up the shoes near her face to prove that they were in fact green and white, the colors she actually bought them in.
But we're not entirely convinced...
Because they do look pink and white, right?
Anyway, here she is, calling out her followers with the most hilarious facial expressions:
We've had the blue and black dress We've had yanny and laurel Now we got pink and white https://t.co/MfrSdgDgjk

— zig (@zig)1603007697.0
Keep scrolling to see why Billie Eilish got furious at someone's reaction to her taking her clothes off...