Things are getting pretty rough out there. Even after the President has advised all non-essential stores to close, there are still big companies who refuse to do this, putting the lives of thousands of workers at risk.
To top it off, one billionaire is keeping his arts-and-crafts chain open and refusing to pay sick leave because God told him to.
Keep scrolling to read more about his divine epiphany…
We're all stuck in a critical situation at the minute, which is worsening by the hour.

This is resulting in millions of people losing their jobs.

Resulting in workers getting laid off at a rate we've never seen before.

This surge in unemployment means more than a million workers are expected to lose their jobs by the end of this month.

State unemployment insurance offices are having a hard time keeping up with demand after thousands of people are coming to them for help.

This is the highest number of jobless claims in history since the Department of Labour started tracking the data in 1967.

Thousands of laid-off workers waited for hours on poorly staffed phone lines, looking for some kind of financial support so they could at least buy food or pay rent.

Last week there were so many people trying to file for unemployment benefits all across America, that the website completely crashed.

Hitting service workers hard, as restaurants, bars, and shops across the country shut up shop for the foreseeable future.

For workers, it's the uncertainty that's the frustrating aspect. No one knows how long the pandemic and economy lockdown will last.

Not officially being let go, but also not getting paid. While others are being forced to work in unsafe environments.

This allows people to keep their health care benefits, although they are not getting an income coming in.

The US arts-and Crafts chain Hobby Lobby has said it will remain open during the pandemic, despite not being classed an essential-business.

The Billionaire CEO David Green refuses to pay sick leave for workers who fall ill during this time. Do you think he understands what global pandemic means?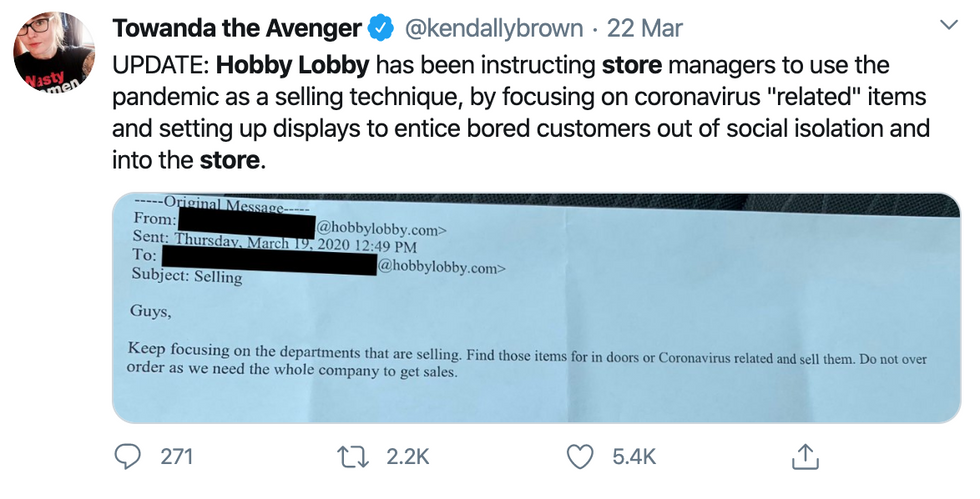 But in the states that have not ordered retailers to shut down, it will be business as usual.

Saying: "To help ensure our company remains strong and prepared to prosper once again when this passes, we may all have to 'tighten our belts' over the near future."


The devout Christian went on to say: "I cannot adequately express how much I appreciate each one of you." Maybe he could start by ensuring his employees' health is the main priority?

Saying that the business would "make every effort to continue working the employees," and that sick workers will be expected to use their personal paid leave or take an unpaid leave of absence.

Sure enough in the letter to his employees, Mr. Green wrote that when his wife Barbara prayed for guidance just a week before, "God put on her heart three profound words to remind us that he's in control: Guide, Guard, and Groom. While we do not know for certain what the future holds, or how long this disruption will last, we can all rest in knowing that God is in control."

At least someone is apparently in control.
Because it looks doubtful that anything will be going back to normal for a while. Keep scrolling to see how another woman interpreted the word of god to help a man in need…