Back in 2005, Donald Trump (the man who would become President of the United States of America in 2016), bragged about grabbing women by their genitalia. In 2016, he was elected President of the United States.
Then, in 2017, Trump denied he ever said it.
Thankfully, we have Billy Bush to set the record straight.
In case you've somehow managed to forget, Donald Trump was recorded talking about how he sometimes grabs women by the "p***y."
The tape was leaked just a few weeks prior to the 2016 election. At the time, Trump referred to the vulgar speech as "locker-room talk." These days, when we're inundated with stories of sexual harassment on an almost daily basis, that kind of comment might have ruined Trump's chances of being elected. But while the tape continues to haunt Trump, it didn't keep him out of the Oval Office. Billy Bush was also on the bus with Donald Trump. He's the other voice you hear on the tape. As a result of the leaked tape, Bush was fired from his job on the Today show. Trump was elected to the presidency. It's weird how life works out sometimes, right?
Although he originally owned up to (and halfheartedly apologized for) the disgusting comment, Trump has now denied that he ever said them in the first place.
New York Times
, Trump has apparently implied to both a senator and an adviser that it's not his voice on the 
Access Hollywood
tape. So just to recap: Trump said a horrible thing about women, then sort of apologized for saying it, then claimed he actually had never said it in the first place.
But over the weekend, Billy Bush spoke out on the authenticity of the "grab 'em by the p***y" remark.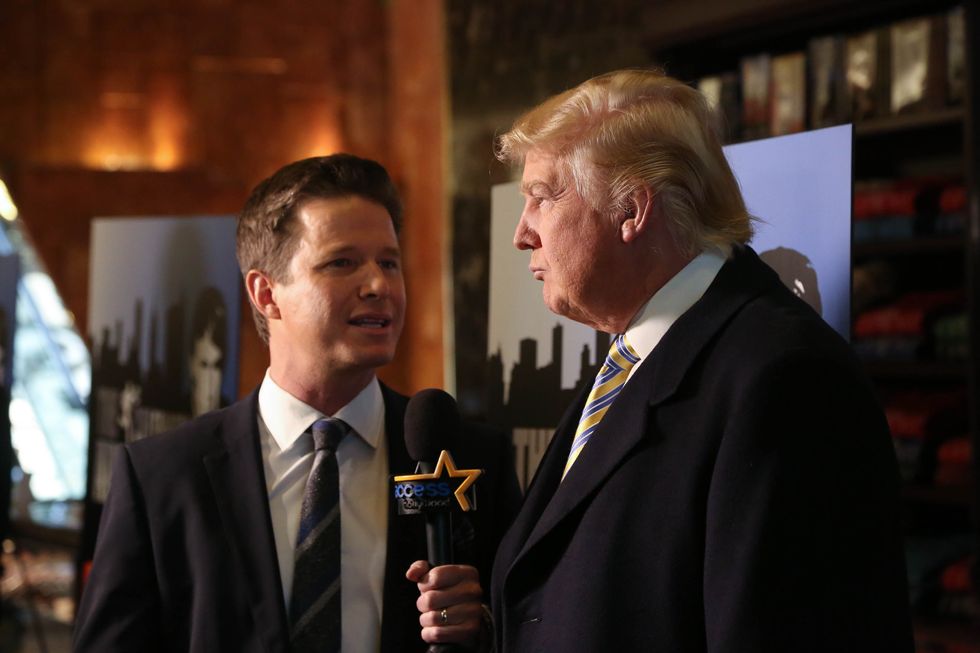 via: Getty
Bush published an op-ed in the New York Times
 titled simply: Yes, Donald Trump, You Said That. He writes:
"He said it. 'Grab 'em by the p***y.'
Of course he said it. And we laughed along, without a single doubt that this was hypothetical hot air from America's highest-rated bloviator. Along with Donald Trump and me, there were seven other guys present on the bus at the time, and every single one of us assumed we were listening to a crass standup act. He was performing. Surely, we thought, none of this was real.
We now know better."
"President Trump is currently indulging in some revisionist history, reportedly telling allies, including at least one United States senator, that the voice on the tape is not his," Bush wrote. "This has hit a raw nerve in me."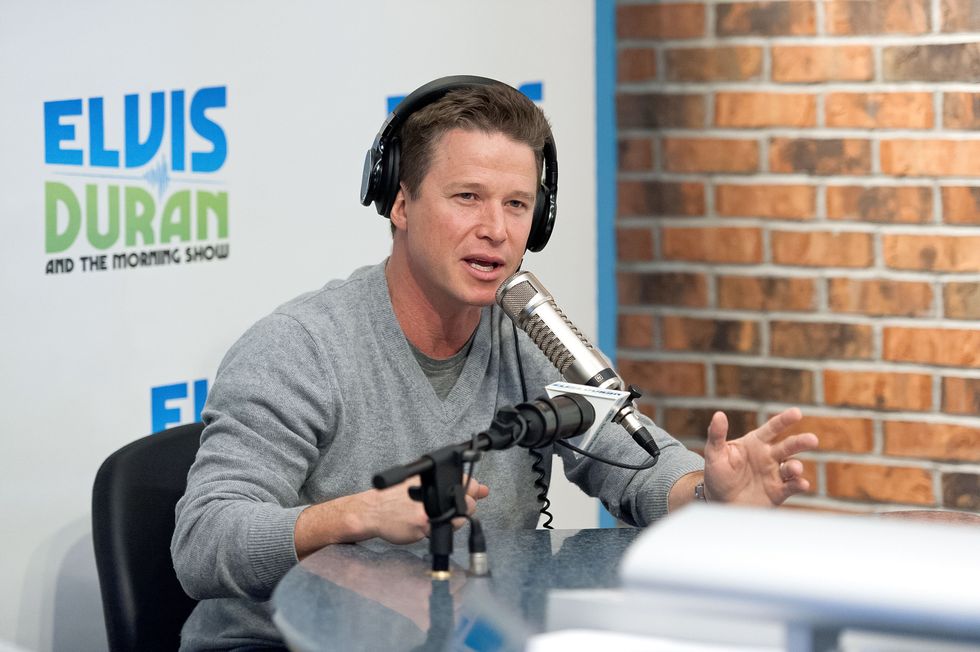 via: Getty
"I can only imagine how it has reopened the wounds of the women who came forward with their stories about him
,
and did not receive enough attention. This country is currently trying to reconcile itself to years of power abuse and sexual misconduct. Its leader is wantonly poking the bear."
"This moment in American life is no doubt painful for many women."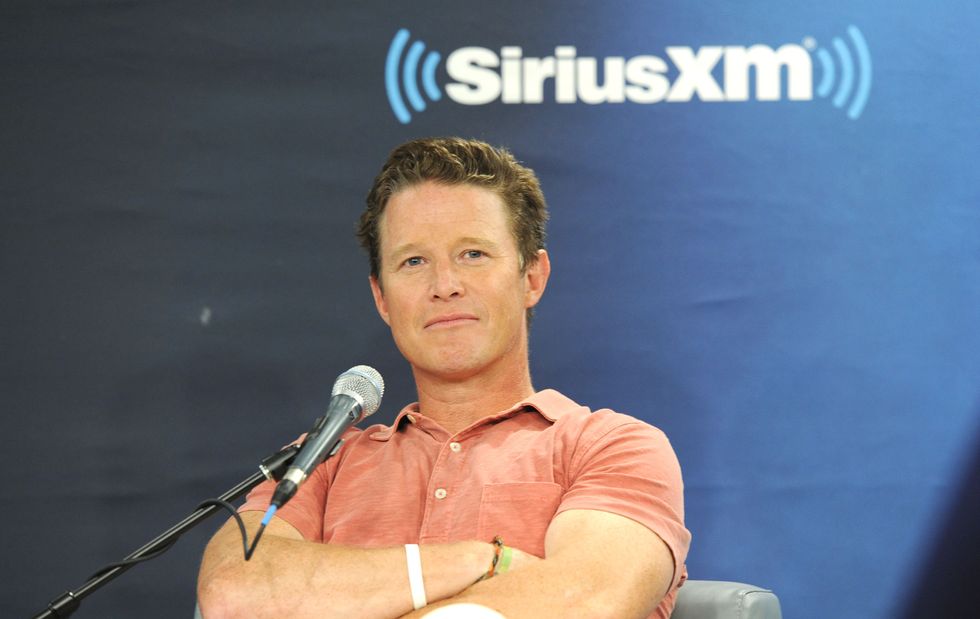 via: Getty
"It is especially painful for the women who have come forward, at the risk of forever being linked to one event, this man, this president of the United States. (I still can't believe I just wrote that.) To these women: I will never know the fear you felt or the frustration of being summarily dismissed and called a liar, but I do know a lot about the anguish of being inexorably linked to Donald Trump. You have my respect and admiration. You are culture warriors at the forefront of necessary change."
On the one hand, it's nice to see a man stick up for the women who Donald Trump mistreated (or threatened to mistreat). On the other hand...
We didn't really need Billy Bush to confirm the tape was real.
Billy Bush confirms to the world what he experienced is reality

— Clint Watts (@Clint Watts)1512357730.0
We all already knew it. If you for some reason couldn't tell just by listening to it, all you'd have to do is look at the president's actions and you could draw the conclusions for yourself. He has been recorded bragging about walking through women's dressing rooms. He's claimed that he "could have nailed" Princess Diana.  
He has joked about a woman not being attractive enough for him to sexually assault her
. He's been accused of sexually harassing and assaulting dozens of women. Of course he said, "grab 'em by the p***y." That's not even the worst thing he's ever said.
It's fine that Bush's op-ed exists, but it's ridiculous that we're living in a world where anyone thought it was necessary.
Anyone who doubted the comments were made by Trump is going to ignore the op-ed the same way that they ignore Trump's other racist, sexist, and otherwise problematic behaviors. But what's important is that most of us already know what Trump is capable of. We're seeing these things as they happen, and we're not falling for the tricks he uses.
Other people felt like Billy Bush's name being in the news this week was quite the throwback.
We've already done this! We already knew about the tape, we already knew it was Donald Trump, and we've already dealt with the fact that the guy got elected anyway. It's bad! The only new news we're interested in hearing about the Access Hollywood tape is that it's grounds for impeachment.
Maybe Billy Bush will take up the task of confirming whether everything we perceive is actually happening.
A sad sign of where we are now as a country is that we need Billy Bush to confirm our experienced reality

— Jess Dweck (@Jess Dweck)1512365539.0
In some cases, that might actually be useful. He could be like a human
Snopes.com
or something.
Don't let Billy Bush's op-ed distract you from everything else Trump has been up to lately.
Never forget...This weekend Billy. Bush called out Trump for questioning the validity of the Access Hollywood tape.… https://t.co/0tUPcTCm8P

— Lisa prendergast (@Lisa prendergast)1512393948.0
This morning,
Trump endorsed alleged pedophile Roy Moore for the Alabama Senate
. He also may have admitted to obstructing justice (via Twitter, of course. What else?). There's sure to be more. Stay vigilant out there, people.