A blind dad-to-be was recently given the incredible opportunity to experience his baby's twelve-week sonogram when his friend came up with an inventive, yet thoughtful gesture.
Keep scrolling for the full story...
Now, seeing a sonogram is undoubtedly one of the more exciting aspects of pregnancy.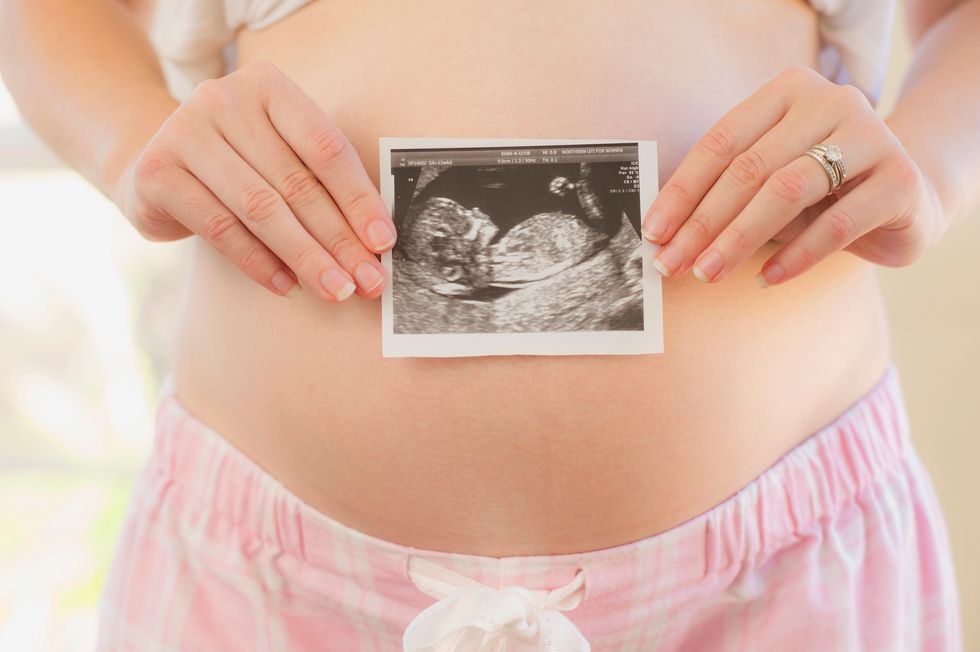 via: Getty
Getting that first glimpse of your child from inside the womb is a pretty magical experience, to say the least.
However, this is sadly not the case for every expectant parent.
For those moms or dads-to-be who suffer from sight-loss, the whole experience of sonograms can be somewhat heartbreaking.
These parents have to live with the fact that they will never see their children...
Let alone the exciting sonograms that come throughout the pregnancy.
But this week, one blind dad-to-be found a way around the issue...
via: Getty
And he went viral as a result.
Nathan Edge, from Chesterfield, U.K, is a vlogger and guide dog volunteer...
And just so happens to be blind.
Nathan was born with sight...
But, at the age of 6, he became visually impaired after getting arthritis in his knee. And, after 2 failed operations, he lost the vision in both his eyes aged only eighteen.
However, Nathan hasn't let his loss of sight stop him from living life to the fullest.
Not only is he a volunteer for the Guide Dogs For The Blind Association, but he also previously played for England's blind soccer team.
And now, he and his partner, Emma Fotheringham, are set to become parents for the first time in May...
But Emma was left heartbroken at the thought that Nathan would be unable to see the all-important twelve-week scan.
On becoming a dad, Nathan told local media:
"It is very exciting about becoming a dad, a little bit scary, but I am definitely excited. I have no sight at all so I was not able to see the scan photo and I missed out on that."
But, luckily for Nathan and Emma...
A thoughtful friend jumped to the rescue.
Emma worked with her friend, Deb Fisher, to create a unique way for Nathan to experience his unborn son's sonogram...
And the finished result is nothing short of spectacular.
On the idea, Emma said:
"A lovely lady Deb who is a local puppy walker for guide dogs dropped me a message. She said she was so happy for us both but sad that Nathan was unable to see our baby grow on our scan photos."
Deb then suggested making something so he could visualize their son...
Something like an embroidery. She continued: "She said she had never embroidered before but would love to try and embroider all of our scans for Nathan to enable us to experience the joy of our baby boy growing together."
The thoughtful creation was quick to go viral...
And people from all over the world were quick to applaud the gesture.
Here it is.
Incredibly, Deb had made an embroidered version of the twelve-week scan so that Nathan could feel it with his hands and build the image in his head. Nathan shared it on Facebook, writing: "How incredible is this. Received this amazing surprise today... it's a homemade embroidered tactile version of our 12 week baby scan, so for the first time as a blind dad to be, I'm able to build a picture of our baby scan through touch." What an amazing gesture! For more on the heartbreaking reality of blindness, keep scrolling to read about one dad's race against the clock to see his baby...