In the world of music royalty, we've always said that Jay-Z and Beyoncé are the king and queen. But if we're being totally honest, that might not be correct. They might be more like the prince and princess to daughter Blue Ivy's reigning queendom. She's the only person in the world (besides Sir and Rumi, someday) who can tell Jay-Z and Beyoncé what to do or what not to do, and that means she's practically all-powerful.
Blue Ivy has stolen the spotlight from her parents pretty consistently since the day she was born.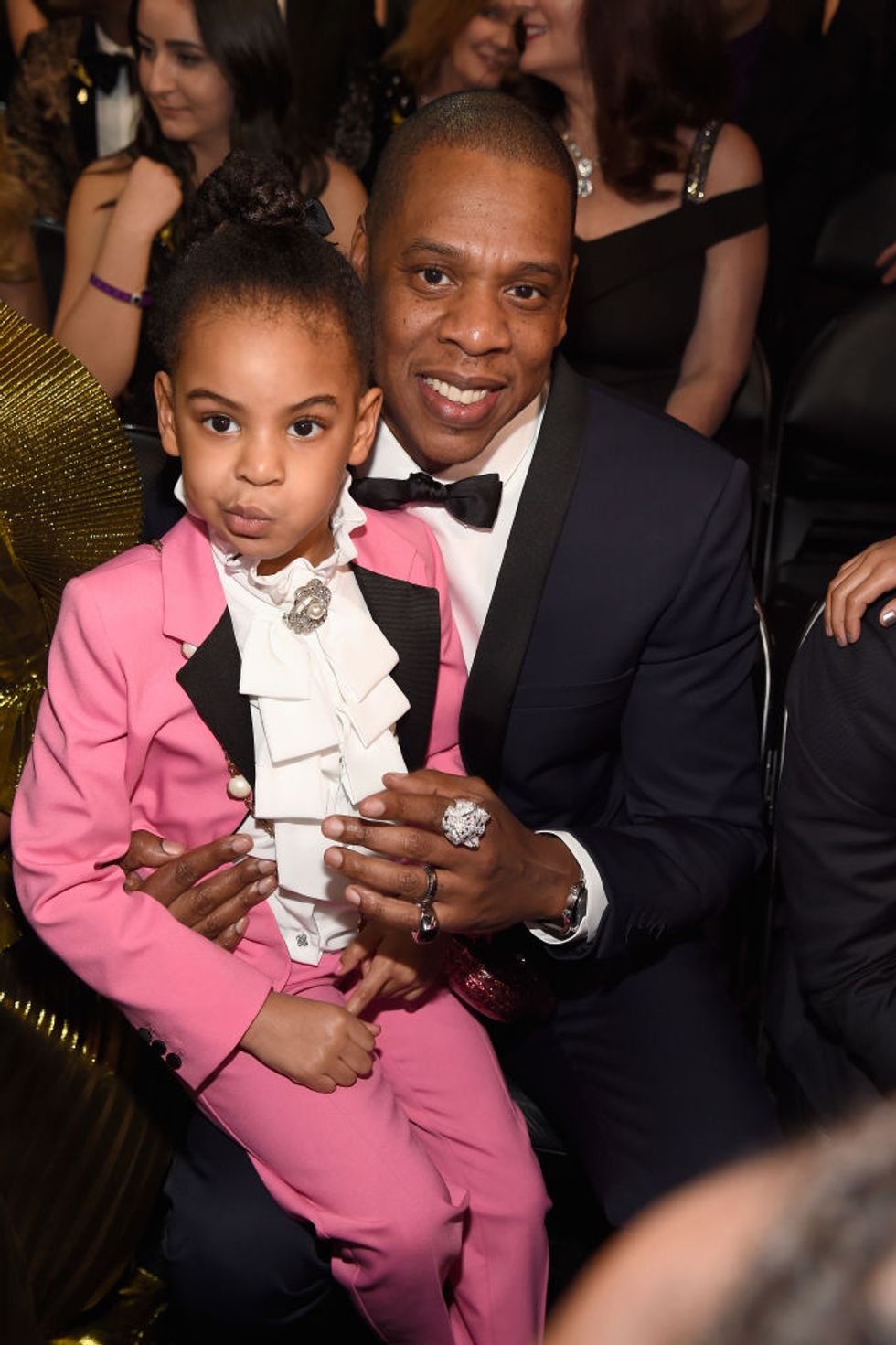 via: Getty Images
While she doesn't make a ton of public appearances, she's always beyond adorable and full of personality when she does show up at events. And the Grammys this year was no exception.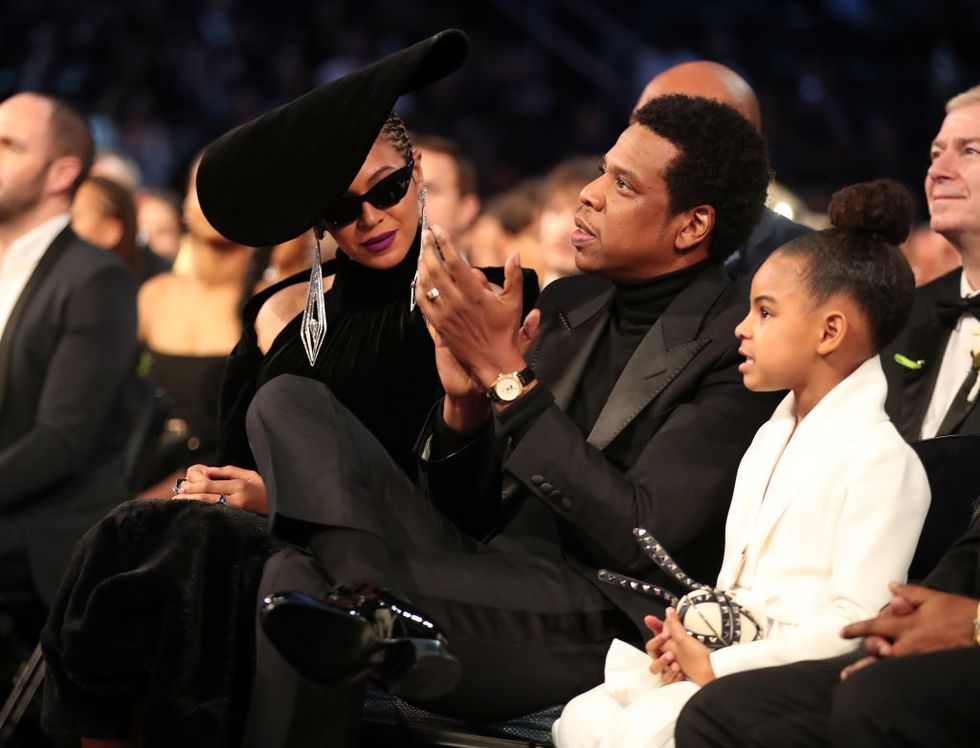 via: Getty Images
The whole Carter-Knowles family (minus the twins) graced the front row of the Grammy Awards, and they looked incredible. Beyoncé looked like pure royalty in her swoopy hat and Jay-Z classed it up in an all-black suit.
Of course, Blue Ivy stood out in her all-white getup. Not to mention, she looked adorably bored out of her mind for the vast majority of the broadcast.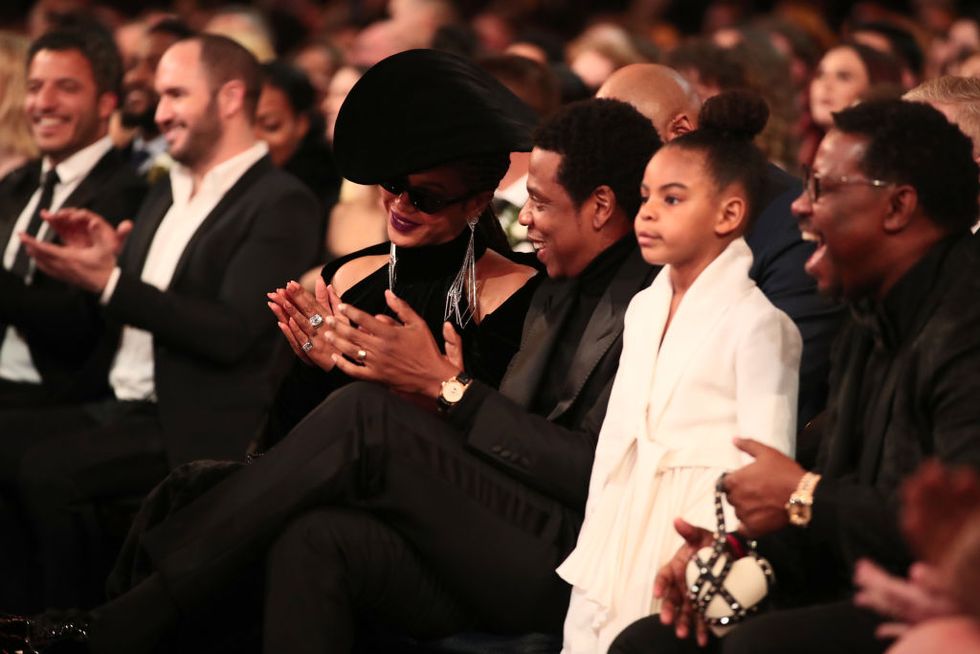 via: Getty Images
The best thing about little kids is that no matter how famous their parents are, they can only pretend to be having fun so much before their true feelings make their way onto their faces.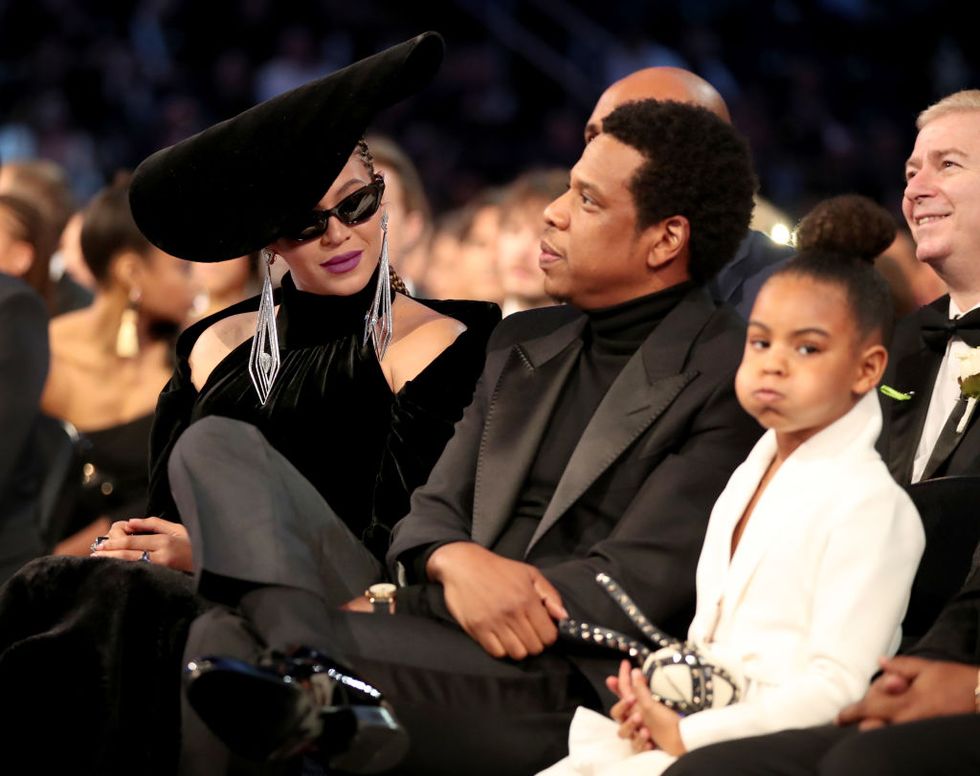 via: Getty Images
It's not like the Grammys wasn't full of fun moments, but Blue Ivy was noticeably bored. Girl just wasn't having it. And as you can see, there are the Getty photos to prove it.
Then, there was the beyond mindblowing moment where Blue Ivy actually shushed her parents (WHO ARE BEYONCÉ AND JAY-Z, IF YOU FORGOT):
Camila Cabello was in the middle of an impassioned speech about DREAMers and her own experiences as an immigrant to the U.S., and Blue Ivy was like, "Beyoncé, Jay-Z, mommy, daddy, no clapping. Shh. Shhhhhhh." Obviously, the Internet took notice pretty immediately...
It's like she was embarrassed by her parents or something...
Blue Ivy pulled a "calm down relax. it's not that serious" perfect stan twitter gif https://t.co/zdhx4tdCHh

— sabree (@sabree)1517194112.0
...which would be understandable, 
if her parents weren't Beyoncé and Jay-Z.
 But they are. Her parents are Beyoncé and Jay-Z. In case that wasn't clear. 
Blue Ivy was like "no no I will give the signal to clap" 😂 https://t.co/6BqLqutKYY

— Jasmine (@Jasmine)1517194042.0
Maybe Blue Ivy was just trying to be respectful to Cabello. She
was
in the middle of talking when everyone burst into applause, after all. Blue wanted her to finish!
cannot stop doing the Blue Ivy ssusshy-shussh to everyone/everything https://t.co/Rym8y9R7Rf

— nick grimshaw (@nick grimshaw)1517214424.0
Whatever the reason for the shushy-shush, Blue Ivy's move is now iconic, and I will never stop doing it. Except maybe if I ever meet Beyoncé and Jay-Z. Then I wouldn't dare.
Needless to say, Blue Ivy "controlling the clapping" was one of the most memorable moments of the night.
Summary. 1. Bruno Mars won 6 Grammys including Album and Song of the Year 2. Kendrick Lamar won 5 3. Rihanna did gw… https://t.co/Aq0XEGaJUj

— Akpene💞 (@Akpene💞)1517209096.0
She is officially an idol and scarily maybe even more powerful than her parents. 
Who are Beyoncé and Jay-Z, by the way!!!!!!
In conclusion, who run the world? Girls. Well, one girl in particular: Blue Ivy Carter.