You probably recognize Harvey Weinstein from the Oscars. The prominent Hollywood producer co-founded the movie production company Miramax, which has produced movies like Pulp Fiction, Clerks, and the Academy-Award-winning Shakespeare in Love.
For years, Weinstein's been a fixture in Hollywood. He's constantly rubbing elbows and being photographed with Scorseses and Spielbergs and Streeps. The guy is big-time.
Now, a bombshell report published by The New York Times on Thursday, October 5 has pulled the curtain back on this legendary producer. The report details decades of sexual harassment allegations. Women who worked with Weinstein in all capacities have come forward with countless instances of inappropriate behavior.
Employees and actresses alike have stories of Weinstein offering to boost their careers in return for sexual favors. Allegations of misconduct span over almost three decades.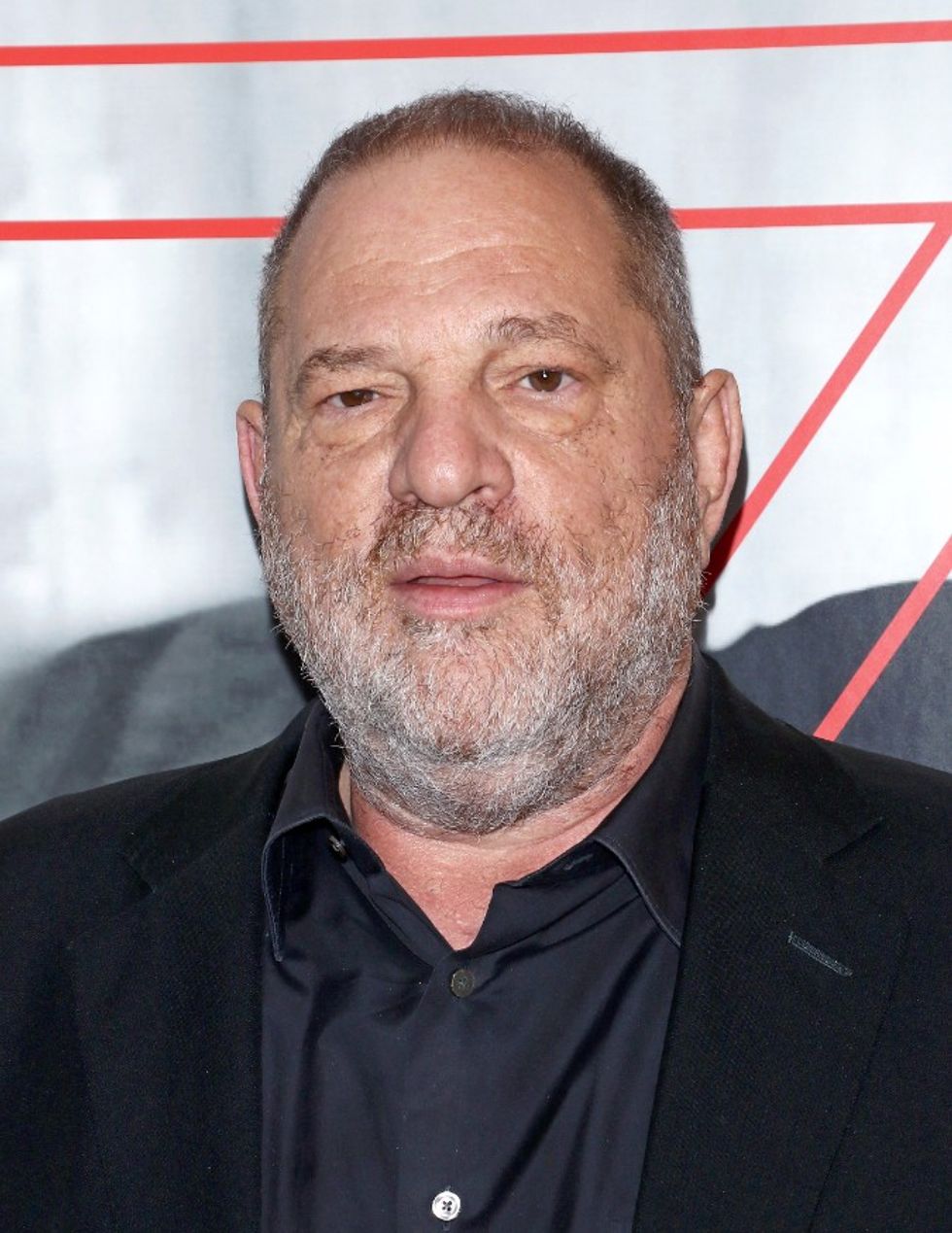 via: Getty Images
In interviews with
The New York Times
, eight different women described Weinstein's varying inappropriate behaviors: "appearing nearly or fully naked in front of them, requiring them to be present while he bathed or repeatedly asked for a massage or initiating one himself." Weinstein's misconduct has been an "open secret" in Hollywood for years. His disgusting behavior is only compounded by the fact that his immense power and others' complicity prevented these women from coming forward for fear of destroying their own careers.
In light of the report on Weinstein, writer Anne T. Donahue asked women on Twitter to share the stories of their own personal Harvey Weinsteins.
When did you meet YOUR Harvey Weinstein? I'll go first: I was a 17-yr-old co-op student and he insisted on massaging my shoulders as I typed

— Anne T. Donahue (@Anne T. Donahue)1507229505.0
The responses were overwhelming. Every woman who answered had a horrific story of sexual harassment perpetrated by an older man in a position of power.
Donahue's own story is chilling.
He was my boss at a radio station and liked to me things like why "girls my age" liked giving blow jobs and not having sex. A GREAT TIME.

— Anne T. Donahue (@Anne T. Donahue)1507229597.0
We live in a society that makes it so difficult for women to come forward with stories of sexual assault. If you find yourself asking why Donahue or the actresses working with Weinstein didn't say something earlier, think about how many excuses we as a society have made for men like this. Bill Cosby, Woody Allen, Casey Affleck, Roger Ailes, Harvey Weinstein, and countless others still had careers for years after their behavior was widely known.
Often, the men who behave like this take advantage of their position of power over the women they harass.
@annetdonahue The general manager of the country club I worked at came up to me when I was alone to tell me I looke… https://t.co/OAO5EmUuCq

— av clark (@av clark)1507241423.0
One-third
of women have been sexually harassed in the workplace, according to a 2015 survey by Cosmopolitan.
Seventy-one percent
of those women didn't report it. The statistics are staggering.
The stats surrounding sexual harassment mean that you most likely know someone who's been mistreated this way.
@annetdonahue High school science teacher, 10th grade, would make all the girls sit up front, comment on clothes/lo… https://t.co/zGADO9d3N0

— Danielle-Oh-El-Oh-El-Oh-Ey-Ey-Ey (@Danielle-Oh-El-Oh-El-Oh-Ey-Ey-Ey)1507255244.0
There are occasional stories of teachers and students engaging in inappropriate sexual conduct, but there are countless unreported stories like the one above, of teachers making offhand comments or making girls uncomfortable in their classrooms. This is a fact of life for so many women.
Bosses and teachers aren't the only types of men who behave this way.
@msmacb @annetdonahue @RahRahRaina He was a popular congressman who wouldn't answer my reporter's questions unless… https://t.co/Clf0SYagyP

— Christina Wilkie (@Christina Wilkie)1507258449.0
As we know, male politicians aren't the most...upstanding group of guys out there. We knowingly elected a president who likes to grab women "by the p***y." That's how you know this problem is institutional. 
That
is why women don't come forward sooner. Because we simply do not care enough.
The responses to Donahue's original tweet numbered in the thousands and the stories shared are absolutely heartbreaking.
@annetdonahue Ice-skating instructor when I was 12. Years later he was arrested and charged with raping several of his students.

— andi zeisler (@andi zeisler)1507233868.0
But one thing these stories aren't, unfortunately, is shocking. Women from every single walk of life have dealt with sexual harassment on varying levels. It's a fact of life.
And while it's not shocking to hear these stories anymore, it's still beyond disturbing.
@annetdonahue When I was 10 ... an uncle by marriage.

— Baguette (@Baguette)1507232851.0
We have to make it safe for women to come forward when men sexually harass them. We have to make sure that men don't get away with assaulting young girls who are in their own family.
It became increasingly clear in this thread that there is no safe space for women.
These stories happened in workplaces, classrooms, ice rinks, and doctor's offices. They happened in these women's own homes.
Sexual harassment happens all the time.
@annetdonahue Oh boy, in the tech world, I'd say about 1 in every 3 dudes I interacted with was some version of Harvey Weinstein.

— Alex (@Alex)1507229912.0
We must make it OK for women to speak out. We must teach men to be better. We must keep sharing these stories.