Award winning actor, director, writer and global heartthrob, we didn't think our opinion of Bradley Cooper could get any higher but we are more than happy to have been proven wrong. It has recently been revealed that the A Star Is Born star went above and beyond to help one of his co-stars in his time of need whilst filming the first instalment of The Hangover.
In an interview with Entertainment Tonight, Ken Jeong, aka Mr Chow, explained how Bradley had helped him get through the most difficult time of his life when his wife Tran Jeong was recovering from breast cancer.
Bradley Cooper is one of the world's highest paid actors.
He even recently made his directional debut in A Star is Born which grossed over $421 million worldwide.
But even the biggest of stars have to start somewhere.
You may remember him making an appearance in Sex and the City way back in 1999. Could he look any sexier with that cigarette hanging out of his perfectly formed, kissable mouth?
He then went on to play a supporting role in The Wedding Crashers alongside Vince Vaughn.
We are not sure we like Bradley as the villain of the piece especially when said bad guy is a preppy a-hole. But at least we got to see his talent as a comedic actor.
But his acting breakthrough was definitely playing teacher Phil Wenneck in The Hangover.
And it was whilst filming this masterpiece of comedy gold that he met Ken Jeong aka Mr Chow.
Who could forget the moment we were first introduced to Mr Chow? 'I shoot him and I shoot all you mother f*uckers. Your choice bitches.' 
And of course it was love at first sight, even though he was one crazy-assed b*stard.
What's not to love about a mentally deranged, drug lord/addict with an international crime ring? And at least he makes the effort to make new friends.
Believe it or not, Ken Jeong was pursuing a career in medicine before his acting took off.
Ken is a licenced physician and actually completed his internal medicine residency at Ochsner Medical Centre in New Orleans while he was trying to make a name for himself on the comedy scene.
He was a regular face at open mic nights in Los Angeles.
Ken often performed at Charlie Goodnights in Raleigh and Tootie's Durham Comedy Club. He was, and still is, a natural performer who the audience just seem to instantly connect with.
Which led to him appearing in a variety TV shows including NBC's The Office.
He also appeared in HBO's Entourage and Curb Your Enthusiasm with the same energy and comic talent that we love him for today.
But it was his film debut in Judd Apatow's brilliant comedy Knocked Up where he really made his mark.
Cast as Dr. Kuni, the replacement doctor for Ben and Alison, he shocked the audience with his honest and graphic explanation of what Alison could expect when she gave birth. Not to mention his very real anger at having to leave his wife mid coitus to come and deliver their baby.
And from then on there was no looking back.
Ken made the brave decision to turn his back on his medicine career and give acting a go full time. Mostly due to the encouragement from his wife, Tran Jeong. And boy are we glad he did.
Over the years, Ken has never failed to make us laugh.
Ken Jeong Cracks Christmas
which was b
roadcasted on Buzzfeed's YouTube channel last Christmas, with Ken showcasing his love for this holiday by exploring a variety of Christmas traditions with hilarious results.  
However his personal life has not been without its challenges.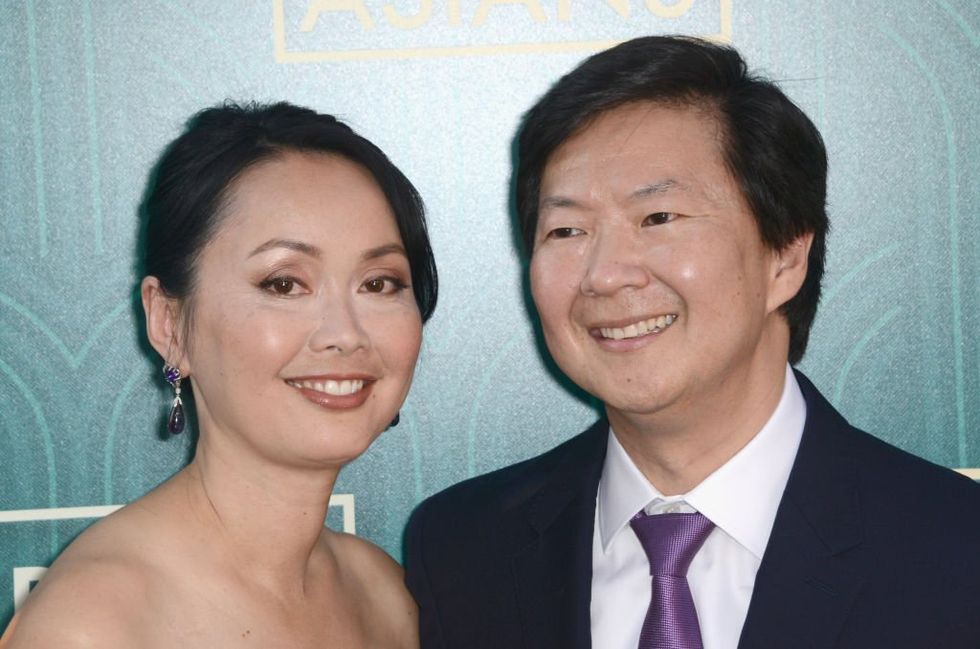 via: Getty
In 2008, Ken's wife Tran, also a licenced doctor, was diagnosed with breast cancer. Tran had found a lump in her breast whilst she was breastfeeding the couple's twin daughters Zooey and Alexa.
And to make things even worse for the couple...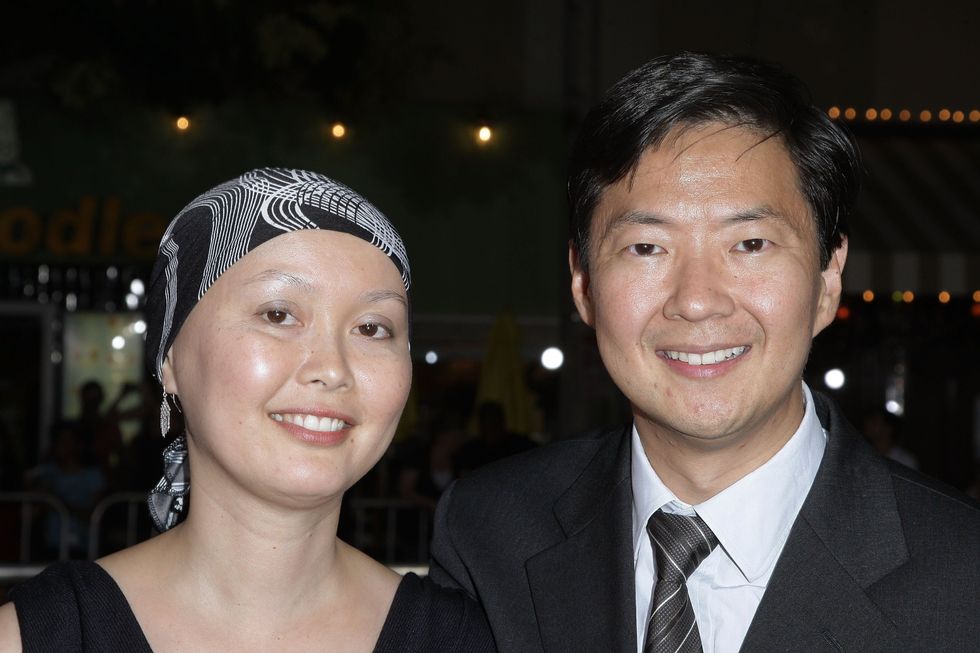 via: Getty
Tran was in the middle of undergoing chemotherapy treatment when Ken landed his career-changing role as Mr Chow in
The Hangover.
But thankfully Ken found a friend who would go above and beyond in fellow actor Bradley Cooper.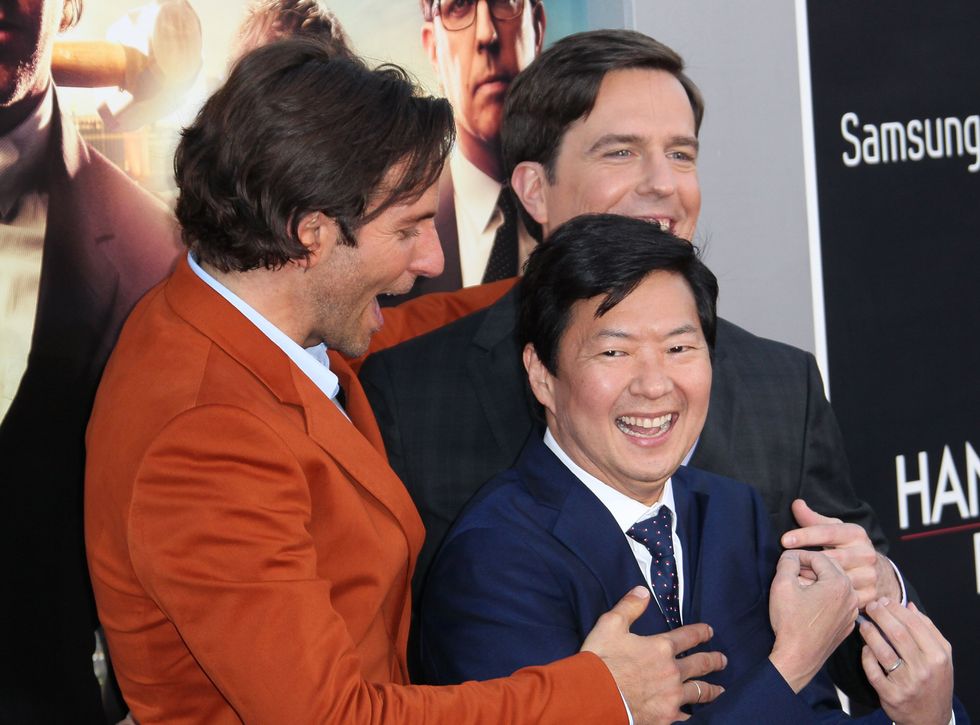 via: Getty
Tran was in recovery and too weak to travel when the cast were filming in Las Vegas but Bradley took it upon himself to drive Ken from the set to Los Angeles so that he could be with his wife.
In a recent interview, Ken spoke candidly about how Bradley helped him through this dark time.
He even shared how Bradley invited him and his wife into his home.
Tran was still recovering from treatment in L.A during the holidays so Bradley extended a warm welcome to both her and husband Ken to spend it with him. Clearly his hospitality and generosity knows no bounds.
Hard times separate good friends from the bad.
You know who your real friends are when the sh*t hits the fan. Any old acquaintance will be happy to be by your side for the good times but only a true friend will be with you when you need them most. Especially when you don't even realise you need help.
Laughter really is the best medicine.
The fine needle to thread in terms of comedy is to try and find light where there is darkness.' We are 100% sure that you were the light in your wife's darkness, Ken.
He had previously explained how he channelled his anger into playing Mr Chow.
As timings go, this was up there with the worst, but Ken made the best of a bad situation and used the anger from his wife's diagnosis and subsequent treatment to fuel Mr Chow's rage in the film. We have to say it worked brilliantly. Mr Chow sh*t us right up.
Thankfully after The Hangover had finished filming, Tran was declared cancer-free.
A story like this kind of restores your faith in humanity, doesn't it?
beautiful and heartbreaking and heartwarming all at once. https://t.co/uvrb67h7Or

— Kimmy The Pooh (@Kimmy The Pooh)1550260280.0
With all the negative stories that come out about Hollywood and the nature of actors and actresses relationships with each other, it is a breath of fresh air to finally hear a nice one!
As if we expected anything less from Mr. Cooper.
You da man, Bradley. You definitely da man. https://t.co/kO0Z8DUdbq

— Malcolm P. Johnson (@Malcolm P. Johnson)1550291493.0
Good looks, charm and a heart of gold. Why oh why can't you be single? Not that we could ever compete with a Russian supermodel.
Another example of his kind heartedness.
Just another reason to love Bradley Cooper. ❤️ Bradley Cooper helped Ken Jeong and his wife while she fought cance… https://t.co/0Yv6FKvm0D

— Rusty Goat (@Rusty Goat)1550430329.0
Bradley relocated to Los Angeles with his mother following the death of his father from lung cancer in 2011. He has since supported several organisations that help battle against cancer.
Let this be an inspiration to us all.
A kind act can go a long way to support a #caregiver. Need ideas? Take a note from Bradley Cooper... give someone a… https://t.co/yGHlF3BrJx

— Jeanine Yonashiro-Cho (@Jeanine Yonashiro-Cho)1550338076.0
Often those that need help the most are the ones that don't ask for it. If you see someone who appears to be in turmoil, speak to them, ask them what is wrong and if possible offer your help.
And of course, any excuse to stick two fingers up to cancer.
This horrible disease affects 12.7 million Americans every year with 7.6 million dying annually. Any survival story should be celebrated.
Ken has recently returned to stand-up with his new comedy special Ken Jeong: You Complete Me, Ho.
Let's check out the trailer while we're here.
We think this is definitely worth a watch on Netflix. We personally can't wait until we are rich and successful enough for our parents to stop lecturing us and start asking for handouts.
Finish on a high with a collection of Mr Chow's best quotes.
Because he would want us to always remember to keep on laughing even in the face of adversity. Enjoy.