For many brides, the ideal big day is a pretty big deal. Since childhood, some women have been meticulously planning every last facet of their wedding days, from the venue right down to the dress. And wedding dresses are no joke - often, the once-worn item can cost well into the thousands. Ouch.
But one woman from York, UK, decided to buck the typical bridezilla trend. She found her dream dress in the unlikeliest of places - a humble thrift store. Once she tried it on, she immediately knew that it was the one - and the rest of the internet agrees that she looked gorgeous.
A wedding day should be one of the most special days in your life.
For some people, having the perfect wedding means setting yourself and your partner up for a perfect marriage. And though this is not necessarily the case, it does explain the intense pressure that's often put on the big day.
Stereotypically, it tends to be the bride who takes on most of the responsibility.
While hubbies-to-be tend to take on a more relaxed attitude in terms of their big day, brides tend to have more specific ideas about how to make their wedding extra special.
This has led to certain brides earning a less-than-favorable reputation.
There's a common stereotype of the "bridezilla" - defined by
Urban Dictionary
as "A woman who has become so possessed and obsessed with her wedding plans that she has merged into a hybrid events/catering/ambiance driven monster. Stopping at nothing to create 'her perfect day.'"
And there's one area that this can tend to center around.
A bride's choice of wedding dress is something that will always be something of a contentious issue. For someone who's been planning their wedding since their childhood, there's no bigger decision (except for maybe the husband).
But finding the perfect dress isn't always easy.
Wedding dresses are notoriously pricey, and trying to save money on one can be a tricky experience. Many flood sample sales in order to fight other brides for their perfect gown.
Many think that wedding dresses are just a necessary expense.
But there are many ways that people can save cash while still ending up with a gown that they love. After all, money can't buy happiness, and spending a lot of it won't necessarily guarantee great results.
One excellent way to find a bargain is to check out a thrift store.
Not only do thrift stores re-sell used clothing at a fraction of the original price, but they also save clothes from going into landfill, making them a far more eco-conscious way to shop.
And one bride decided to think outside of the conventional routes when purchasing her wedding dress.
Cat Wilkinson, a twenty-nine-year-old senior education lecturer from York, UK, thought outside of the box when she was searching for her perfect gown - with stunning results.
Cat married her boyfriend of five years in a ceremony earlier this month.
The ceremony, pictures of which she shared on Facebook, looked really stunning - with a traditional English summertime vibe.
But slightly less traditional?
The story of Cat's gown, which she also shared on Facebook. "It was a charity shop on two floors and I was upstairs. [I] phoned Mike to tell him not to come up while I tried something on and to ask if the shop volunteer could come up to take a photo. I bought the dress there and then for the small sum of £35 [around $44]."
The whole story is pretty magical.
"On the day that Mike proposed to me, he took me for a night in York," Cat shared. 'The next day I was looking in the charity shops (as I often do) and saw the dress on one of the rails."
Cat was thrilled when she made her discovery.
Speaking to the
Metro
, she shared, "When I first saw the dress hanging on the rail I couldn't believe it, I loved the lace design and it was bright white. I had often spoken to my sister and friends about my dream wedding dress (long before the proposal) and my key criteria were long sleeves and a high neck."
Here's the initial photo that Cat posed for.
"I never expected the dress to fit me – my main reason to try it on was to see if the image of what I wanted that I had in my mind for so long was correct – and it was! Myself and the lady who worked in the store couldn't believe that the dress fitted me perfectly, it was as if it was meant to be. The lady kindly took a photo of the dress and I excitedly sent it to my sister and mum who gave me the reassurance I needed to buy the dress. Although with the £35 price tag I didn't need much reassurance! I was so pleased and couldn't quite believe that I had found my wedding dress the day after being proposed to."
There were small twists needed to make the dress her own.
Although Cat says that the dress was in perfect condition, she did make the decision to replace the zip in the back with some sophisticated buttons, plus alter the placement of some of the flowers.
The final product was super gorgeous.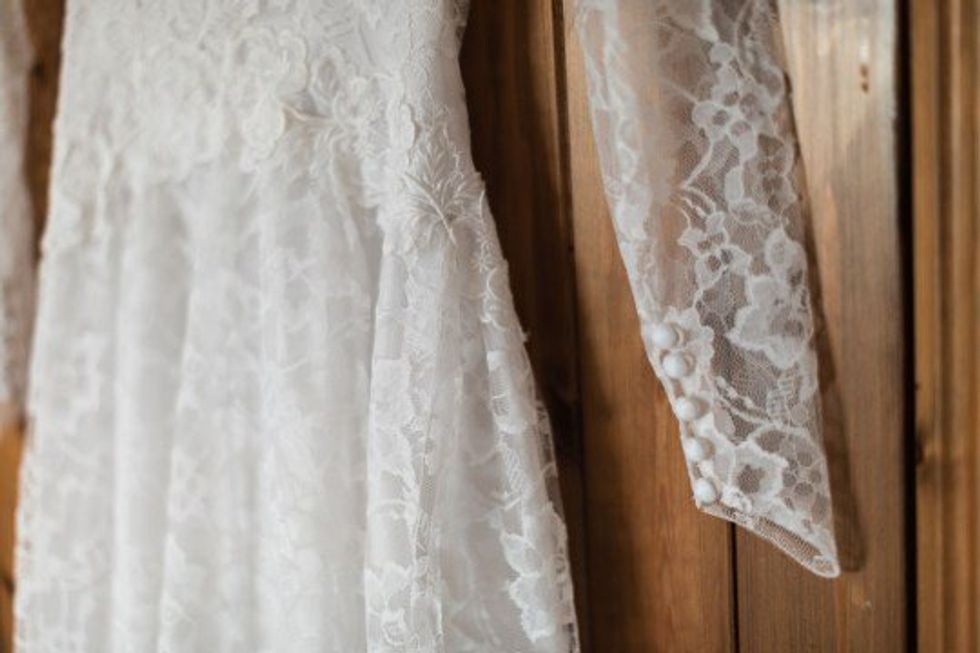 But there was another reason that Cat so loved her wedding dress.
She decided to learn more about her dress's history. "I took the dress to a vintage bridal store as I was curious and found out that the dress is 1950s, made from home rather than a bridal store, and the flower embellishments are older still - meaning they were likely passed down from an older relative as a 'something old' keepsake."
But she's still eager to learn more.
"For now, I would like to keep the dress in case the person who donated it gets in touch and wants to see the changes I had made," she says. If you know anyone who might have information, you can reach out to
Cat on Facebook
.
Cat sings the praises of shopping second hand.
"I shop in charity shops weekly. I would say 95% of my clothes are from charity shops, and our entire house is kitted out in charity shop furniture. I often donate to charity shops too. I think buying from charity shops is such an amazing way to give money to charity, and I also love the buzz of finding lovely preloved items of clothing."
Cat is proof that money isn't everything.
She looked a million dollars, even though she spent under $50. Because spending a lot of cash won't guarantee that your wedding will be more special.
We think that she made an excellent decision.
And we hope that others may be inspired by her choice. "I would encourage any brides-to-be to look in charity shops if they are on a low budget, or looking to be cost-effective, or even if they want to save money on the dress to then spend on other aspects of their wedding. My dress was from Sue Ryder in York, but there are other charity shops which have specialist bridal sections, such as Oxfam, which may be a really good place for a bride-to-be to begin their search."