Brie and Nikki Bella are one of WWE's most successful divas and have been on our screens for quite some time now. The twins share plenty of things - birthdays, WWE titles, and now the twin sisters have announced they are both pregnant.
Of course, many people are wondering whether this is an uncanny coincidence or if the 2 planned it. Well, they've both spoken out. Keep scrolling to see how they reacted to finding out they were both expecting...
Brie and Nikki Bella rose to fame through WWE.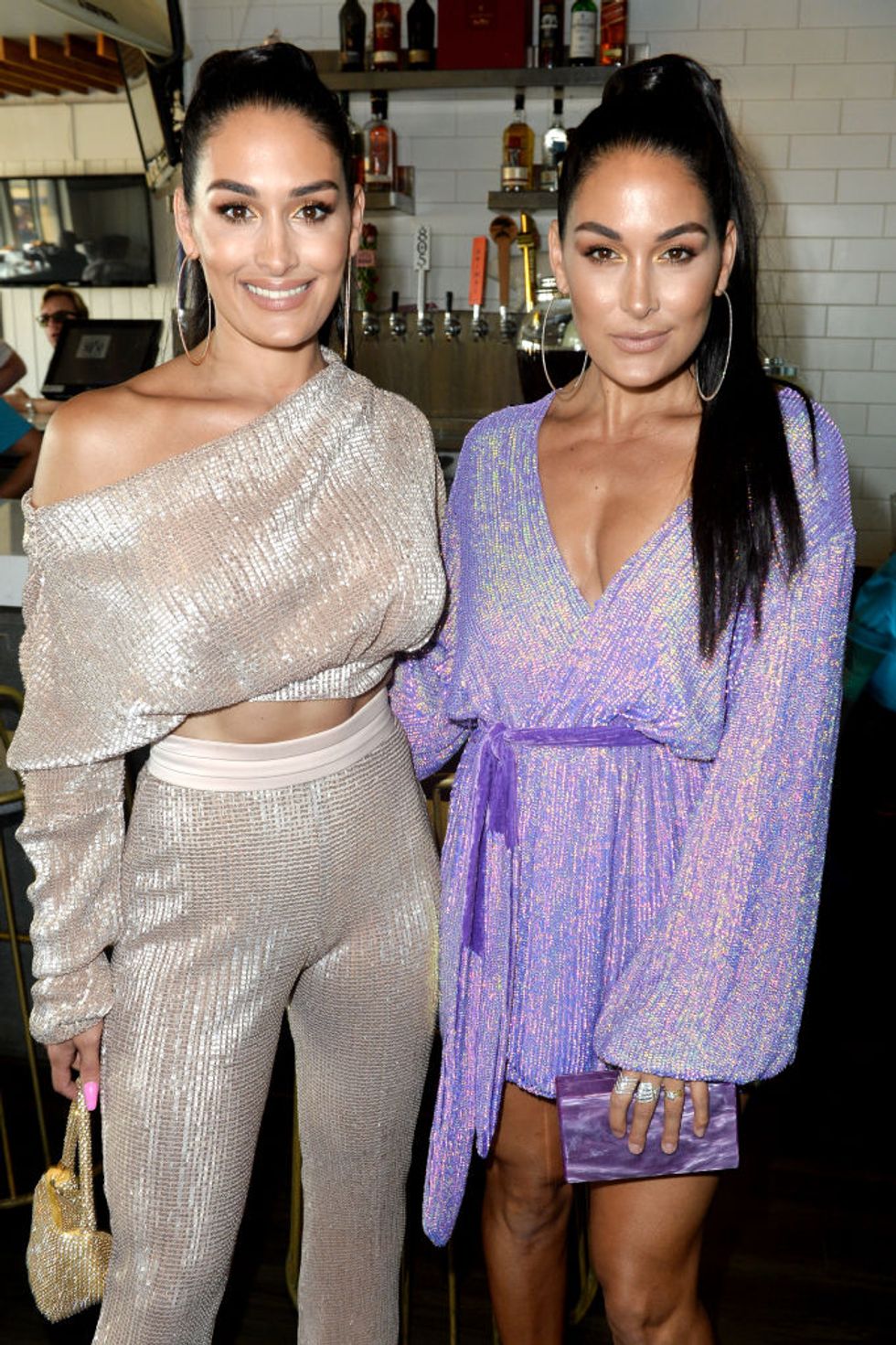 via: Getty Images
Together they form the professional wrestling tag-team, known as The Bella Twins.
The pair were born on November 21, 1983, in San Diego, California.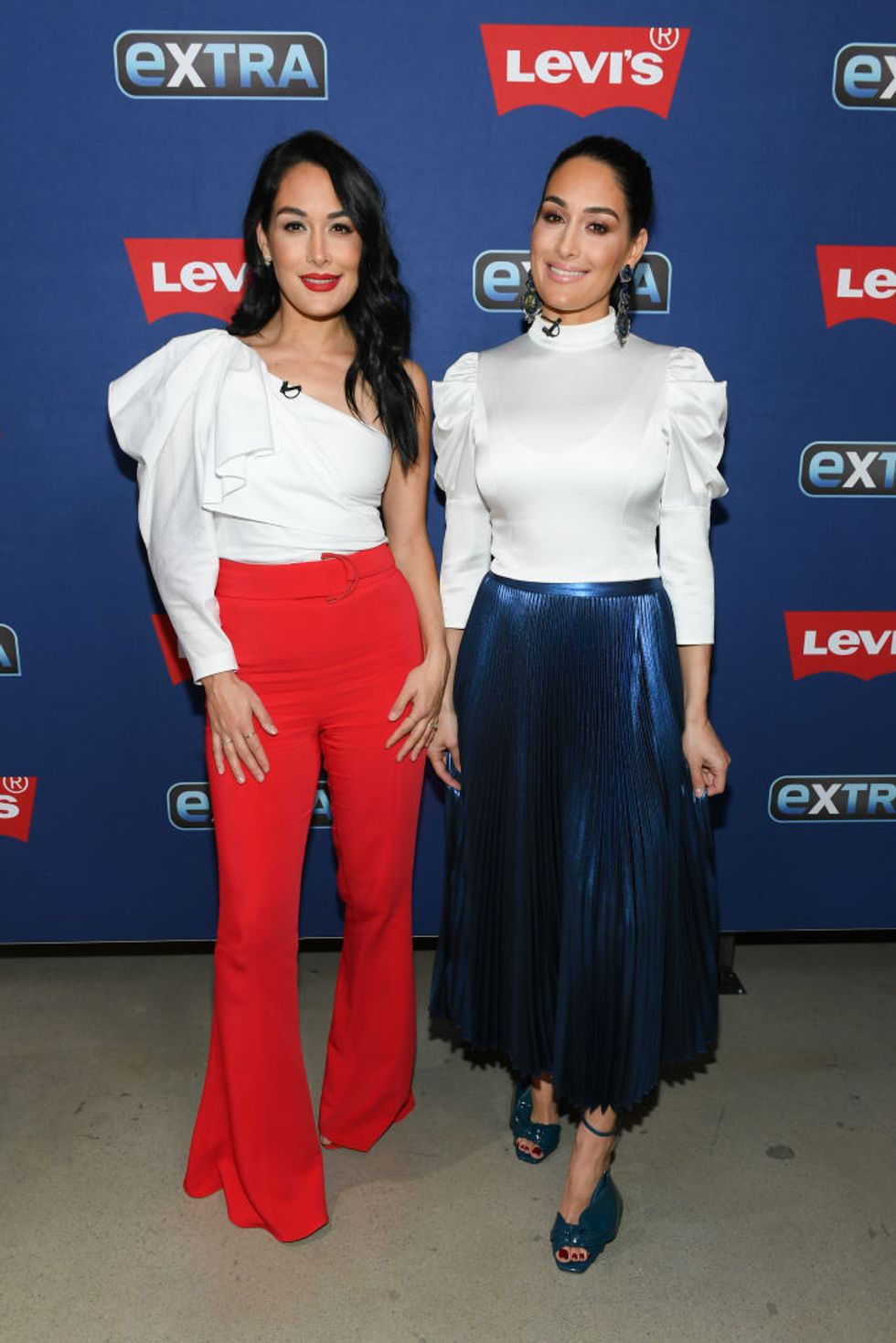 via: Getty Images
The twins come from sporting backgrounds - having played soccer in their youth. Although, it wouldn't be soccer that they ended up pursuing.
In search of modeling and acting opportunities, Nikki and Brie relocated to LA.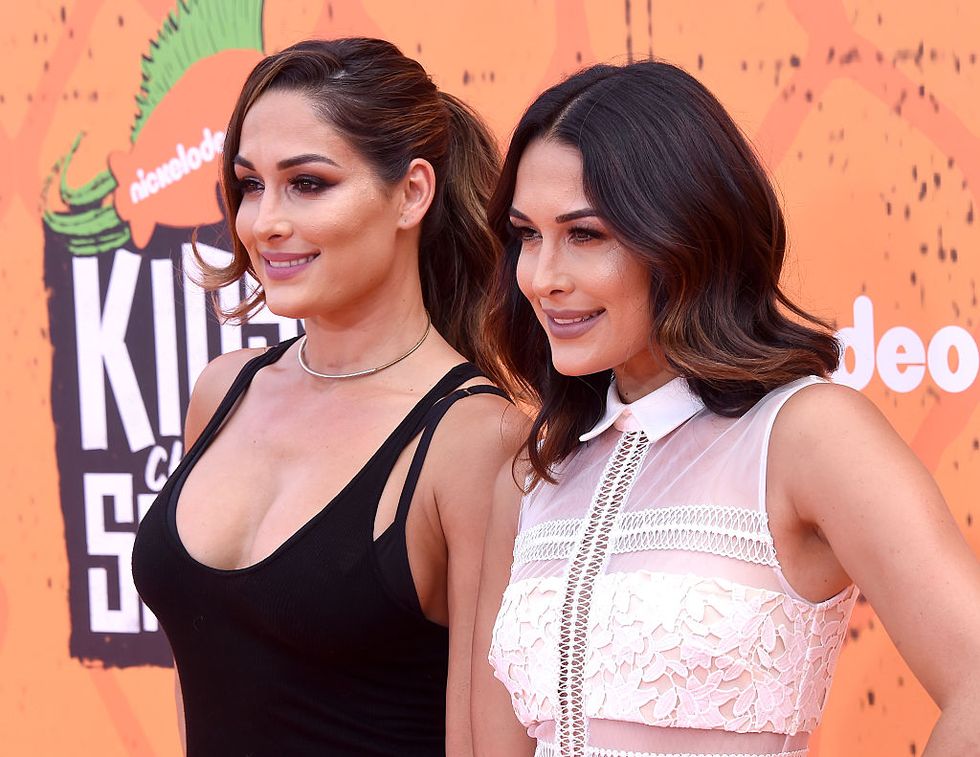 via: Getty Images
And they made ends meet through various gigs from cocktail waitressing to marketing.
Their celebrity stardom was kickstarted by a TV appearance on the Fox reality show Meet My Folks.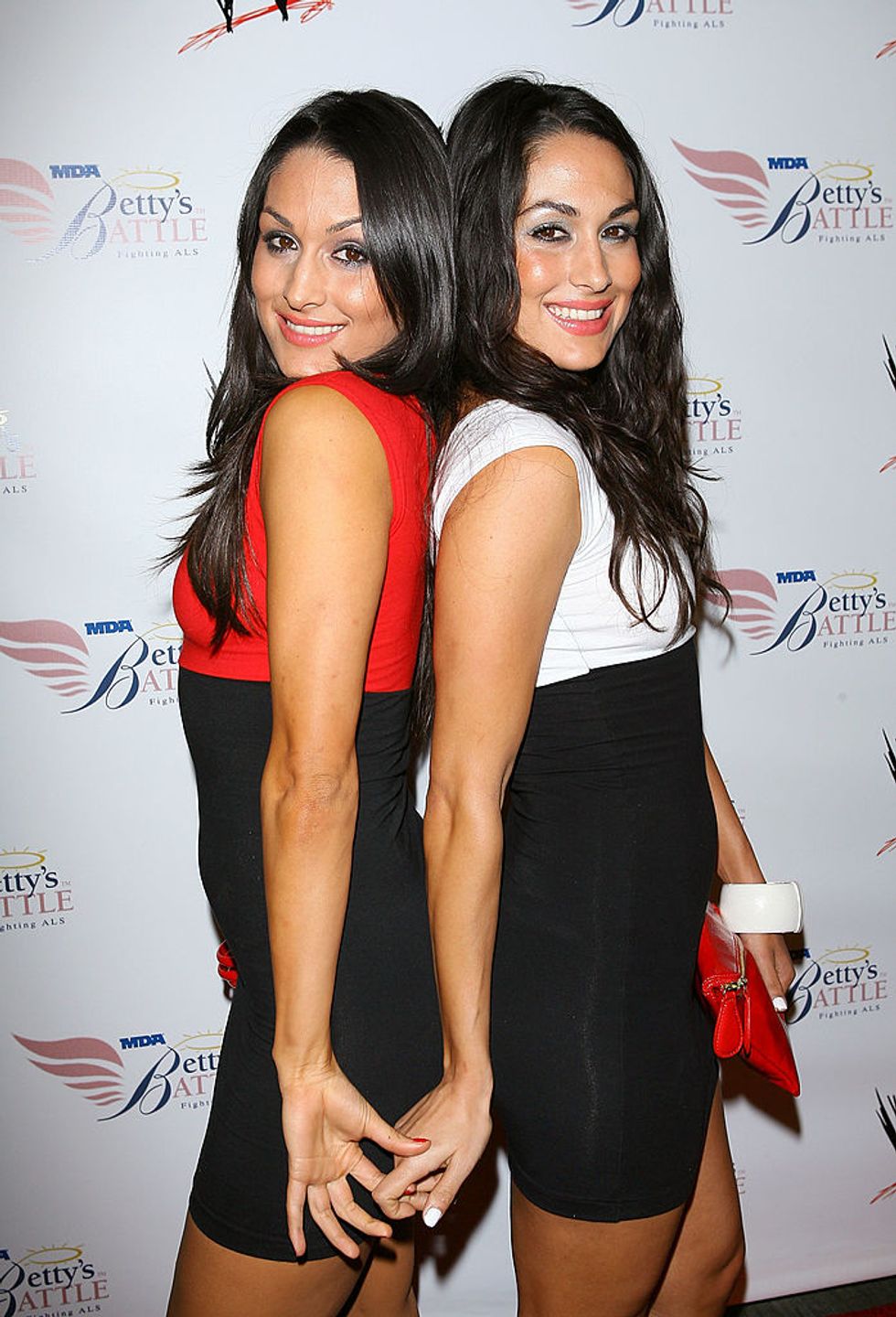 via: Getty Images
Initially airing from 2000 to 2003, the comedy reality show saw 3 bachelors spend 3 days with the possible "woman or man of their dreams," in her/his family home. The winner got to bag a holiday to Hawaii with the person they'd met on the show, if their family approved.
Their stint on the show spurred a more lucrative on-screen career.
Shortly, after their appearance on the reality show, the twins were hired to be the World Cup Twins for Budweiser and were subsequently photographed holding the World Cup trophy.
And in 2007...
The Bella Twins were signed to developmental contracts by World Wrestling Entertainment (WWE) and assigned to Florida Championship Wrestling.
It was with WWE, that the Bella Twins really rose to fame.
via: imdb
On September 14, the twins made their big in-ring debut.
And it was a huge success, to say the least.
The twins defeated Nattie Neidhart and Krissy Vaine, proving they were well on the course to become champions in the ring.
They accomplished some rather impressive feats.
The twins are both former Diva Champions, with Nikki having held the title on 2 occasions and Brie once.
In November 2015, Nikki was even ranked No. 1 in Pro Wrestling Illustrated's Female 50.
It's clear they have huge talent in the ring, paving the way for mainstream women's wrestling.
In 2012, it was announced that the twins had been fired from WWE.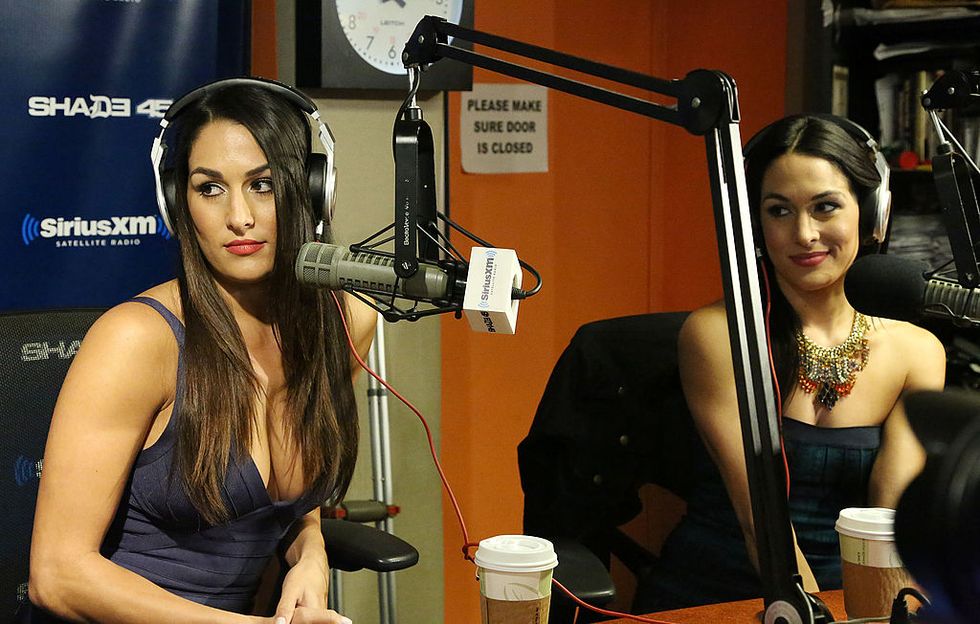 via: Getty Images
Executive Administrator Eve Torres pulled the plug on the duo after they began feuding with her following appeared during a Divas Championship match between Torres and Natalya. The twins allegedly then tried to attack Torres backstage.
Who can forget Total Divas?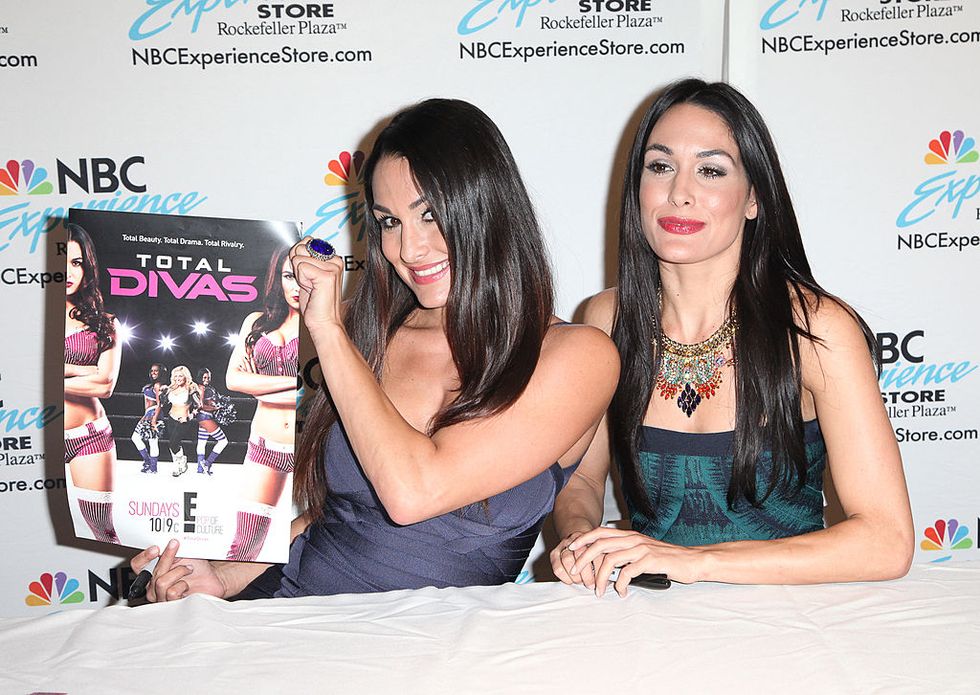 via: Getty Images
The twins made a return to WWE in 2013 when the smash-hit reality show first aired.
The duo even landed their own reality show.
via: imdb
If being some of the most successful WWE diva's wasn't enough, the Bella's landed their own show -
Total Bellas
- in 2016.
But last year, fans of the pair were left devastated...
In March 2019, both Bellas announced on the show that they would be retiring from wrestling.
But stopping the sport hasn't impacted on how close the twins remain.
The twins, both thirty-six, have announced they are pregnant.
Uncanny coincidence or well-thought-out plan?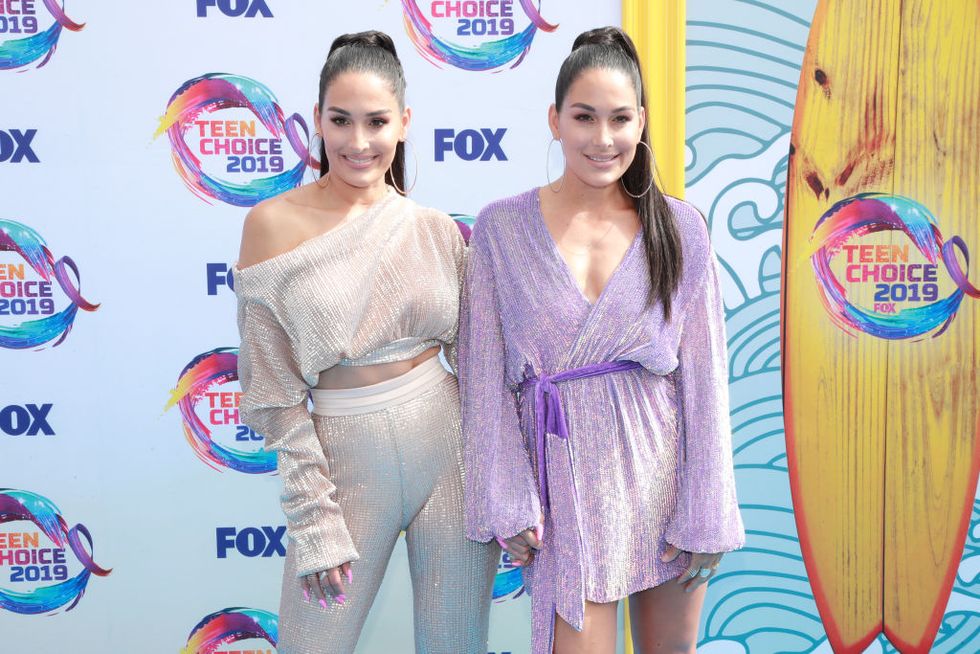 via: Getty Images
The twins exclusively revealed to
People
Magazine that they were both expecting and opened up more about the circumstances surrounding the shocking announcement.
For Brie, however, the road to pregnancy hasn't been easy...
Brie explained that her and Nikki were just as shocked by the news.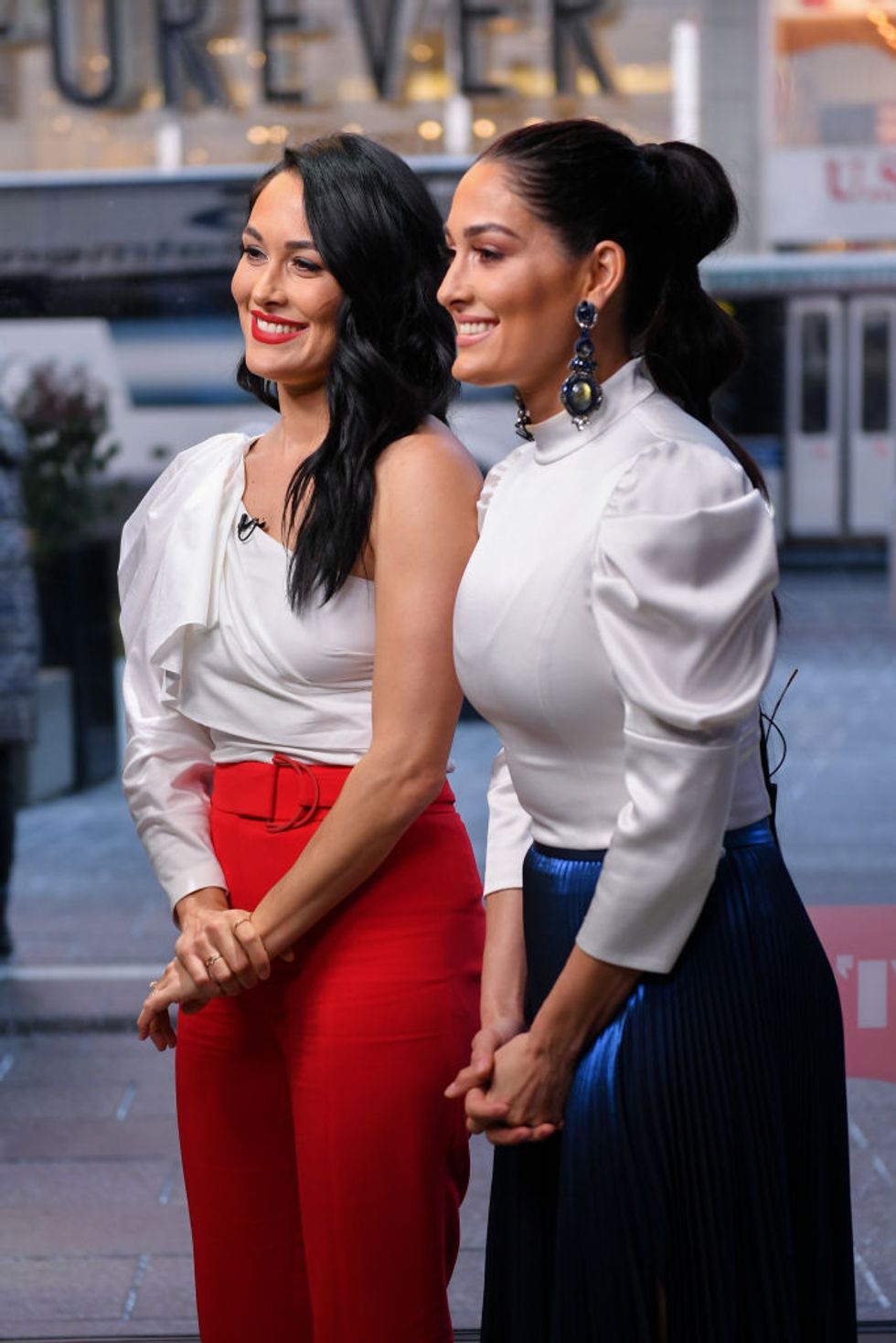 via: Getty Images
"People are going to think that's a joke. We both are shocked. People are going to think we planned it, but you can't really plan pregnancy!" Brie admitted. "[It was] a total surprise," Nikki added. "It took even
me
 a good week to come to terms with like, 'Oh my gosh, I'm pregnant.' I'm not ready for it."
Nikki explained that she and Artem weren't actually trying for a baby.
Total Bellas returns in Spring on E! Congrats Nikki and Brie!