Pop powerhouse Britney Spears has sparked major concern from fans after posting the latest in a string of "bizarre" videos this week.
Keep scrolling to watch the worrying video...
Britney Spears was catapulted into fame from a young age.
Since starring in
The All-New Mickey Mouse Club,
aged eleven, Britney embarked on a highly successful career as a pop singer and performer with the release of the hit single "
...Baby One More Time
" in 1998.
She quickly became one of the most famous popstars of her decade.
With hits such as "Oops, I did it again," "Slave 4 U," and "Britney," the Mississippi born singer consistently topped the charts.
She was even affectionately hailed the princess of pop.
Britney seemed to be at the peak of her career - churning out hit after hit. If you haven't sung a bit of Britney on karaoke, what are you doing?
As a result, she has been in the spotlight her entire adult life...
But not always for the best reasons. Bad press began during Britney's breakup from husband and childhood sweetheart,
Justin Timberlake
, which was a publicly ugly split.
Justin famously sold Britney out following the ugly breakup...
The singer sat down for an interview on 20/20 in which he revealed that he had, in fact, been intimate with Spears - even though the singer had repeatedly told the press that she planned on remaining a virgin until marriage.
And things continued to get worse for the young star...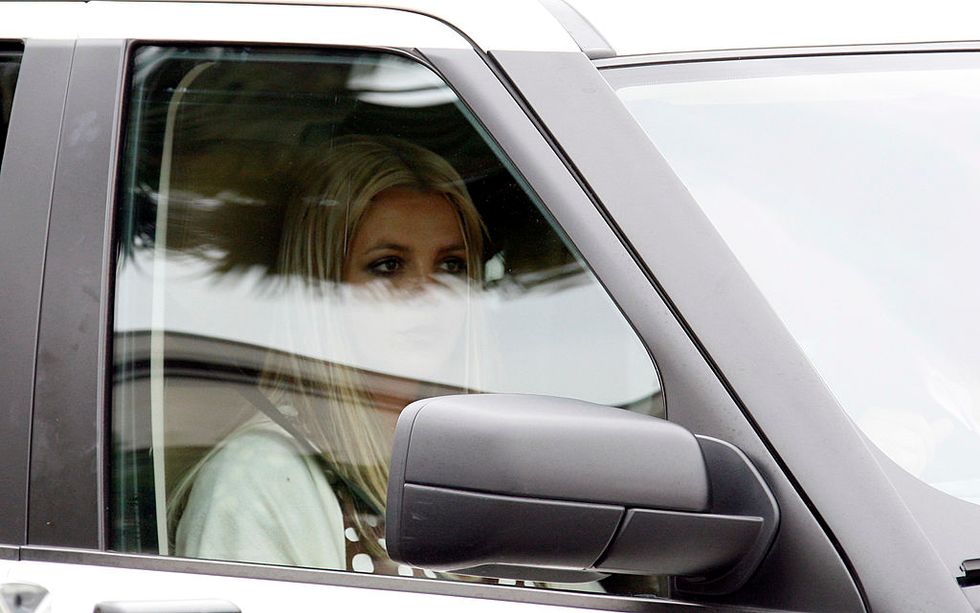 Britney hasn't had an easy journey, to say the least.
Despite the arrival of her first child in 2005...
Britney's mental health began deteriorating, and the endless attention and pressure from the public and the press started to take its toll.
And in 2007, Britney finally snapped.
The pop star hit headlines for all the wrong reasons when she suffered a highly-public breakdown in the full glare of the world's spotlight.
Her breakdown was triggered by a number of different things.
She spent years battling
mental health
troubles, and after her split from husband Kevin Federline, the father of her 2 sons, she headed to rehab in Antigua.
However, her stay didn't last...
Birtney checked herself out after only twenty-four hours and flew back to L.A.
The pictures of her hacking her own hair off shocked the world.
Britney had walked into Esther's Hair Salon in Tarzana, an upmarket neighborhood of LA, and asked the owner to shave her head because her hair extensions were too tight. But the singer wasn't backing down and grabbed the clippers so she could shave off her long locks herself.
Britney's breakdown was publicized all over the world.
The image of Britney, then aged thirty-seven, emerging from the salon with a freshly-shaven head and attacking a paparazzo's car with an umbrella has become one of the most famous snaps of that decade.
A few months following this, Britney was hospitalized.
In January 2008, she was seen being carried out of her house after reportedly overdosing on prescription amphetamines and locking herself in the bathroom with her youngest son, Jayden, as she refused to hand him back to Federline who had full custody of the children.
It was a long road to recovery for the pop star...
She has gone on to win a number of awards.
And she has since continued making huge strides forward, winning back custody of her children, making more successful music, landing a lucrative residency in Las Vegas, and having a number of healthy relationships. She is even in a happy relationship with her actor boyfriend, Sam Asghari.
However, 2019 got off to a sour start for the star.
Posting an old family photo, Britney announced that she would be canceling some shows.
Britney's dad was her conservator when times were tough.
A Los Angeles court had named Jamie as the permanent conservator (longtime care manager), of his daughter's affairs in 2008, and named him permanent co-conservator of her estate, along with an attorney, Andrew Wallet. It's undeniable to see that the pair were close.
The whole situation has understandably been very stressful on Britney.
The star makes sure to keep fans updated on social media...
But sadly this week, concerns about the star's wellbeing have been sparked once again.
The video is the latest in a string of bizarre clips...
While it starts out normal enough, with Britney telling fans she has had a delivery from her florist...
Things quickly take a turn.
She quickly stops showing off the flowers...
'80s music starts playing before the pop star can be seen repeatedly walking in and out of frame.
She repeatedly walks in and out of shot, posing to the camera. 
Britney Spears is currently under a
personal conservatorship
- one aspect of this means she has a full-time security team at her home. She is also unable to make decisions that could impact her health in several situations.
But that didn't stop fans speculating about what is going on with the star.
And the comments were instantly flooded with fans questioning what they had just watched.
Fans couldn't ignore it any longer.
This isn't the first time the star has posted a video like this.
Fans didn't know what to make of it...
And many raised their concerns over the singer's mental state.
People are truly baffled.
Nothing about the clip makes any sense.
Watch the video for yourself below: