The highly-anticipated live-action rendition of The Lion King is set to hit the box office next week and everyone is pretty excited about it, and we don't blame them. After all, Beyoncé is starring as the voice of Nala, so that's one reason to be rushing to the movie theatre.
But the latest lion-related announcement has our inner child screaming with excitement, as not only are we getting to see the lion pride on the big screen again, but we can also buy our very own plush version of the characters, courtesy of Build-A-Bear.
A limited edition Lion King collection is hitting Build-A-Bear stores and it's everything we could ever want.
Just wait until you see how cute it is.
After an agonizing wait, The Lion King is finally heading to theatres this week.
via: imdb
It's been a long time coming, but the 1994 classic is finally getting the live action treatment. That's right. It's finally happening, with the reboot of our favorite childhood classic hitting the box office on Friday 19 July.
As well as new content and music, we're set to see the original soundtrack and iconic scenes played out in the new movie.
Avid fans were pleased to hear that the reboot will blend the perfect mix of old and new, with the movie's original, legendary composer, Elton John,
reworking his compositions
for favorites such as "Circle of Life," "Can You Feel the Love Tonight," "I Just Can't Wait to Be King," and "Hakuna Matata," which will be featured in the movie.
And the cast certainly hasn't disappointed either...
It's been teaser after teaser in the wake of the movie's release.
He is prepared. #TheLionKing https://t.co/Q52ykVQwux

— The Lion King (@The Lion King)1562511600.0
It's been one hell of a build up, with Disney releasing a brand new trailer for the reboot yesterday.
As you can imagine, everyone is pretty excited about the film's upcoming release.
desperately need to see the lion king i'm beyond excited

— 𝖒 (@𝖒)1562579222.0
And we don't blame them; we're counting down the days too!
And now, fans have something else to be excited about, thanks to Build-A-Bear.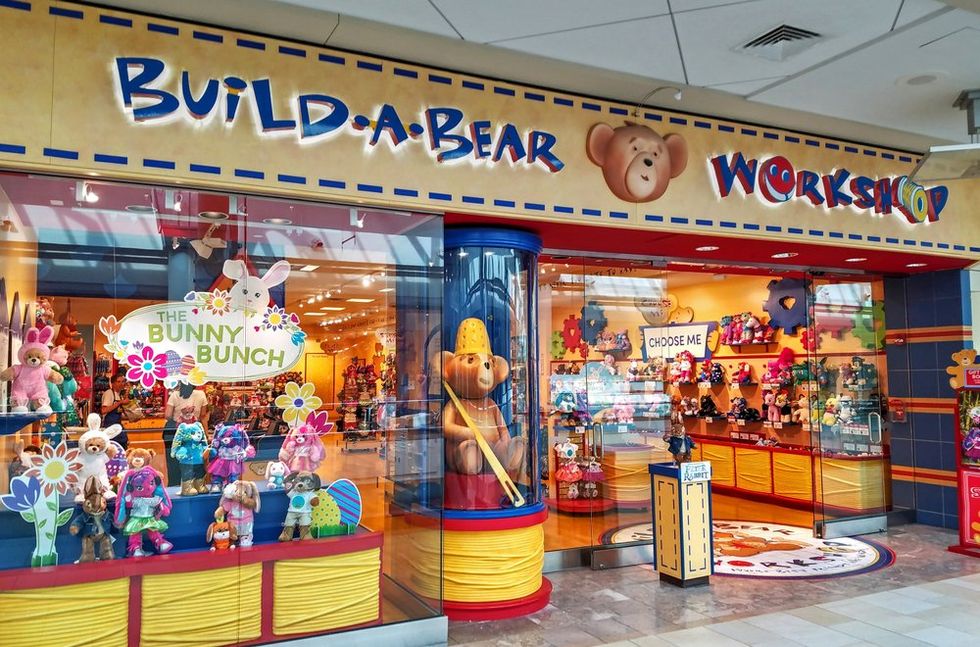 via: Shutterstock
The toy store has released a limited edition
Lion King
 collection full of furry friends and accessories from the movie.
We don't care if you're 6 or thirty-six, the plush versions of The Lion King gang are impossible to resist.
Unlike some other Build-A-Bear collections, like the 
new Toy Story 4
 range, the furry friends from the
The Lion King
 collection won't be bears dressed up in costumes — it's full of
actual
characters from the film, including all our favorites - Nala, Simba, Pumbaa and more! Stay tuned, because we've got
all
the pictures from the collection coming up.
Fans will be pleased to hear that there are lots of added extras to the collection.
via: imdb
You can add a "Nants' Ingonyama" (Circle of Life Chant) or an "I Just Can't Wait to Be King" sound chip to your new furry friend.
And there are even more bonuses if you buy in-store.
While the collection is available online, those who choose to shop in-store will have a whole host of treats awaiting them. First up, there's a special heart ceremony and photo opportunities, and, on
select weekends this summer
(7/19-7/21; 7/26-7/28; 8/2-8/4), you'll also be able to participate in movie-themed activities
and
receive an exclusive movie poster.
So we're sure that you're dying to see what the collection looks like...
It's the cutest thing you'll see this week.
First up, we've got Simba (young or adult).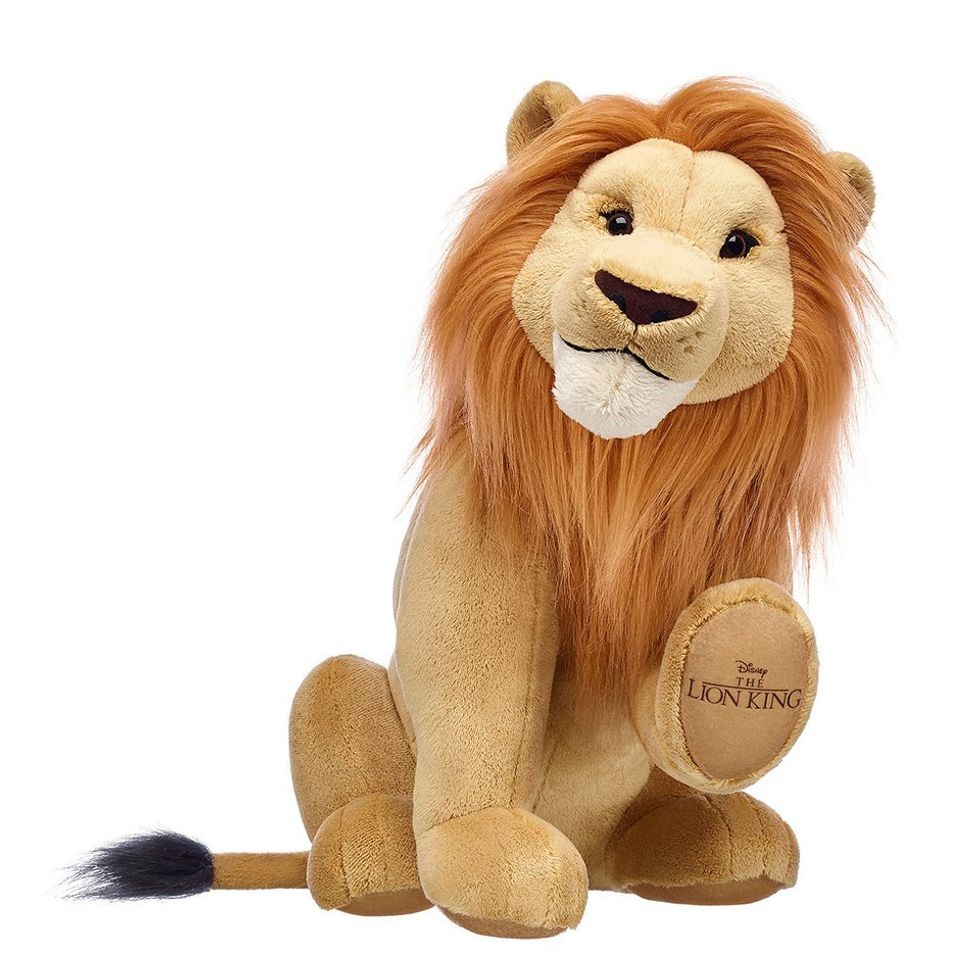 We anticipate that this cuddly character will be the most popular. The most well known
The Lion King
character, Simba, comes in a 
young furry friend
 for $29 or an 
adult furry friend
 for $35, with the adult version of Simba sporting a giant lion's mane, standing tall at fourteen inches.
Next is Nala (Young or Adult).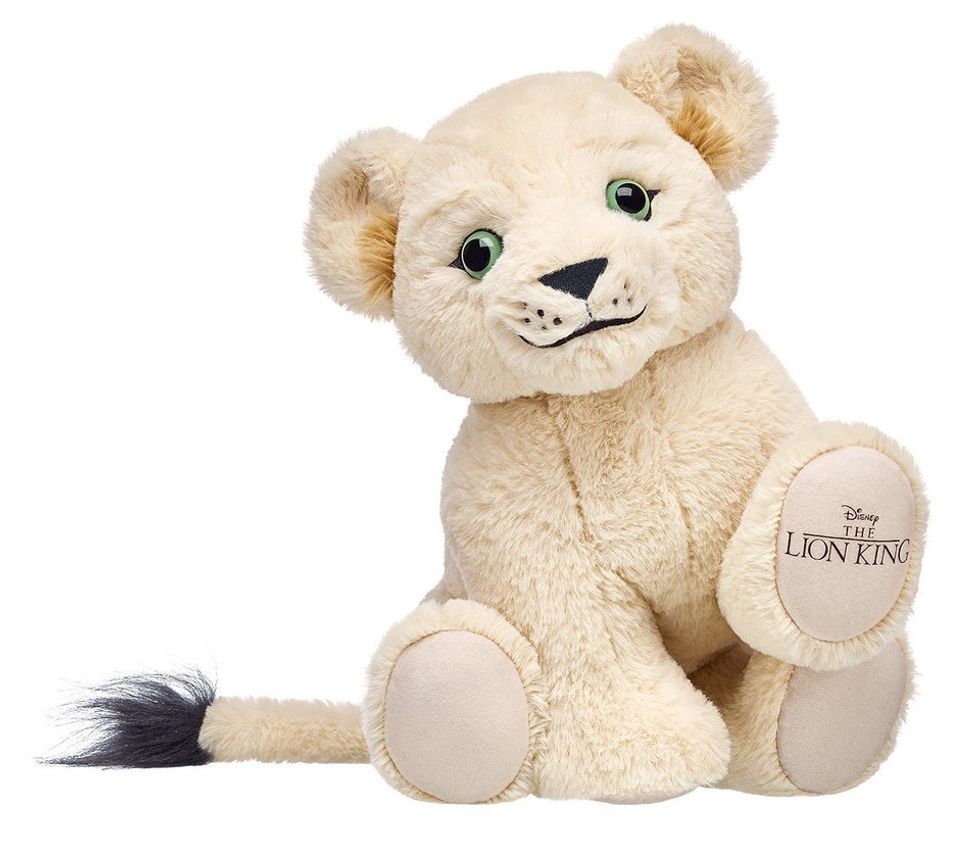 You can also get a 
young
 or 
older Nala
 for $29 or $32. Nala, who befriends Simba at a young age in the movie, has bright green eyes, a tufted tail, and slightly lighter fur than Simba and she is honestly adorable.
There's also a cuddly Pumbaa.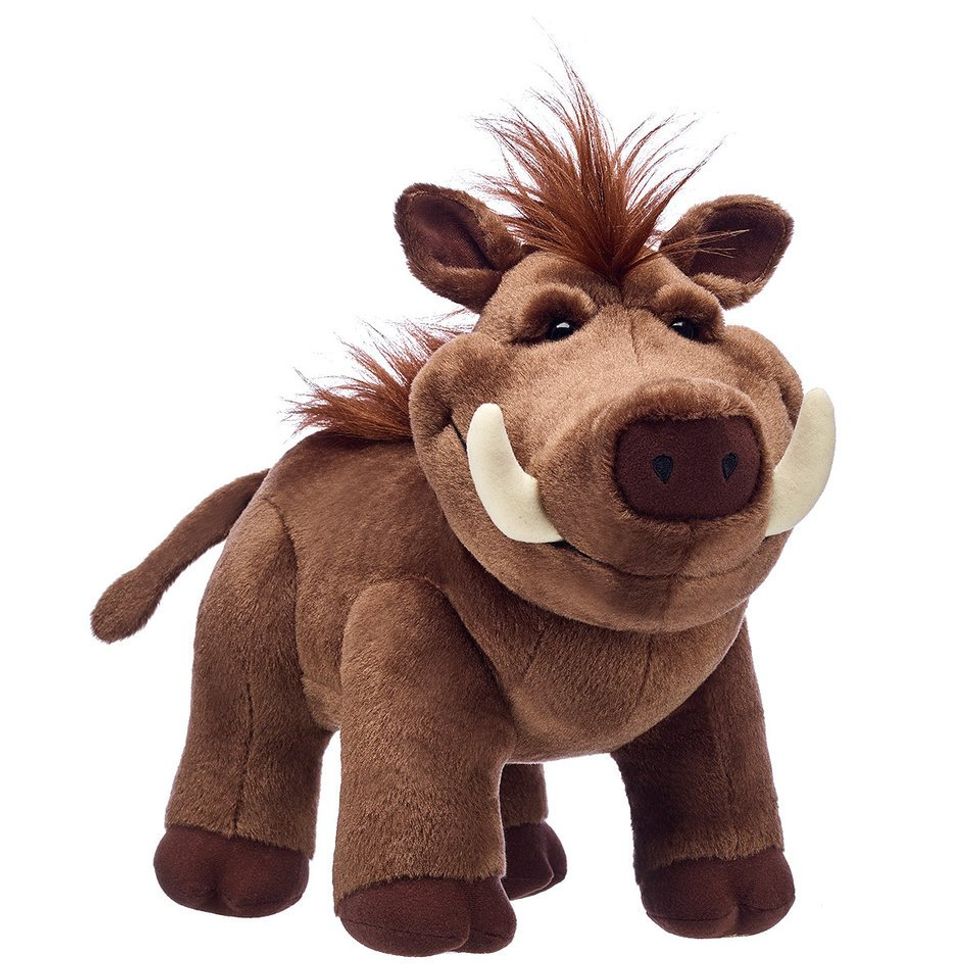 For $32 you can own a plush version of the 
lovable warthog
.
And, of course, you can also buy a Timon plush.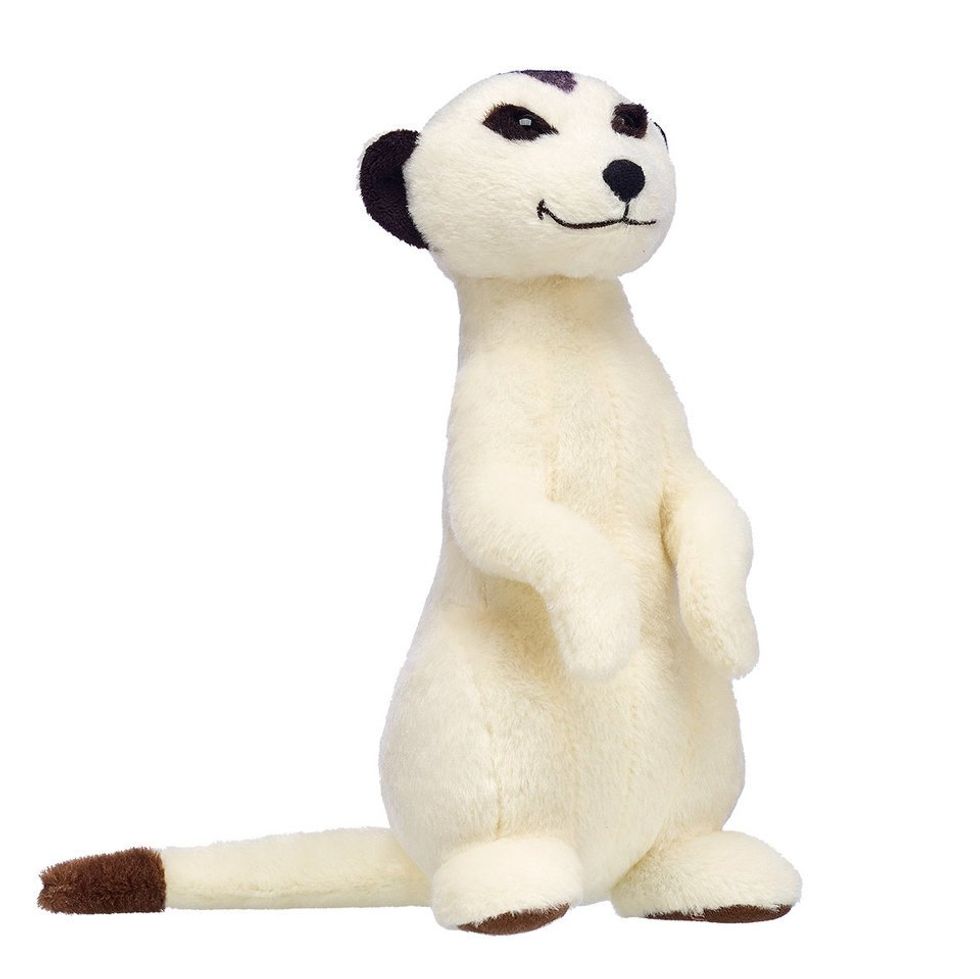 We couldn't have a cuddly Pumbaa without a Timon, could we? At just $15, the Timon furry friend is the cheapest in the collection, so there's no excuse to not have your very own plush of the mischievous meerkat.
There's also a whole host of Lion King themed accessories.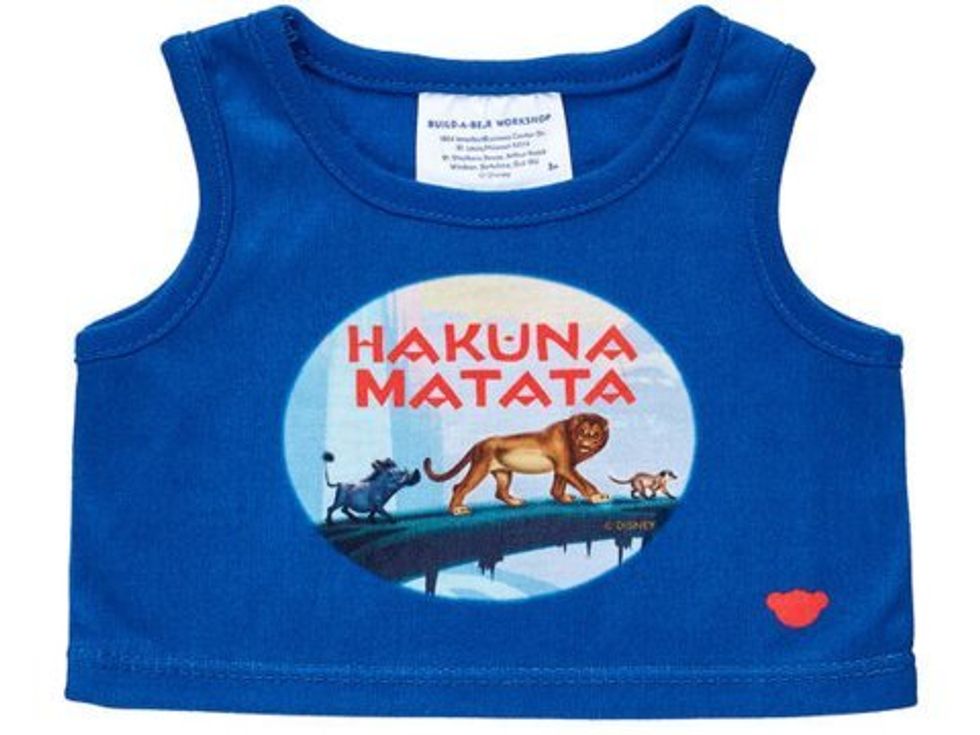 If you want to give your other Build-A-Bear pals the
Lion King
treatment, the new collection is also host to a range of
Lion King
-themed accessories, including this "Hakuna Matata" tank top for $7.50.
There's also a Circle of Life t-shirt for the same price or a Simba sleeper for $13.50, so your furry friends won't be short of Lion King merch to wear.
So, with the collection only in stores for a limited time, we suggest running to your local Build-A-Bear immediately to get your hands on the furry friends!