Without a doubt, Burger King has got to be the best burger joint out there. However, thanks to lockdown restrictions across the pond, they have resorted to posting the unexpected on their Twitter page...
In an often extremely divided world, there's one thing we can all agree on...
Fast food is so damn good.
There's just something about it...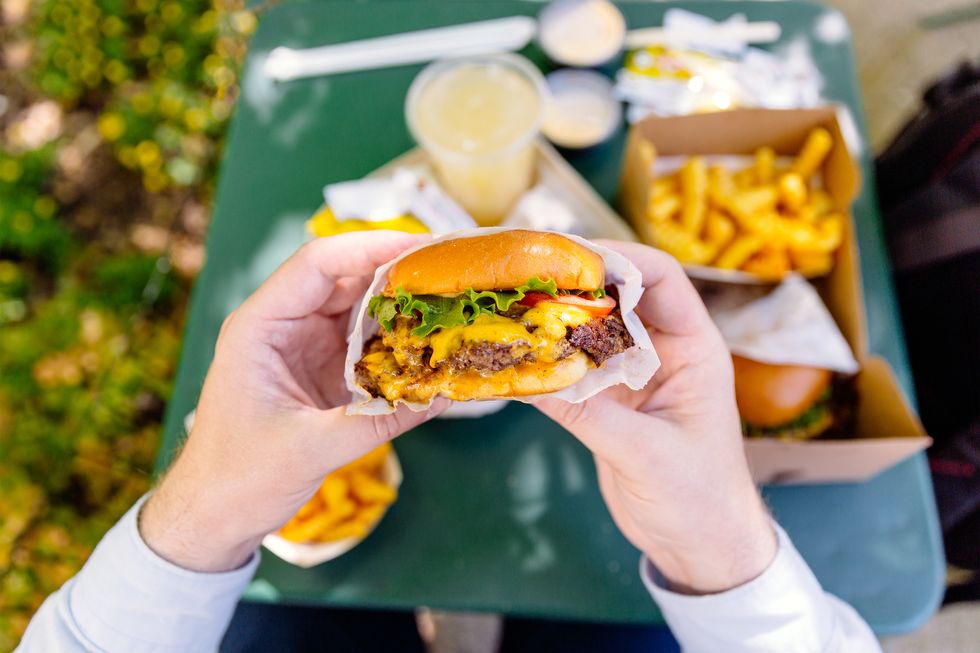 via: Getty Images
Alongside the convenience (and let's face it, that addictive taste), the industry has developed something of a cult around it.
Some of that obsession is surely spurred on by the ever-changing menu options.
For true fast food obsessives, the idea that you only have a limited amount of time to try something out before it vanishes forever is basically irresistible.
But there's definitely one fast food joint that reigns supreme when it comes to burgers...
Burger King!
But the latest stunt from Burger King UK will leave you wondering what the hell is going on...
2020 has definitely left us all feeling pretty strange.
Burger King is now urging its customers to go and order from McDonald's…
Yep, that's right.
Following the news that the UK will be thrust into another lockdown…
They have encouraged customers to support food rivals; including KFC, Pizza Hut, Subways, and Greggs.
Posting on Twitter, Burger King wrote...
"We never thought we'd be asking you to do this. Just like we never thought we'd be encouraging you to order from KFC, Subway, Domino's Pizza, Pizza Hut, Five Guys, Greggs, Taco Bell, Papa John's, Leon... or any of the other independent food outlets, too numerous to mention here."
It left customers in shock…
"In short, from any of our sister food chains (fast or not so fast). We never thought we'd be asking you to do this, but restaurants employing thousands of staff really need your support at the moment."
They continued…
"So, if you want to help, keep treating yourself to tasty meals through home delivery, takeaway or drive-thru."
They finished off saying…
"Getting a Whopper is always best, but ordering a Big Mac is also not such a bad thing. Take care, Team Burger King UK."
People were understandably full of support for the fast-food joint…
And the whole post has got everyone talking, with one Twitter user posting: "Pure class. Hope your store staff, social team etc. all manage to pull through." Another wrote: "I've always liked Burger King and stuff like this makes me respect you and your brand even more! I wish more companies would be like you." While a third person said: "Haven't had a Burger King in some time. I know what I'm getting this weekend. Whopper!"
Fans were quick to show support to Burger King…
@BurgerKingUK @pattyandbunjoe @honestburgers @ByronBurgersUK @gbkburgers @MEATLiquor @BlackBearBurger @DipFlippo… https://t.co/PBS0Zns2RA

— WattoPhotos (@WattoPhotos)1604337886.0
Take a look at some of the comments below, and read the surprising post for yourself...
@BurgerKingUK Respect from a McDonald's fan🤝

— Conor Shepherd (@Conor Shepherd)1604321738.0
@WeahsCousin @BurgerKingUK Rivalries aside 👏🏼👏🏼 Class, from a Subway fan.

— Marc (@Marc)1604329568.0
@BurgerKingUK Kudos. Really impressive.

— Sam Malin and the boy cat Lucy (@Sam Malin and the boy cat Lucy)1604322140.0
@BurgerKingUK respect from a spud-u-like fan 👏🏻

— dan (@dan)1604322219.0
@BurgerKingUK The Most Ambitious Crossover Event In History

— Ian Q Blank 💮 (@Ian Q Blank 💮)1604322314.0
@ian_q_blank @BurgerKingUK Crisis on Covid Earth.

— Rob Walker (@Rob Walker)1604322799.0
@BurgerKingUK 👏👏👏 respect, good luck for the rest of the season, your fans were class as always

— Ryan Elliott (@Ryan Elliott)1604322325.0
@BurgerKingUK Great tweet and loads of respect from a McDonald's fan

— Ben (@Ben)1604322487.0
@BurgerKingUK Massive respect from a KFC fan.

— Rob M (@Rob M)1604322731.0
@BurgerKingUK This is a real life version of this https://t.co/pJ3heTucdd

— Robert - Lord Commander Of The Pacers (@Robert - Lord Commander Of The Pacers)1604323142.0
Burger King then decided to post a whole host of burger joints for people to choose from…
Including; @pattyandbunjoe, @honestburgers, @ByronBurgersUK, @gbkburgers, @MEATLiquor, @BlackBearBurger, @DipFlippo, @NeatBurger_, @TwistedBurgerCo, @SolitaNQ and @MacandWild.
This is all due to the UK's first lockdown, where fast-food chains were forced to close…
We know, we never thought we'd be saying this either. https://t.co/cVRMSLSDq6

— Burger King (@Burger King)1604321604.0
But under the new restrictions on November 5 "hospitality venues like restaurants, bars and pubs must close, but can still provide takeaway and delivery services. However, takeaway of alcohol will not be allowed." Let's hope things go a little more smoothly for them this time. Keep scrolling for more...