Earlier this week, Burger King made a very exciting announcement. Having conquered the complex world of the burger, the fast-food giant decided that it was time to expand their horizons. The directions that they chose to expand their range in? Tacos - and the internet was thrilled.
But, as ever, we've now been faced with the eternal issue of expectations vs. reality. As the first non-promotional pics of the tacos have launched, people are disappointed - not to mention a little bit confused.
Founded in Jacksonville, Florida, in 1953, Burger King is a firm fast-food favorite.
It's a massive global franchise, with over seventeen thousand locations worldwide.
And there's one thing that it's particularly famous for.
As the name suggests, Burger King really excels when it comes to burgers. It's how the restaurant started, and burgers are still by far the best selling item on the menu.
And with good reason.
The Burger King burger is a thing of beauty - perfectly balanced flavors and textures for a uniquely tasty dining experience. But, having dominated this field for decades, Burger King decided to expand its horizons.
They decided to think outside the box.
Their latest launch? A Burger King taco. So far, so good - everyone loves tacos, right?
The internet was pretty excited.
Burger King teased their latest launch on all their social media channels, and customers responded with enthusiasm. Many claimed that they couldn't wait to make a purchase.
And we can see why.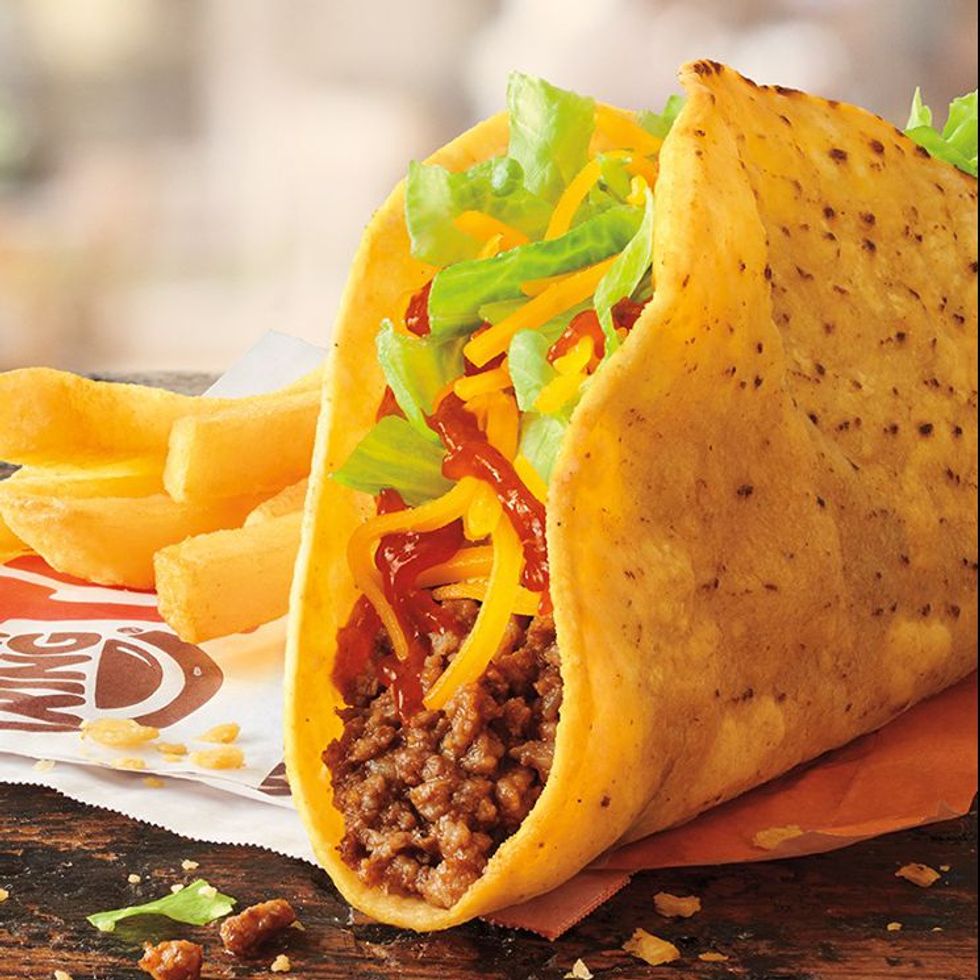 via: Facebook
The promotional pictures were a sight to behold - crispy shell, succulent meat, melted cheese, and fresh lettuce. What more could you ask for?
But it got even better.
As if these tacos didn't look tempting enough, Burger King launched them at a very intriguing price - just one dollar per shell. For that price, you'd be a fool not to, right?
Wrong.
Some were less kind.
And it got even worse.
Some of the images are a little harrowing.
This one really emphasizes quite how soggy the meat is - and how chewy that makes the taco shell.
Fancy seeing inside?
Where's the meat Worst burger king taco ever @BurgerKingUK @BurgerKingTT stick to burgers https://t.co/zTbeSKcsC5

— Josie10703 (@Josie10703)1562605075.0
Well, we bet you regret your decision now. There's not a succulent morsel of the promised tasty meat in sight!
That isn't the only complaint that people have.
#BurgerKing what in the Fresh hell is this? I tried your taco today and it was awful 🤮. I wept it was so bad. To… https://t.co/0JfcdauYJv

— Sonia #OurGoldenLight❄️ (@Sonia #OurGoldenLight❄️)1562621672.0
One Twitter user complained that the one bite that she managed to force down repeated on her for hours. The words "dog" and "food" spring to mind.
This user agrees with us.
Don't bother trying the new @BurgerKing taco - looks like dog food in a crusty tortilla shell #burgerking https://t.co/Pj2j6FuJlN

— Benjamin stevenson (@Benjamin stevenson)1562608894.0
That meat looks way too far removed from an animal to bring on any feelings apart from total discomfort.
Although one Twitter user made this valuable point.
Imagine hating yourself so much that you buy a taco from Burger King

— TEN (@TEN)1562619982.0
If you're looking for a high-quality taco, why on Earth would
Burger King 
be your port of call? Perhaps these disappointed customers only have themselves to blame. And these tacos aren't the only crime against fast-food out there.