A man who killed a twenty-four-year-old mom and her twenty-month-old baby has gained a cult following on Tik Tok and Twitter and it's very unsettling.
Back in 2018, Cameron Herrin hit Jessica Reisinger-Raubenolt and her daughter, Lillia, who were crossing the street in Tampa, Florida. It was reported that Herrin and his friends were participating in a street race and were driving at speeds up to 100 MPH when he struck the pair. The twenty-year-old was sentenced to twenty-four years in prison in April, but ever since the case went viral, Herrin has gained a weirdly obsessive cult following online, primarily on Tik Tok and Twitter.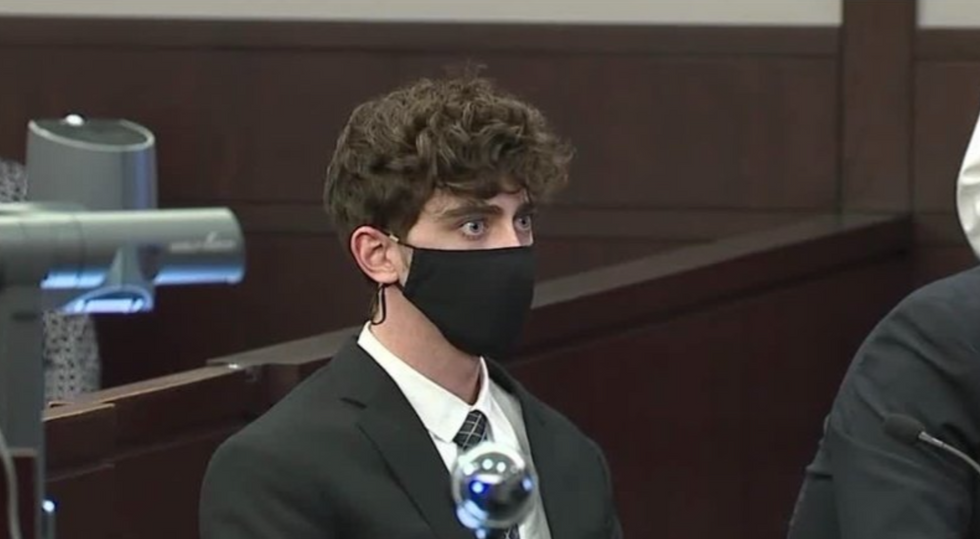 "Fans" of the criminal stated that he was "too attractive" to be in prison and begged the justice system to give him a second chance by slashing his sentence. Fan accounts from all over the world have been popping up left, right, and center urging people to follow the hashtag #justiceforcameron. Herrin's own TikTok account is verified and has 2 million followers, but no content is available to view at the moment.

One said, "Not a killer," while another said they hoped Herrin would be forgiven because "he looks innocent."

"Poor boy," the comment said, adding, "He doesn't do in purpose."
WTF?
One video even used a Charlie Puth song for the background music and Puth himself commented on it writing: "Don't use my music for this s***."
Certain videos of the young man like the one above have gained millions of views and mainly show clips of him in court, crying, looking surprised, or pulling down his mask to drink water. Not only that but a Change.org petition has also been launched to get his sentence reduced. It has been signed 28,151 times so far.
"I think twenty-four years is too much him," the description reads. "He didn't do for perps it was just an accident, I want you all lovely people who think it's absolutely not right to jailed the young man for twenty-four years which is worst than a death."
It continues: "Please do sign and share this petition as much as you can so that we can help to get out Cameron Herrin. He is very young and his all life in front of him. I have a humble request to all of you please support my petition for him. We live only once. With your help, we can save him and we can get him another chance in court again. As everywhere on social media all are talking about giving him second chance. We should all help him, Bcz by staying in jail for the twenty-four years, the victim's family won't get them back, but definitely, this young boy lost everything already been in jail."
Okay, but what about the mom and child that lost their lives because this guy was acting recklessly with his friends? Who's thinking about them and the broken family they've now left behind? 2 innocent lives were lost for a "bit of fun" with the boys. These people getting involved in making fan accounts about a criminal really need to remember that actions have consequences and sometimes that means serving twenty-four years in prison. It'll give Herrin some time to think about what he's done and just how many lives he has impacted with his carelessness.
Herrin's own mother spoke out on the issue, stating that it was all comforting at first to see so many people support her son but then things took a turn for the worst as people became obsessed and started writing letters to the house and calling her in the middle of the night. These so-called "fans" also started hacking into Herrin's fiancée's accounts too.

I knew this world was a mess, but this just brings a whole new layer to the word.
If you're one of these "fans", sort yourself out.