Christmas is quickly approaching and everybody is sporting their festive jumpers, even your scrooge of a husband who thinks they're stupid. Yes, you might think they're kind of ugly, but Christmas isn't Christmas without your reindeer jumper that sings about Dasher, Dancer, and Prancer every time you move.
But during the holiday season, it's important to be mindful and make sure nobody in your family feels left out.
So if you have a pooch - they deserve a Christmas jumper too. After all, they have to wear the same coat all year round and never complain it's out of season, so treating them to a festive jumper is the least you can do. We're sure they will reward you with lots of cuddles and face-licks.
But if you're unsure where you're going to find such a thing. Don't worry, we've got you covered. Call it our Christmas present to you.
You're welcome.
The importance of Christmas jumpers.
Yes, they're itchy. Yes, they're not very flattering. And yes, someone else in your family is bound to be wearing the same one. But festive jumpers are essential on the big day.
So don't be a spoilsport.
Don't try and ruin the fun by turning up to Christmas dinner without a festive jumper on.
And if we all wear them...
It's only fair your doggos get to join in with the festive fun. That's if they won't chew it off, of course.
Because Christmas doggy jumpers exist.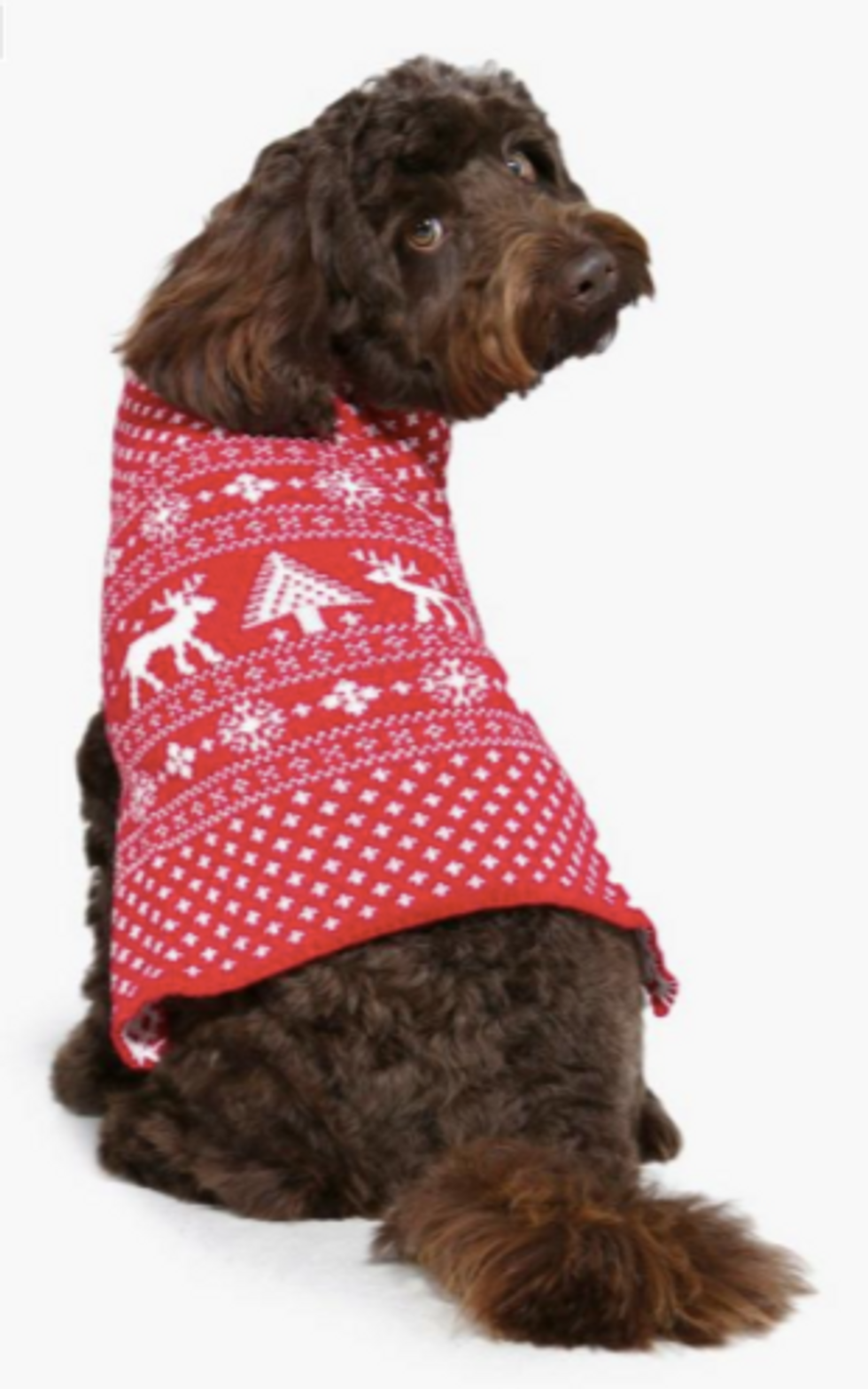 If this is the first time you've seen a pooch dressed for the holidays - you're welcome. We seriously can't deal with how cute they are.
Now you can finally match with your pooch.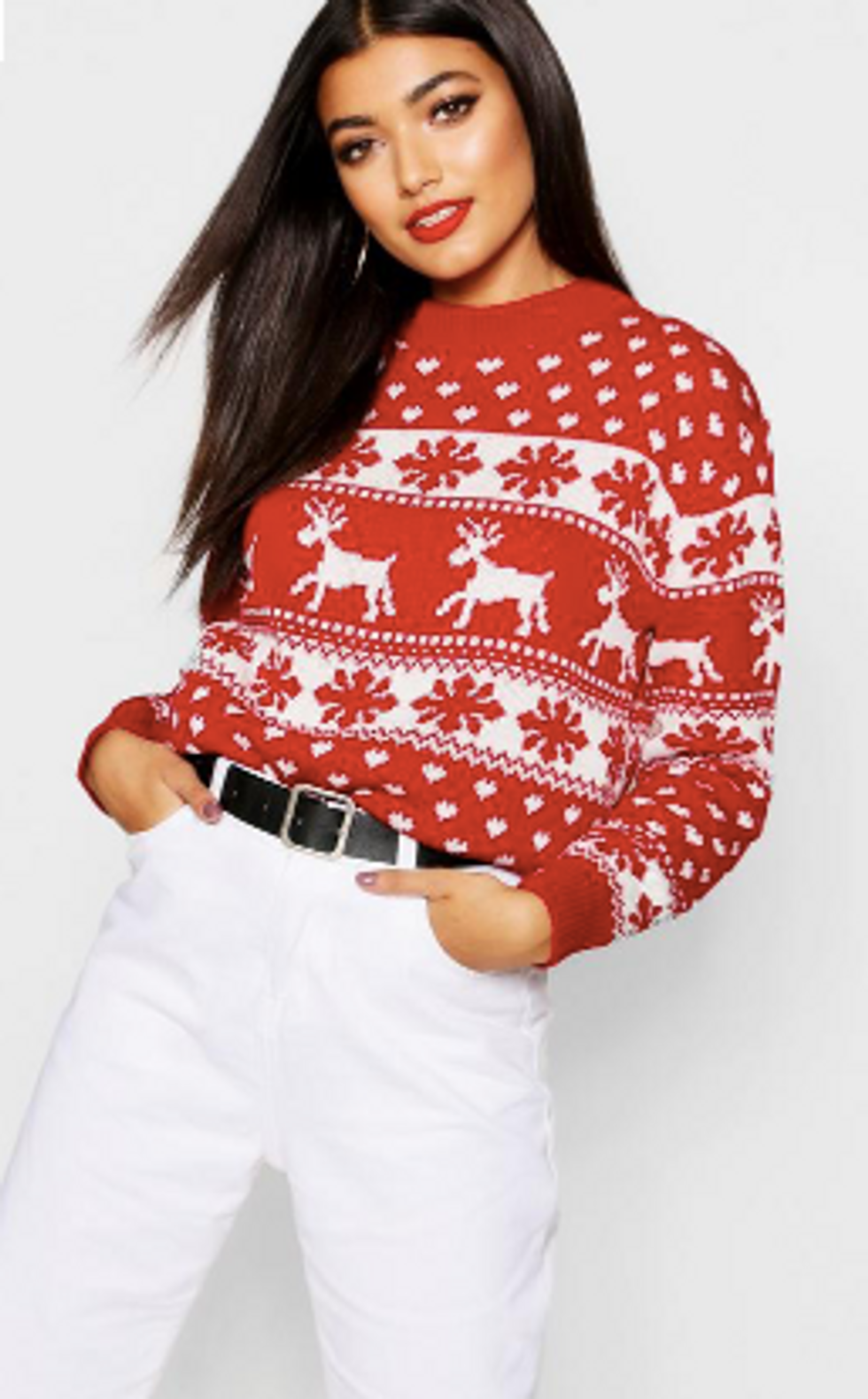 Boohoo 
have blessed us all with a range of matching dog/human Christmas jumpers, and we're a little obsessed.
Btw, they're on sale.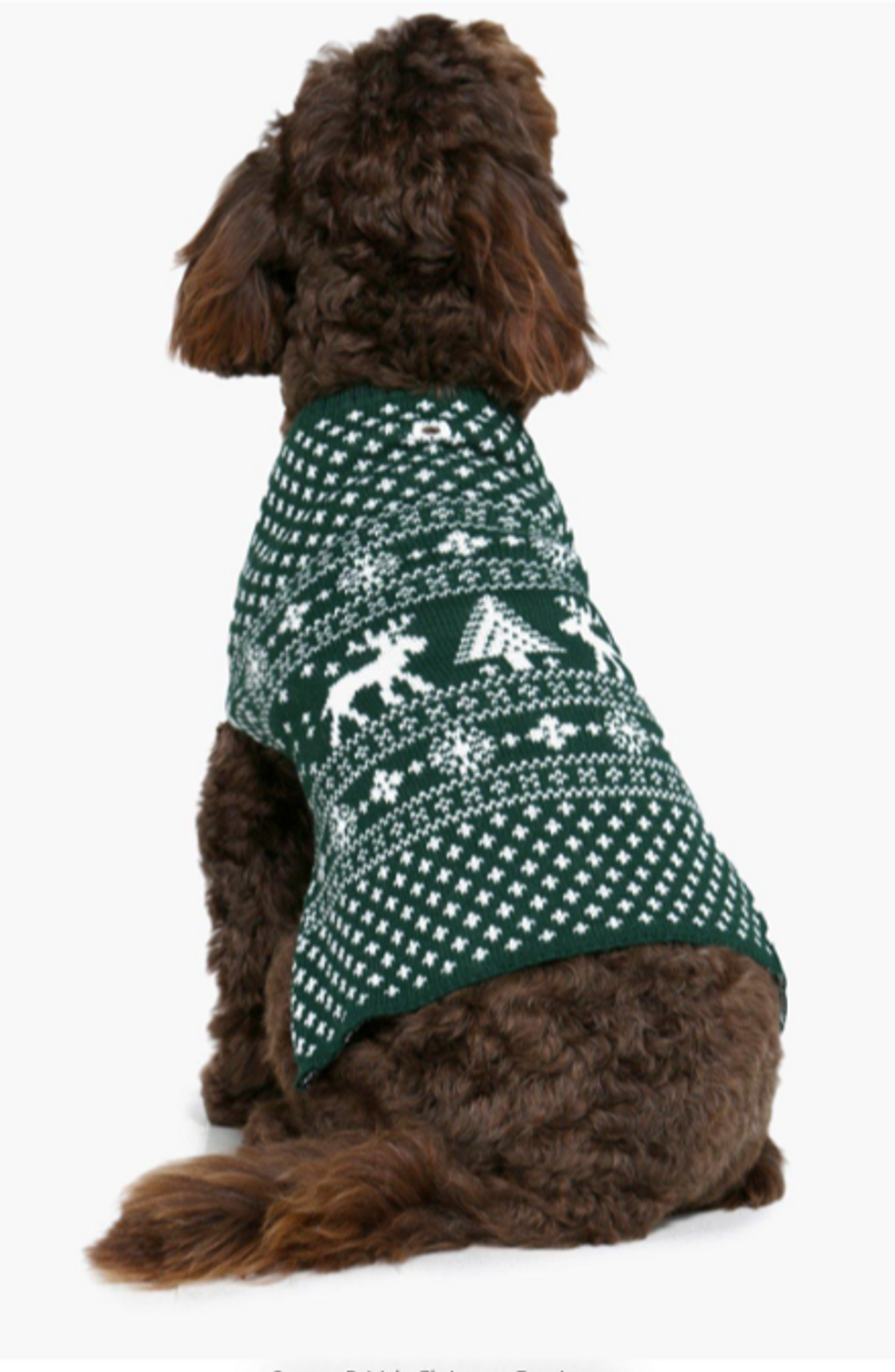 So you literally have no excuse to leave your dog out on the festive fun. Boohoo's sale is once again a lifesaver.
It's the perfect gift.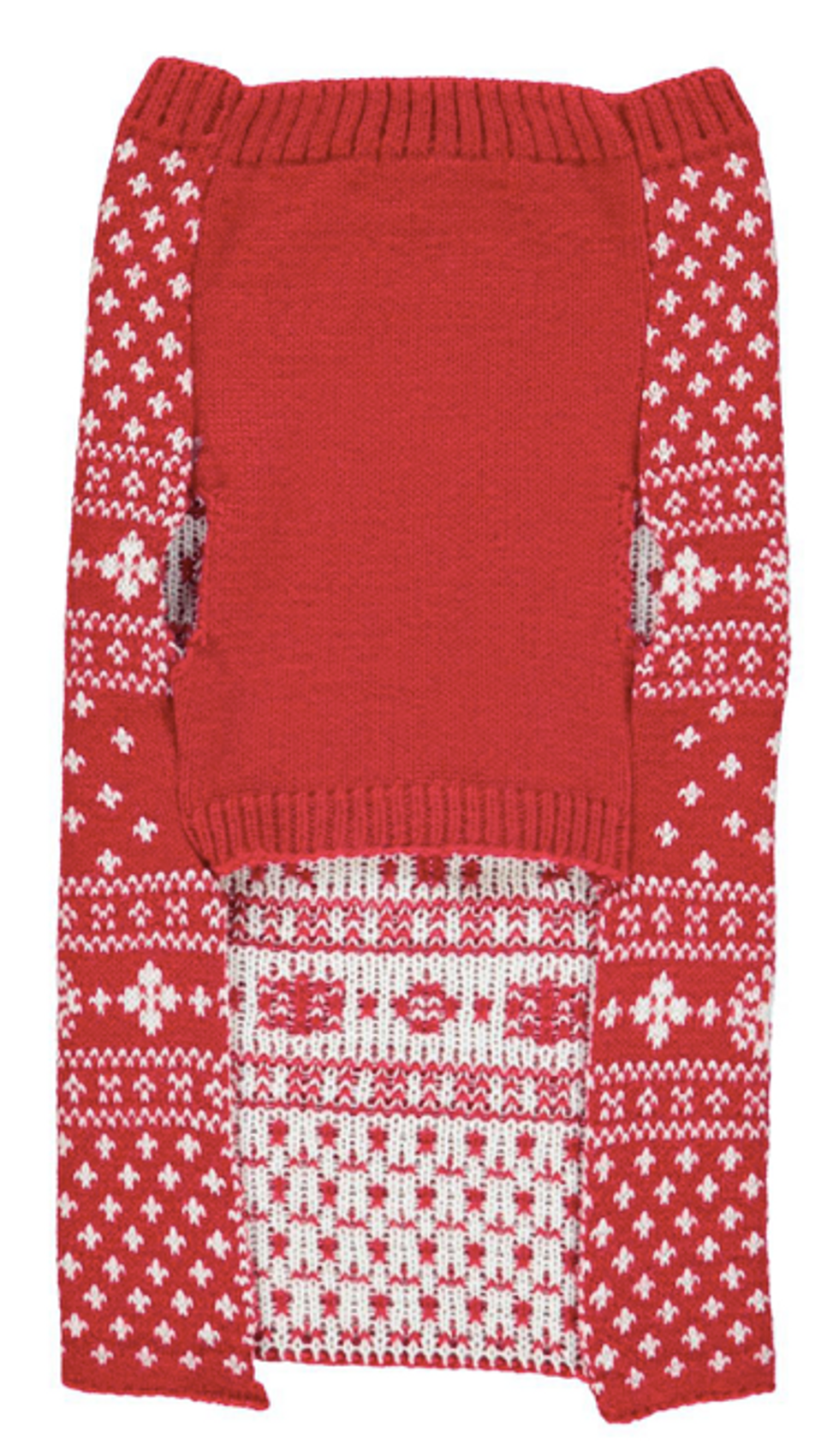 And when you go on your Christmas walk to burn off that massive plate of food you just ate - you know your dog will be as cosy and warm as you.
The perfect Christmas attire.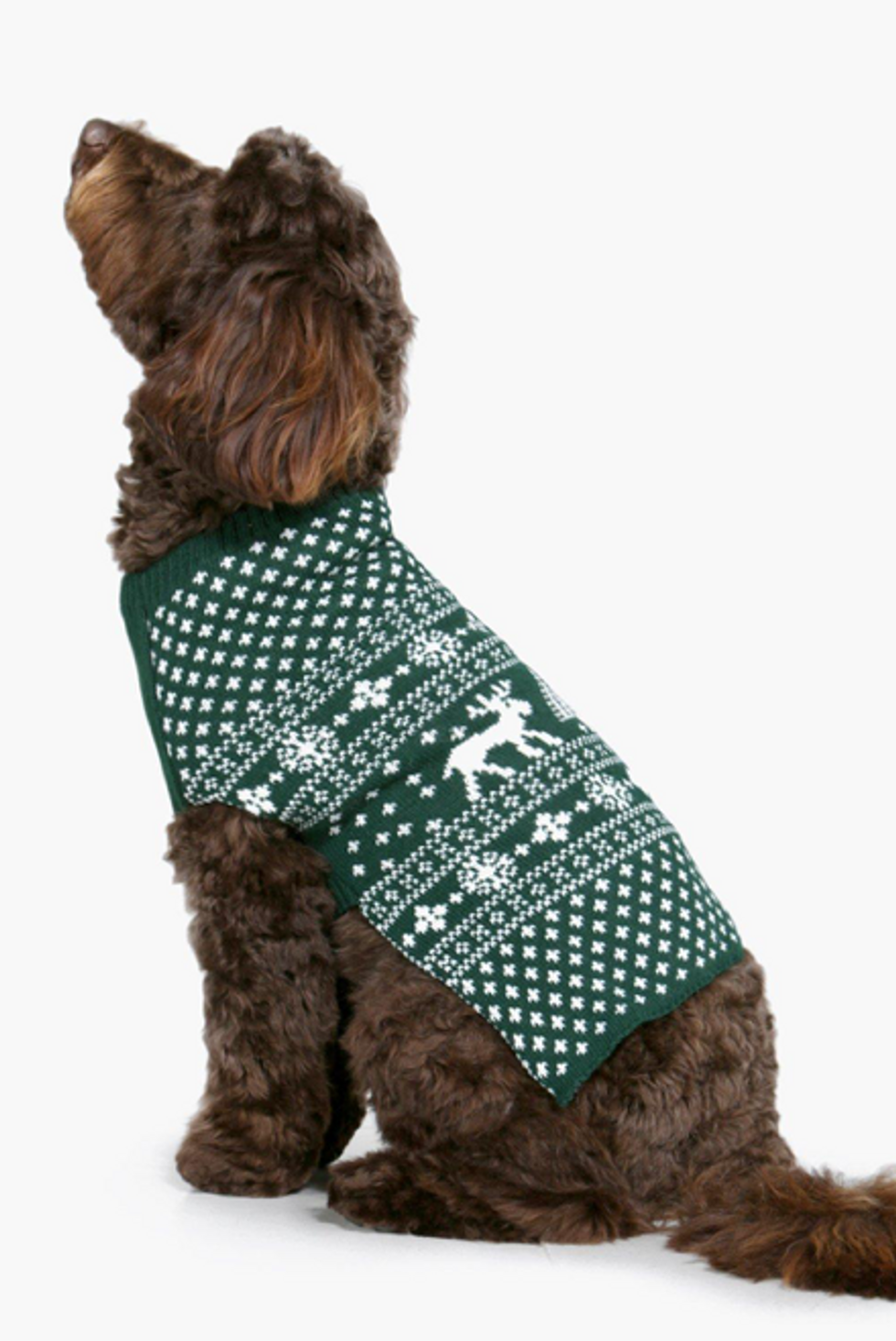 These matching jumpers are available in red or bottle green, only the best festive colours there are.
The internet seems to approve.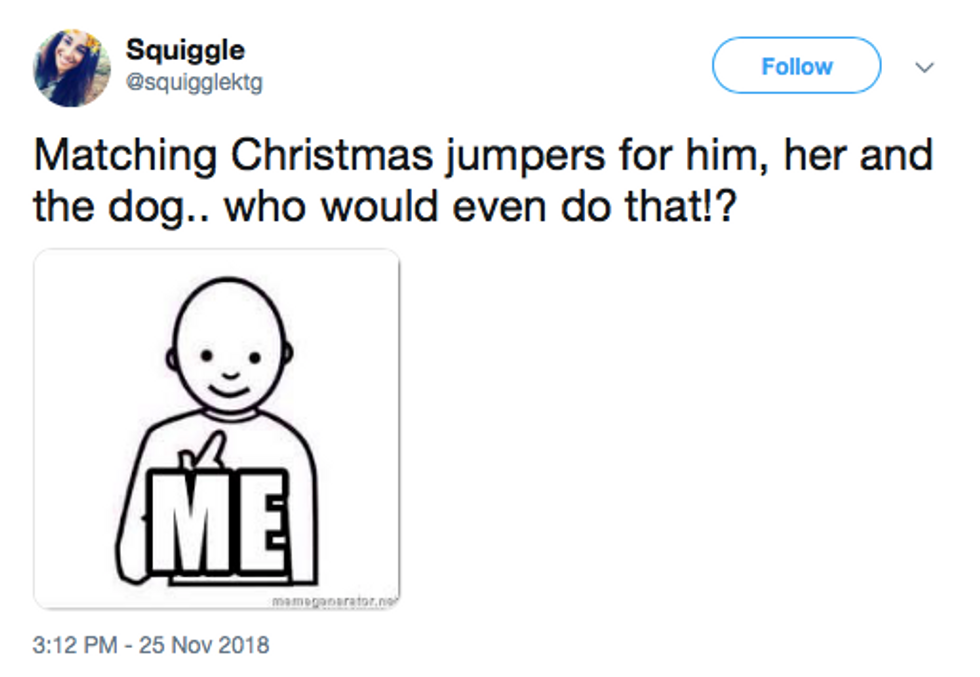 We're not even embarrassed. Anyone who says they don't want one for their doggo is lying.
We're loving these early Christmas snaps.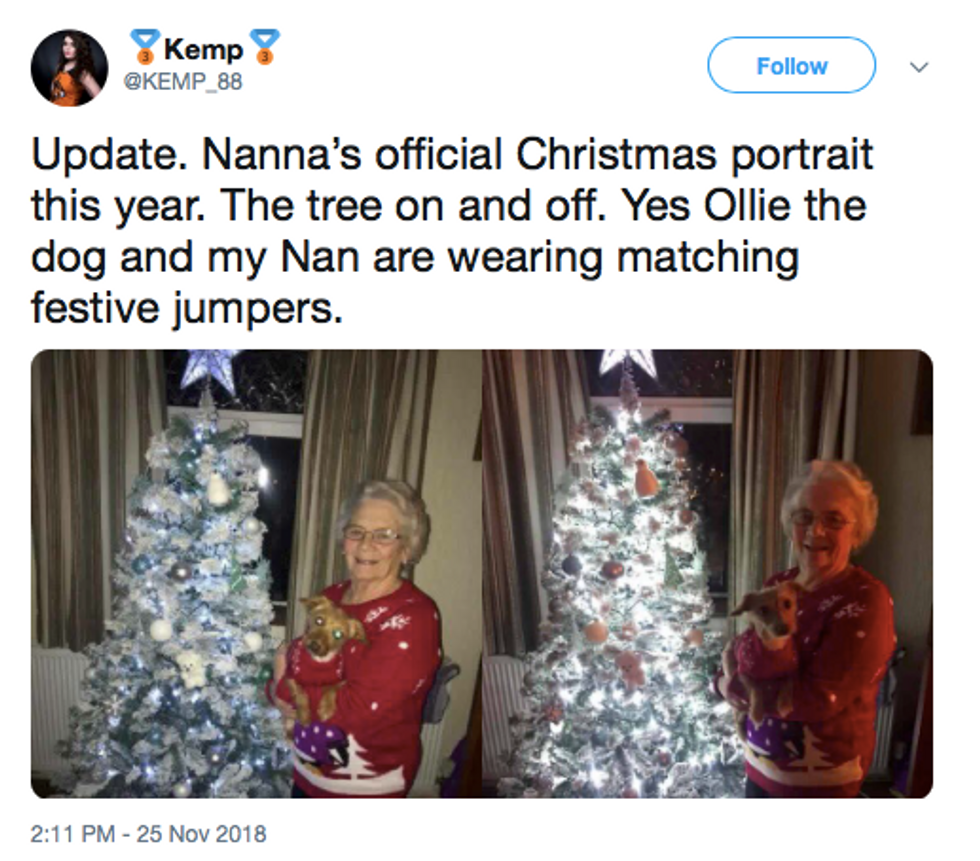 This photo was posted in November - which is pretty impressive to say the tree's up and decorated, and the matching jumpers are already out.
Or you could dress them up as Santa...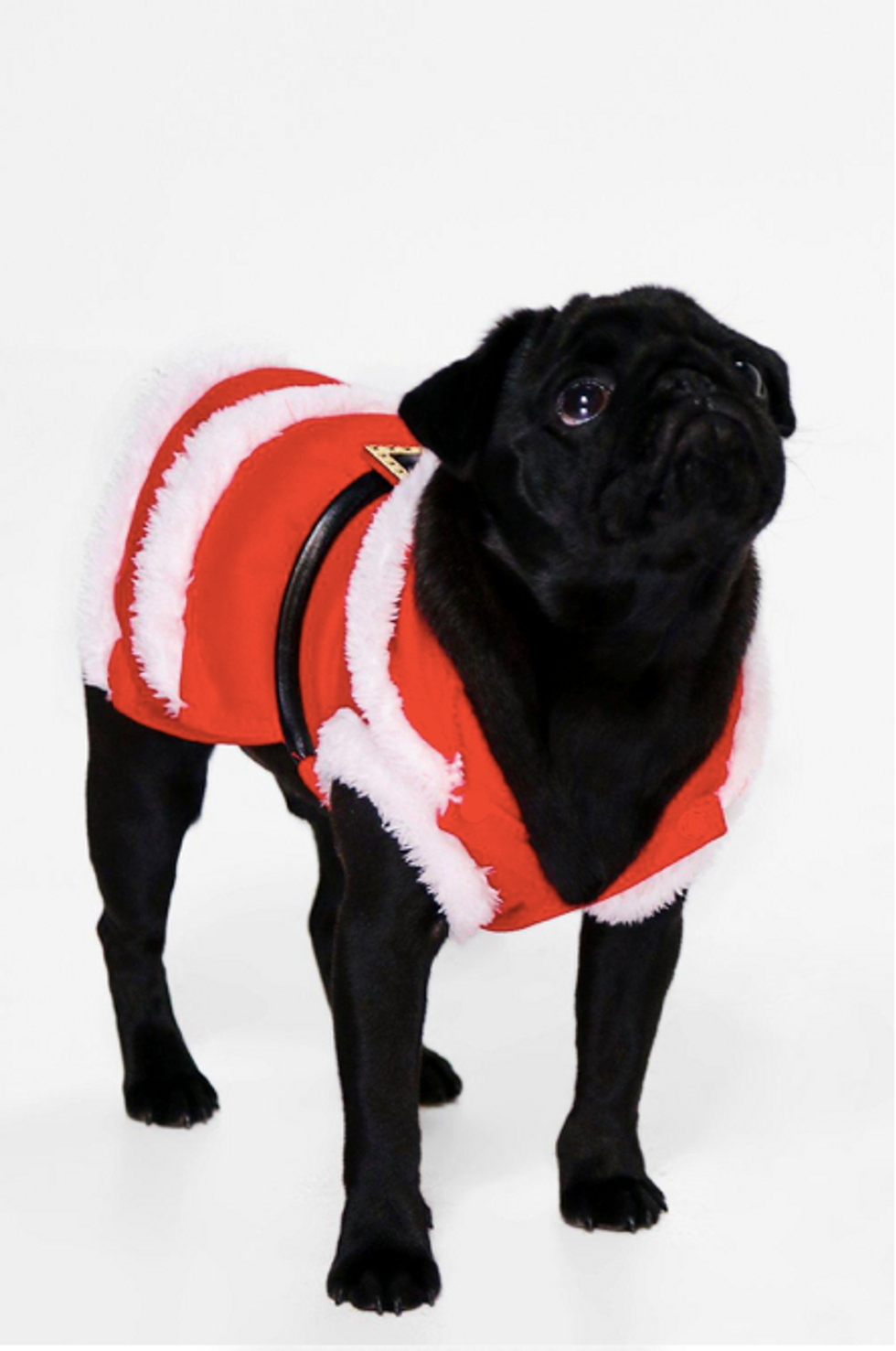 This adorable novelty Santa outfit is also available on
Boohoo
and is on sale - act quickly before it sells out.
Santa Paws is coming to town.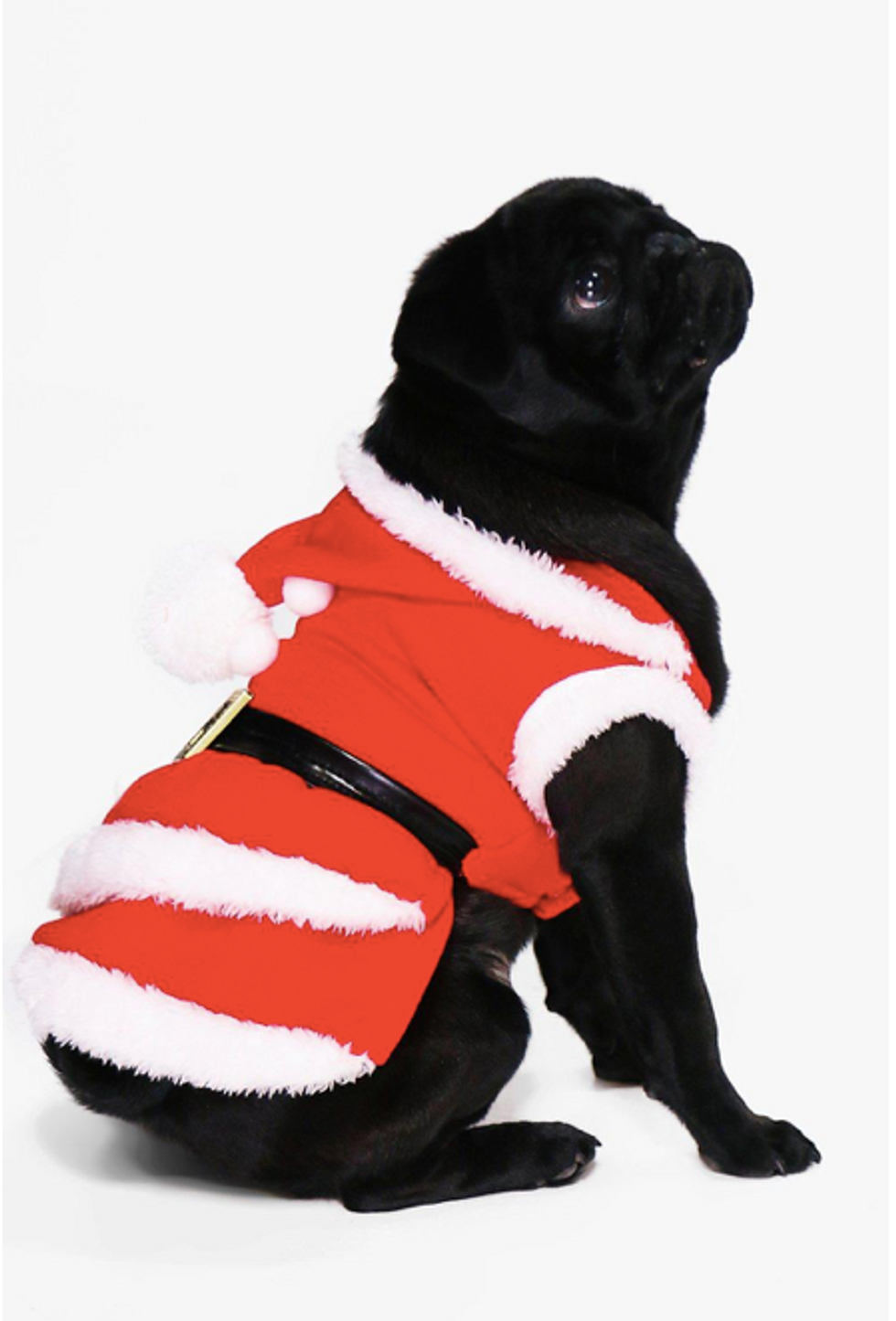 There's so much cuteness in just one photo, we're going to cry. It even has a little hood!
So make sure you're on Santa's nice list.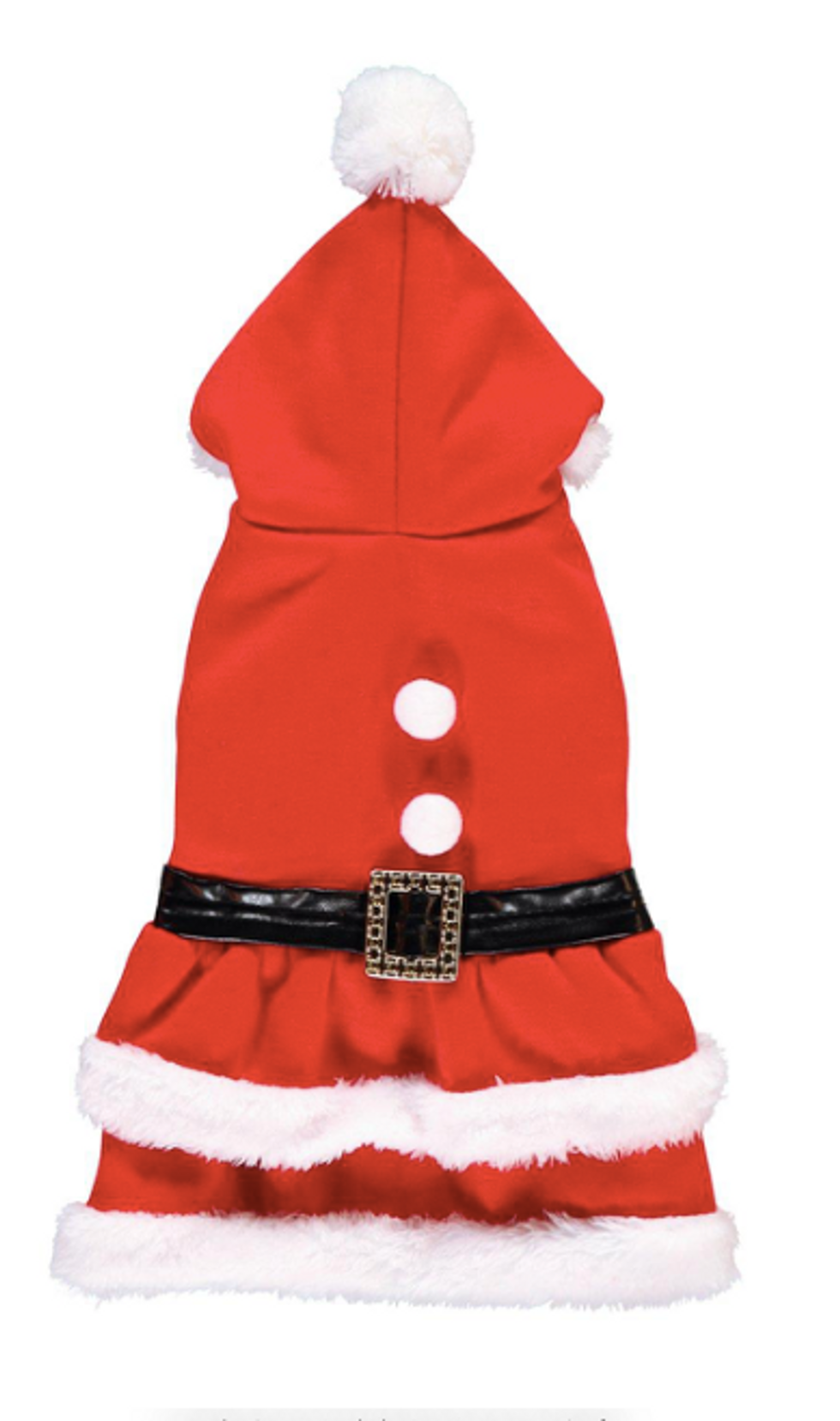 Otherwise, your little pooch won't be delivering you any presents on the night of Christmas Eve.
You'll make their Christmas.
And they'll make yours. Just picture you both sat on the sofa with the fire on, both wearing your matching Christmas jumpers.
And if you haven't got a dog.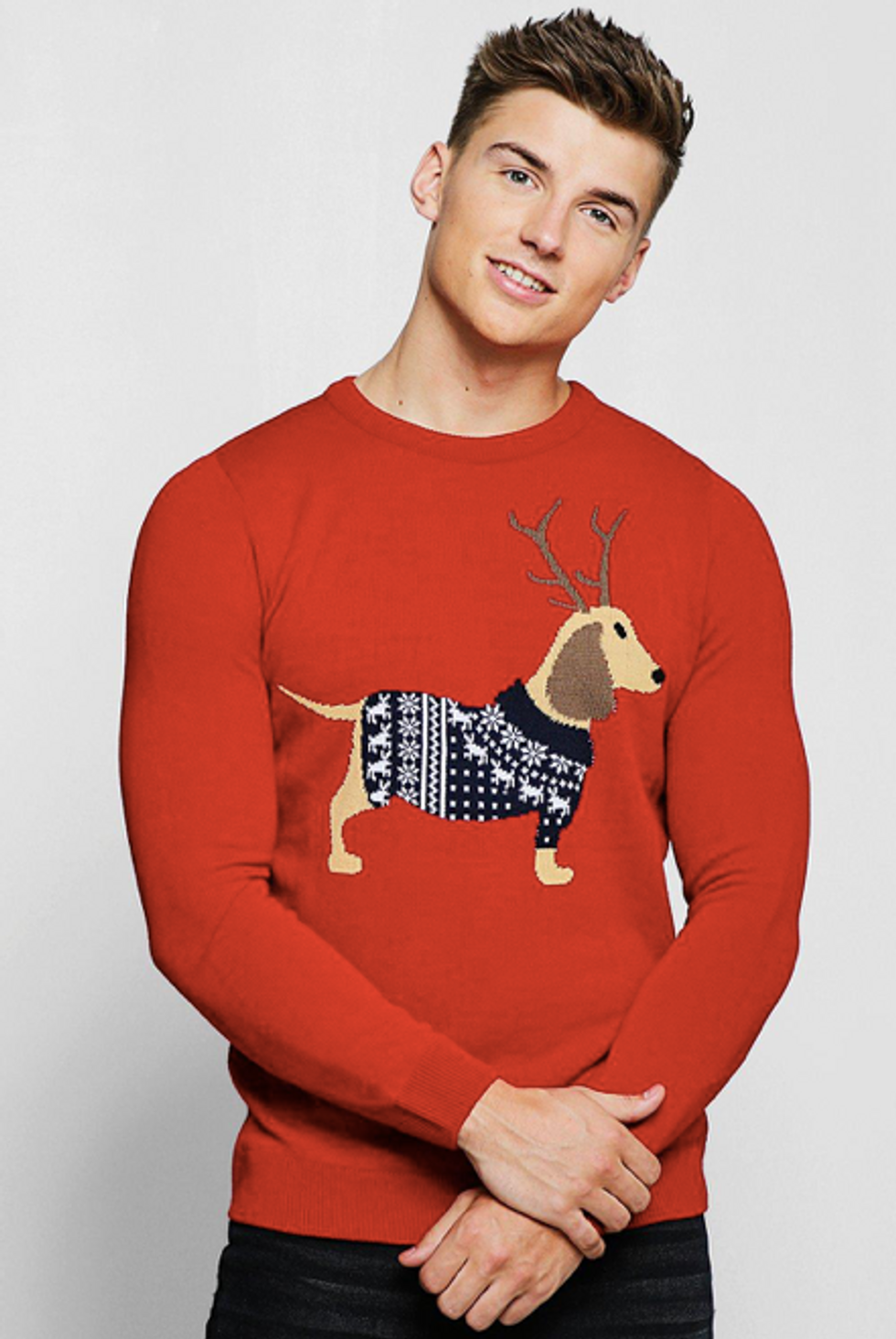 You could always buy this
Christmas jumper
with a dog on it. It's not the same, but it's still pretty cool.
They're actually really cool.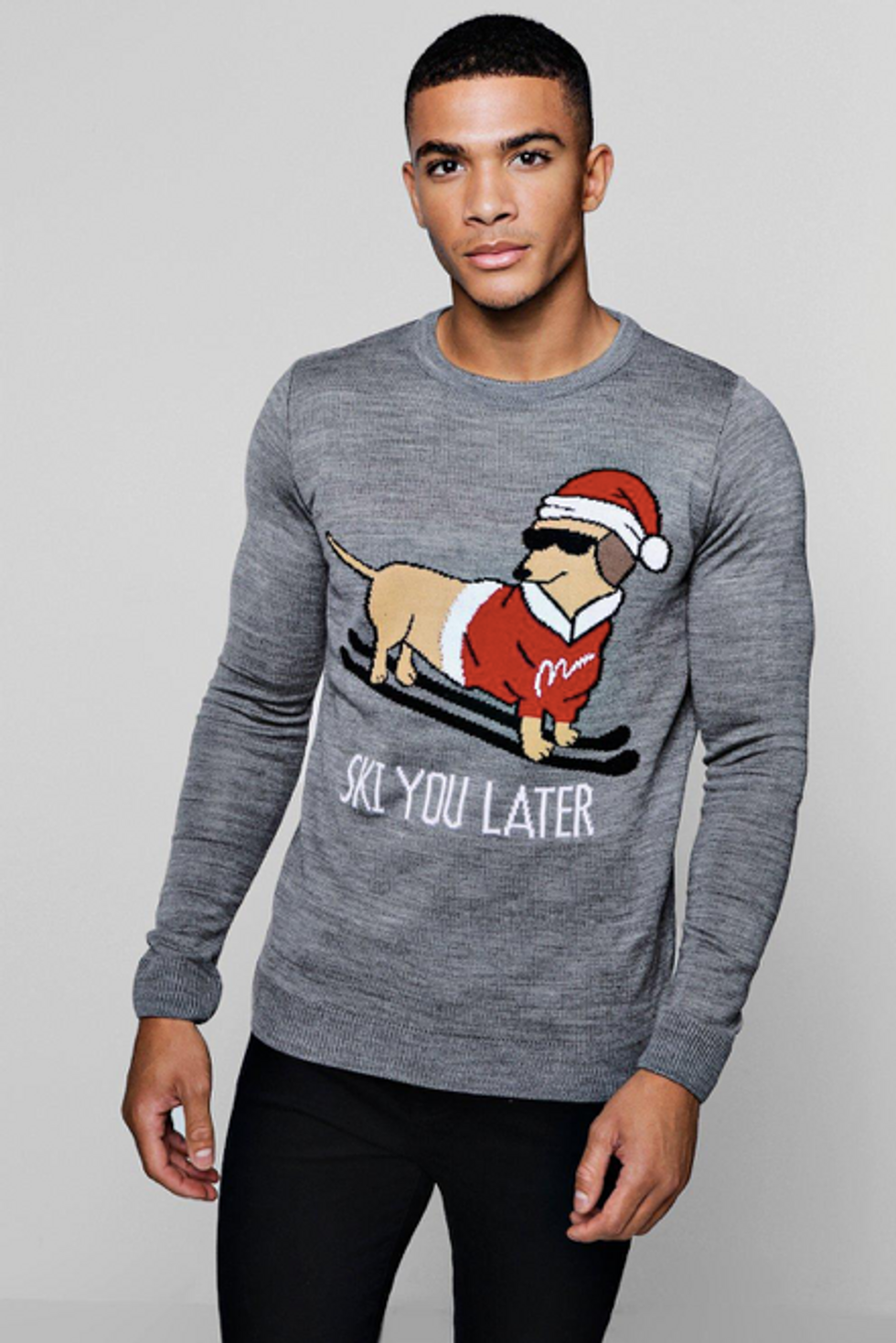 Maybe the days were Christmas jumpers had to be ugly are long gone; Boohoo has officially made them fashionable.
They even have maternity ones.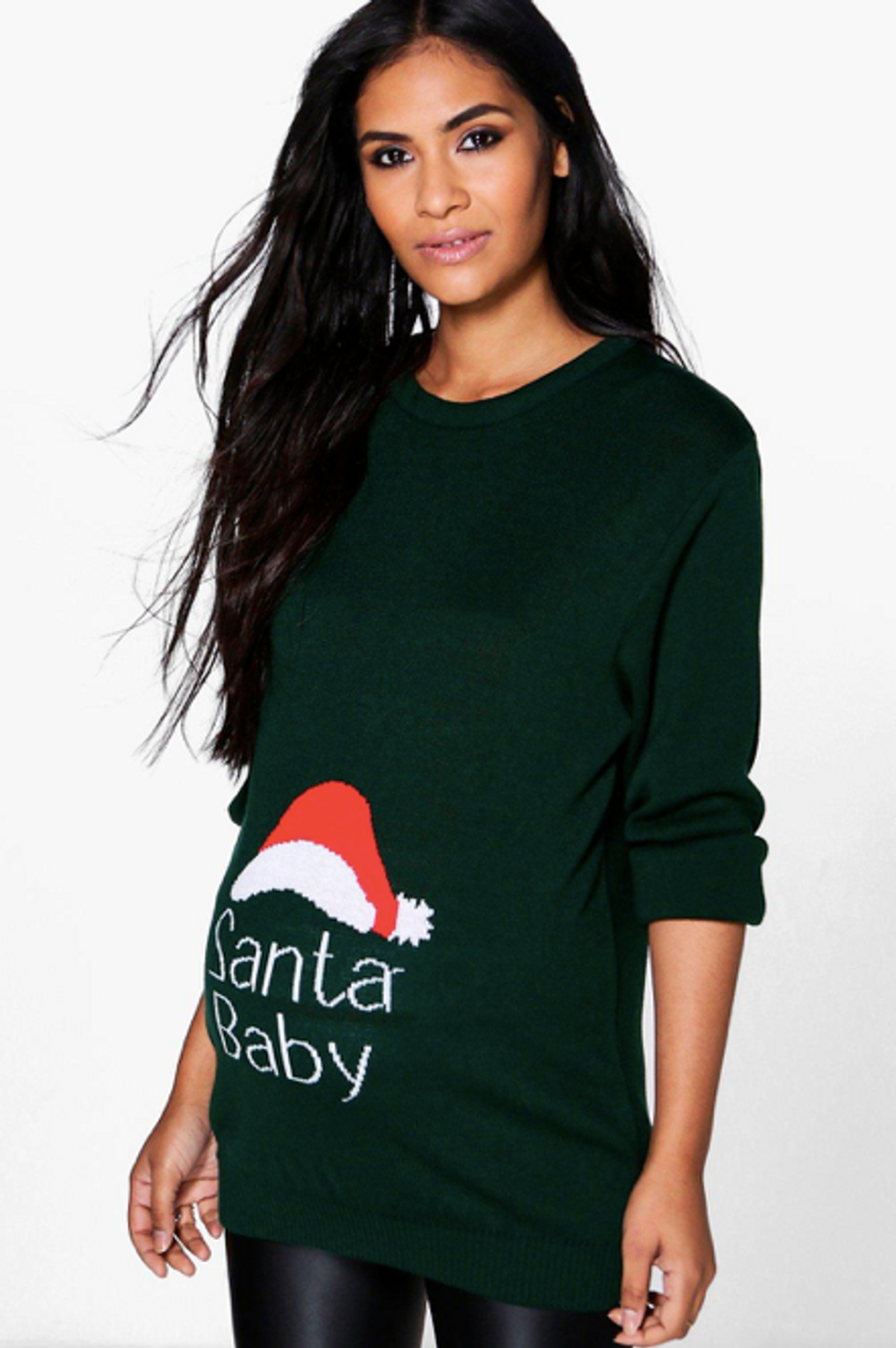 Whether you've got a baby on the way, or just ate too much Christmas dinner, this Santa Baby jumper is incredible.
Who can resist pudding?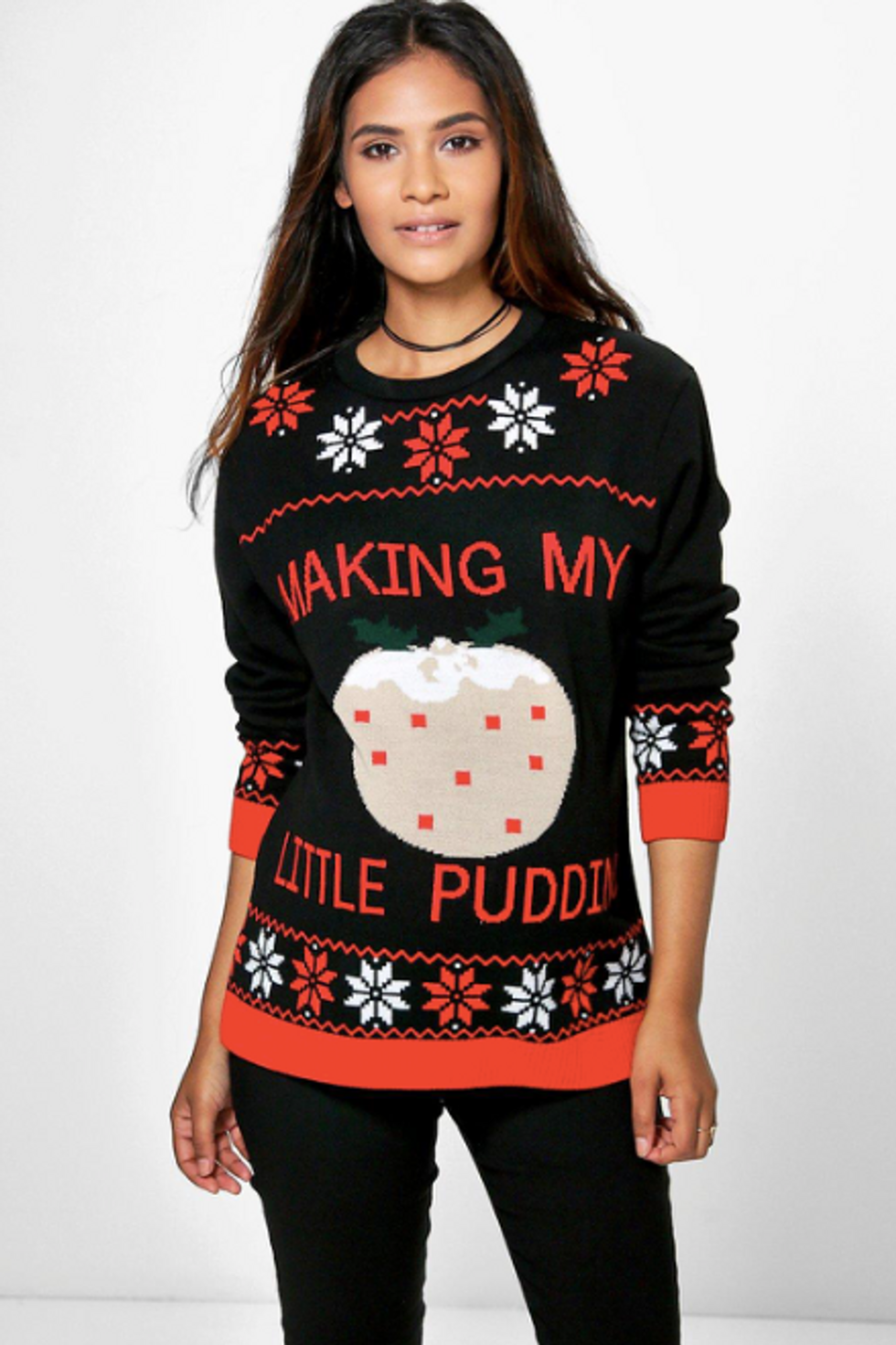 Whether you're a fan of Christmas pudding or not, everyone will like this festive number.
Who says it has to be just a jumper?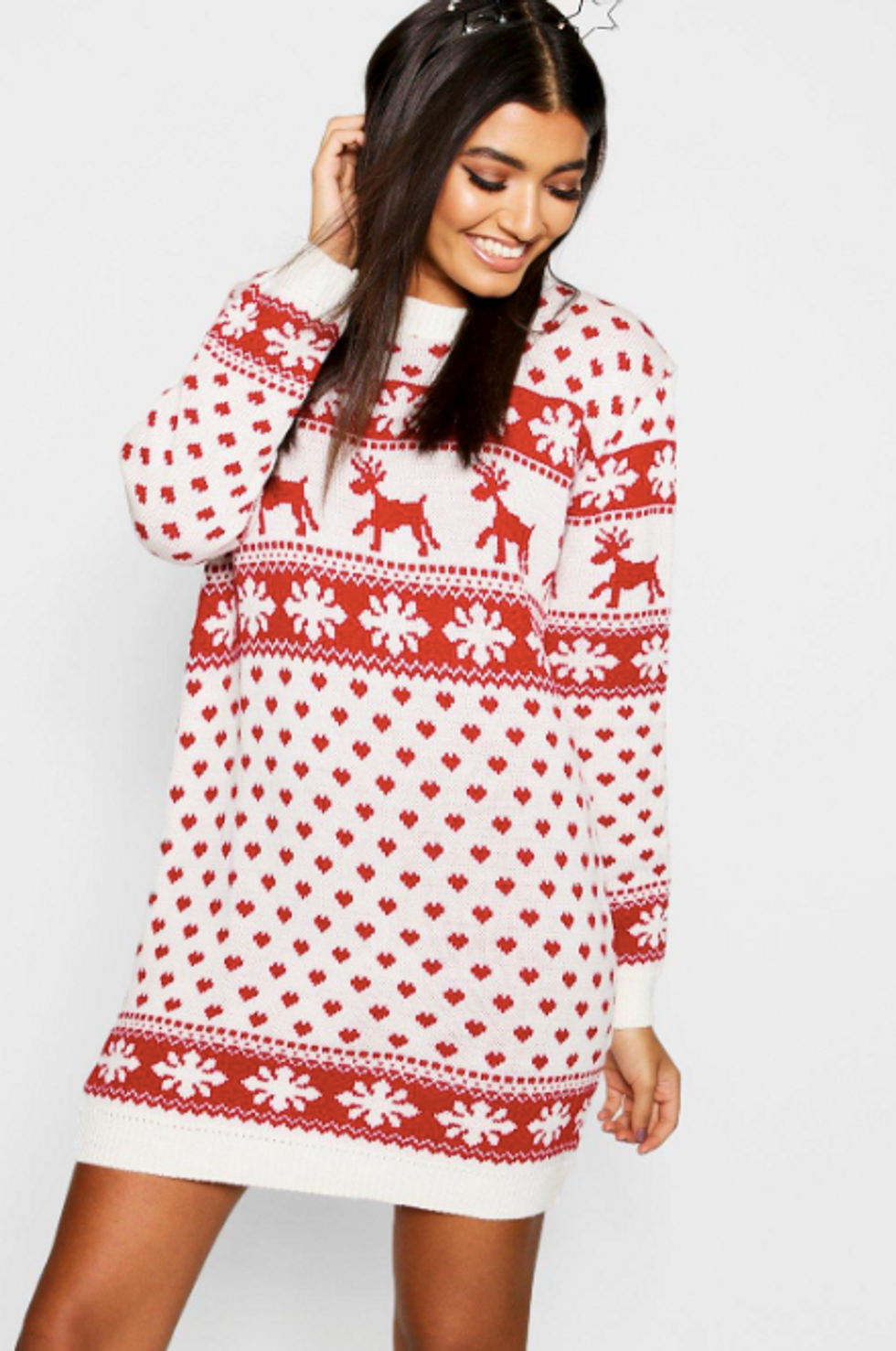 We can see Christmas jumper dresses becoming the next craze because look how sweet they look.
And for those in the Wizarding world.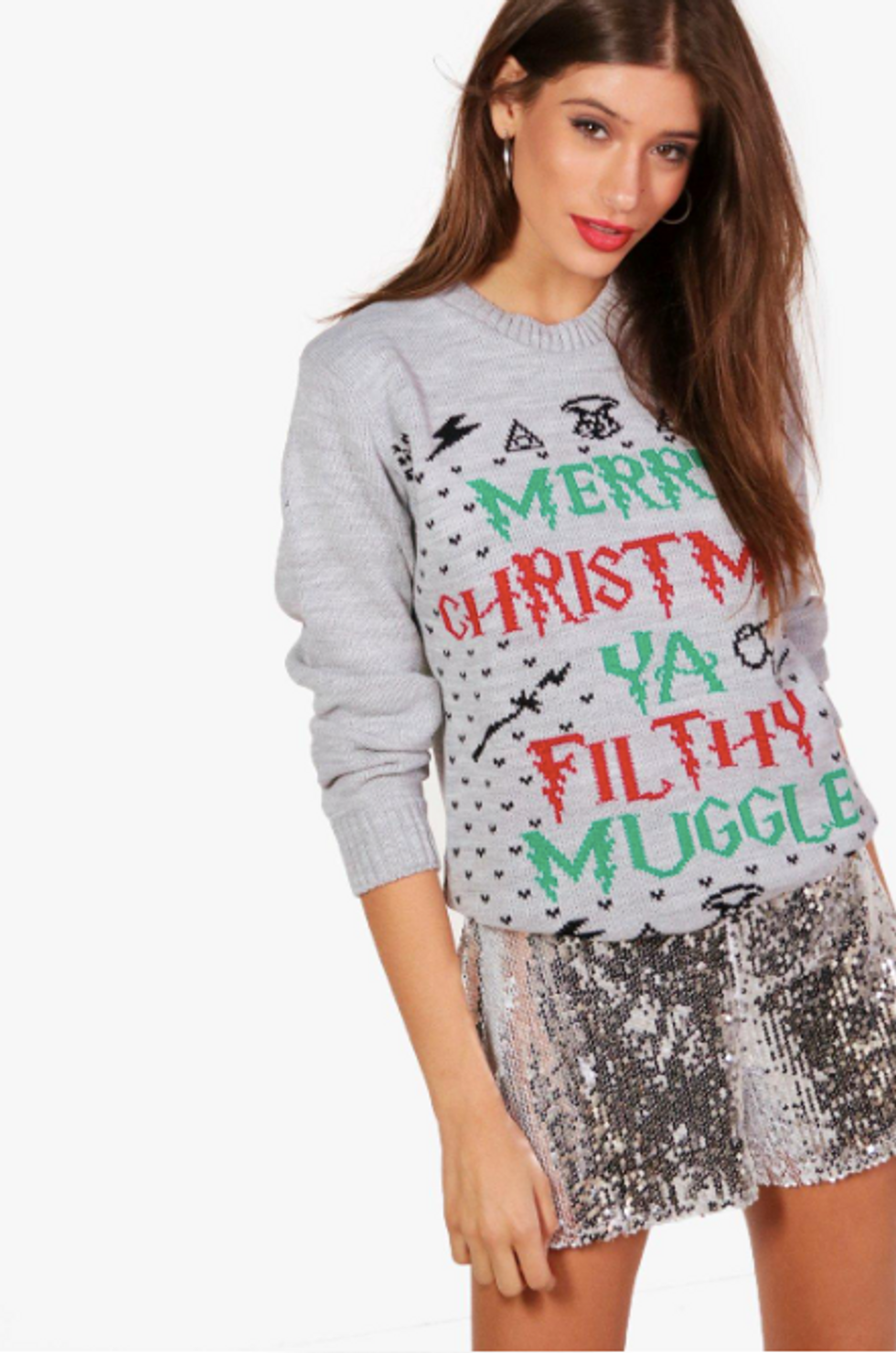 Harry Potter fans: here is your dream Christmas jumper. It's perfect to wear in front of your muggle family members.
Or use your Christmas jumper to get a date.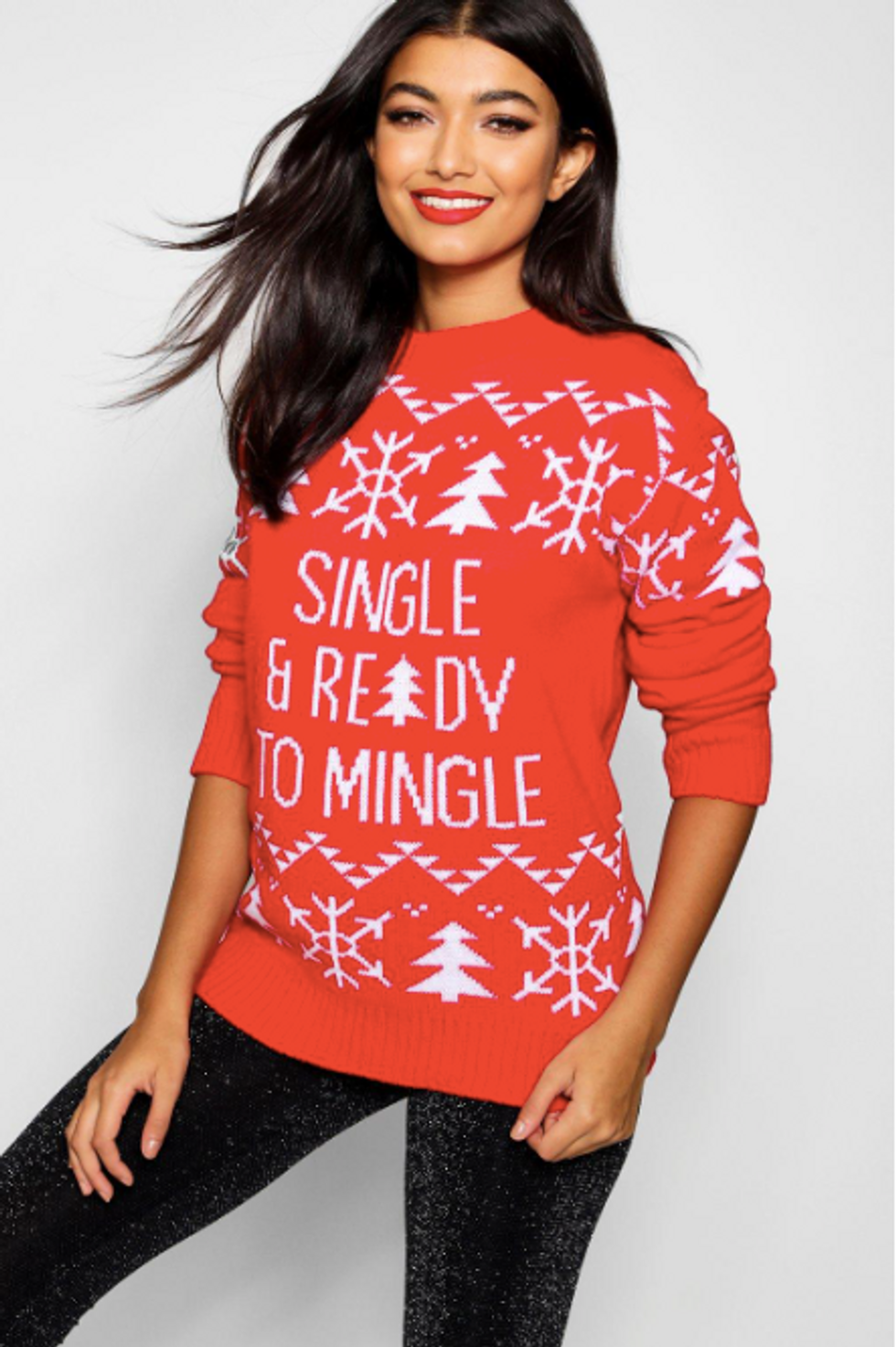 Because soon after Christmas is New Year's Eve. So if you're single, and want somebody to kiss at the countdown into 2019 - this is the jumper for you.
And Boohoo has a plus size section.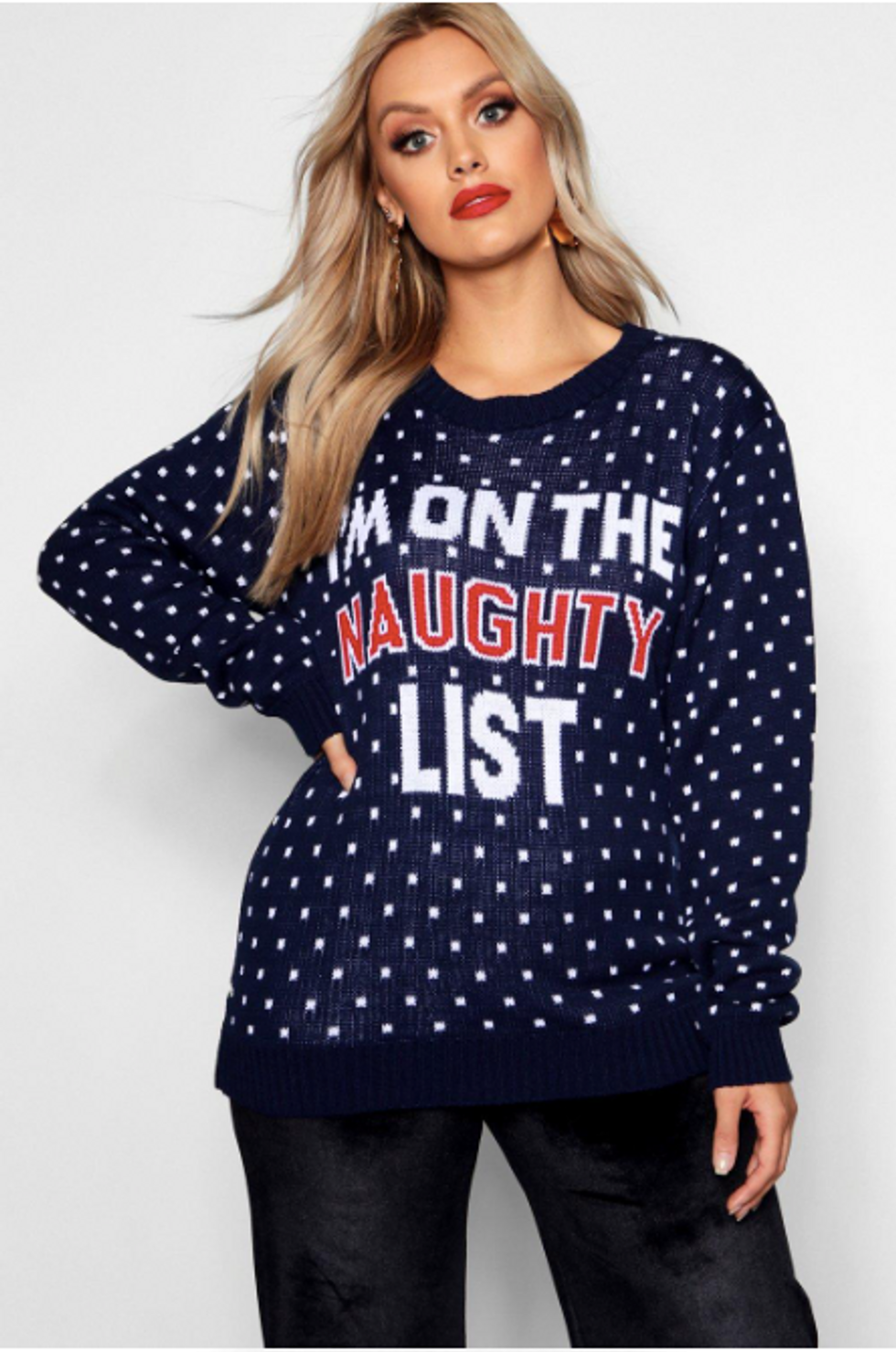 Nothing says Christmas joys more than inclusive winter wear, are we right or are we right?
They even have one with poo on...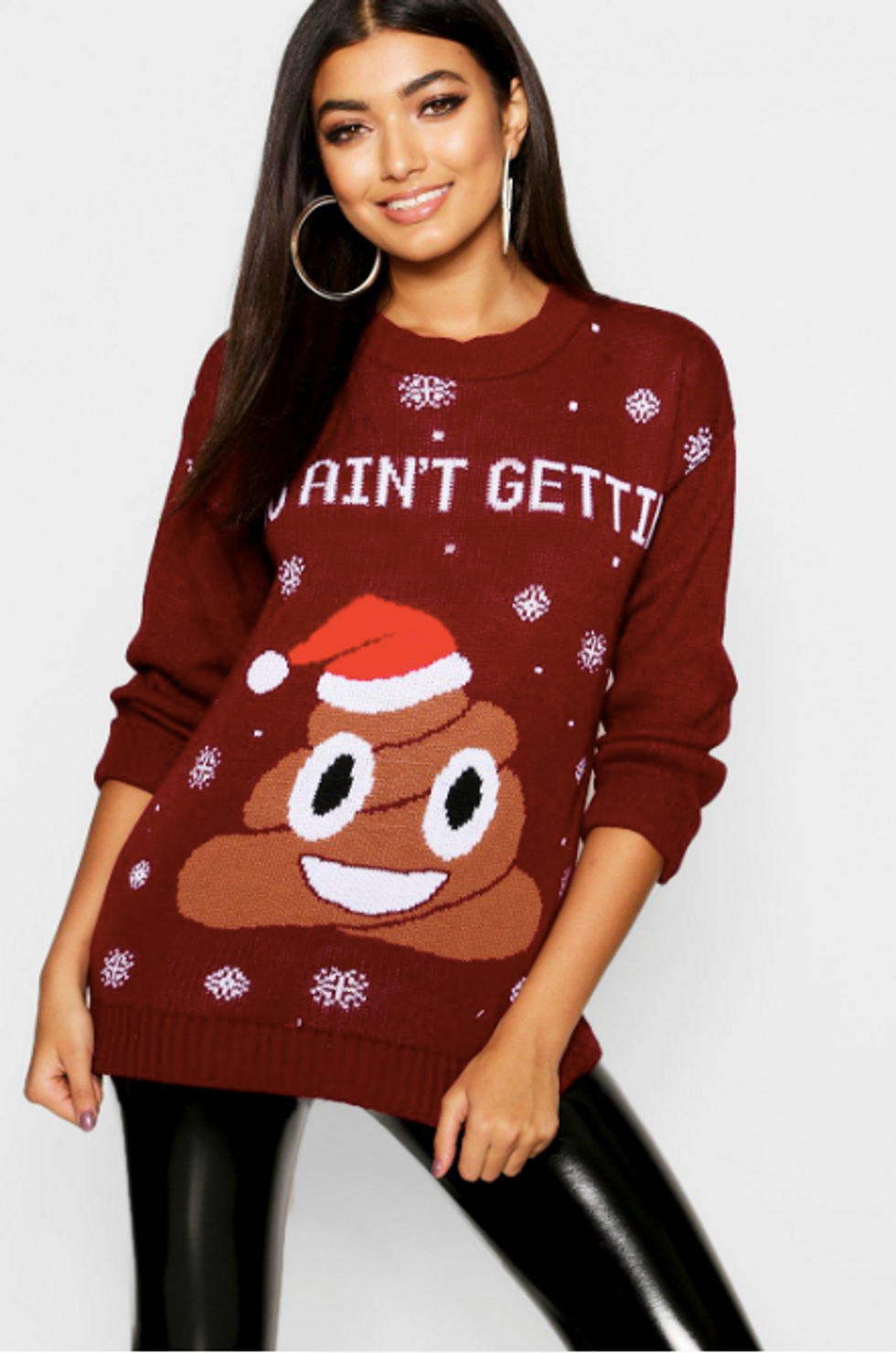 We can already picture our mother's tutting disapproval as we walk through the door with this on.
So maybe stick with something a bit safer.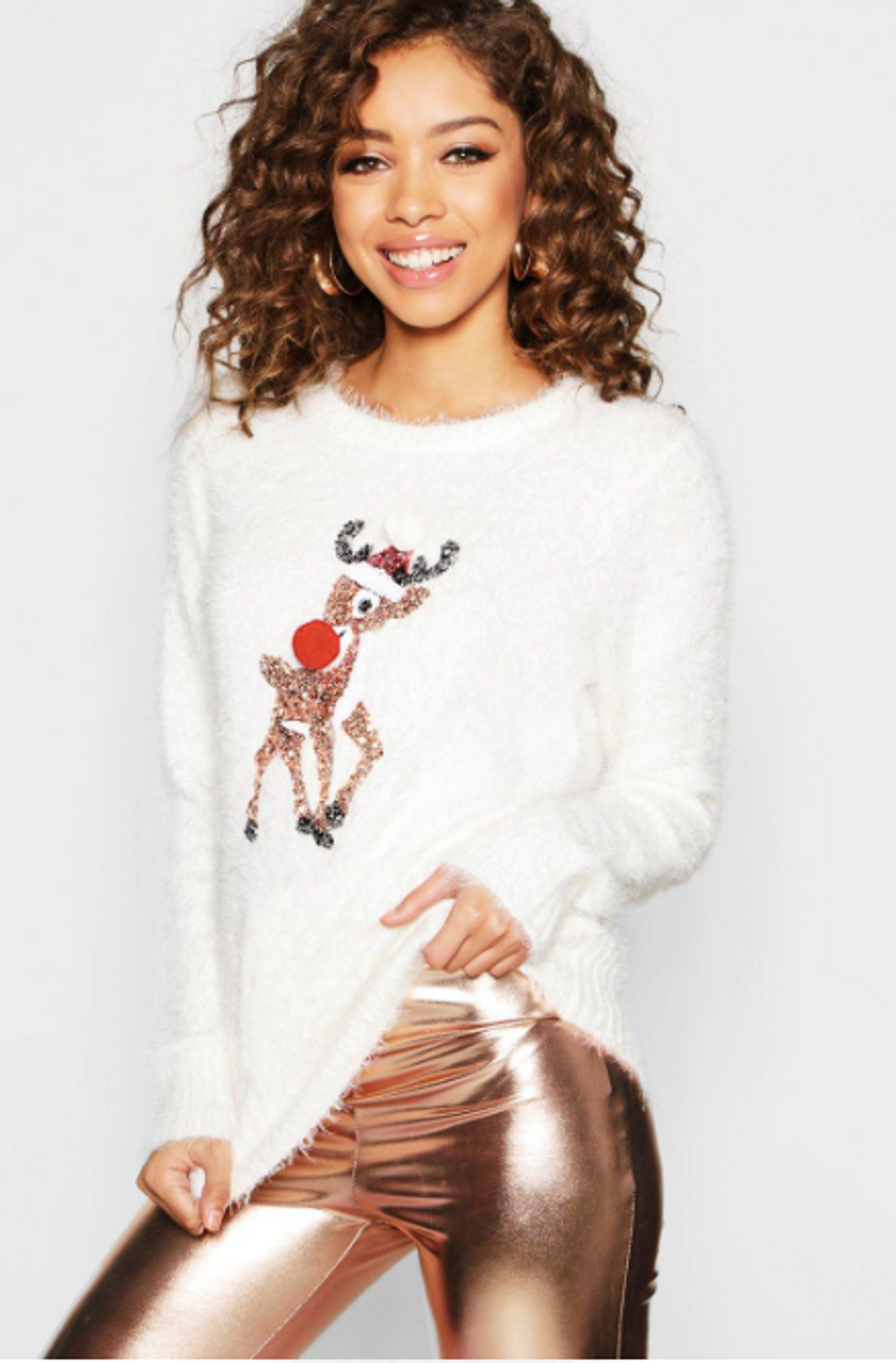 You can't go wrong with Rudolph, Santa, snowmen, or some snowflakes. And they're still cute af.
Just don't wear something like this.
There'll be someone in the family, whose Christmas jumper sings or has flashing lights on. Just stay far away from them.
Or this.
Because that much green is never a good idea. Like, literally, chuck it in the bin and forget about it.
Don't worry if you're tall or short.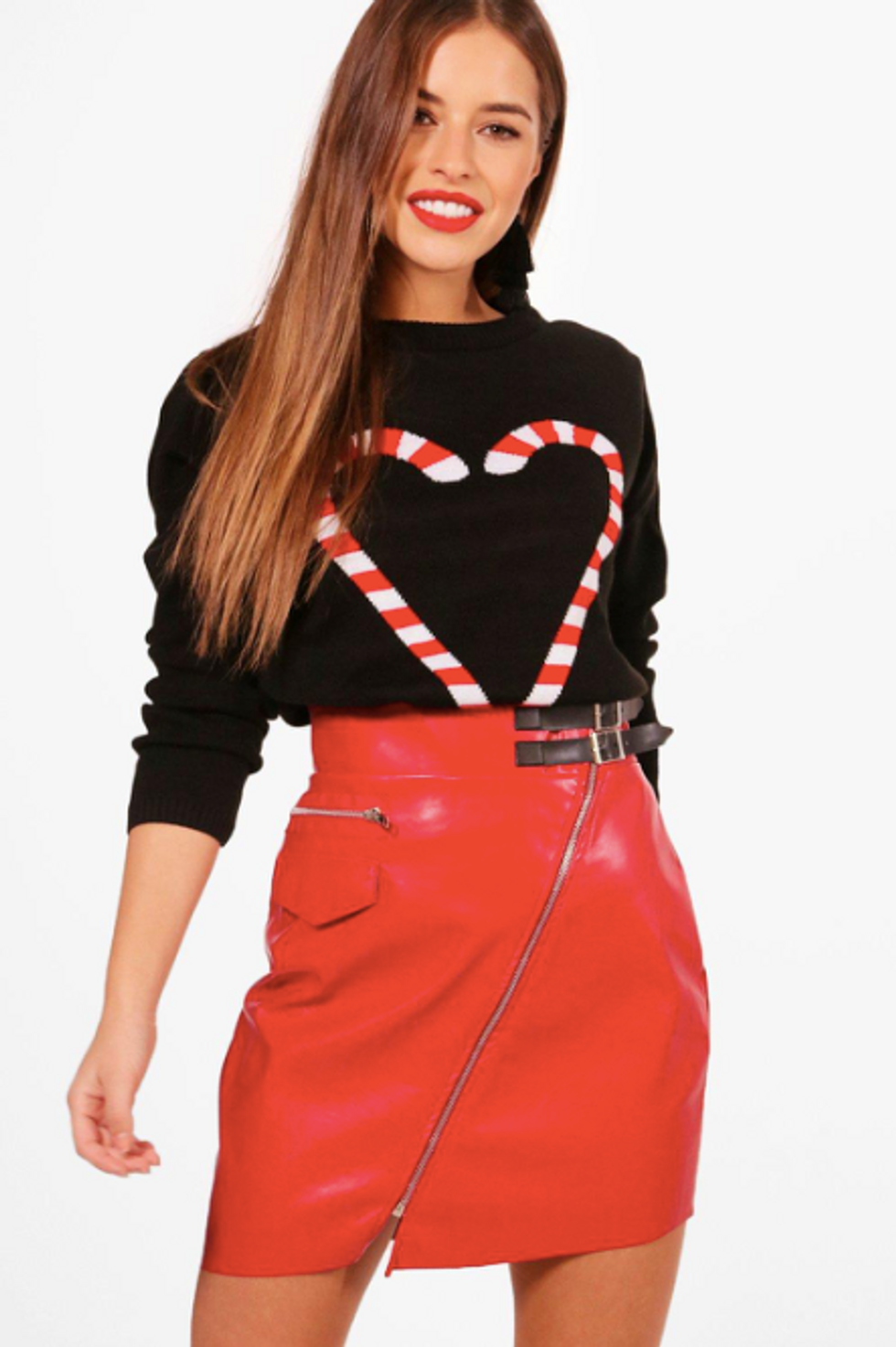 Boohoo have got you sorted out, with a range of petite and tall festive jumpers. Literally, nobody has an excuse to not buy one this year.
As it turns out...
Dogs aren't the only animals that look adorable in Christmas clothes. Look at these kittens with their little Santa hats.
You could even coordinate with your pony.
Okay, so first you might have to get a pony. But how cute is this little Shetland with his Christmas onesie on - they even put tinsel in his stable.
Because it's not just humans that enjoy Christmas.
So make sure your furry friends are included over the holidays. And no, we're not on about your bearded Uncle.