We have to give it to her: Cardi B is the Queen of outrageous outfits. There's no denying that. The rapper has ruffled feathers (sometimes quite literally...) with her fashion statements in the past, with her fans living for her brash and lucrative outfits.
Well, it seems, now, that there has finally been an outfit that wasn't quite up to the challenge of containing the rapper. During a concert on Sunday night, Cardi's jumpsuit exploded open. On stage. Quite possibly every performer's worst nightmare, right?
But, Cardi being Cardi, she handled the situation amazingly and went on to finish her set in nothing but a white bathrobe. It sounds too ludicrous to be true, doesn't it? Well, thankfully, there's video footage and a whole load of images of the incident. Thank God for the internet.
Cardi B is exploding with sass.
via: Getty
With her explicit lyrics and brazen behavior both on and off stage, Cardi B has certainly made a name for herself in the world of music.
Though this hasn't made her shy of success.
Cardi's crude lyrics and overall overwhelming stage presence certainly haven't stopped her from succeeding; they've done quite the opposite, in fact. Throughout her career, she has bagged herself a Grammy, 7 Billboard Awards, 3 MTV Music Awards and 2 Guinness World Record Awards. Not too shabby for Cardi.
And she is completely self-made.
via: Getty
That always makes you appreciate someone a little bit more, doesn't it? Born in the Bronx, NY, Cardi - real name: Belcalis Almanzar - came from a life of domestic violence and poverty and had to resort to stripping to make ends meet.
Vine and Instagram changed her life.
She first found fame when some of her posts on Vine and Instagram went viral, catapulting her to instant stardom. Her stage name, Cardi B, came from her family nickname... Bacardi. Quite fitting, don't you agree?
And her raunchy outfits have certainly raised some eyebrows.
Cardi has never been one to shy away from the spotlight and has often flaunted her assets in revealing and figure-hugging outfits both on and off the stage.
You have to admire her confidence.
A bit of nudity has never scared her.
So a little wardrobe malfunction was never going to faze this girl.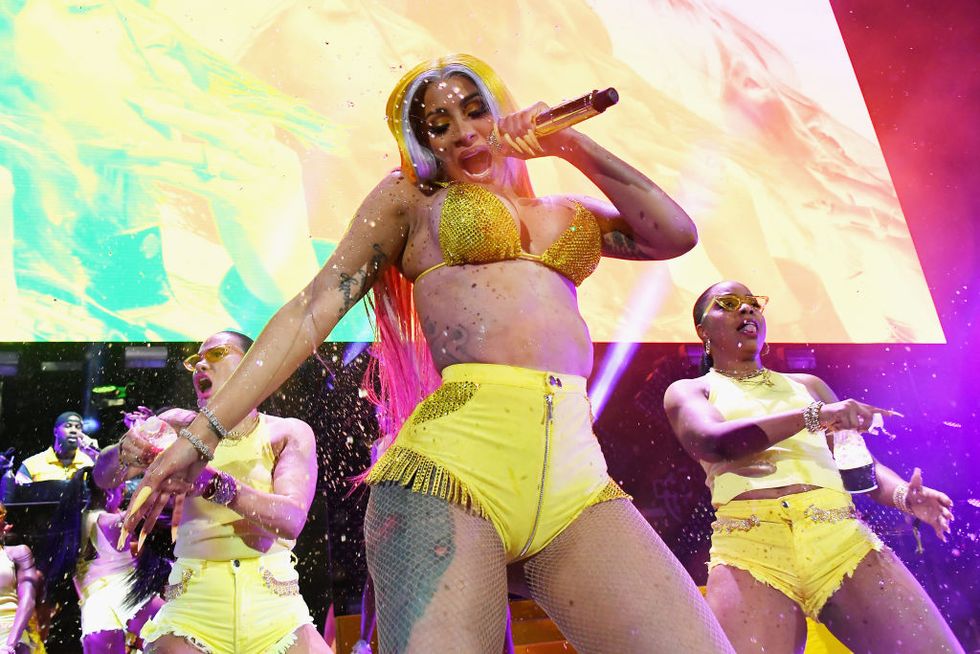 via: Getty
It seems that we've finally found a costume that couldn't handle all that twerking.
The incident happened on Sunday night.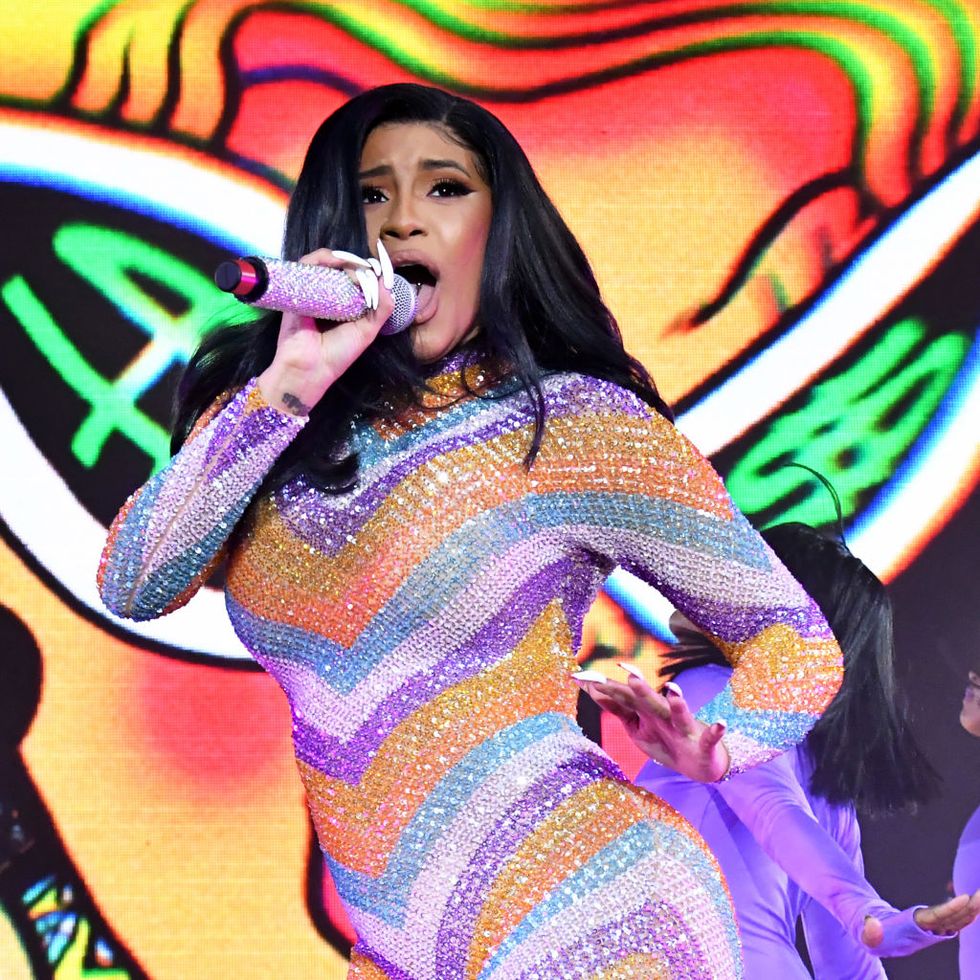 via: Getty
Cardi was performing at the Bonnaroo Arts and Music Festival, in Manchester, Tennessee.
She was given a forty-five minute set at the festival.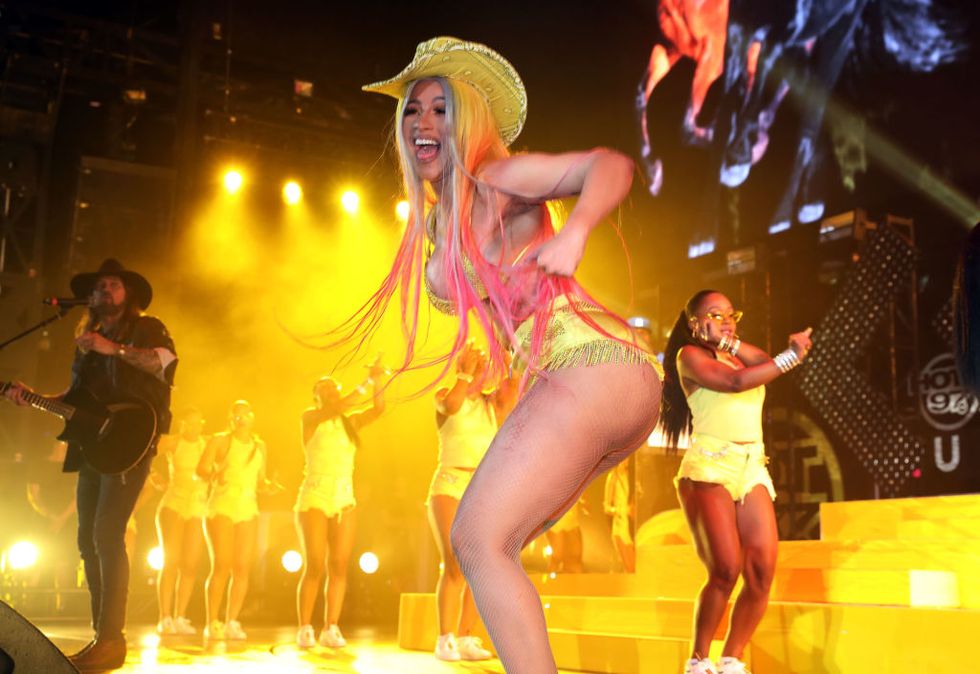 via: Getty
And she wasted no time in blasting out some of her iconic tracks, such as "I Like It," "Money," and "Bodak Yellow".
The show initially began with no hiccups.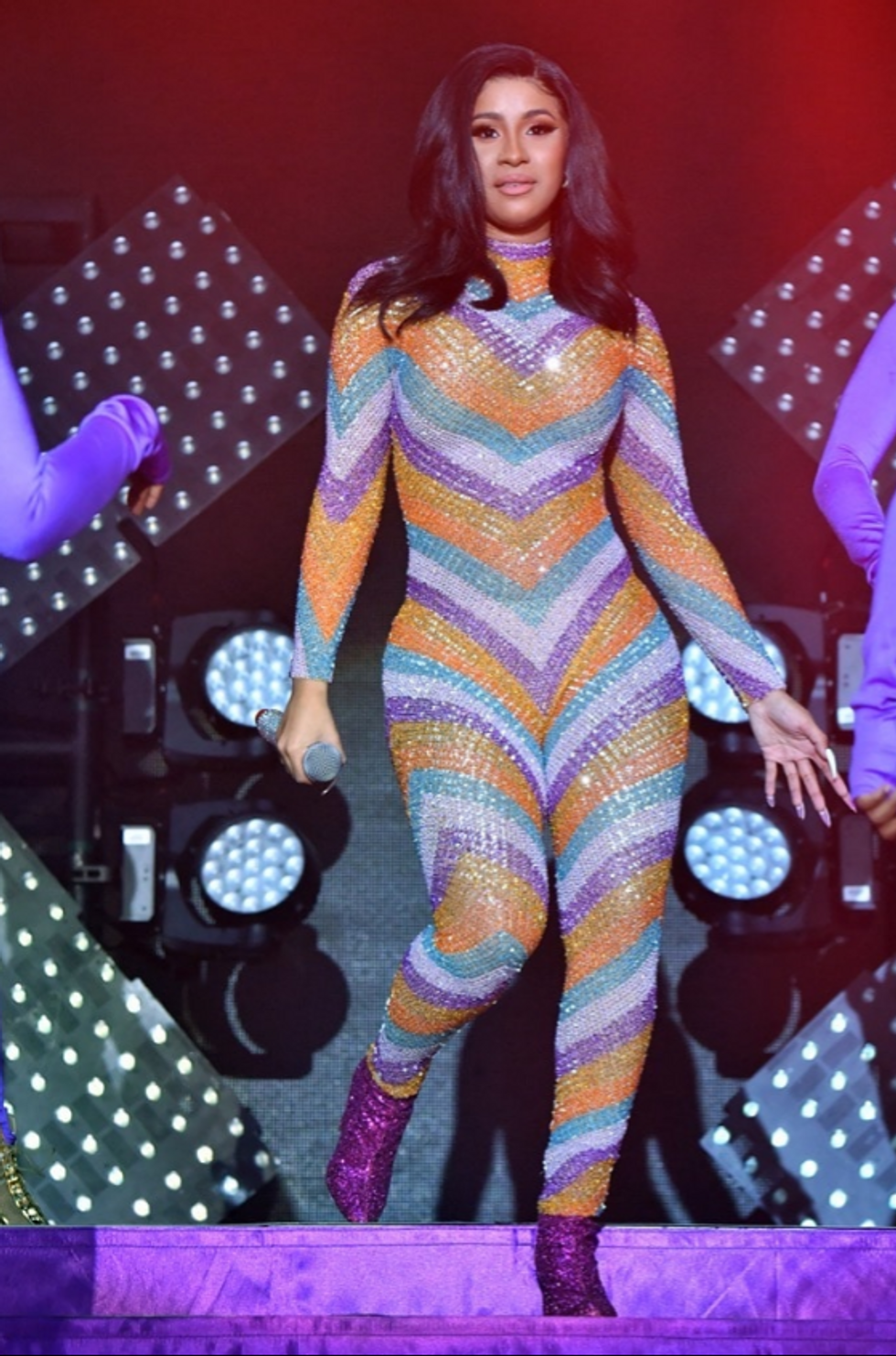 via: Getty
A couple of songs into her set, Cardi entered the stage in a shimmering, skin-tight, rainbow patterned jumpsuit. Typical Cardi style, obviously.
But then, disaster struck.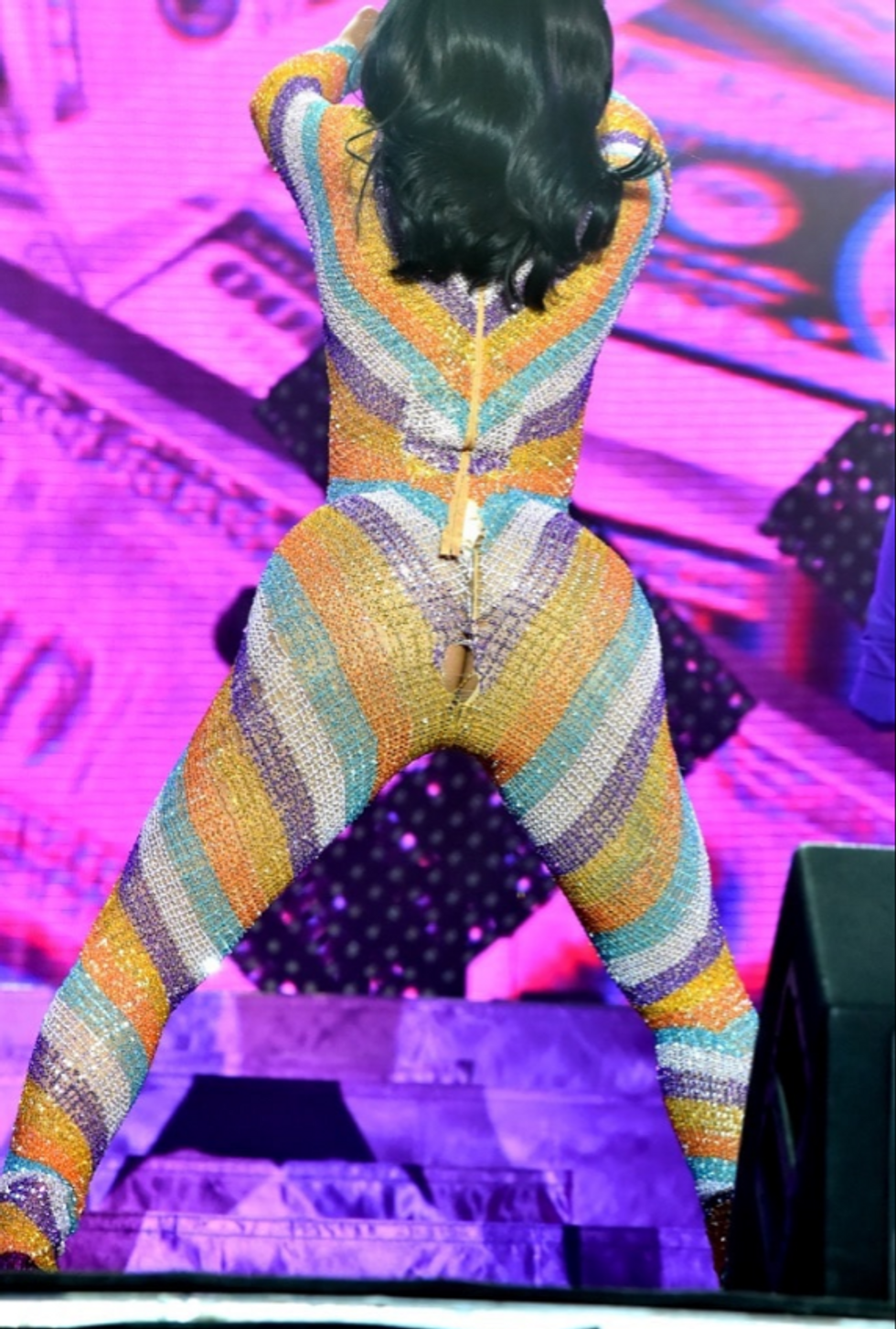 via: Getty
Cardi is clearly too bootylicious to handle. Her jumpsuit literally ripped open across her backside.
Cardi hastily exited the stage...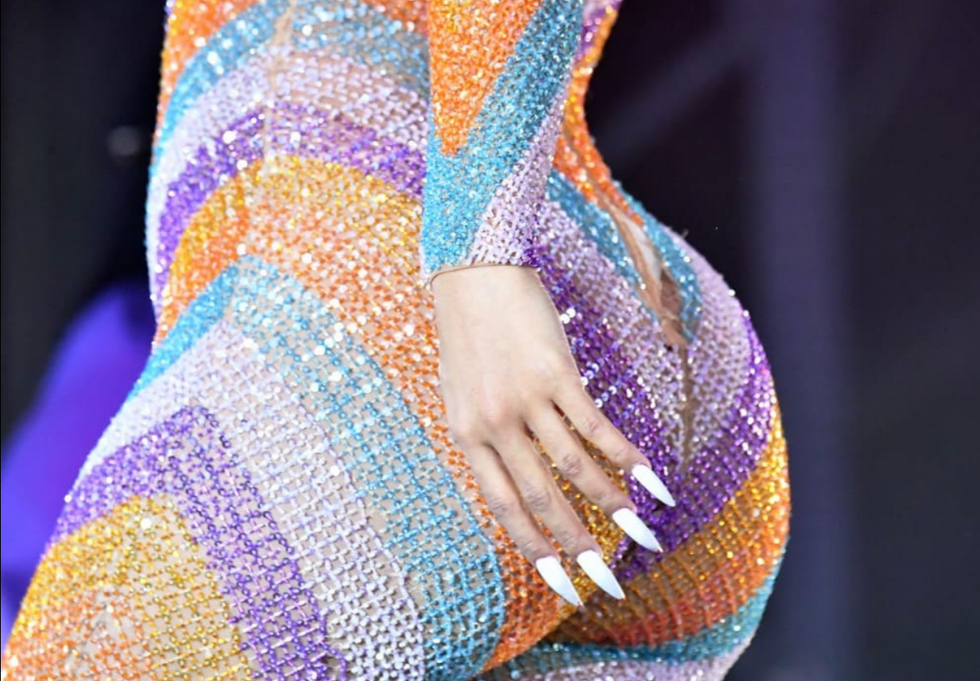 via: Getty
Not that we necessarily blame her. No one, not even Cardi, wants their ass hanging out on stage for the whole world to see.
But she quickly made her grand re-entrance...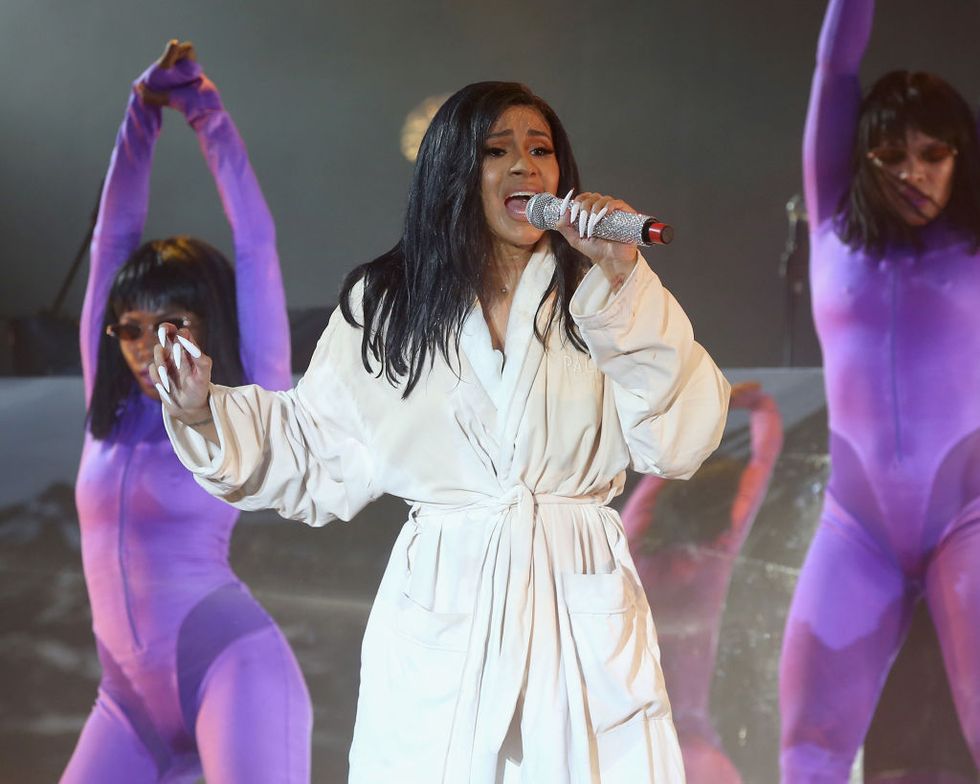 via: Getty
In a bathrobe. Due to the short time-slot, Cardi clearly had no time to get changed into a new costume. So, not to disappoint her fans, she opted to continue her set in the first thing that she could find. Addressing the excitable crowd, Cardi declared, "We gonna keep it moving, baby. We gonna keep it sexy."
And sexy, she kept it.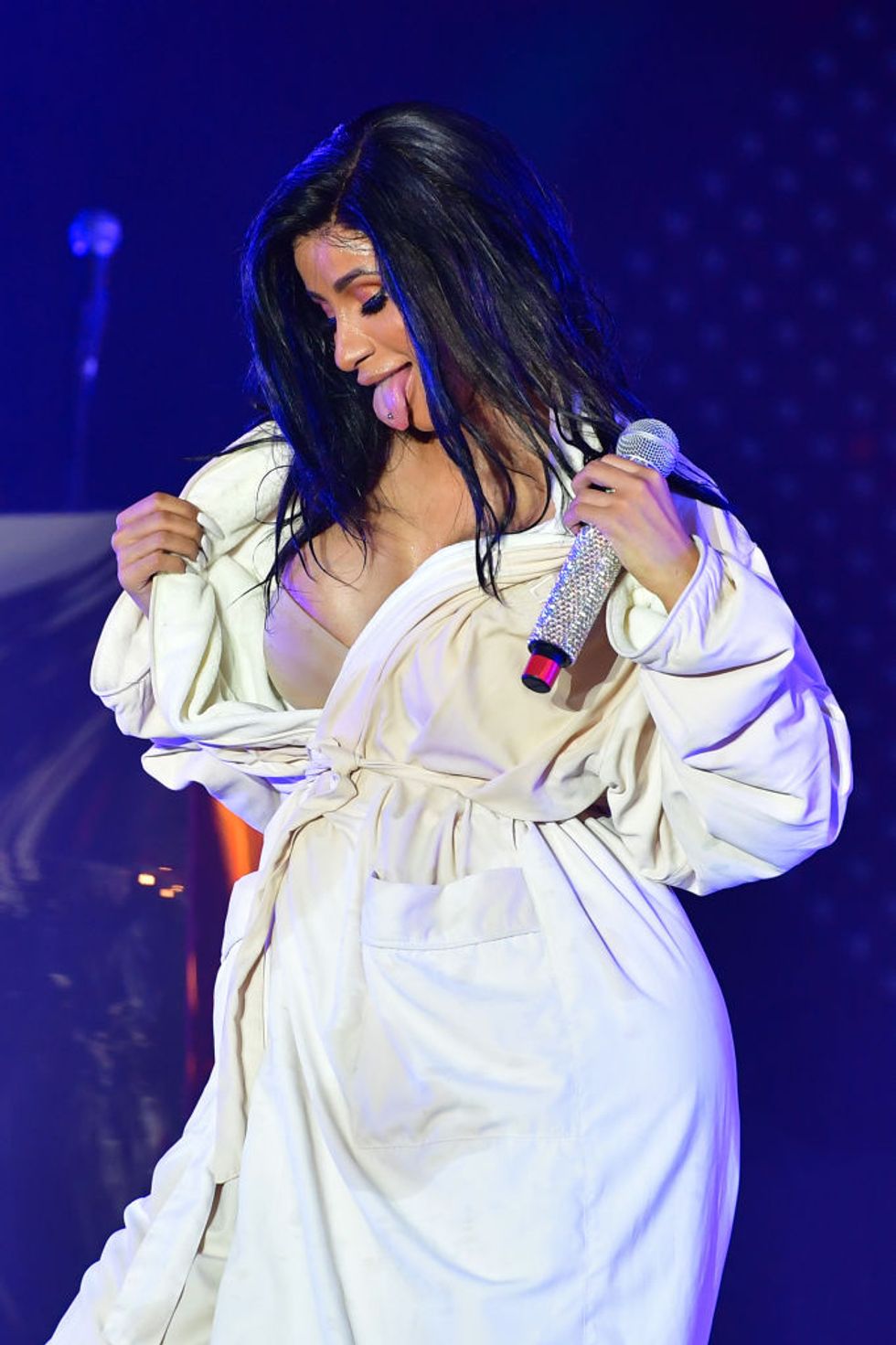 In typical Cardi fashion, she didn't keep the gown on for long. She gradually began teasing it off - much to the crowd's delight.
Cardi kept the robe on for the rest of her set.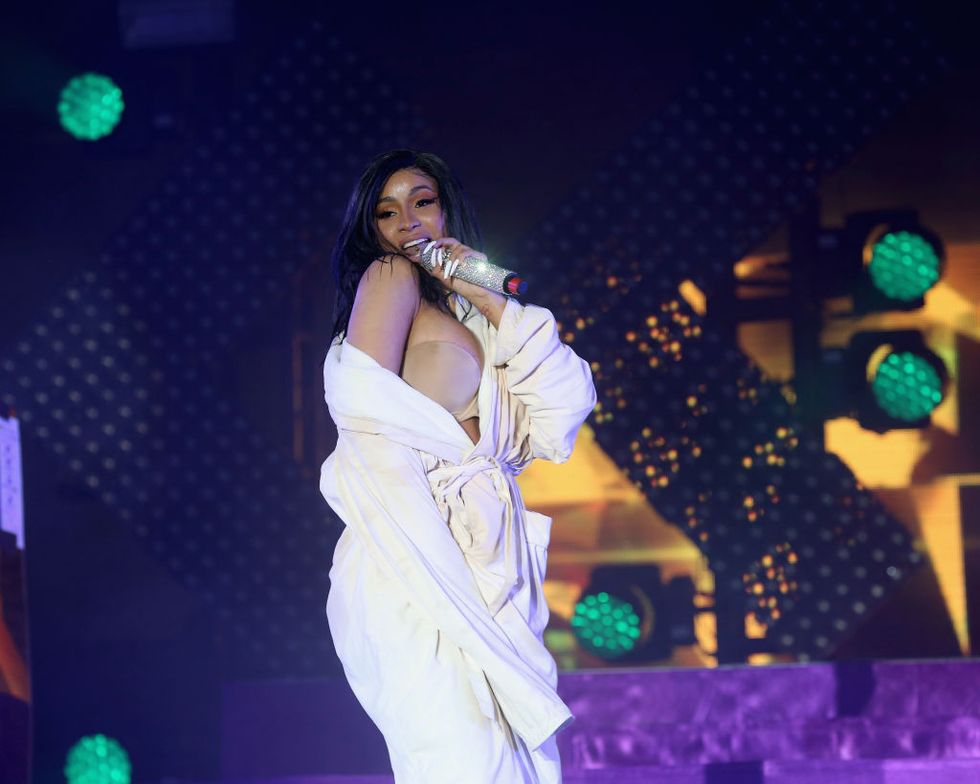 via: Getty
Well, kind of. The actual bathrobe didn't stay on for long, with Cardi quick to reveal her strapless nude bra. How did she make
that
sexy?!
You can watch her bathrobe-clad performance here.
Despite the wardrobe mishap, she still kills her set.
Fans were quick to praise her.
I ❤️ DIS BISH! @iamcardib ripped her outfit and did the whole show at @bonnaroo in a ROBE okurrrrrrr 🙌🏻🙌🏻🙌🏻 #CardiB… https://t.co/2OiIvrivlC

— Jen (@Jen)1560735050.0
Cardi has too much sass and attitude to let something as trivial as
clothes
stop her from performing. Though she
has
canceled a few shows due to a number of cosmetic procedures in the past...
Keep doing you, Cardi!
Just promise to not cancel any more of your shows, okay? Keep reading to hear more about that whole fiasco.