Game of Thrones is back on our screens and it's bigger and better than ever.
While the start of the show felt like a cast of thousands, the number of characters that we cared so much about has dramatically decreased (thanks to the Red Wedding, and the destruction of the Great Sept of Baelor in particular).
In some ways, it feels far too soon for GoT to be ending, but in other ways, it seems hard to remember life before GoT - what did we think about before we cared about dragons, White Walkers and who was going to sit on the Iron Throne?
Well, let's take a stroll down memory lane and see what the actors used to look like right back at the beginning of the show!
Can you believe that this woman currently sits on the Iron Throne as the most fearsome Queen?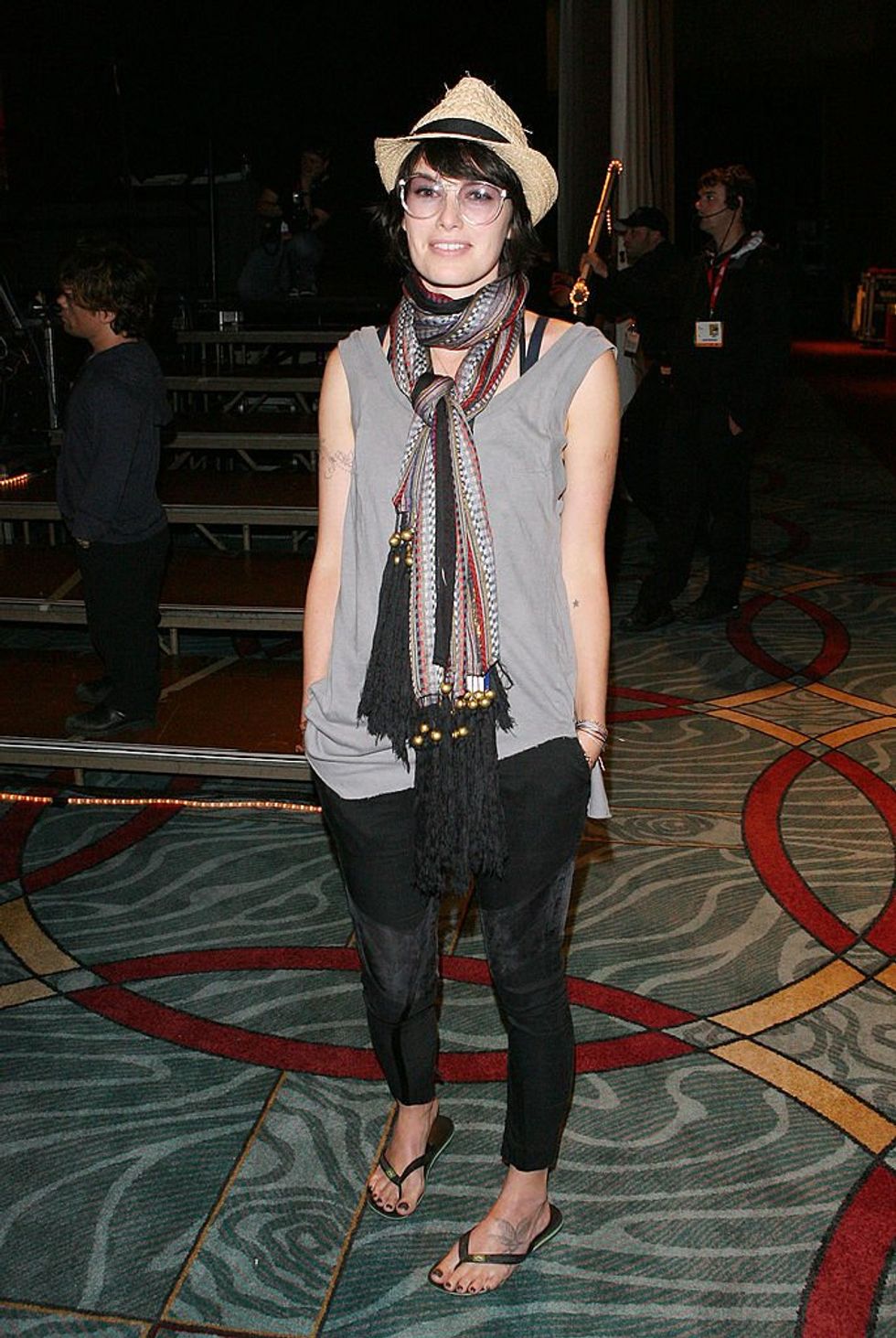 via: Getty
It was clear right from that first series that Cersei was going to be a force to be reckoned with. She was fierce, aggressive and manipulative, plus she was sleeping with her twin brother... As for Lena Headey, she was one of the better-known actors joining the cast of the show; she had previously starred in
The Brothers Grimm, 300,
and
St. Trinians
.
Cersei emanates so much power.
As the series has progressed, Cersei has somehow become even crueller and more unlikeable. We have learned that she's truly in it for herself, especially since she refused to fight the dead. The only moments of compassion we have seen from her are with regard to her children, who were unlikeable themselves... She can't even be nice to be brothers; she's now sent Bronn out to murder them both. Outside of Westeros, Lena Headey stars in Fighting with my Family, which was written by Stephen Merchant and was released earlier this year.
This cute little guy was one of the biggest terrors on the show.
When Jack Gleeson was twelve years old he starred in Batman Begins as the little boy who believed in Batman when no one else did. Six years later, he starred as Cersei's monstrous son, Joffrey, who was spoilt beyond belief and enjoyed terrorizing and killing people for no good reason.
It's good to hear that he's just a great actor, though.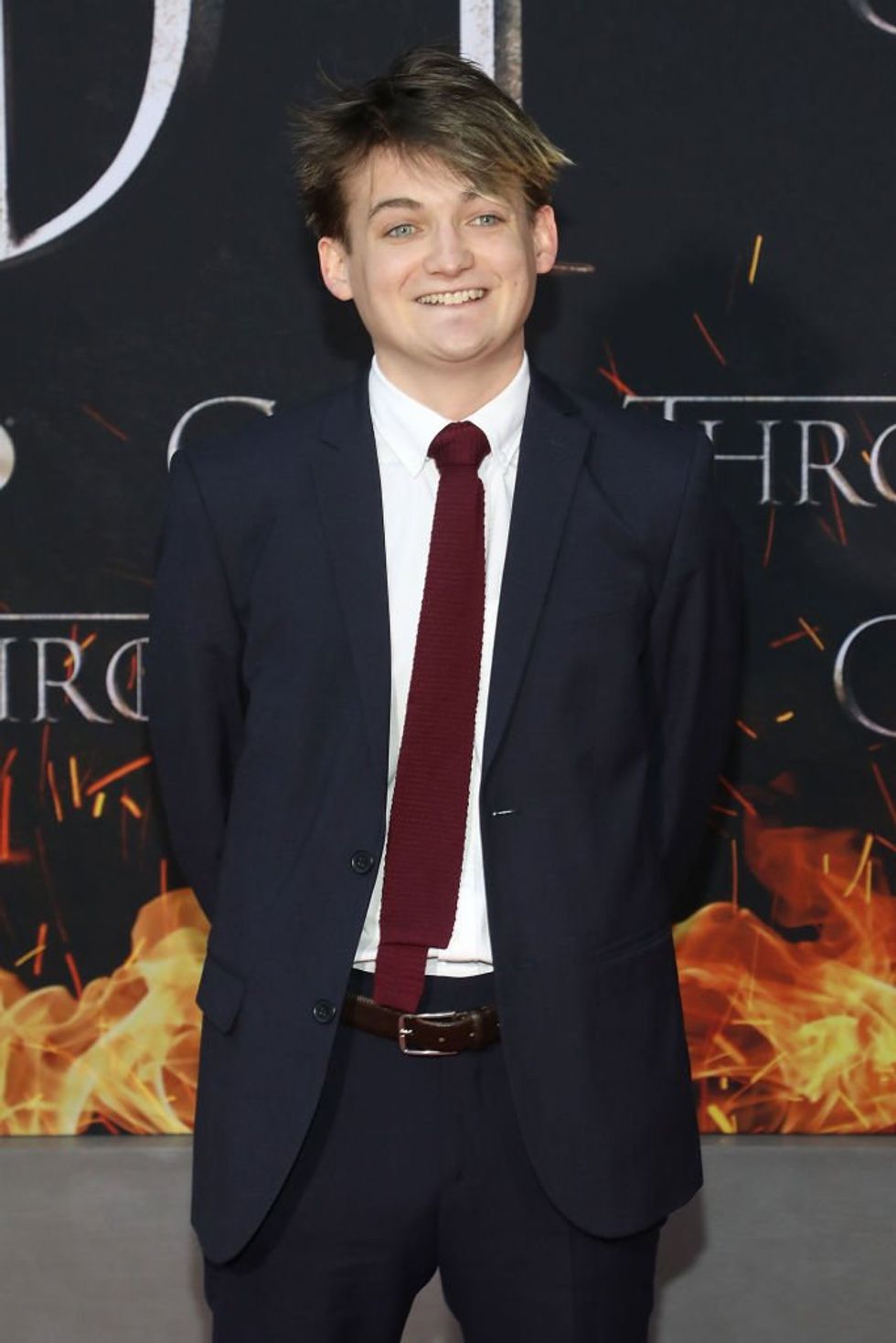 via: Getty
Joffrey was killed off in an incredibly gruesome way, even for 
GoT
, and we were actually kind of happy about it. He was an 
awful
character. But, apparently, Jack Gleeson is one of the nicest and friendliest people around; he must be an incredible actor! Following his stint as Joffrey, Jack decided that he'd had enough of acting and was going to retire. Sometimes a nice, normal life is
just
what we need, especially after the tumultuous times he suffered as Joffrey.
Jaime began life looking eerily like Prince Charming from Shrek.
Jaime Lannister is probably character that has undergone the biggest transition in terms of personality since the start of the show. He began as an incestuous king-slayer who pushed a small boy to his death, but he's alright now. Nikolaj Coster-Waldau is a Danish actor who was already fairly well established prior to GoT as he had starred in Academy Award-winning Black Hawk Down, fan-favorite Wimbledon, and Kingdom of Heaven alongside Orlando Bloom and Liam Neeson.
These days, Jaime really is charming us all.
These days, Jaime's a bit of a hero and we're really rooting for him. He's decided to do the right thing, despite what his sister thinks, and it's sort of hard to remember that he was once so different. If you think that Jaime's changed a lot, wait until you see what Bran used to look like. You'll hardly be able to recognize him!
Tyrion used to be a bit of a playboy.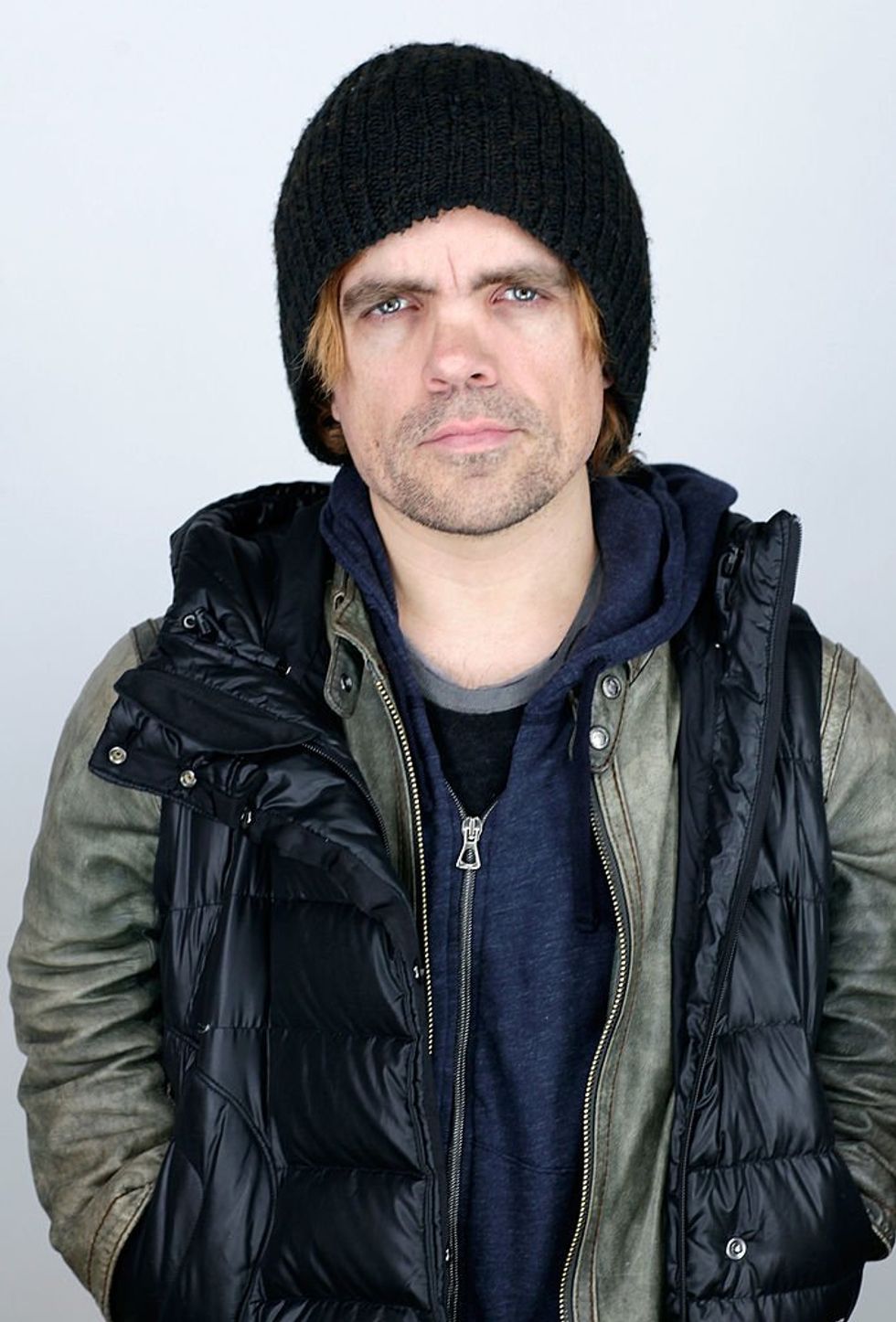 via: Getty
In the first couple of seasons, it was easy to dismiss Tyrion as a drunkard with a penchant for prostitutes, but it was soon clear to see the impact that his horrible family had on him. Peter Dinklage, the actor that portrays Tyrion so well, was already quite the star when he joined GoT. He had been in many children's favorites like
Elf, Lassie,
and
The Chronicles of Narnia: Prince Caspian
. He'd also starred in
Station Agent
and
Death at a Funeral
, both the English version with Matthew MacFadyen and the American version three years later with Chris Rock.
The Hand of the Queen grips fans in every scene he's in.
Tyrion Lannister has become one of the main stars of the show, as his quick wit and Peter Dinklage's incredible delivery win over difficult characters and audience members alike. Peter Dinklage has won three Emmy Awards for his portrayal of Tyrion and has gone on to star in a lot of other movies outside of GoT, including Three Billboards Outside Ebbing, Missouri, X-Men, Pixels, and Avengers: Infinity War.
Is there a more hated character on GoT?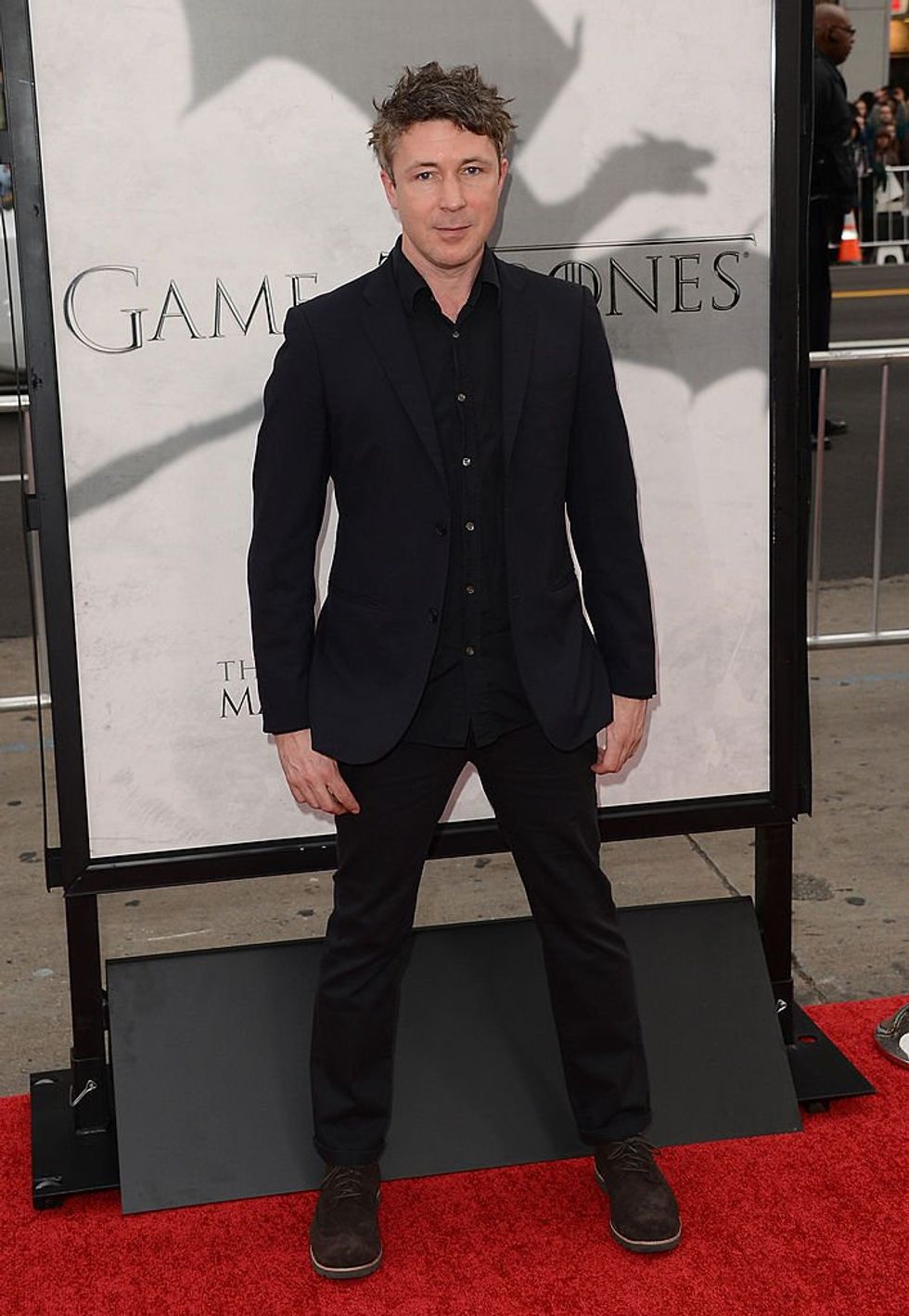 via: Getty
Patyr Baelish, commonly known as Littlefinger, was an unlikeable character from the start. It was clear that he was in love with Catelyn Stark, he seemed to want to cause trouble with Nedd Stark,
and
he said that Tyrion tried to kill Bran, incorrectly. Although, we would all later learn that these were
nothing
like the worst of his actions. Aidan Gillen was previously known for his role as Councilman, Tommy Carcetti, in the hit TV show
The Wire
. Even then he was hard to trust as a slippery politician full of empty promises.
Aidan Gillen keeps starring in top-quality TV shows.
As the show progressed, it became increasingly clear that Littlefinger should not be trusted under any circumstances, particularly as he continued with his manipulation of Sansa. But it was the reveal that he was basically to blame for the deaths of Robert Baratheon and Nedd Stark, and for the start of the War of the Five Kings, that really cemented him as a through-and-through bad guy. Since the start of GoT, Aidan Gillen has starred in Maze Runner: The Scorch Trials, Bohemian Rhapsody, and another incredible TV show, Peaky Blinders.
Brienne of Tarth must be the most loyal person on the show.
Brienne of Tarth first entered the show in its second season, as she won a tournament and asked to be Renley Baratheon's Kingsguard as a reward. When Renley was killed, she swore, firstly, to avenge him and then to be Catelyn's sworn sword. She also promised to return the two Stark girls to their home. Gwendoline Christie had not had any major roles prior to GoT, but she soon made a great impression.
Gwendoline's career has been taking off since the start of GoT.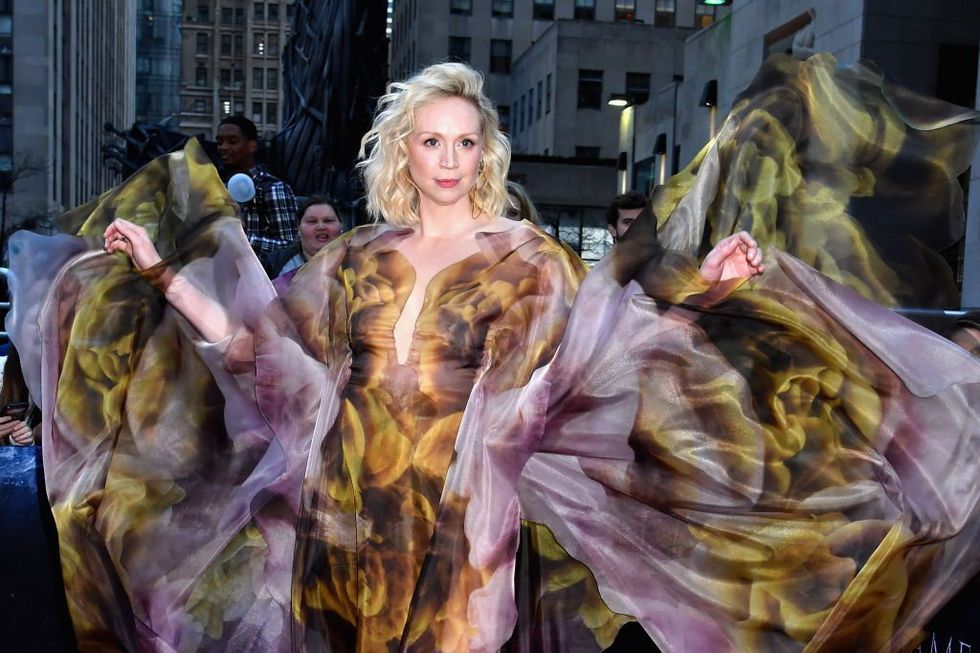 via: Getty
Brienne of Tarth suffers constant mocking and taunts but keeps her head held high and always takes the high road. As a result of this, and her immense loyalty, Brienne is hard not to root for. If you didn't cry when she was knighted before the Battle of Winterfell then your heart must be made of stone. Since taking on the role of Brienne, Gwendoline has had parts in some major movies, including
The Hunger Games: Mockingjay- Part 2, Star Wars: Episode 7- Force Awakens, Star Wars: The Last Jedi,
and
Absolutely Fabulous: The Movie
.
Khal Drogo is the character that Jason Momoa was always destined to play.
Khal Drogo first appeared as some sort of barbarian. He was from overseas and they seemed to live a very different sort of life where he was from. But as Daenerys fell in love with him, so did the audience. It was shown that he was strong, brave and just. Funnily enough, when Jason Momoa auditioned for Khal Drogo, he also ended up auditioning for, and winning, the lead role in Conan the Barbarian. They were this Hawaiian actor's first major roles.
Have you seen the video of Jason Momoa shaving his beard off?
GoT
, Jason Momoa has taken on the role in the DC Universe as
Aquaman
and gained far more notoriety, in particular with regard to his beard. After not shaving for years, he decided to
shave it all off
, in order to raise awareness about the damage that plastic causes to the environment. He's not the only
GoT
star to look different without a beard. Check out what the wildling, Tormund, used to look like below. You won't be able to recognize him.
Daenerys began life as a bargaining chip.
Daenerys began her life in GoT being bartered by her brother for horses so that he could reclaim the throne. At that point, she was in an unhappy marriage to a barbarian, and still a young girl. The role of Daenerys Targaryen's was a first for Emilia Clarke, but she has managed to completely captivate audiences and become the most popular choice for the Iron Throne.
The Mother of Dragons has won everyone over.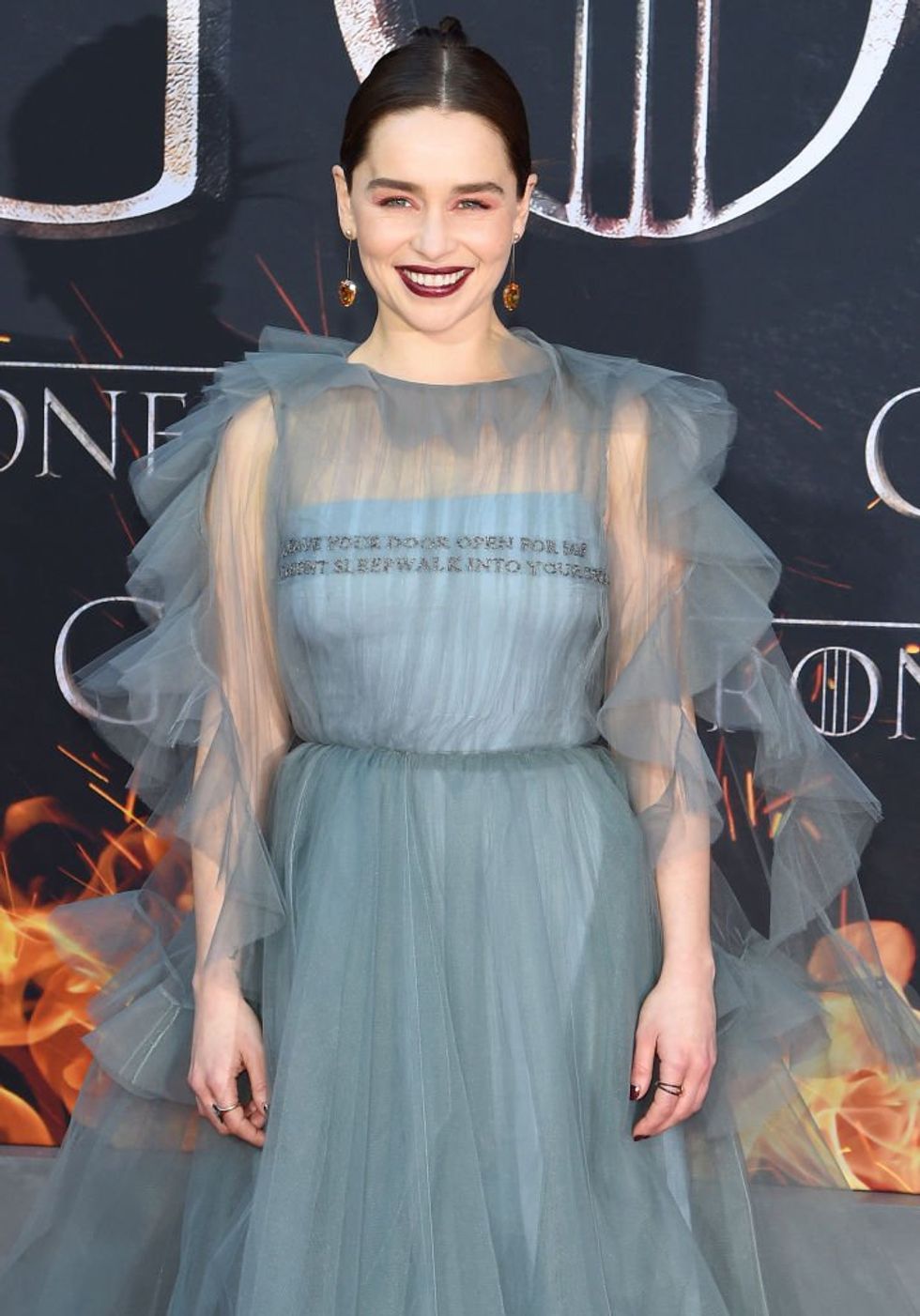 via: Getty
Daenerys Targaryen has since become the Mother of Dragons, the Unburnt and Breaker of Chains. She has freed thousands of people from slavery and become the ruler across many kingdoms. Now that she is in Westeros, will she become the ruler of the seven kingdoms? While Daenerys has been freeing people left, right and center, Emilia Clarke has had roles in movies like
Spike Island, Terminator Genisys, Solo: A Star Wars Story,
and
Me Before You
. After doing so well in
GoT
, she looks destined for far more success in the future too.
Who knew back then that Gendry would make it to the final series?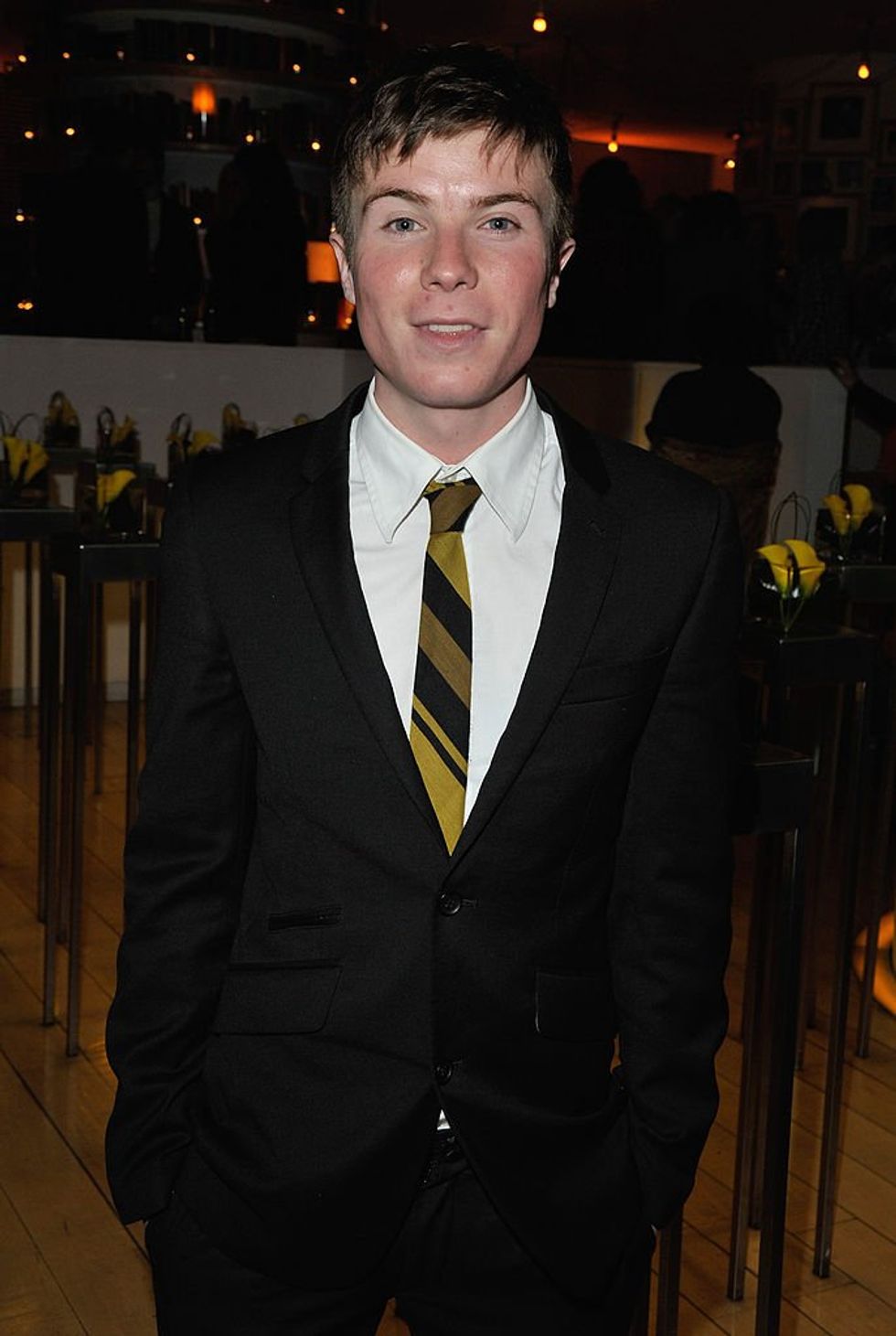 via: Getty
We first met Gendry in season one, when Nedd Stark was investigating what Jon Arryn was doing before his death. Over time, he ended up travelling with Arya and the two became good friends. Beyond the seven kingdoms, Joe Dempsie had already been in
Doctor Who
and
The Damned United
, although he was best known for his role in
Skins
, a British teen TV show. He actually starred in it alongside Hannah Murry, who plays Gilly, as well as Nicholas Holt, Kaya Scodelario and Dev Patel. What a show.
Things have been hotting up since Gendry got to Winterfell.
Gendry's arrival at Winterfell was a very pleasant surprise for Arya, and he seemed to
enjoy
the fact that she's grown up, although most people are ignoring the fact that he is Robert Baratheon's only living heir... Joe Dempsie, meanwhile, has been taking it a little easier since he made his debut as Gendry, although he's still starred in TV shows
Deep State 
and
Adulting
.
Do you recognize this man?
normally on our screens as the fiercest of all the wildlings. He supposedly lived with a female giant for a few months and drank her milk, which is how he got the name Tormund Giantsbane. Can you believe this is him?
Of course, he wasn't initially introduced to us quite so hairless...
Since Tormund became friends with Jon and fell in love with Brienne, he has become far more humanized. He's often the one to provide some light relief when the show's getting a bit tense. He's also starred in After Earth, with Will and Jaden Smith, as well as Fast and Furious 8.
Theon comes from prestigious stock.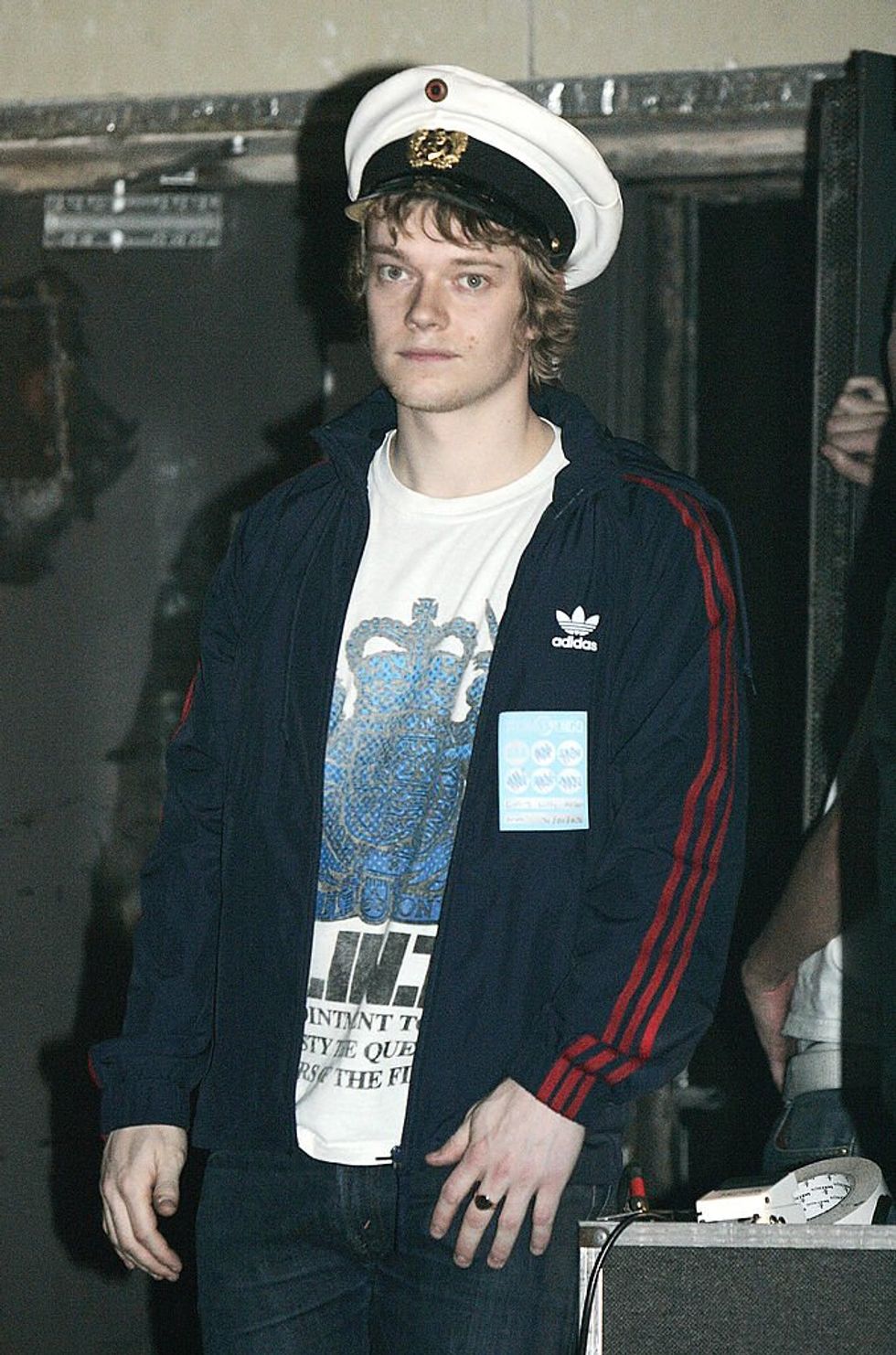 via: Getty
Theon Greyjoy began as a ward at Winterfell, having been pretty much traded in by his father for peace. He was arrogant and desperate to prove himself but he just kept making the wrong decisions. In real life, Alfie Allen is the little brother of English pop singer, Lily Allen, who famously sang a song about him (name: Alfie) on her first album.
Theon has been at the center of a lot of the most heart-breaking scenes in the show.
Despite being so awful for a while at the start of GoT, nobody could remain angry with him having witnessed the torture that he underwent from Ramsay Bolton. And despite going through such a horrible experience, once he had survived it he was a much better man. Not only did he save Sansa, but he is also responsible for one of the most moving scenes in the latest series of GoT. Alfie Allen has also starred in other TV shows like Close to the Enemy, as well as movies like Predator and John Wick. Hopefully, he'll be in a lot more movies now too.
You know nothing, Jon Snow.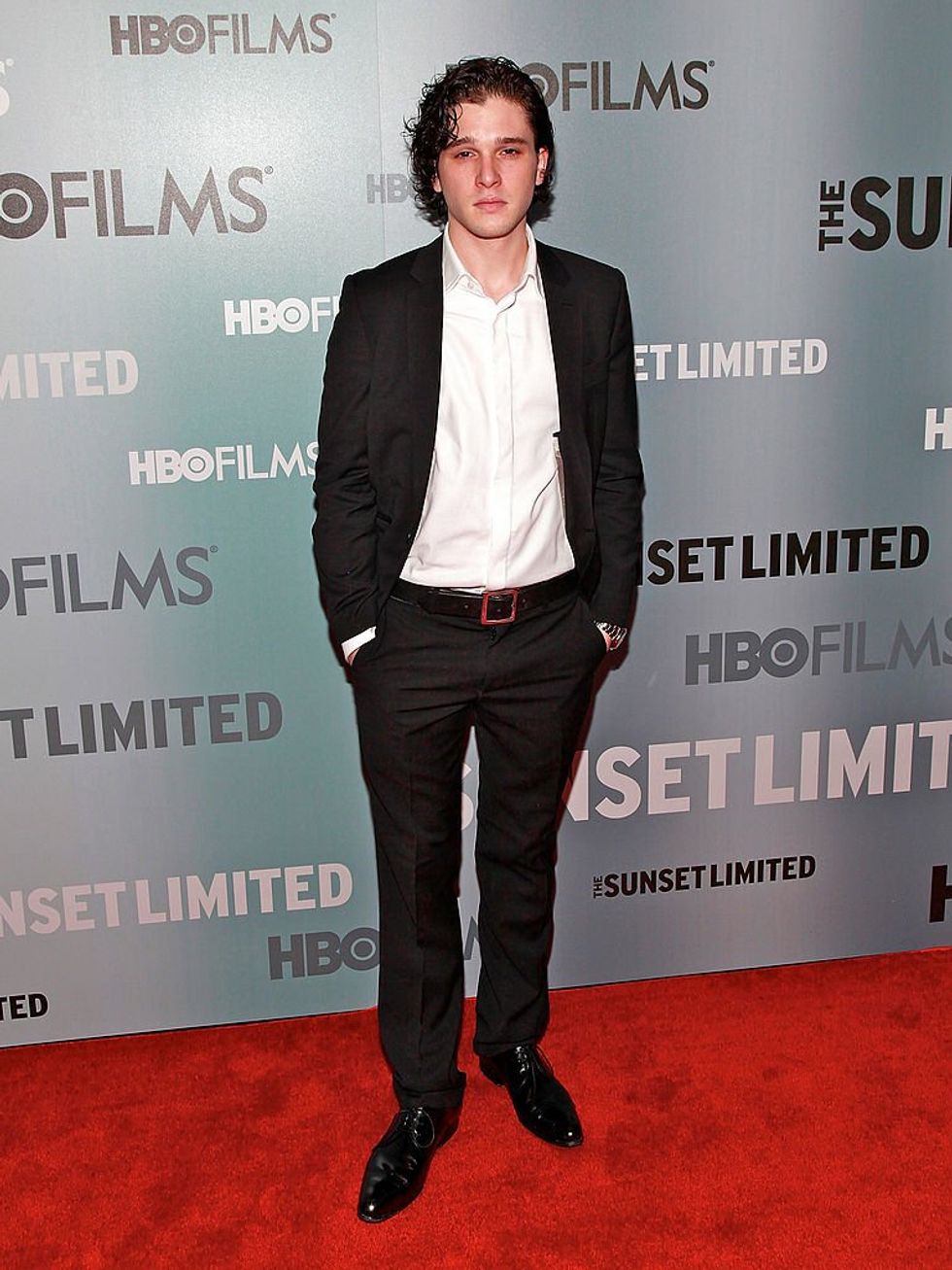 via: Getty
Jon Snow began life as the bastard son of Nedd Stark, treated with contempt by his step-mother and some of his siblings, with little hope of life improving. He set off to join the Night's Watch and that's where it all kicked off. Kit Harrington was completely unknown before he landed the role of Jon Snow. Little did he know back then how famous he was going to become.
Is Jon Snow the true King of the Seven Kingdoms?
Jon Snow soon proved himself at the Wall. He has always lived by the principles that Nedd taught him, remaining loyal, good, brave, and just, regardless of what or who he is facing. It is for this reason that he ended up being the Lord Commander of the Night's Watch and then the King of the North. Now it looks like he might have a legitimate claim to the Iron Throne, too. Kit Harrington has also become far better established through his GoT days, starring in Pompeii, Seventh Son, and How to Train Your Dragon 2. Who knows what he is going to do next...
Sansa once longed to be nothing more than a princess.
Sansa Stark is another character that's made a huge transformation through the show. At the start of the show, she was simply desperate to leave Winterfell and marry a prince. She was a lady and didn't see the need to be anything else. Sophie Turner was only fourteen years old when they began filming GoT, so, unsurprisingly, she hadn't been in anything before the show started.
Now Sansa is one of the cleverest people around.
GoT characters. She has repeatedly been married off, raped, and generally terrorized. But now she is a strong leader and knows that she has what it takes to survive. Arya even told Jon that she is the cleverest person she knows. Sophie Turner's career is already taking off, in particular for her roles as Jean Grey in the X-Men prequels. She generally looks like great fun to be around (did anyone catch the video of her chugging at an ice-hockey game?), plus she's got a great best friend. Let's take a look at her now.
Remember when Arya used to be all cute and innocent?
Even when Arya was a young girl, she already knew that she didn't want to be a lady, like Sansa. She was always playing with weapons, and aren't we all glad that she did? Maisie Williams was just thirteen years old at the start of GoT. The show has taken over her whole adolescence, but since getting the role, she's been very busy.
Now Arya has probably killed more than anyone else.
Doctor Who, Cyberbully, and The Book of Love. Plus, she seems to have plenty of time for fun, too, as she and Sophie Turner often hang out. What a woman.
Bran Stark was just a cute little child at the beginning of the show.
Bran Stark used to run around, carefree, climbing trees at Winterfell. But that was soon cut short by Jaime Lannister - the rest of Bran's life has been very different since. As the second youngest cast member, Isaac Hempstead Wright has done all of his growing up through the show. He was just eleven years old when they began filming. What a cutie!
How they have grown.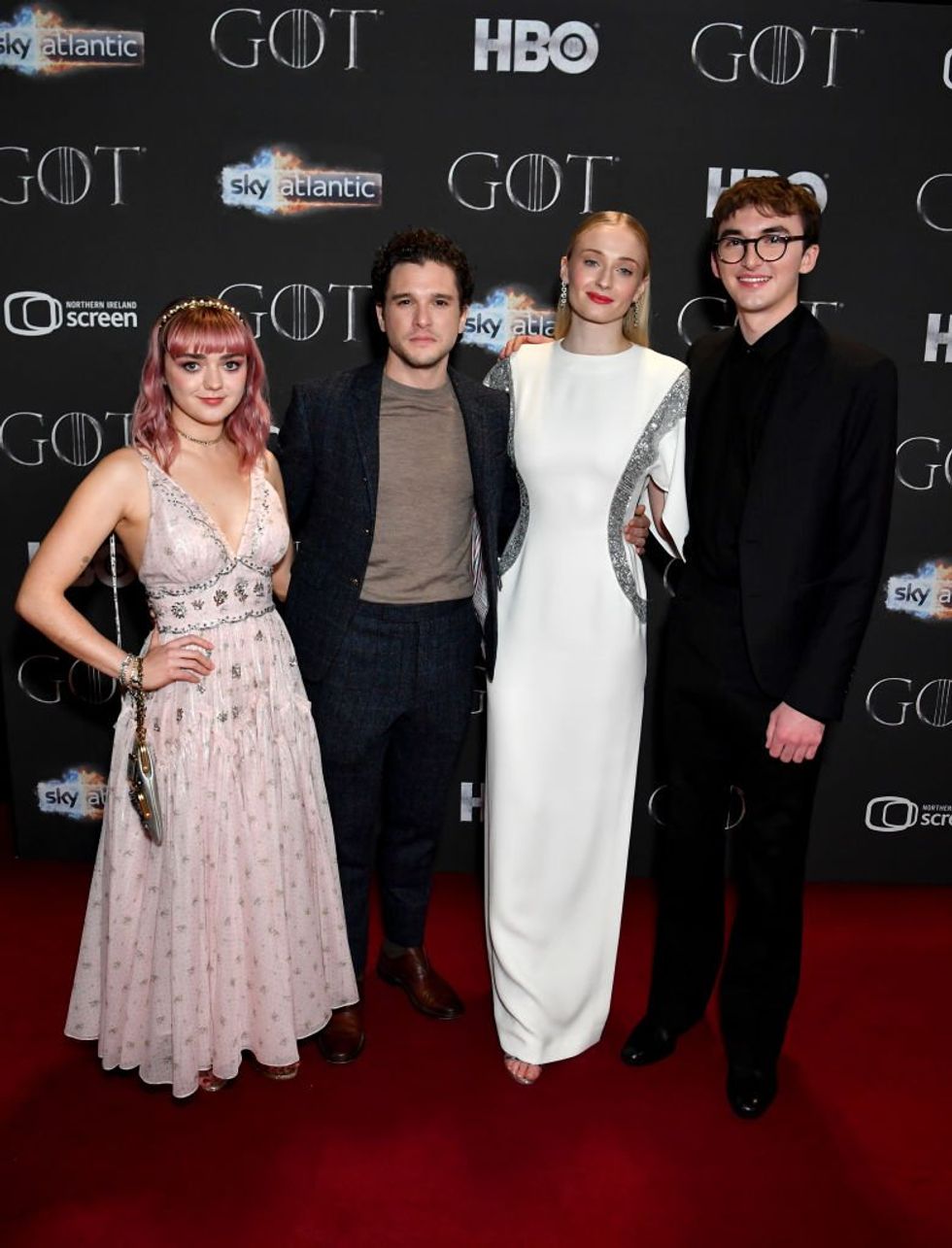 via: Getty
Despite being the youngest, Bran Stark has become the most mysterious character on the show, as he is now the three-eyed raven. He has immense powers of vision and seems to have lost most of his emotions in the process. It still seemed pretty heroic when he was willing to be bait at the Battle of Winterfell though. Isaac Hempstead Wright is mostly concentrating on just growing up at the moment, and he's certainly done a good job of that, shooting above his other on-screen siblings! What a journey it has been for these kids of Winterfell.